Welcome to Never Without Navy's first monthly series: Five Favorites. Each month I will be sharing my latest favorite finds. It will range from clothes, accessories and beauty products to places, home finds, gift ideas and reading recommendations. February's Five are:
Try:
Natori Feathers Bra: I need to move away from Victoria's Secret and was desperate for a new bra and I kept hearing about this line. I am so happy I tried it! It's feminine, supportive, comfortable and naturally lifts. An everyday basic bra that is great under a t-shirt. Cups run shallow so order a size up.

Eye On:
Designer Self-Portrait: This designer offers couture worthy dresses and tops. Each piece is a work of art that feels updated and timeless in the same moment. These dresses are perfect for upcoming graduations and events this spring. Their pieces are a bit of an investment but they will stay in your closet for years to come and are worthy of passing down!

Beauty Treat:
Elemis Superfood Facial Oil: I had been wanting to try this for awhile and my girlfriend sick of hearing me talk about it was nice enough to surprise me with a bottle. For starters, it smells like heaven and instantly makes you feel relaxed. It is packed with beneficial ingredients and just a few drops immediately leaves my skin feeling hydrated and nourished. I have loved adding it into my morning skin care routine! This line offers a lot of other great products I am anxious to try as well:

Buy:

Parker Thatch Totes: If you have seen one canvas tote, you have seen them all. That's what I thought until I came across this line. I love the style of these bags from top to bottom. Made with heavy canvas and designed with racer stripes and a monogram, this tote can be carried with handle straps or with a removable crossbody strap.  They come in three sizes (have a ton of custom options!) and make perfect gifts! Complete collection can be found here. Use DISCOUNT CODE: parkerthatchnavy at checkout to receive 15% off any order through the end of March.
Read: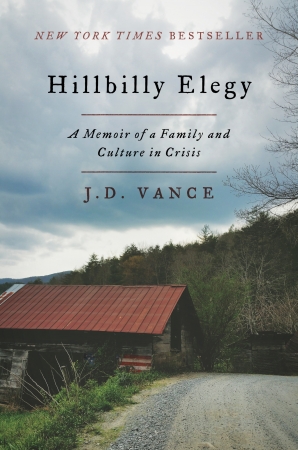 Memoir Hillbilly Elegy: A beautiful memoir that is completely relevant to our current political climate. No matter where you fall on the political spectrum, both sides have lauded this book as a must read. It puts so many things related to our country in perspective. It is the most political, non-political book I have ever read (read it and that will make sense to you).  I cannot say enough good things about it and if you are in a book group, put it on the top of your list!
Hillbilly Elegy: A Memoir of a Family and Culture in Crisis
Thanks for stopping by!
L, M