(Image Credit pinkfoxy)
Closet Cleansing
Anyone else out there in major purge mode? So far this month, I have been going room to room, opening cabinets and drawers, and clearing things out. Linens, no longer used board games, long forgotten serving pieces and random knick knacks are all making an exit. I am at the point right now where I am dumping expired medicine down the drain! Purging is a task to undertake for sure, but it feels so good once done!
Three Questions to Ask Yourself Before Clearing Out Your Closet
One area that still needs a major cleanse is my closet. I feel that I clean out my closet on a fairly regular basis (2-3 times a year) but it always amazes me the items I still manage to keep. So here are three (new) questions I am asking myself to help with the purge:
What are the items I hate in here? Seems fairly straightforward right? Yet it is amazing how many times I walk into my closet and pass things I know I will never put on again. I feel they look good on the hanger (the reason they are still there!) but will never look good on me! Get rid of those things!
Do I need to keep this for a themed party? This is my biggest hang-up! I keep things in my closet that I once wore everyday but now would only wear to a themed party. I have these shiny satin gold boot-cut pants I used to wear out in my bar-hopping days. Now, I hold on to them in case I head to a disco-themed party. Has not happened yet! Time to purge that!
Should I keep this because I love it and eventually will fit into it again? No! I am not taking about the pair of denim bought pre-holiday pounds that now needs to wait a few more weeks to get into. I am talking about that sexy dress worn ten years ago but has not been put on since. Guaranteed there is another sexy, more updated dress worth investing in!
What to Do with Unwanted Items
Once I have everything purged, I make two piles. One for donation and one for resale. There are a multitude of charities that will come to your door and pick up your donations. My local favorite is NCCS.  There are also a handful of charities that provide drop-off box locations throughout your area, Goodwill being one of them. Head to this link here to find a drop-off box near you. Which ever route you go, remember to collect your donation receipt for tax write off purposes!
Reselling clothes is another option for unloading unwanted items. Obviously this adds an extra step to closet cleansing, but once you sell something, it feels absolutely worth it! See if there is a local Facebook "garage sale" group that posts items for sale. Also, eBay, Thred-Up and Poshmark are other great resources!
Fill in with Great Basics
Once the closet purging takes place with all the items you don't use or want, fill in the holes with great everyday basics. With winter sales still in full swing, now is a great time to take advantage of adding items to your wardrobe. Even if your closet is cleansed, these are all great closet staples! I cannot imagine any of these items resulting in a closet purge casualty anytime soon!
10 Items Under $100 to Add to Your Closet Right Now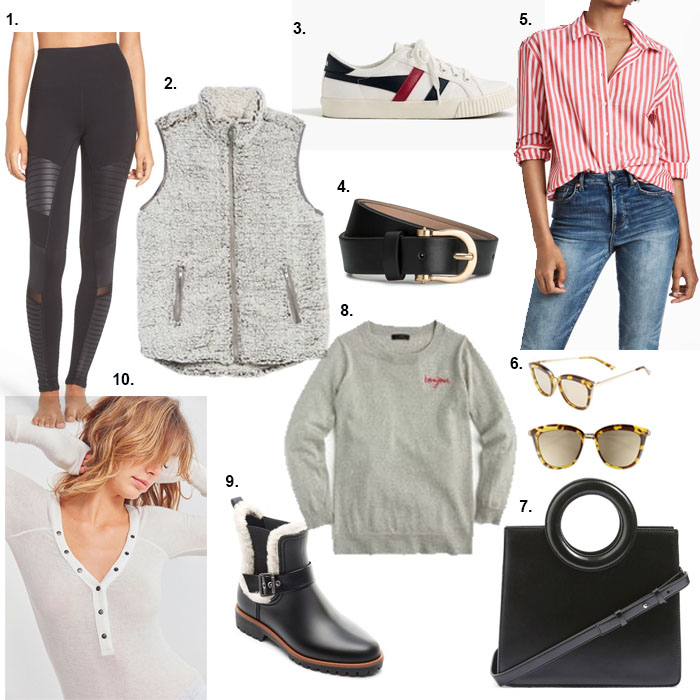 Never Without Navy is also on Facebook, Instagram and Pinterest 
Thanks for stopping by!
L, M
SaveSave