Brothers, husbands, boyfriends and dads, I am rounding up some of my favorite items to give this season! I will admit though, this guide is always the most challenging to put together. Men just don't shop like us and finding creative and useful gifts for them each year can be tough. But at the end of the day, I look at it as ways to refresh and renew their wardrobe hopefully adding in some more personal things along the way too!
Holiday Gift Guide for Him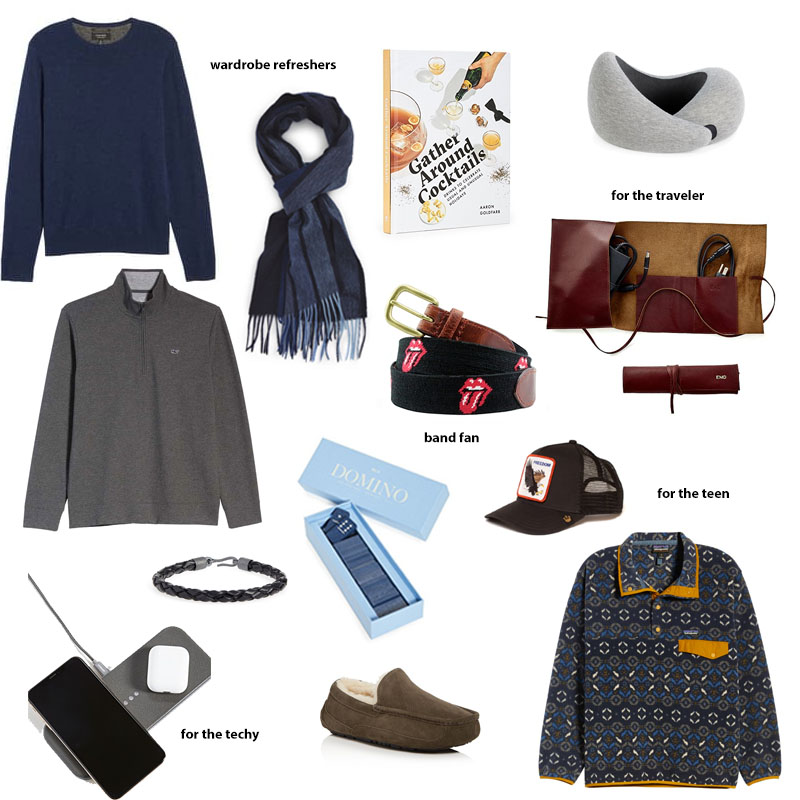 Top Row L to R:
I love the price point on this cashmere!  Lots of other colors are offered! And of course this piece is an instant wardrobe upgrade!
It is always nice to have a sharp scarf to throw on with a coat. I love that this can go with blues and blacks. And again a really good price point!
Cocktail mixology is having a moment! This book has forty five recipes for the those who love to mix and experiment with drinks! 
The only neck pillow that seems worth having! With memory foam this actually looks like it supports the neck comfortably to help you sleep on a flight! It includes a storage pouch!

Middle Row L to R:
These are offered in other colors! I love them because they work all year long and are so easy to throw on with denim, chinos or shorts!
A nice time passer sitting by the fire or hanging out on a Sunday afternoon, I love having one nostalgic or retro gift to give!
I just ordered this for my husband who is obviously a Rolling Stones fan! Yet this company offers so many wonderful options (custom too!) in a variety of needlepoint gifts. Key
fobs, hats, wallets, etc.! Lots of collegiate options too!
Robert is really into these right now! This is a good gift for a teen or college kid. There are other motifs offered on the front! And the collection has a perfect rating on Nordstroms!
Another Mark & Graham item makes this list! This makes for such a nice and useful gift! A great way to stash all the loose items when traveling or on the go! 25 percent off plus free shipping and monogramming is offered throughout the site!

Bottom Row L to R:
Throw it all on there! Earbuds, watch and an iphone (will charge through most cases!). A one stop shop to get it all charged up overnight!
My teenager received one of these as a gift last year and he loves it! It really looks nice on. It is a nice addition or alternative to simply just wearing a watch!
These slippers are simply the best! They hold up so nicely and are very comfortable. You know you found a good slipper when your husband wears them outside to put out the garbage and you don't care if anyone sees!
No fleece is the same! Another consistent winner in the fleece game is Patagonia! Another item that Robert has and love. I am a huge fan of this pattern!

If you missed any of my other gift guides this season, you can simply head here! I just have one more coming up this season which is always my favorite: Stocking Stuffers!
You can also follow me on Facebook, Instagram and Pinterest 
Thanks for stopping by!
L, M