I am always in search of inspiration. In home decor, travel, lifestyle, entertaining and especially style just to name a few! As a blogger, I then love to share what inspires me with all of you. It is one of the reasons I created this platform after all! This month's series of Five Favorites features a couple of products from a new source of inspiration: my daughter. I love that she usually comes to me asking for fashion advice (not always taken!) or wanting to borrow something from my closet (not always given!). I found myself lately though really gravitating towards her for style inspiration as well. Therefore, two of my favorites featured for March are completely inspired by Madeline and are indicated as such!
Five Favorites
Replenish Your Skin With:

Summer Fridays Jet Lag Mask. This product is taking the beauty world by storm! I mentioned this product in a post a couple of weeks ago having just ordered it. Now, I am here to tell you after using it, you must get it! It is an excellent source of hydration for your skin! Use it as an overnight mask, moisturizer or primer, I promise you your skin will feel supple and hydrated.
Head To Lunch At: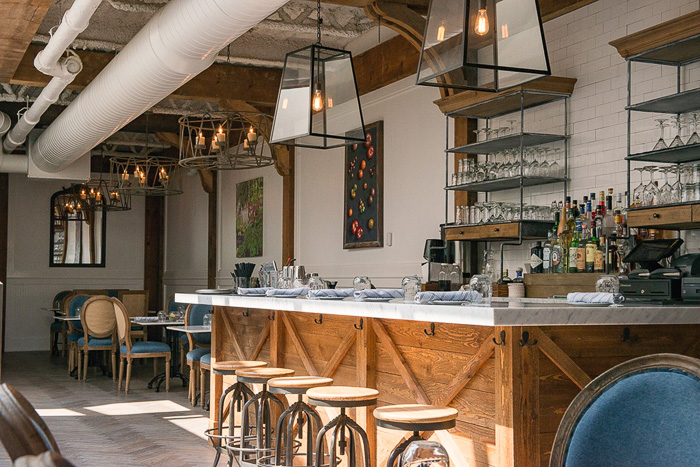 Photo Courtesy of Chicago Reader
Blue Door Farm Stand. Perfectly situated in Lincoln Park (Lori's shoes is around the corner!), this is a great lunch spot to head to in the city with your girlfriends. An ambiance that takes on a modern twist of french country, this is a bright and cheerful spot. The menu is perfect for lunch with a generous list of salads and sandwiches to choose from that are amazingly good! Portions are generous and are great for sharing too! Make a day in the city out of it by  working off that food and wine shopping in Lincoln Park afterwards.
Protect Your Eyes With: (Inspired by Madeline)

Prive Revaux Blue Light Blocking Glasses (blue frames shown) I was half listening when Madeline told me she was using her babysitting money to buy "blue light" glasses. Then they arrived and I had to know all about them when I saw them! For starters they are SUPER cute and stylish! More importantly though is their use.  For anyone who is attached to their screen like me, these glasses are a must. The screens we stare at each day (phones, computers, iPads, etc) give off a short wavelength blue light than can be very damaging to our eyes and have a negative impact on our sleep cycles. The anti-blue light technology found in these glasses, work by blocking the harmful blue light rays and preventing them from reaching your eyes. No prescription is necessary but they are Rx compatible!
Carry This: (Inspired by Madeline)

'Kånken' Water Resistant Backpack. Madeline picked this up on a recent excursion to Urban Outfitters for our trip to Hawaii.  For starters, Scandinavian design always makes me swoon! And with their design always comes functionality. This backpack was originally designed for Swedish school children in 1978 to spare them back problems as back problems had begun to appear in increasingly younger age groups. With a foam insert that serves as padding for your back (and a sitting pad as well), a large main compartment, two side pockets (perfect for water bottles), and a zippered pocket in the front (cell phone, wallet, etc) this water resistant backpack is highly functional and roomy for a compact size. It comes in a TON of color options and sizes. I linked the size Madeline has and loves! It ended up serving our entire family well during our trip as a carry-on, beach bag and hiking backpack!
Update Your Pool Sandal With:

Dr. Scholl's Pool Slide. Clearly I love iconic products with a fresh twist. Truth be told, I never thought the original clog was comfortable even though I always loved the look! This updated foam slide from Dr. Scholl's still features the iconic buckle yet has a supercushy EVA footbed that cradles and supports your foot. I wore these everyday on spring break and love the support it gives! (Size down if between sizes)
Never Without Navy is also on Facebook, Instagram and Pinterest 
Thanks for stopping by!
L, M
SaveSave