I present you my first Holiday Gift Guide for the season! 2020 Gifts for Her takes care of your friends, relatives, and teens! This is always a fun one to put together because of course I am searching for myself too!
While all of these gifts can conveniently be ordered on-line, I really want to encourage all of us to shop and support our local stores as much as we can this holiday season. In fact, I will do a round-up of all my local favorites as well! So many small businesses are finding creative and personalized ways to service their customers safely this holiday season! Now more than ever we need to support them!
2020 Gifts for Her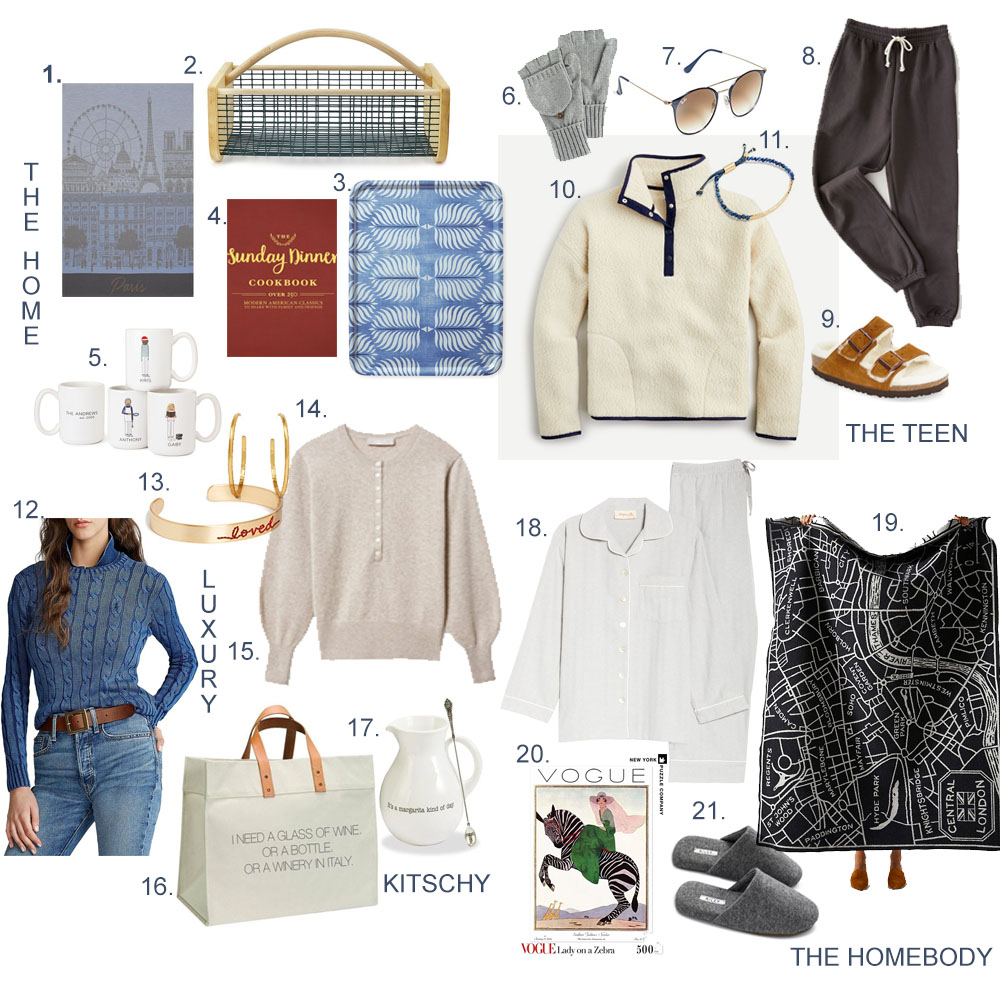 Tea Towel // 2. Gardener's Basket // 3. Blue Tray // 4. Cookbook // 5. Personalized Mugs // 6. Gloves // 7. Sunglasses // 8. Sweatpants // 9. Birkenstocks // 10. Fleece // 11. Bracelet 12. Cable Sweater

// 13.

Cuff

// 14.

Earrings

// 15.

Cashmere Sweater

// 16.

Canvas Tote

// 17.

Pitcher Set

// 18.

Pajamas

// 19.

Blanket

// 20.

Puzzle

// 21.

Slippers
The Home
1. Tea Towel: Wanderlust mixed with practicality! A tea towel is a nice gift to give with your favorite bottle of wine or gourmet food!
2. Gardener's Basket. Not only a useful gift for gathering vegetables and flowers from your garden but also a great basket to have on hand at the farmer's market.
3. Blue Tray: One of those items you would not necessarily buy for yourself but you would love to receive. How pretty would a fresh lemonade set-up look on this? It is offered in three different sizes.
4. Cookbook: You know that I will always include a cookbook when I can! LOL! We all can use a little help with what to make for dinner week to week. Here are 250 recipes to choose from!
5. Personalized Mugs: This is a wonderful gift to give a family! Each mug can be personalized with name, skin and hair color and activity (so many to choose from!). I think this is such a clever and personal gift!
The Teen
6. Gloves: I have this pair so they could really be for anyone but the fingerless option keeps those teenager texting hands in action!
7. Sunglasses: The aviator Ray-Ban is always in style. Love the combo of the blue frames with the retro brown lens.
8. Sweatpants: This classic style is all the rage right now. My niece and Madeline are getting a pair. Gift with these winter slouch knit socks!
9. Birkenstocks: Another hot item for the season! I mean who wouldn't want a pair of fur lined Birkenstocks? The "slipper" you can actually feel good about walking out the door in!
10. Fleece Pullover: We all just want to be cozy! These fleece pullovers come in a bunch of colors!
11. Bracelet: A "power" bracelet with several different color and message options! A pretty bauble to stack with what's already on their wrist!
Luxury
12. Cable Sweater: Of course I am always on the hunt for all things blue and I have to say this is one of the prettiest shades of blue I have come across. Traditional fit and style but a truly unique color, I love the all monochromatic look here!
13. Cuff Bracelet: I think this was such a pretty and clever piece. The "love" is ribbon stitched onto the cuff in the prettiest shade of red! This is on my wishlist!
14. Earrings: Make sure to click on these to have a better look. Such pretty detail on a classic hoop! Julie Voss jewelry never disappoints and I am always pleasantly surprised on the pricing.
15. Cashmere Sweater: You know that their cashmere collection is my favorite. I love the feminine detail on this newly released style! Offered in so many beautiful colors!
Kitschy
16. Canvas Tote: If there is any year to give this gift, 2020 is the year to do it! I can's stop laughing as I can really relate to this!
17. Pitcher Set: I can get behind this sentiment! This pitcher set is perfect for summer entertaining!
The Homebody
18. Pajamas: I just discovered this pajama line! There are some really pretty options in florals, colors and styles. The price point is perfect for a nice set of pajamas as well. A fresh set of pj's is always a good idea!
19. Wold Map Blanket: London is calling! I think map prints are always so classic and chic and the fact this is wool means the quality is 100%!
20. Puzzle: For all the fashion lovers, I love these vintage inspired Vogue magazine jigsaw puzzles.
21. Slippers: I like the streamlined look of these mule style slippers. They are a wool blend yet washable! Still wanting a fuzzy option? These are fun and well priced here!
You can also follow me on Facebook, Instagram and Pinterest 
Thanks for stopping by!
L, M