It is always my favorite guide to put together and I know that for most of us, filling stockings are the best part of holiday gift giving! While in years past I often include candles, books, games and ornaments, I hope we all use the opportunity to shop for those at all of our local stores! Gift certificates from your favorite local restaurants is a great stocking stuffer gift idea too!
2020 Stocking Stuffers & Small Gifts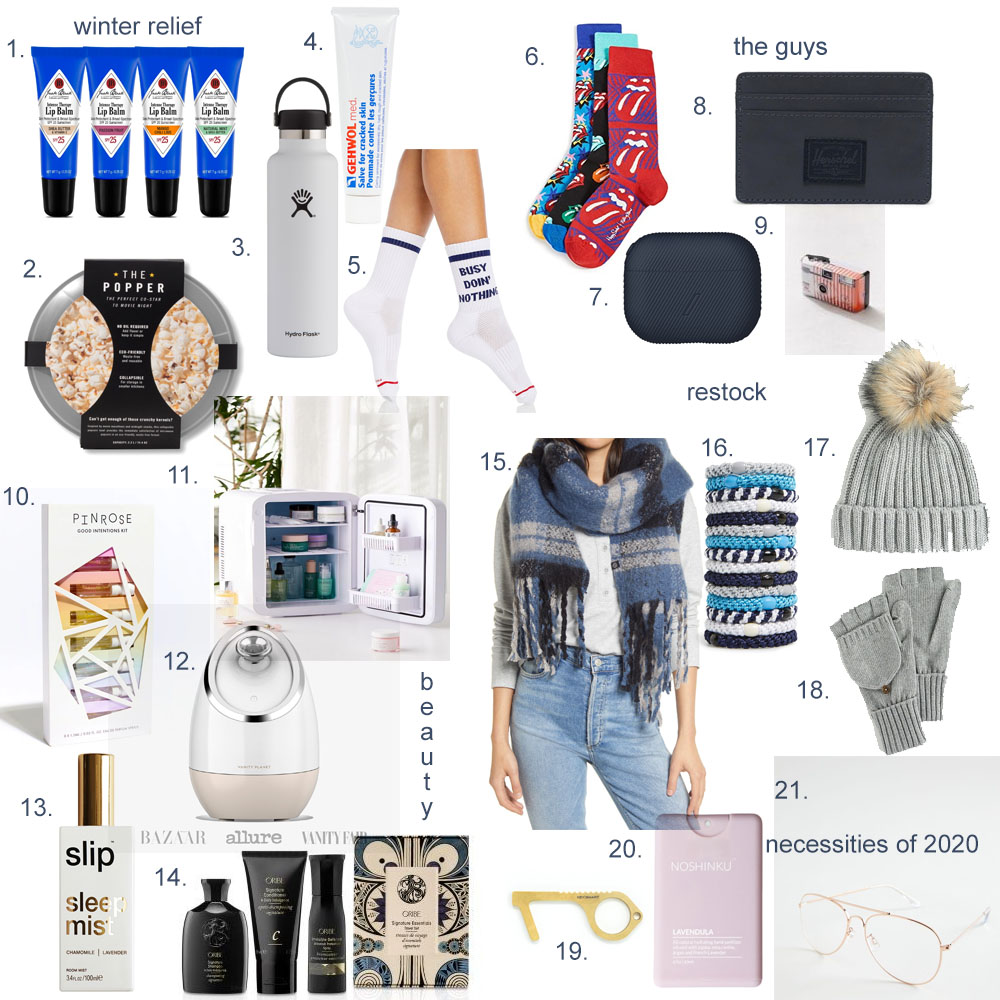 Lip Balm Set // 2. Popper Bowl // 3. Hydro Flask // 4. Hand Cream // 5. Socks // 6. Rolling Stones Socks // 7. AirPod Case // 8. Card Holder // 9. Black & White Disposable Camera // 10. Perfume Roller // 11. Beauty Fridge // 12. Facial Steamer // 13. Sleep Mist // 14. Oribe Haircare Gift Set // 15. Scarf // 16. Hair Ties // 17. Pom Pom Hat // 18. Gloves  // 19. Keysmart // 20. Hand Sanitizer // 21. Blue Light Glasses
Winter Relief
Lip Balm Set: Lip therapy is a must this time of year! This set comes in a variety of fun flavors while providing dry lip relief!
Popper Bowl: Microwave popcorn without the microwave bag! Simply place the kernels in this reusable popper bowl, stick in the microwave and have instant satisfaction!
Hydro Flask: I know the water bottle market is a bit over saturated (I swear that was not intentional. lol!) but the Hyrdo Flask is truly the best for keeping your drinks cold or hot. Ice cubes literally do not melt plus it has all those good environmentally safe qualities.
Hand Cream: Hand lotion just does not cut it in the winter to combat dry hands. You really need a salve and I love this one!
Socks: You might have seen me feature this sock line on Instagram. Brought to you by MOTHER brand denim, these socks fit like how a sock should! Find the full collection here!
The Guys
Rolling Stones Socks: Not a Christmas goes by that my family does not get a pair of socks in their stocking! Happy Socks always has fun ones to choose from!
AirPod Case: I like this sharp minimalist case perfect for housing your AirPods!
Card Holder: For going out at night, a card holder is a nice sleek replacement for a bulky wallet!
Disposable Camera: Remember the days when we would rush to have the film in our disposable cameras developed after a vacation or event? Everything makes a comeback. I love returning to the element of surprise again in taking pictures with a disposable camera!  I really love the idea of black and white film even more!
Beauty
Pinrose: I love the concept behind this fragrance line. It encourages combining and layering from a variety of scents depending on your mood, the season, etc. This set includes eight fun scents to play with! You also can get 20% off your order of all starter kits here with code : neverwithoutnavy
Beauty Fridge: How cool is this fridge for storing all your crystal roller, serums, creams (and sodas!) . I love this for a dorm room or your bathroom! The thermoelectric system gives you the ability to switch temps from cooling to warming too!
Facial Steamer: Who else is guilty of opening up the dishwasher right after a cycle and leaning into the steam!? LOL! Now you can have a facial steamer within your own home. I especially love this for winter because your skin needs all the hydration it can get!
Sleep Mist: Spray into the air or on your sheets, this mist helps create a calming environment for sleep!
Oribe Haircare Set: Hands down the best haircare line! I have seen these boxed gift sets in stores and they are gorgeous! This is a great value for a travel size set!
Restock
Scarf: A new scarf is a great way to freshen up your winter coats each season. Oversized ones are very popular right now! I love the texture and colors on this one!
Hair Ties: By the end of the year, we have no hair ties left in our house! LOL! This set has 15 hair friendly ties in all sorts of color options!
Pom Pom Hat: I am VERY particular when it comes to hats. They cannot be too tight and need to have a nice overall shape. This one from J Crew is hands down the best I have found!
Gloves:  Another J Crew winter accessory win! This is just a nice everyday glove for chillier days that converts into a mitten for full hand coverage!
Necessities of 2020
KeySmart: A clever way to keep hands clean and avoid touching surfaces. A multipurpose tool that can be used to open doors and press elevator and keypad buttons.
Hand Sanitizer: Hydrating with a nice scent, this sanitizer is flat so it is perfect for slipping into your pocket!
Blue Light Glasses: I am guessing that being on our computers and phones are at an all time high this year. These aviator readers feature non-prescription, blue light-blocking lenses that shield against blue light emitted from electronic devices.
For additional holiday gift guides for this season head here!
You can also follow me on Facebook, Instagram and Pinterest 
Thanks for stopping by!
L, M