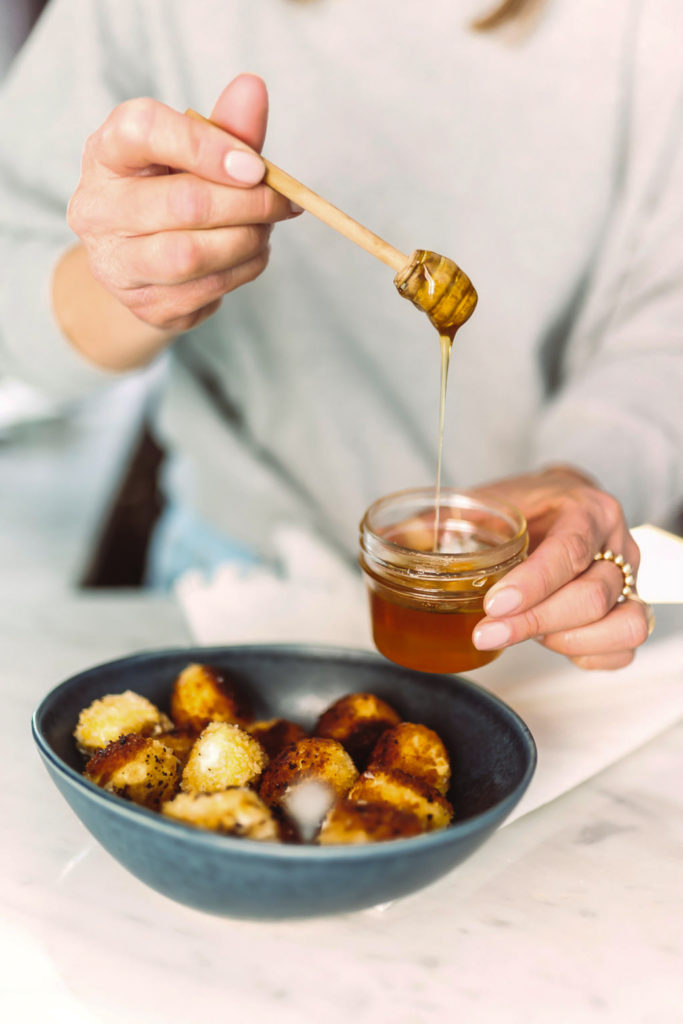 Even if you are not a sports enthusiast, watching the half time show and noshing on good food finger food is truly what the Super Bowl is all about! Right? And this household loves plenty of the appetizers that go hand in hand with Super Bowl Sunday. Chips and buffalo chicken dip, ham and cheese sliders and plenty of wings to name a few.
However, there is no written rule saying that your Super Bowl menu has to be laden with cheese and chips. Chili on the stovetop with all the fixings, a large green salad and a few drool worthy apps sounds just as good to me! So when I came across this recipe for fried Goat Cheese Balls, I thought how perfect would this be for Super Bowl Sunday! I mean it does check off two of our favorite food categories for game day-fried and cheese! But with a little more panache. They are creamy, crunchy and tangy. Add that drizzle of honey and oh my goodness, talk about elevating the taste! These little puffs of joy are so simple to make and guaranteed to be an instant crowd pleaser!
Fried Goat Cheese Balls With Drizzled Honey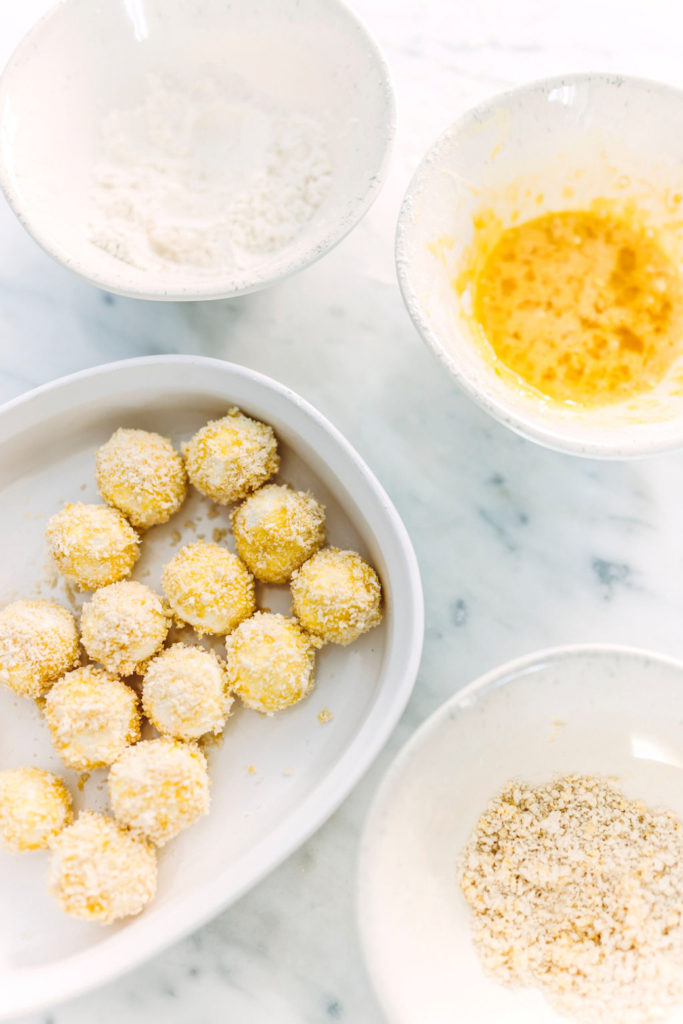 Ingredients:
 8 oz

log of fresh goat cheese

½ 

cup

 

all-purpose flour

2

 

large

 

eggs

 

room temperature, beaten

¾ 

cup

panko breadcrumbs

Flaky sea salt

Honey

Canola or vegetable oil
Directions:
Slice the goat cheese log into equal pieces.  Roll each piece of goat cheese into a small, round ball. It helps to wear disposable kitchen gloves while doing this to keep the them neat.

Place flour in a small mixing bowl, then drop the goat cheese balls into the flour and toss to thoroughly coat. Transfer goat cheese balls to a mixing bowl with beaten eggs and cover on all sides.

Carefully transfer goat cheese to a mixing bowl with panko breadcrumbs, allowing all excess egg to drip off before placing them in the breadcrumbs. Gently roll around to evenly coat on all sides with panko.

Freeze for 20 minutes! Do not skip this step or the goat cheese balls will fall apart in the oil!

Heat canola or vegetable oil in a small frying pan. When hot, carefully lower 4 or 5 goat cheese balls into the oil. Fry until a light golden brown on all sides.
Carefully lift out the fried goat cheese and transfer to a paper towel lined cooling rack. Immediately sprinkle with about ½ teaspoon of flaky sea salt.
Transfer goat cheese balls to a serving tray. Drizzle with about 2 teaspoons of honey-although you are welcome to use more!
Serve immediately or at room temperature.
Bon Appétit!
You can also follow me on Facebook, Instagram and Pinterest 
Thanks for stopping by!
L, M