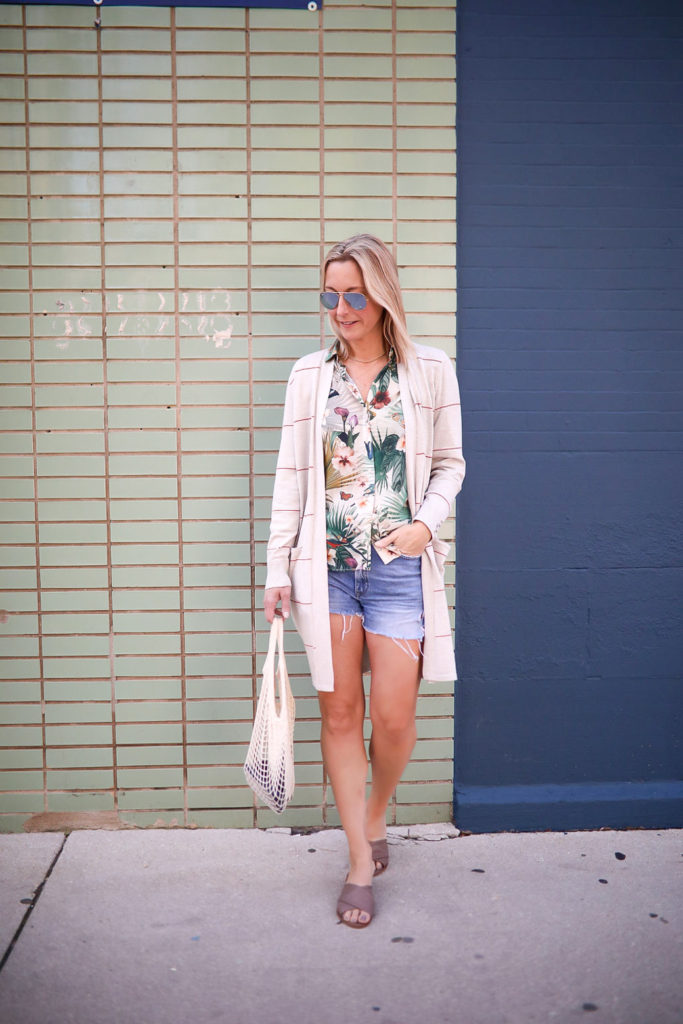 Top here // Sweater here // Sandals here // Bag here //  Sunnies here (Denim shorts old but getting upgraded!)
The Denim Short: Traditionally my number one fashion staple of the summer season. Yet as I approached this summer, I had to ask myself., "Am I getting too old for them?".  I can't say I am as confident now, putting on these leg-showcasing bottoms, as I have been in years past. For one, my legs are no longer the legs of my youth (duh!). For two, my legs have yet to see the sun this summer season and that lack of a sun-kissed glow isn't helping matters. But I know that deep down I am really not ready to part with my summer denim friend quite yet.
I just need to think about ways to rework them.  I also need to find new pairs that flatter me and not the festival going youth! So I made it my mission to hone in on the styles, brands and fit that will restore this mom's confidence in putting denim shorts back on again this season.
Best Styles of Denim Shorts for Moms
I think it is safe to say that most moms are not in the market for a pair of Daisy Duke jean shorts. Yet it seems like nine times out of ten at a store, I find myself picking up a pair on display that I know will not leave much to the imagination once on! I have to remember though, that I am not necessarily the target audience in a retail store!  Therefore I had to turn to on-line searching to come up with suitable options. After reading lots of customer reviews and finding the top customer-rated denim shorts, I am happy to say we moms DO have options! The round-up below takes into consideration the following:
The fit has to be flattering through the waist, bum and legs.
No fear of cheek exposure.
No riding up in the thigh.
Nothing too tailored (we don't want to look too "mom'!)
Some distressing.
And with each option, I have also offered some styling advice to help complete your look with confidence!

Boyfriend Denim Short (here): As comfortable as the boyfriend style might be, they can often look too baggy or sloppy. I love that this pair has a more refined fit without sacrificing on comfort. However, they still run big so order down one to two sizes.
Style tip: Pair with a fitted tee or tank and a sleek sandal.


Cuffed Denim Short
(
here
): Cuff them or keep them long but reviews on these denim shorts make them one of the most top rated Madewell items. I love the fact that everyone from curvy women to petite women have commented on how much they love them for their body type! They fit true to size but will give a little bit if they initially feel snug.
Style tip: Pair them with converse sneakers, aviator sunglasses and a striped tee!


Distressed Denim Short
(here
): Probably the most popular denim short on the internet over the last three years, this is what I think of when I picture the perfect denim short. The wash, the distressing and the looser fit gives these the ultimate look while reviewers rave that the fit complements the booty, the thighs and the waist! They run a bit big so consider going down one size.
Style tip: Pair them with a summer knit sweater and a neutral sandal.


High Rise Denim Short (here): I always trust a denim short from Joe's to fit well!. This high rise short with a longer length makes them chic enough to style for an evening out. True to size or you may need to size up one.
Style tip: Pair them with a silk blouse and a strappy heeled sandal.


Mid-Rise Denim Shor
t (
here
):Let's start with how good the denim wash is! A perfect color for summer! From there, I think a mid-rise is the most comfortable rise. I also love that they have an A-line flare so they do not hug the thigh too tight. These run a bit large so I recommend sizing down one.
Style tip: Pair with a wrap sandal and a white linen button down.


"Short" Denim Short
(
here
):There is such thing as the denim short that is well, short but still manages to not show any bum cheek. These ones from Rag and Bone are short in the front but longer in the back making for an appropriately flattering fit! They fit true to size.
Style tip: Pair with retro sneakers and a striped button down and a long cardigan


Bermuda Denim Shorts (here): I know. I know. Not for everyone but even Martha Stewart featured these on her website for their flattering fit! This pair of trending jean shorts screams "chic" and "polished" to me! I love these for a very sophisticated feel. They fit true to size.
Style tip: Pair with a silk camisole, summer blazer and a strappy heeled sandal.


White Denim Shorts
(
here
): I like that these are a cross between a denim short and a chino short.  I find the more tailored rolled up fit to be flattering in this color and style!
Style Tip: Pair with a colorful tank and a summer sandal

You can also follow me on Facebook, Instagram and Pinterest 
Thanks for stopping by!
L, M