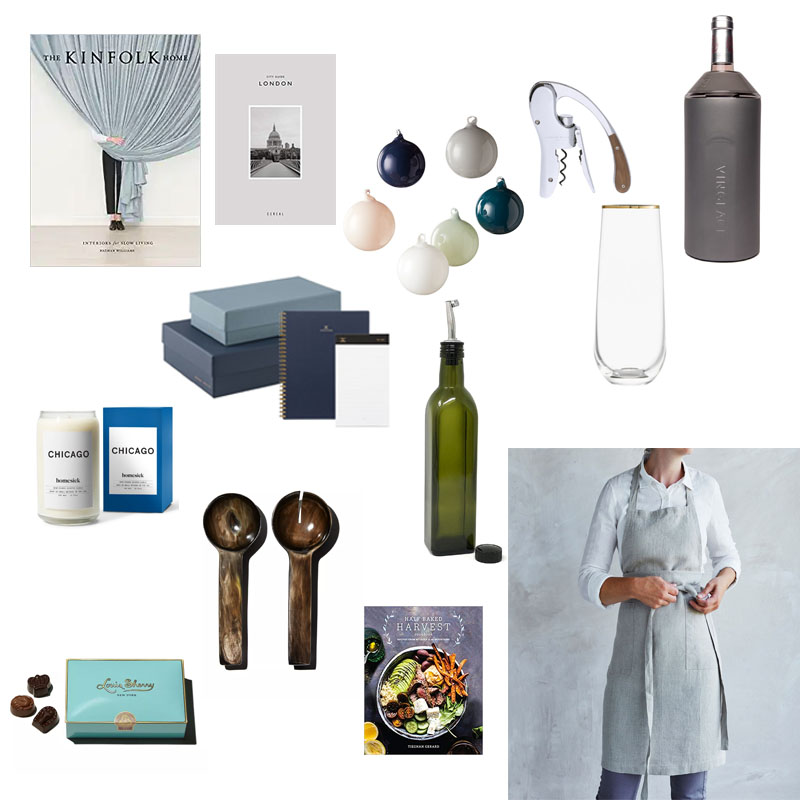 While we still have some time to think about holiday gift giving, it is right about now that the calendars start to fill up with holiday festivities! So to kick things off with my gift guides for the season, I thought I would start off with those gifts suitable for the hostess! Yes, there is no harm in running out to grab a bottle of wine or a festive candle right before a party but in an effort to keep things less stressful and (maybe a little more thoughtful?), I rounded up some other hostess gifts to consider ahead of time.
When putting together this guide I thought what would I love to get as a hostess gift? What are those things we love to receive but rarely consider buying ourselves? Honestly, I could have dedicated this whole post to books alone but I would be amiss if I did not include some items perfect for entertaining, displaying and utilizing! I really had fun putting this together and I hope you find it helpful!
Top Row L to R:
I love this book for not only it's beautiful cover, making it a perfect accessory for display, but the content is also so good! For when the holiday season winds down, this is a wonderfully inspiring read for settling into winter.
Not just London but New York and Paris are available too, this city companion provides a well-curated guide with thoughtful advice for those discerning travelers and locals alike!
At this point in my life, the thought process is that most of my friends and family probably have enough ornaments. With that said, I cannot remember the last time I gave or received one! What I love about this set is that it can either be hung on a tree or displayed in a bowl!
A wonderful gift for the couple that is throwing "the" party of the holiday season. Made in France, it serves its purpose but will also look beautifully displayed on a bar or bar cart.
This works like a charm! It comes in a few different colors and would be a great addition to bring with that bottle of wine!
Middle Row L to R:
I always love a good theme and a good candle! So you can imagine how much I love when we have a line merging both! And obviously the scent should remind you and make you feel nostalgic for "home".
What a better gift to give to start the New Year then with these well appointed boxes and stationery for getting organized in 2020!
I didn't know I was missing one until I was gifted one! Olive oil dispensers are on of my favorite kitchen accessories! Gift this with an upscale bottle of olive oil! I also love this one here
Most of us could probably use a barware upgrade from our wedding registry days! The gold rim adds just the right amount of festivity for ringing in the holidays!
Bottom Row L to R:
I will admit, I wanted the box first. I saw these at Jayson home and I honestly thought they were a trinket box for display. Surprise though! There is chocolate inside! And once you are done with those, your hostess can do what my first intention was: put the box on display. They come in other pretty colors too!
One can never have too many serving utensils. What I love about a horn set is that they work well with classic and modern pieces.
Hands down my favorite cookbook right now. Tieghan's recipes are attainable, fulfilling and so beautifully captured that she is sure to inspire anyone in the kitchen!
Similar to barware probably needing an upgrade, so can an apron! Linen aprons are having a moment and I love how they exude a more laid back and modern vibe!

You can also follow me on Facebook, Instagram and Pinterest 
Thanks for stopping by!
L, M