The Perfect Denim Short
If there is one I item I live in during the summer, it is my cutoff denim shorts. I throw them on just about everyday and wear them to just about everything. With that said, the older I get, the harder I find it is to find a great pair that are mom appropriate. I certainly don't want my tush hanging out and a high-waited pair is not realistic for everyday. A fit that is baggier, with slight distressing and just the right length is my purchase goal each season!
Every season, I try on countless pairs to try and find the perfect one to add to my summer wardrobe. Some seasons I do not find any and end up taking scissors to an old pair of denim and making my own! While shopping for spring break this year, I took a chance on an online pair that caught my eye and ordered these ones from Nordstrom. I ordered up two sizes from my regular size and these denim shorts ended up being a dream come true! The fit, style and price are all on point. *Note. Nordstrom says to buy a size down. I bought two sizes up.
My denim shorts take me to the baseball fields paired with my favorite converse sneakers and Splendid tank. I wear them with a white tee and sandals most hot summer days. I throw them on over a swimsuit and head to the beach. Like I said, I live in my denim shorts!
Yet, as good as they are casual, they can be dressed up as well!
Tips For Styling Denim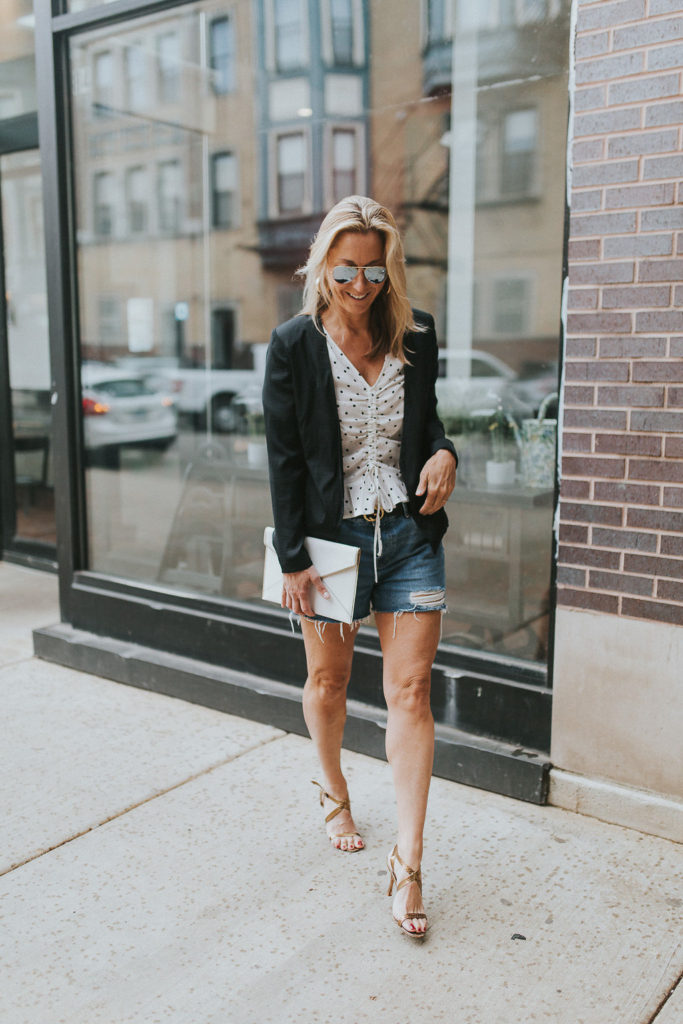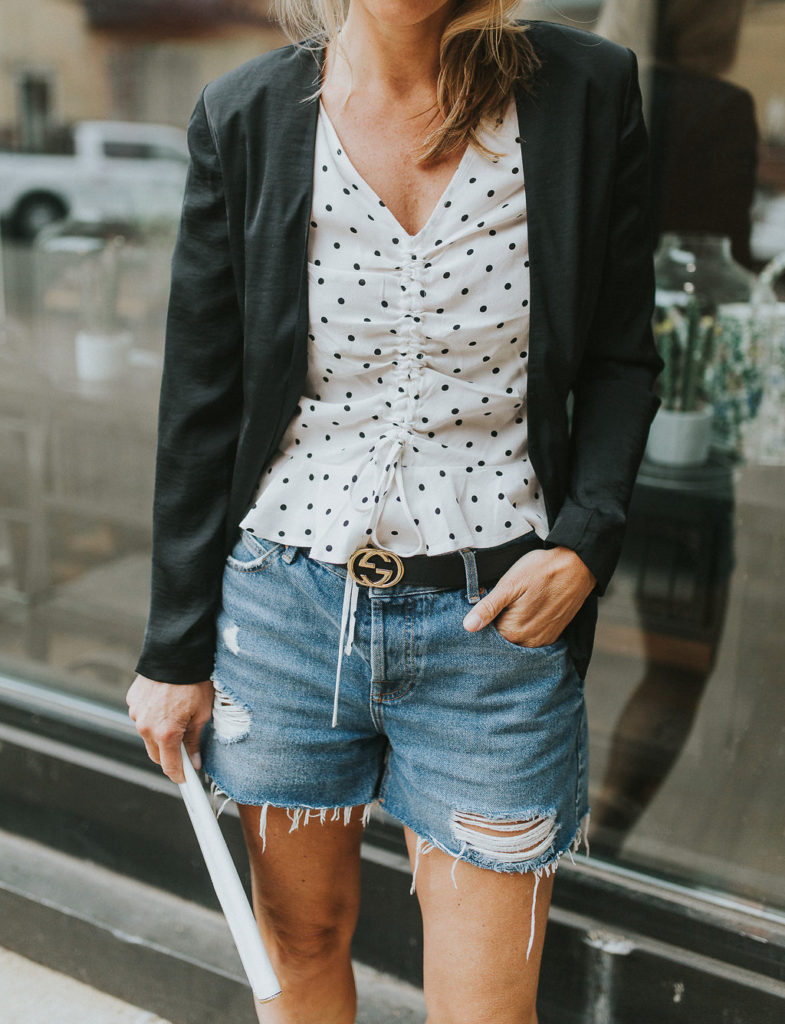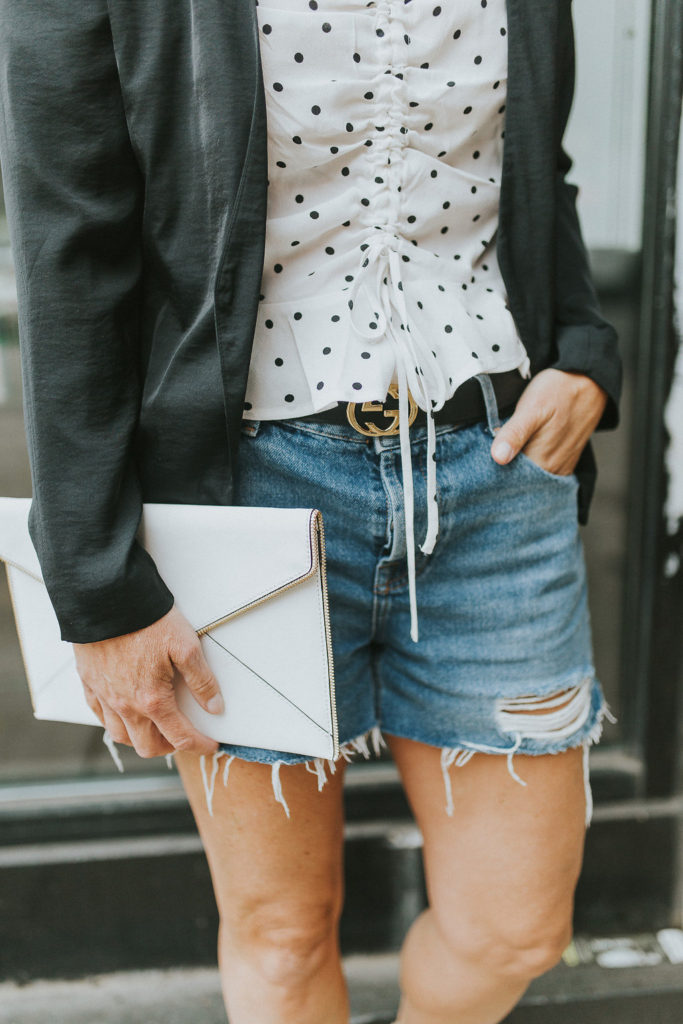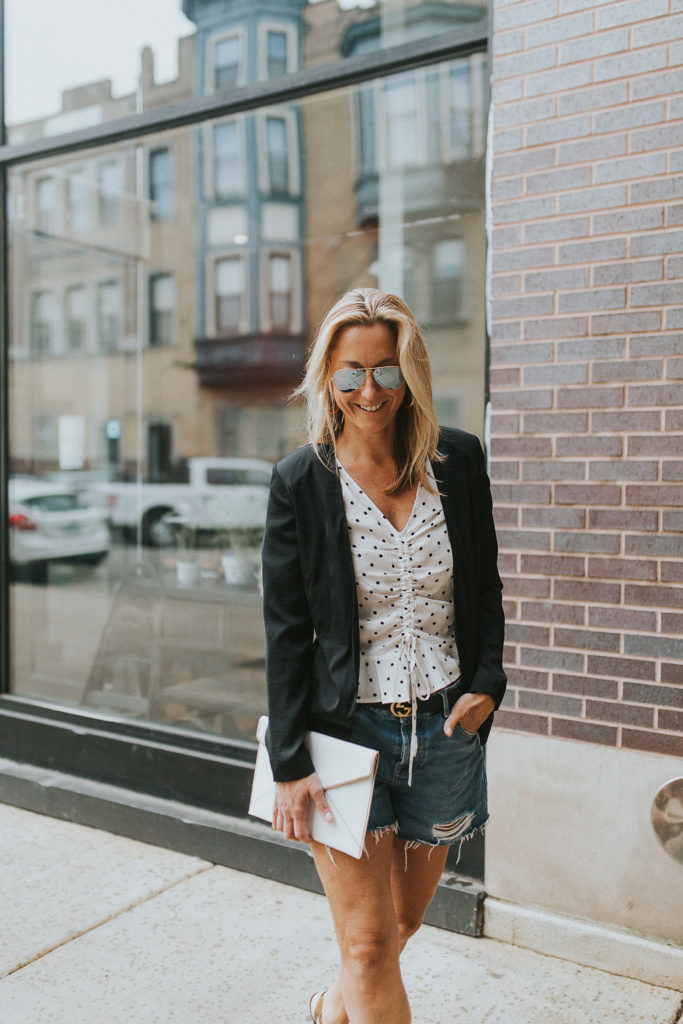 Blazer similar here // Denim Shorts here // Polka Dot Top here // Clutch here // Belt here // Gold Sandals here // Hoops here // Sunnies here 
All it takes is a few staple closet pieces and accessories to elevate denim shorts from everyday casual to chic and sophisticated. I generally follow these simple steps.
How to Make Your Denim Shorts Look More Chic
Incorporate Structure
A well cut blazer is a closet must have. It is my first go-to for adding structure to any look. Add a blazer to an outfit, and it exudes style self-assurance. I love the contrast of a relaxed denim short, paired with a well cut black jacket or blazer. With this one simple piece, you have gone from style casual to style confident.

Add Something Feminine
A structured white blouse, silk camisole or even a white tee are great options to wear with a blazer. If you want to soften the look a bit, then add a little something feminine. Polka dots are all the rage right now and I love them paired with denim shorts and a blazer. Some of the cuts on these tops below have great structure to them, so they stand well on their own too!

Embellish With Gold
Gold accessories are an immediate style upgrade. A great pair of strappy gold sandals dress up just about everything. Pair them with denim shorts and the first word that comes to mind for me is instant chic. As for jewelry, I love the simplicity of a great gold hoop. A gold drop earring is perfect too!


Include Couture and a Clutch
To round out the look of dressing up denim shorts, add a clutch and a couture belt. Both exude sophisticated style!

Another Spin on Dressing Up Denim Shorts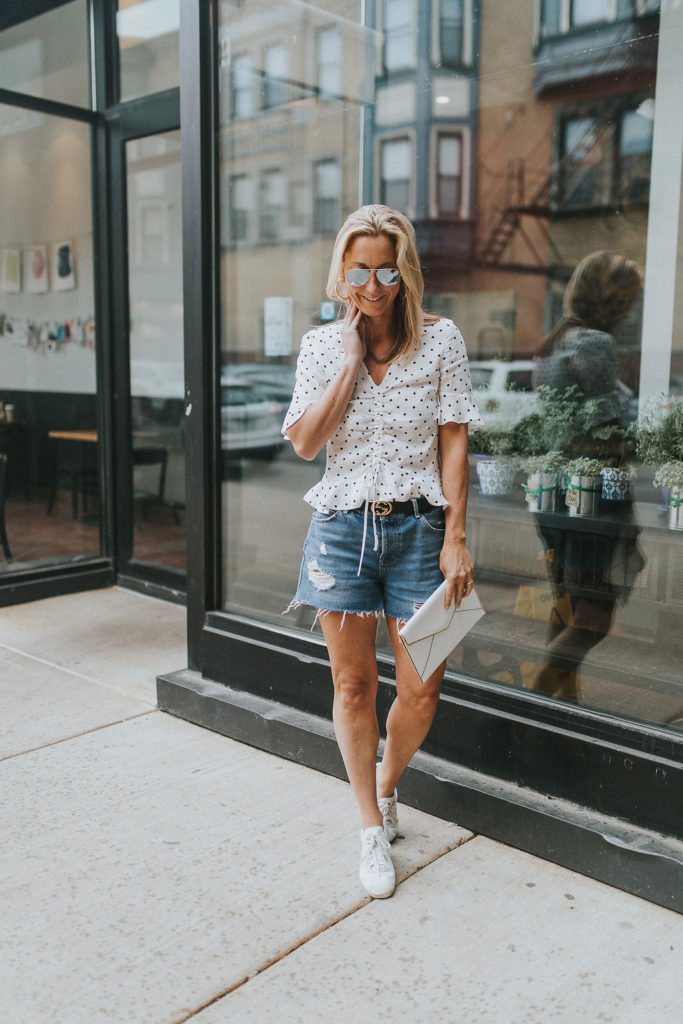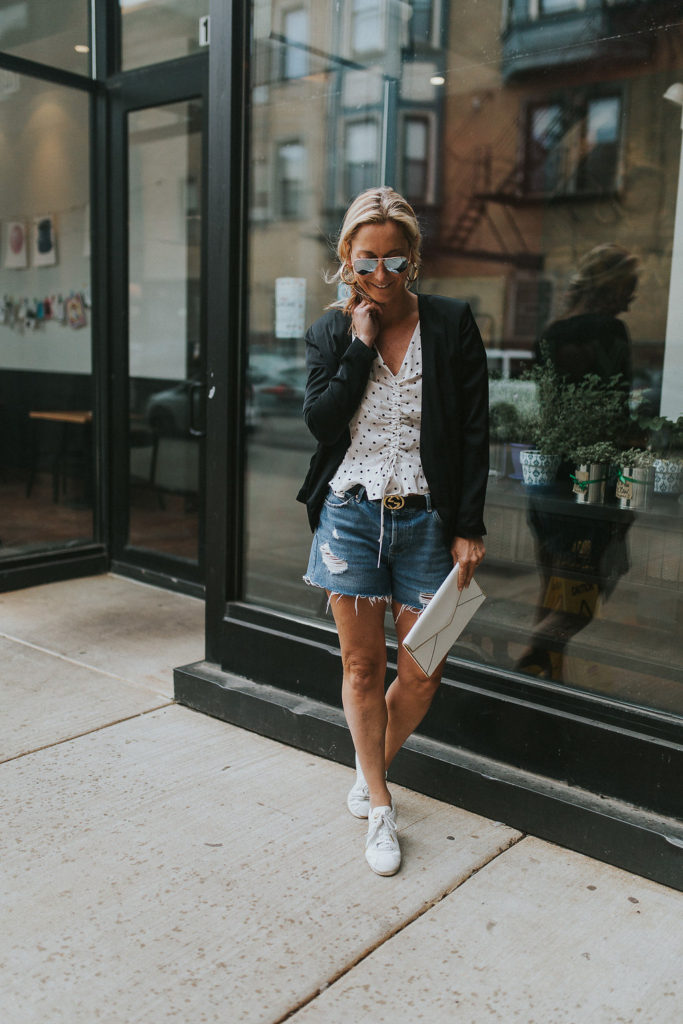 Not into the thought of wearing heels and shorts? Then you can absolutely take it down a notch. I love a good pair of clean white sneakers that can easily be swiped out for the heels without compromising on sophistication.
White Sneakers

See also: Wearing white after Labor Day & styling tips for wearing jumpsuits.
Never Without Navy is also on Facebook, Instagram and Pinterest 
Thanks for stopping by!
L, M
SaveSave