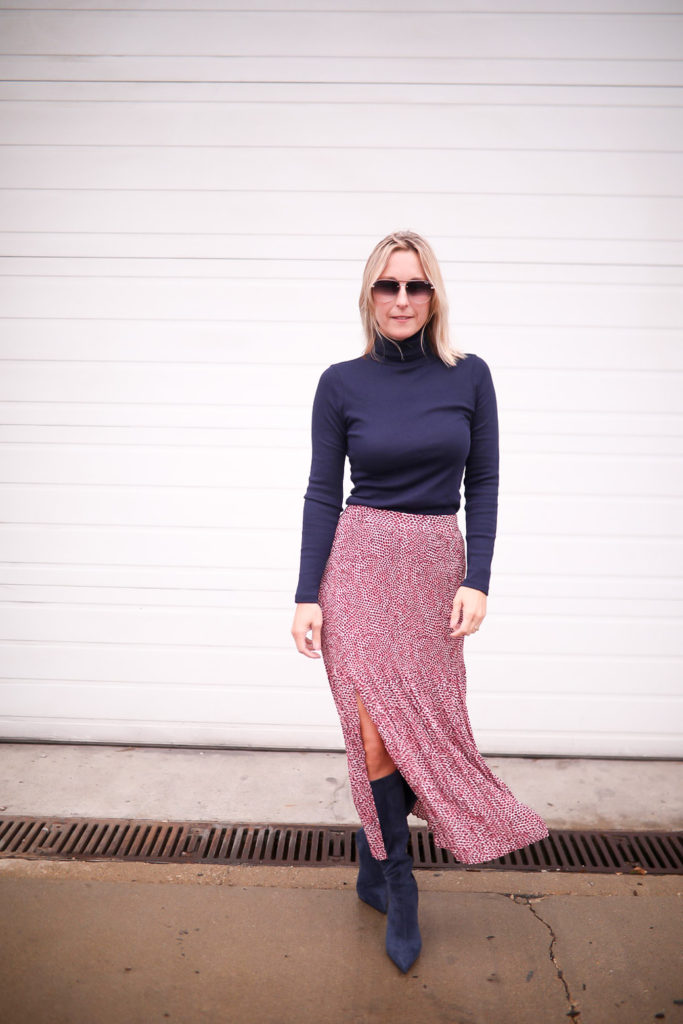 I have been loving the long skirts I am seeing out there right now. There are great collections of beautiful prints, fabrics and various lengths to choose from. It has easily become a current wardrobe favorite. Personally, I find there to be more versatility in wearing a long skirt over a shorter one, especially this time of year. It is a piece you can easily take from day to night. A perfect piece for including in a capsule wardrobe or to take with on vacation! And another advantage is that you generally do not need to worry about wearing hosiery with a long skirt!
How to Style A Long Skirt
When it comes to styling a long skirt, balancing the pieces you wear is important so that your look does not come off as sloppy. If the skirt is long and flowy, then generally a more fitted or structured top and edgy shoe works best. If the skirt is fitted and at the knee, then a looser top and streamlined shoes brings the right balance to your look. Or if the skirt is floral printed or heavily patterned, keep it to a basic on top.  I also tend not to layer or accessorize too much when wearing a long skirt (well, let's be honest, I rarely accessorize!).
Best Shoes to Wear with a Long Skirt
Similar to a maxi dress, pairing the right shoe with a long skirt can be tricky. The styles I tend to stay away from are a ballet flat, loafer and traditional pump. For me, those just seems a little to prim and proper to pair with a long skirt. And as much as I love a clean and classic look, I always want to incorporate a little edge to an outfit. So instead opt for a street style sneaker, a short boot-even a cowboy one-or slouchy or OTK boots to wear with a maxi or midi skirt. And a kitten heel, slingback, street style sneaker or slouchy boot with a fitted or just below the knee skirt.
Best Tops to Wear with a Long Skirt
I feel there is a lot more flexibility in the tops you wear with a long skirt. The only rule of thumb I would argue is keep all tops or jackets above the waist. The one exception being, belting a longer sweater or top with a long skirt. That way your waist is streamlined and the look is more tailored. Pair your maxi skirt with a sweater, a button down blouse (I love it hand knotted at the waist) or your favorite basic. If you are wearing a high waisted skirt, then a fitted crop top is a great option! And nothing says great street style like a long skirt worn with a suede or leather jacket.
Different Long Skirt Styles
Three different lengths come to mind when I think of long skirts-below the knee, midi length and maxi. From there they can be either slim fitting, swing or a-line in style. Printed maxis, silks, leathers and wool all make such great options for the fall season into winter. I am rounding up some of my favorite options below. (click on images below to take you directly to product information)
Below The Knee

Midi

Maxi

Long Skirt Outfit Ideas
In the following three looks, I am styling a midi skirt. I truly think it is the most versatile. However, all three would make great maxi skirt outfits as well! Or you could even add any of these tops over a maxi dress!
A Good Basic and Boots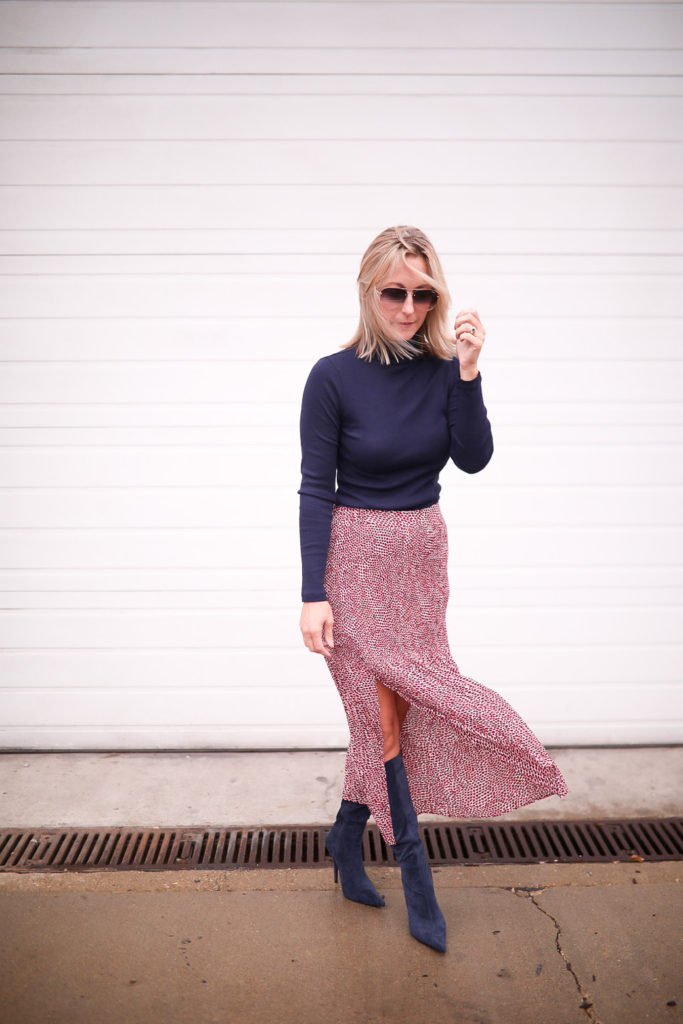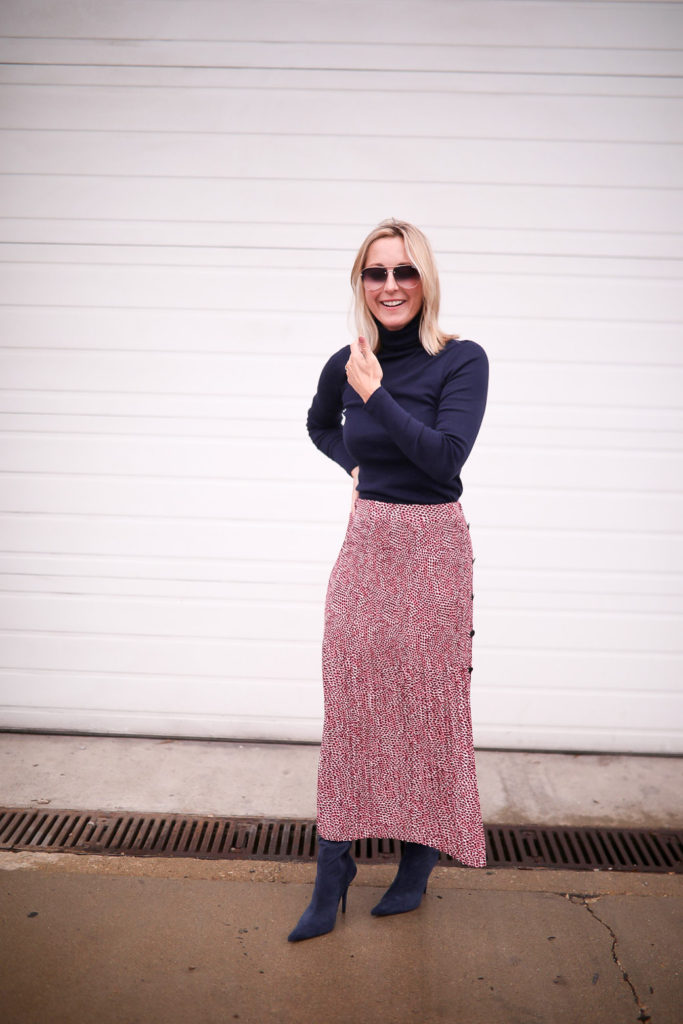 Turtleneck here // Skirt similar here // Sunglasses  here // Boots last season
Grab a great basic and some boots and you have the perfect accompaniments to your look without taking the focal point away from the printed skirt. Also, If you have not snagged this turtleneck you need too! Not just suitable with denim, this piece helps define the silhouette of the overall look here.
A Luxury Piece and Sneakers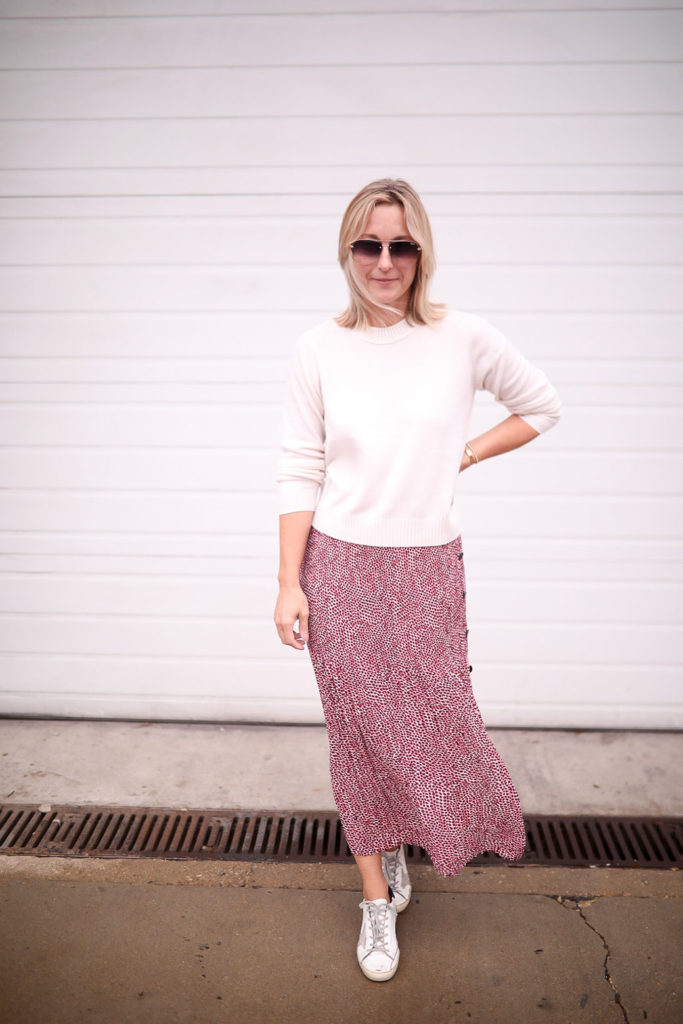 Sweater here // Skirt similar here // Sunglasses here // Sneakers here 
If I can't wear my sneakers, I probably won't wear it! I love sneakers with a skirt, especially for running around town. To balance it out, opt for a luxury fabric on top such as cashmere, velvet or silk. Everlane is always my go-to for elevated basics! The fit, feel and price point on their cashmere cannot be beat!
A Chunky Sweater and Cowboy Boots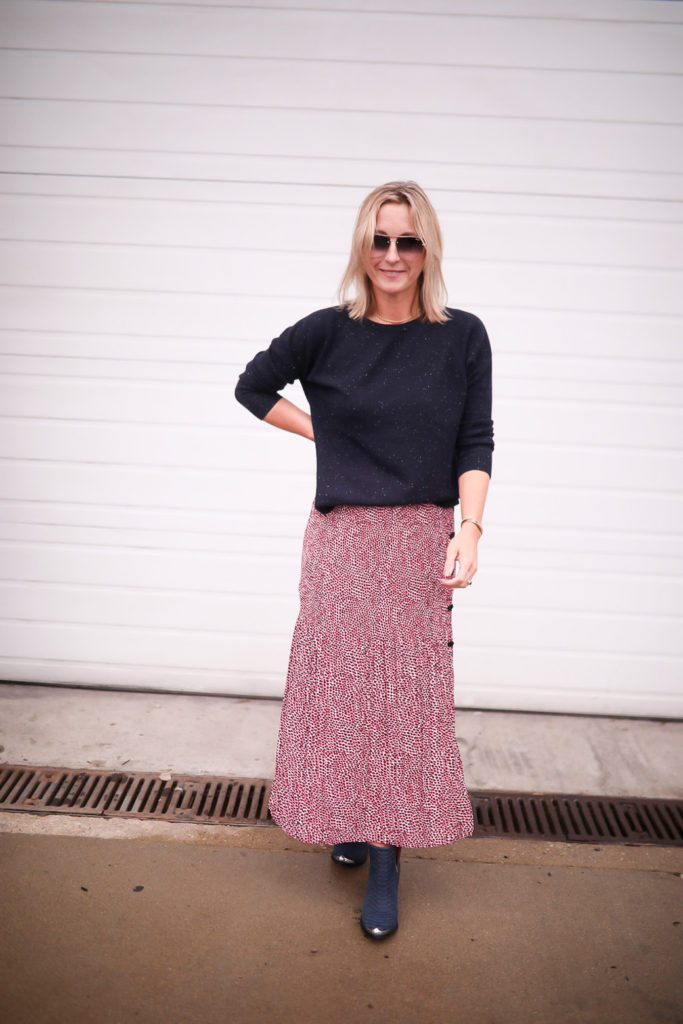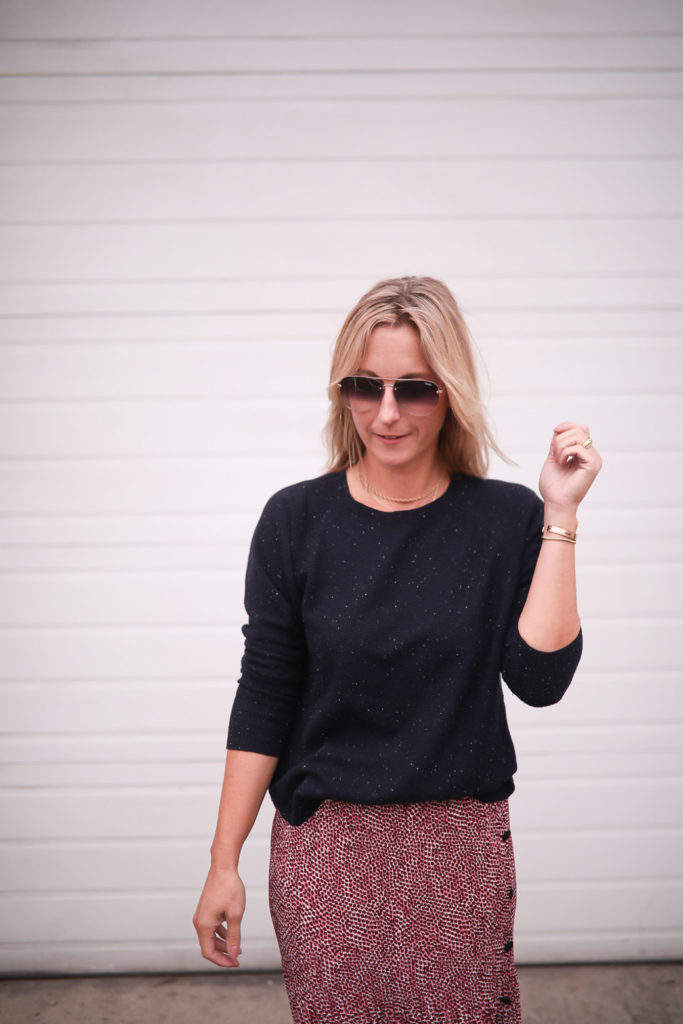 Sweater here  (size up for an oversized look!)// Skirt similar here // Sunglasses here // Boots here 
A short boot looks great with a midi skirt. And I love utilizing my cowboy boots anytime I can outside of Nashville! On top here, I paired a slouchier sweater with my skirt. I fell it works because it it still tailored at the neck and shoulders. Tucking it in to the waist helps pull the look together a bit better!
Still in need of a quick Halloween costume you can pull from your wardrobe? How about a black maxi skirt paired with a fitted black turtleneck, black OTK boots and a witch hat?!
You can also follow me on Facebook, Instagram and Pinterest 
Thanks for stopping by!
L, M