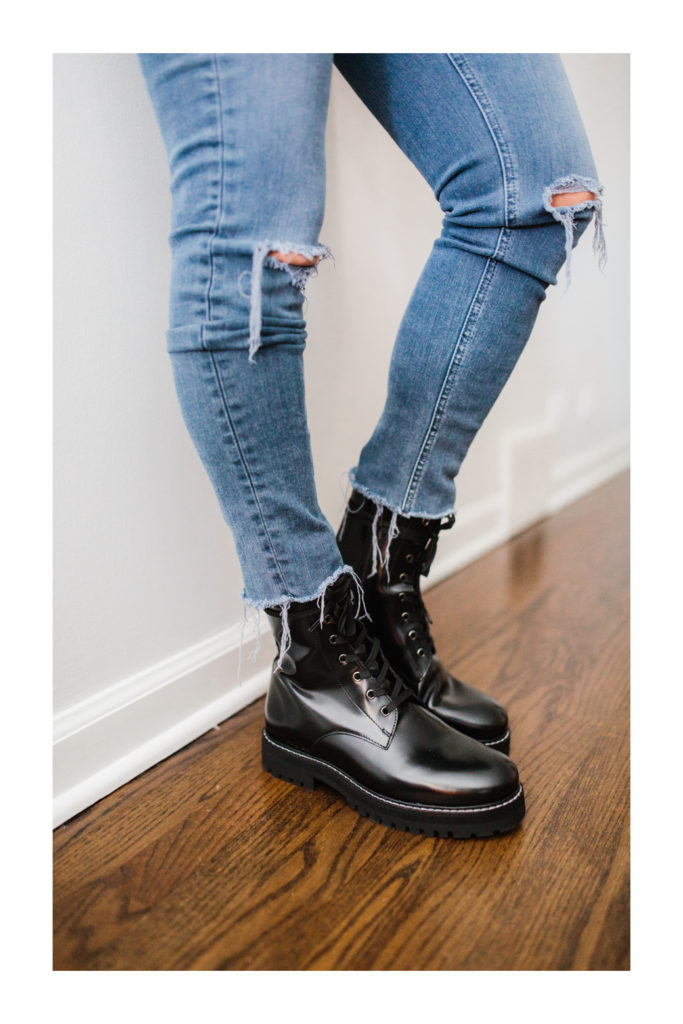 My absolute favorite purchase this fall season is hands down my pair of combat boots. As much as I love them though, I admit, I was a little bit hesitant initially to make this purchase. Are they too trendy? Will they really work with my everyday basics? Will I still love them next year? Well, I am happy to say that I barely have taken them off since getting them!
I spent a lot of time honing in on the style I wanted in a pair. Yes, Doc Martens first came to mind but they seemed a little bit too bulky for what I wanted (and honestly I cannot get the image of Liv Tyler wearing/rocking them with a mini skirt in the movie Empire Records!) Then I came across a black leather pair I loved from Rag & Bone (here) but I did not love the price that came with them. So a sponsored post popped up in my Instagram stories with these pair of combat boots from Thursday Boots. I never heard of the company but I instantly fell in love with their style. Plus the price seemed fair and with free shipping and returns I thought why not!
Honestly I could not be happier with them! Made in Portugal, the quality and craftsmanship is excellent and far exceeds the under $200 price tag.
How to Wear Combat Boots a Few Different Ways
Chicago winters are harsh. We all know that! But I don't love being in a winter boot every time I head outdoors. I think a combat boot is a nice bridge in between your ankle boots and winter boots. They have kept my feet warm and they are substantial and sturdy. And honestly they took no time to break in. I have worn them in comfort since the moment I laced them up!
But besides taking them outdoors in the winter with my down coat, how else do you wear combat boots? For me, it is keeping the rest of my look simple (no surprise there!) and letting the combat boots be the focal point of the outfit.
Denim and a Button Down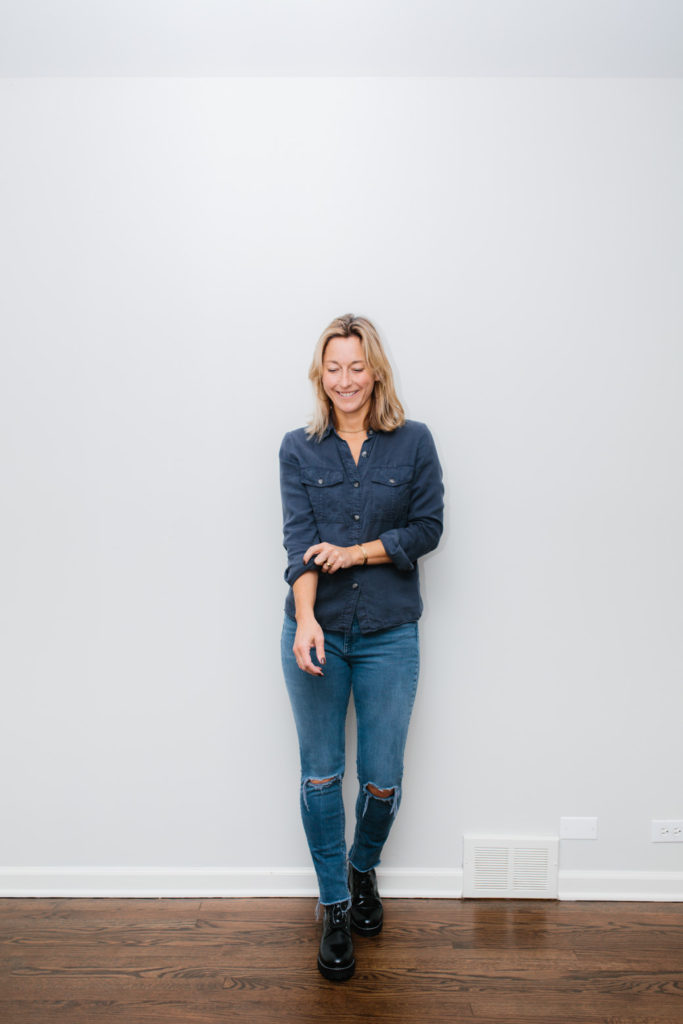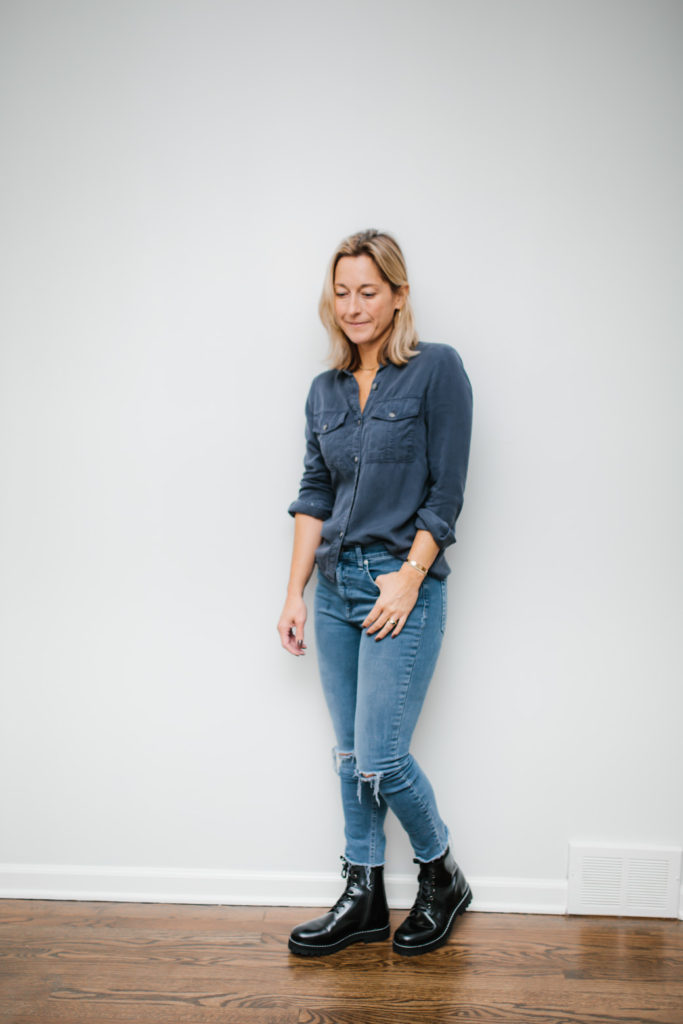 Button Down (recommendation) here // Denim here // Combat Boots here
Reach for the classics to offset the edgier footwear. A simple t-shirt or button down in a solid color paired with denim is all you need! I opt for ankle or skinny jeans because I don't want to cover the boot. Leave the hem out or tuck it into the boot!
Denim and a Blazer
Blazer here (and on sale!) // Hoodie here // Denim here // Combat Boots here 
Remember my love for the word "street style"? And for me it means mixing different fashion items to produce a unique look? So with that said, I would avoid wearing combat boots with a leather jacket. Similar to how you would wear biker boots, it ends up looking a little too harsh and predictable. Instead opt for a faux fur jacket or a classic blazer to soften things up. And layer underneath with a simple t-shirt or a hooded sweatshirt!
Denim and Cashmere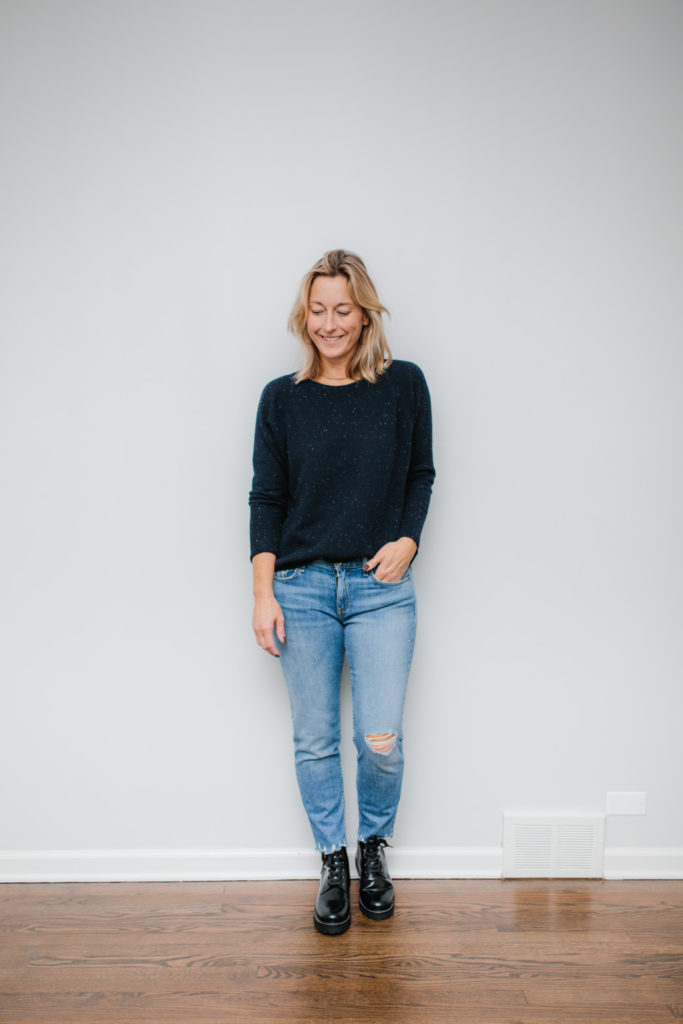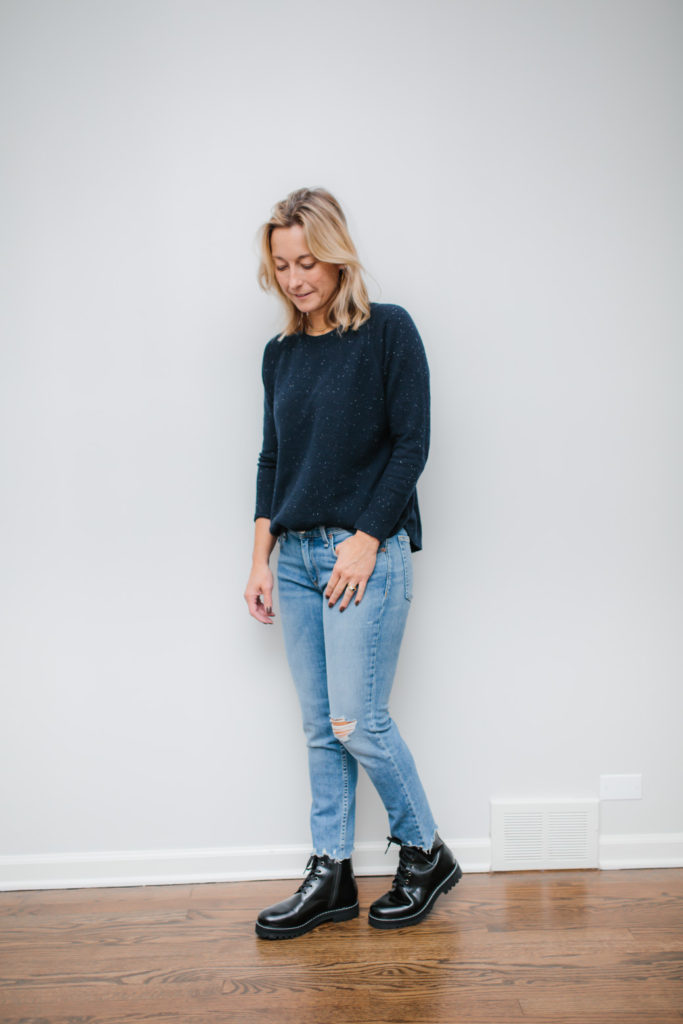 Cashmere Sweater here // Denim here // Combat Boots here
Luxury items can elevate just about any look. A simple cashmere sweater is always good idea! I like something a bit looser on top with skinny jeans so this cashmere sweater works well!
Knit Crop Pants and a Basic
Turtleneck here // Knit Pants (similar) here // Combat Boots here 
I wanted to show that combat boots can be worn with other bottoms besides denim but combat boots with skirts or dresses personally does not work for me! I love the idea of combat boots styled with a wide leg crop pant though! These wool (not itchy) pair are a great dressier alternative to wear this winter. And once again, I am in my favorite winter basic, the perfect turtleneck from J. Crew!
You can also follow me on Facebook, Instagram and Pinterest 
Thanks for stopping by!
L, M