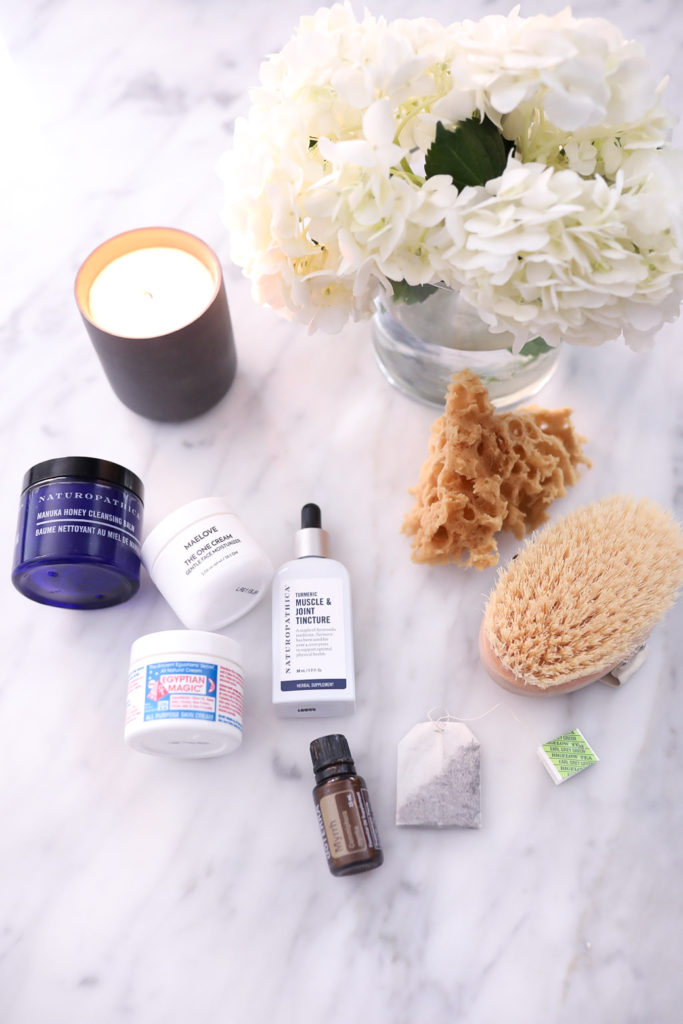 It has been about a year since I began switching a good amount of my skin care products to cleaner options. Now that is not to say that everything I use is clean. I definitely turn to a few medical grade lines, mainly Elta MD for sunscreen and Revision skincare for anti-aging. Yet when it comes to my everyday skin care routine, my shelf is mostly lined with clean beauty products. But clean does not necessarily mean natural.
A clean beauty brand strives to formulate beauty products which are not harmful to your health (for a comprehensive list of ingredients to avoid head here). A natural brand will source its ingredients from nature. Such brands make use of raw ingredients, botanical oils, extracts and butter, natural salts and everything in between. So when a skin care line creates a product that merges both of these worlds, well then, I feel really good about what I am putting on my skin and absorbing into my body.
Because the chemicals put into skin care products are not regulated by the government, you think that most women would want a natural, organic skincare routine. The truth of the matter is, we tend to avoid natural skin care because, well, it seems complicated or unglamorous.
But I promise that incorporating Mother Nature into your skin care routine can be super simple, and the effects are amazing.
Natural Care Beauty Tips
Aloe
Aloe vera is perhaps one of the most widely used natural remedies for topical skin conditions. You probably have used aloe in the past for sunburn or cuts. In addition to its healing power though, aloe also contains antioxidants, enzymes, and Vitamins A and C making it an excellent moisturizer for dry skin.
At home skin care tip: Brow Groomer-For a healthy and effective brow gel, simply dip a clean mascara wand in aloe vera gel and brush over brows to keep them in place!
Coconut Oil
For all you moms out there, remember when we all used Palmer's Stretch Mark Lotion when we were pregnant? I swore by it and I am confident it helped reduce scarring on my abdomen. Well the main active ingredient in this lotion was coconut oil! Coconut oil is highly emollient, helping keep your skin ultra hydrated. With application, it makes the skin more elastic and less prone to stretch marks. Its lauric acid content also makes for easy absorption into the skin's layers, where it may have a positive effect on collagen production. Coconut oil can be used to hydrate your hair, moisturize your skin, remove makeup and act as a shaving balm.
At home skin care tip: Makeup Remover-Apply it directly to the face as an oil cleanser, or let it sit on your skin with a cotton pad. Makeup will melt away.
Dry Brush
I did a whole post on the benefits of dry bushing here. In short, by dry brushing, your body is getting an internal detox boost. Externally, the results are easier to see! An efficient way to get rid of dead skin cells, a dry brush does a wonderful job of exfoliating. Not only does your skin look and feel better, but the process itself is both stimulating and invigorating!
At home skin care tip: Body Exfoliator-Apply an essential oil to the brush. Starting at your feet, use long, upward strokes or small circular motions. Work your way up the body towards the heart. Whatever part of the body you are at, it is important to always start at the bottom of the limb and work your way upward. For the stomach, work in a counterclockwise pattern.

Green Teas
In the world of superfoods, green tea is a star! But beyond the kettle, green tea's antioxidants serve well in a host of beauty products! Facialists, makeup artists, and dermatologists all love using green tea bags to boost tired eyes. The idea is that the tea's caffeine can help get fluids and circulation flowing. Plus, "the cool temperature" is anti-inflammatory for soothing and calming puffy or swollen eyes.
At home skin care tip: Puffy Eye Treatment-After briefly steeping green tea bags to wet them, cool in the refrigerator, then place under your eyes for five to ten minutes
Olive Oil
Naturally, olive oil is packed with anti-aging antioxidants and hydrating properties, making it superb for hair, skin, and nails. Just like coconut oil, it's an essential in any natural brand moisturizing beauty product.
At home skin care tip: Cuticle Treatment-Apply a few drops of olive oil to each cuticle and allow it to absorb for about 15 minutes.
Raw Honey
Honey, especially raw or unpasteurized, is fabulously versatile. It's full of antioxidants, which are good for wrinkles and aging skin. It is antibacterial, which helps with acne treatments and prevention. It's also a great moisturizer that soothes dry skin and leaves a lovely after glow!
At home skin care tip: Lip Balm-Apply raw honey directly to lips, leave on for a few minutes, then wash off.
Turmeric
Long used for a number of health treatments in the East, turmeric is gaining popularity in the West, especially when it comes to beauty benefits. Topically, turmeric powder is quickly becoming popular for age spot treatment. When ingested, it also works wonders for sore muscles and inflammation! 
At home skin care tip: Brightening Mask-Mix one teaspoon of honey, 1 teaspoon of milk and 1/4 teaspoon of turmeric to make a quick face pack. Leave it on for 20 minutes and then wash off with warm water. Note: As far as side effects go, the most obvious consequence of topical turmeric is skin staining. With just a pinch of pure turmeric, you should be just fine. Just don't leave it on your skin too long. But luckily, even if you do, it isn't permanent and a good exfoliator should remove the stain.
My Go-To Natural and Clean Beauty Items

If you are not quite on board with at home use, there are a lot of great products on the market that incorporate these beneficial natural ingredients! Here are some of my favorites!
It's the cream to have on hand for everything and a true cult favorite, even among the celebrities! Made of only six natural ingredients: olive oil, beeswax. honey, bee pollen, royal jelly and bee propolis, this cream hydrates and repairs skin from head to toe. Use as a moisturizer, lip balm, eye cream or after-sun moisturizer. It also works wonders on eczema and skin irritations. It is a life saver during the dry, harsh months of winter on my skin!

If you don't want to revert back to Palmer's ( I know some do not love the smell!) then Kopari offers a wonderful line of coconut oil based beauty products! Take a look at their Coconut Melt that satisfies just about every beauty need or ailment!

Maelove is a skincare line I have newly discovered. Their products contain all the ingredients we look for in luxurious skin care lines but without the hefty price tag or harsh chemicals. And yay! All their products are cruelty free! Their glow serum in particular will also be another permanent fixture on my beauty shelf! It is magic in a bottle with a price tag that will make you smile! For the complete line of Maelove Skincare products head here

This is the product that changed the way I thought about natural beauty care. It is the holy grail in my beauty cabinet shelf! Manuka honey is the most soothing, luxurious ingredient I have ever put on my skin. Not only does it act a gentle cleanser for washing your face but you are left with soft, glowing beautiful skin! I will never not have this as part of my skin care regiment!

I love turmeric! And I love adding turmeric to a pressed juice. So when the same line that gave me the Manuka Honey Cleansing Balm came out with this herbal supplemental product, I wanted to try it for sore muscle relief! My muscle pain is not severe by any means but this definitely helps!

You can also follow me on Facebook, Instagram and Pinterest 
Thanks for stopping by!
L, M