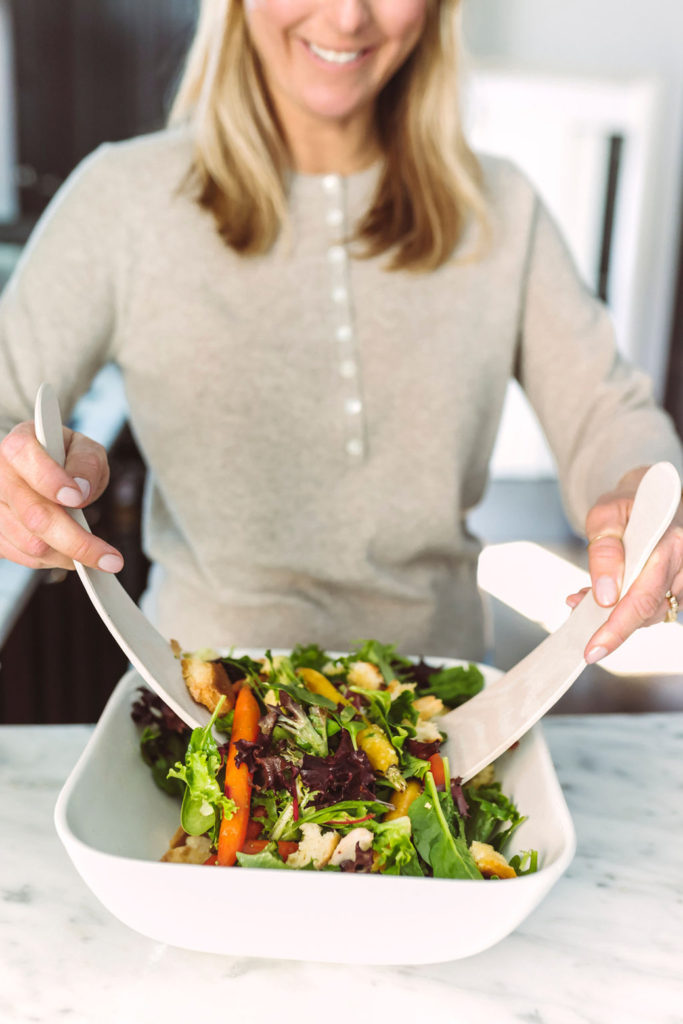 A couple of months back a friend reached out to me letting me know she had a bunch of cookbooks she was planning to give away and was nice enough to give me the first right of refusal! Of course, I jumped on it! And oh my goodness, am I glad I did. I scored on some great classics!
The cookbook world is competitive and there is always a new kid in town taking center stage (hello Half Baked Harvest!). So often we forget about some of the great cookbooks of years ago. One such one is Jamie Oliver's "Jamie At Home: Cook Your Way to a Good Life". 
This cookbook is filled with recipes based off his abundant garden (which translates perfectly fine to Farmer's Market or local produce finds for us!) While there are some sections not for me (I don't do rabbit or lamb!), I nevertheless appreciate Jamie's love for taking food back to its original sources. The times when we grew it at home and knew where my meat sources came from.
While there are many recipes I could highlight, I thought this salad was perfect for these winter months. A nice, hearty salad with root vegetables and citrus! It is an easy list of basic ingredients yet the combinations and taste is refreshingly unique! Energizing and fulfilling. Beautiful yet uncomplicated.
Roast Carrot and Avocado Salad with Orange and Lemon Dressing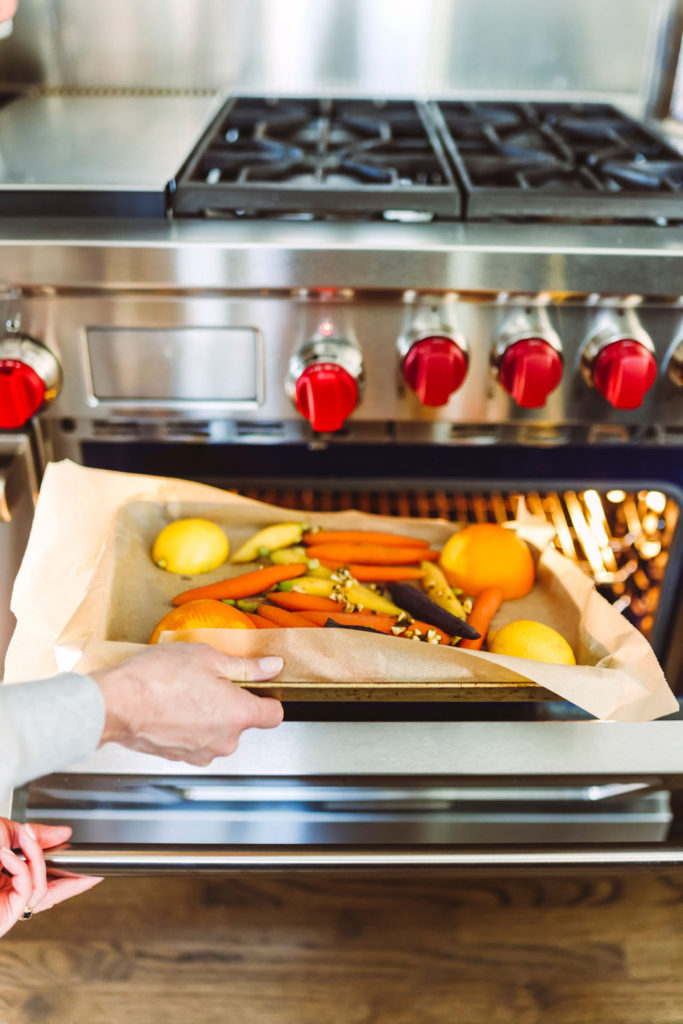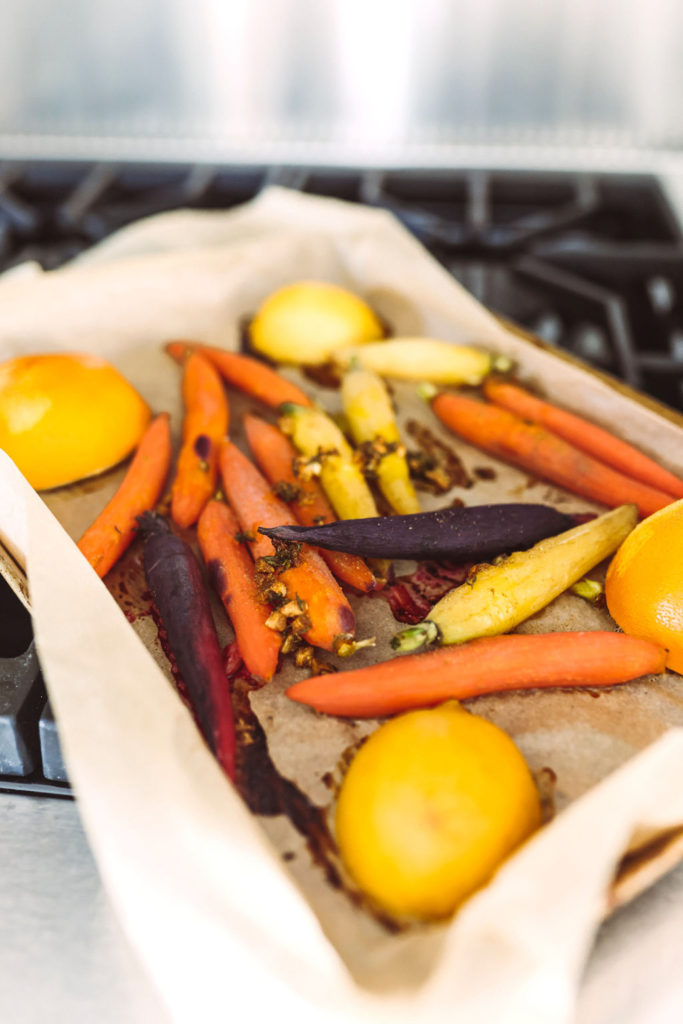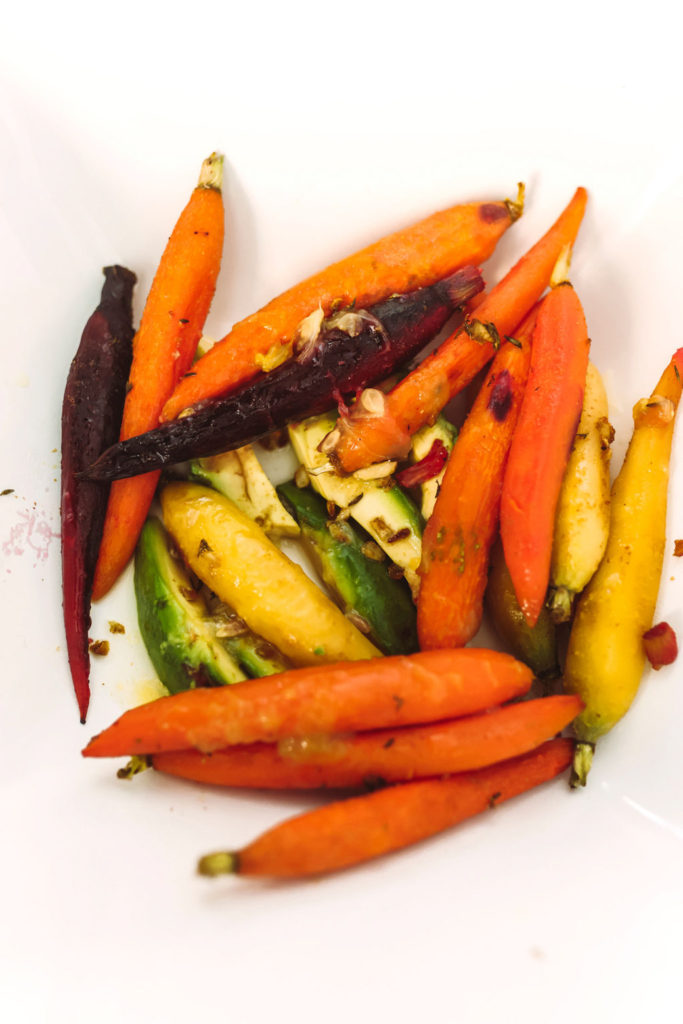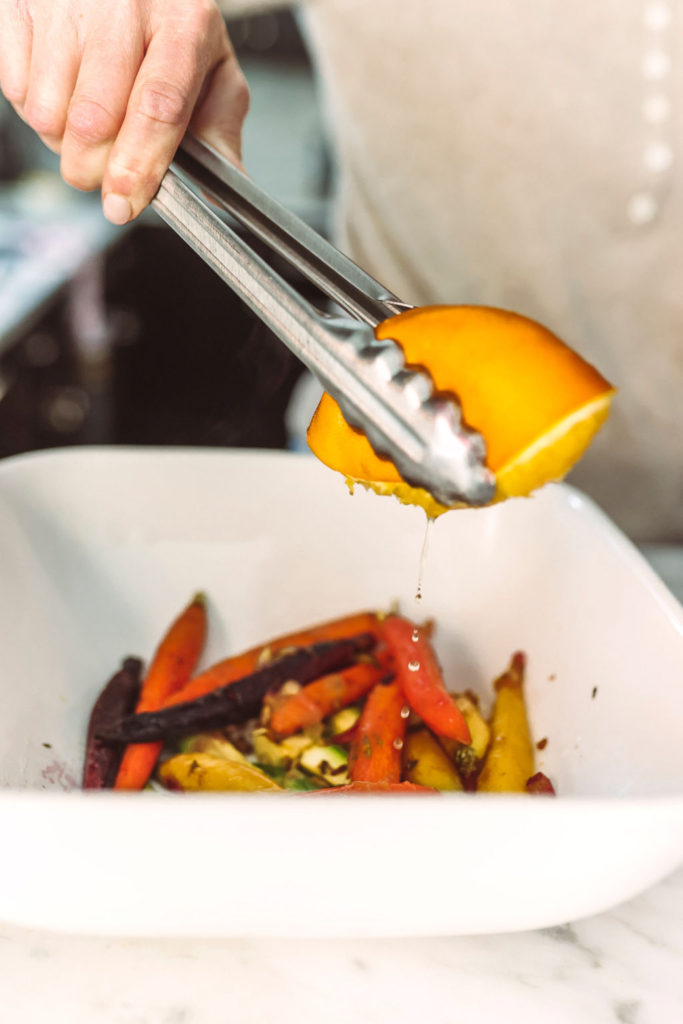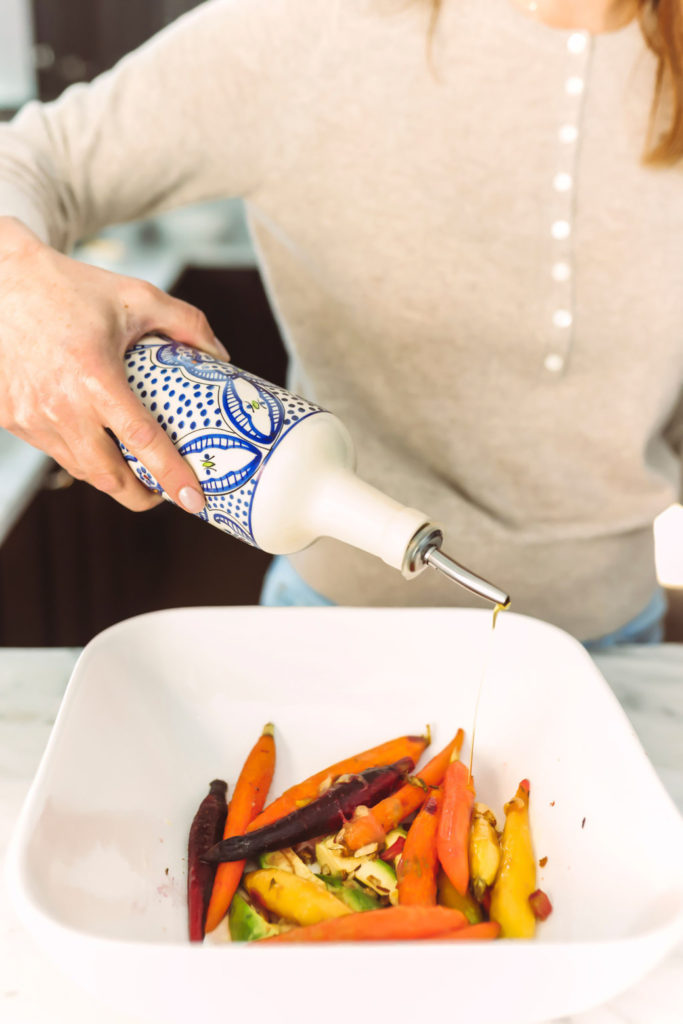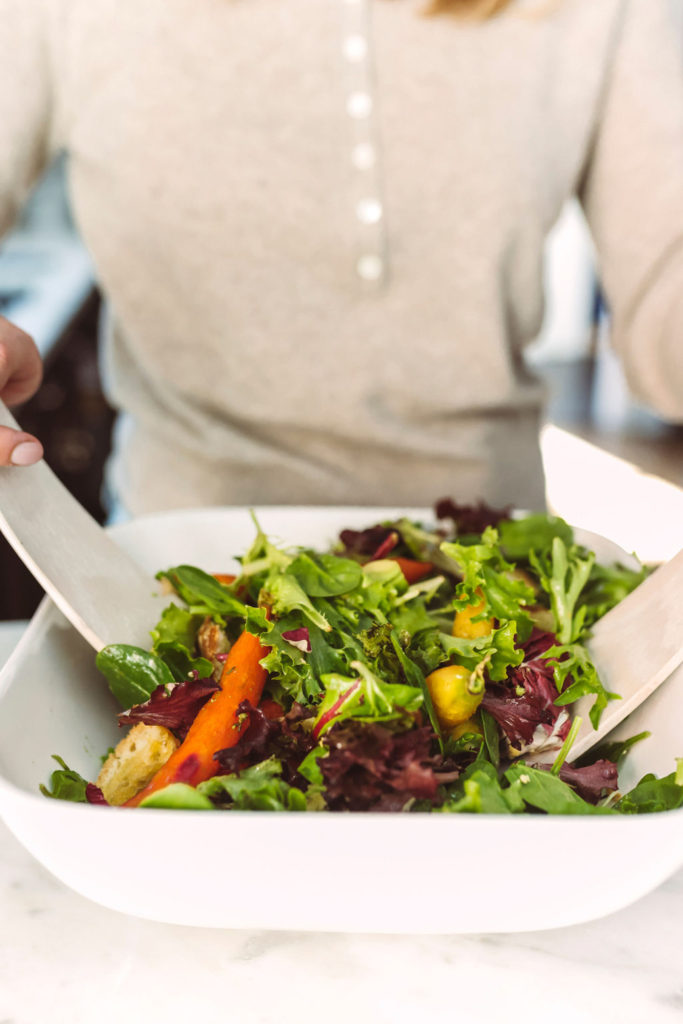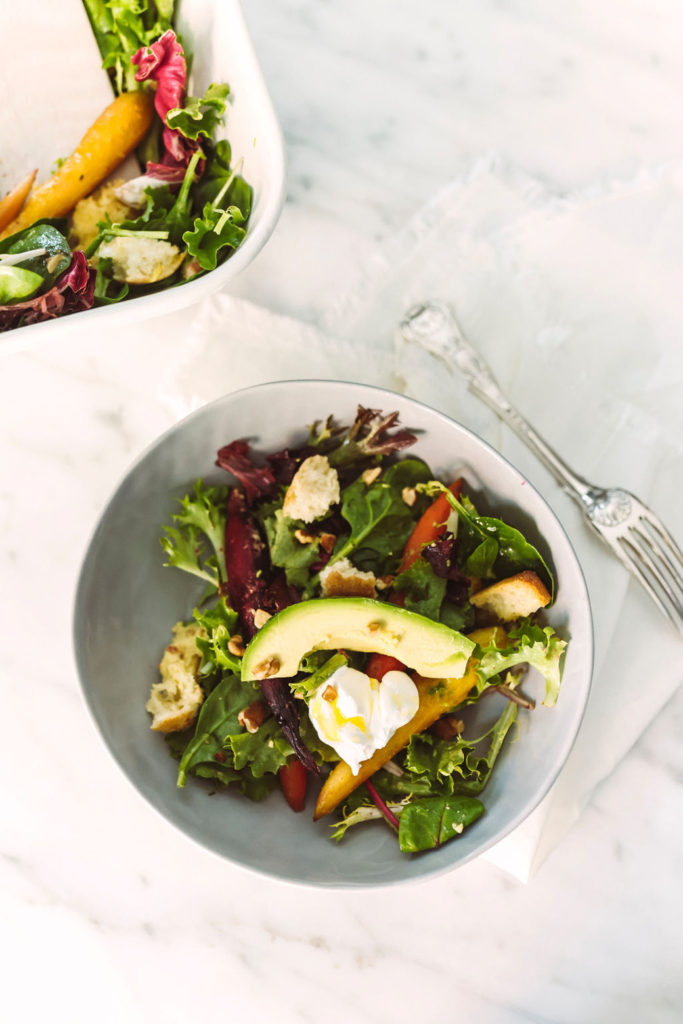 Ingredients:
1 pound medium mixed colored carrots (Trader Joe's has a packet of them!)
Sea salt
2 level teaspoons whole cumin seeds (or 1 teaspoon of ground cumin)
1 or 2 small dried chiles, crumbled (if you can find them otherwise I used a pinch of red pepper flakes!)
Freshly ground black pepper
2 cloves garlic, peeled
4 sprigs fresh thyme, leaves picked
Extra-virgin olive oil
Red or white wine vinegar
1 orange, halved
1 lemon, halved
3 ripe avocados
4 (1/2-inch thick) slices ciabatta or other good-quality bread
2 handfuls interesting mixed winter salad leaves (like, arugula, radicchio, endive )
2 bunches watercress (optional)
2/3 cup sour cream
4 tablespoons mixed seeds, toasted ( I use walnuts!)
Directions:
1. Preheat the oven to 350 degrees.
2.Parboil the carrots in boiling, salted water for 10 minutes, until they are very nearly cooked, then drain and put them into a roasting pan. While the carrots are boiling, get a pestle and mortar and smash up the cumin seeds, chilles, salt and pepper (or if you are using ground cumin and red pepper, just mix together). Add the garlic and thyme leaves and smash up again until you have a kind of paste. The idea here is to build up the flavors. Add enough extra-virgin olive oil to generously cover the paste, and a good swig of vinegar. This will be like a marinade, a rub and a dressing all in one! Stir together, then pour over the carrots in the pan, coating them well.
3. Add the orange and lemon halves, cut side down. These will roast along with the carrots, and their juice can be used as the basis of the dressing. Place in the preheated oven for 25 to 30 minutes, or until golden.
4.While the carrots are roasting, halve and peel the avocados, discarding the pits, then cut them into wedges lengthwise and place in a big bowl. Once done, remove the carrots from the oven and add them to the avocados. Carefully, using some tongs, squeeze the roasted orange and lemon juice into the bowl and add the same amount of extra-virgin olive oil and a little swig of vinegar. Mix well.
5.Tear the toasted bread into little pieces and add to the dressed carrot and avocado. Toss in the salad leaves and cress. Divide between individual plates. Spoon over a nice dollop of sour cream, sprinkle over your toasted seeds and drizzle over some extra-virgin olive oil!
In case you missed it last week, I now have a storefront on Amazon. Head here to check it out!
Bon Appétit!
You can also follow me on Facebook, Instagram and Pinterest 
Thanks for stopping by!
L, M