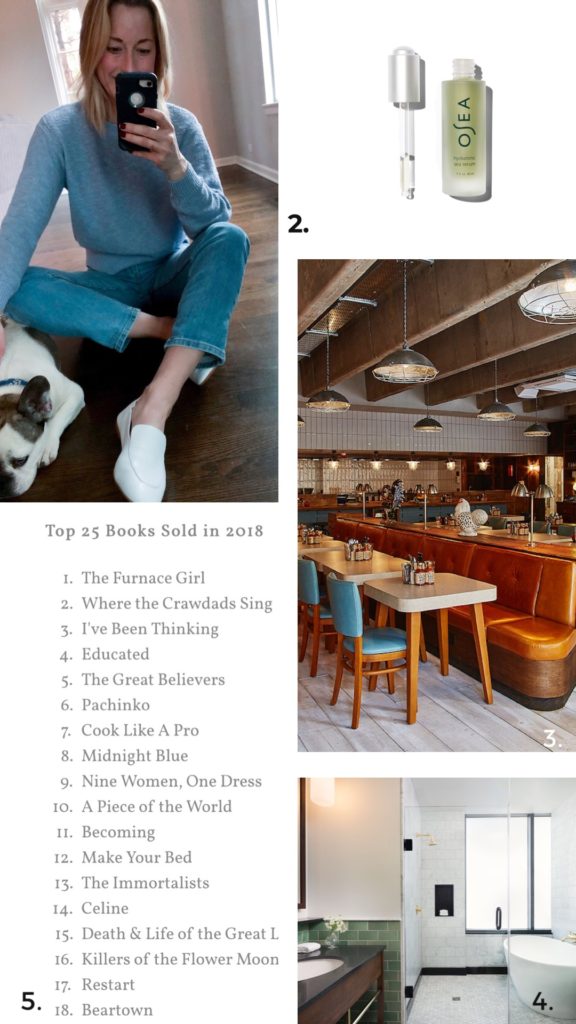 This series is coming at you a week earlier than usual! Never Without Navy heads on Spring Break next week! I will be back in your inbox in April!
Did you catch this week's Instagram post where I showed off these pretty white loafers Everlane launched this week? I am always blown away by the quality and comfort of Everlane products! And these are such a perfect addition to your spring wardrobe! Made in Italy, they run TTS and come in a few other colors.
I am in the market for a GREAT serum. The ones I have used in the past have done nothing for me-Tula, M-61, Marie Veronique (still love these lines for other products!). And while I really want to get my hands on Vintner's Daughter, I can't quite bring myself to spend the money just yet. After some research, I decided to try this one from OSEA. So far, I am obsessed! The consistency of the serum leaves my skin dewy, plumped and bright! The fact that it is a clean beauty product is an added bonus! Speaking of which, Follain is my recent discovery and destination for all things clean beauty!
I thought I had been to it all at Soho House in Chicago. Um, was I wrong! The Allis takes center stage for sure at this Fulton Market establishment but I might have a new favorite food stop in this neighborhood! Nestled upstairs and in the back of Soho House, you would never know Chicken Shop was there expect for a small sign leading you up the stairs! While of course chicken is the main attraction, there are other good eats and plenty of libations to choose from in this very hip but cozy diner.
I have fallen in love with downtown Milwaukee and the 3rd Ward District. I'm planning a weekend there next month and booked the Journeyman Hotel-a Kimpton (yay!) property! I cannot wait to bring you a full post on all I discover there!
Need a good book for spring break? I love this round-up of recommendations from my local book store! They also share the Top 25 Books of 2018 on their home page here 
You can also follow me on Facebook, Instagram and Pinterest 
You might also like, Series: Five Favorites – Feb. and Series: Five Favorites – Jan.
Thanks for stopping by!
L, M