With February behind us and the thought of spring making it's way to us, I start to gravitate towards blush tone neutrals. Blush is a neutral that really is flattering on everyone. With just the slightest touch of pink, it gives added life to any outfit while still managing to be the perfect neutral. And with the lack of Vitamin D our bodies have received lately, it does not wash out the skin tone like most neutrals can do this time of year. What I also love about the blushes featured in this post, is that they carry over nicely into your summer wardrobe as well!
Basics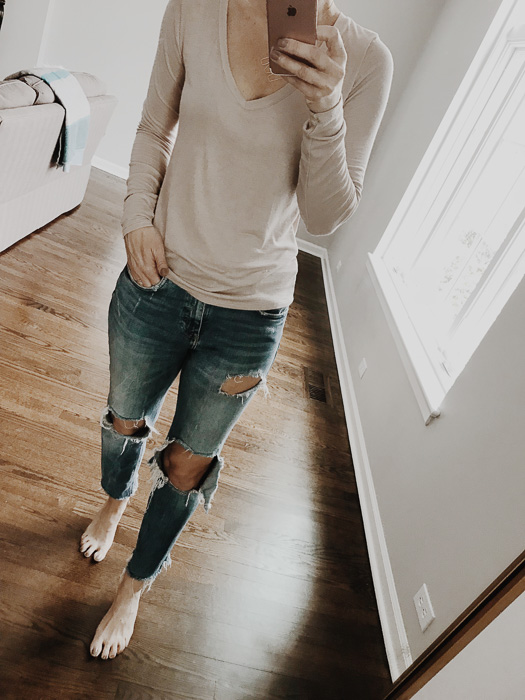 For those who love the tissue texture and feel of basics, then this top is for you! I have a grey crewneck version of this top here that I love, and I was so excited to see this blush v-neck version come out as well.  So soft on the skin, this basic is perfect for lighter layering. I love that it is not too form fitting and allows for some movement and breathability. I usually size up in my tees and I am wearing a medium here. There is also an exposed seam down the back which gives this basic an edgy boost. My denim is Zara and I bought them last year. I love the style of them-highwaisted, distressed with a relaxed fit.
Layering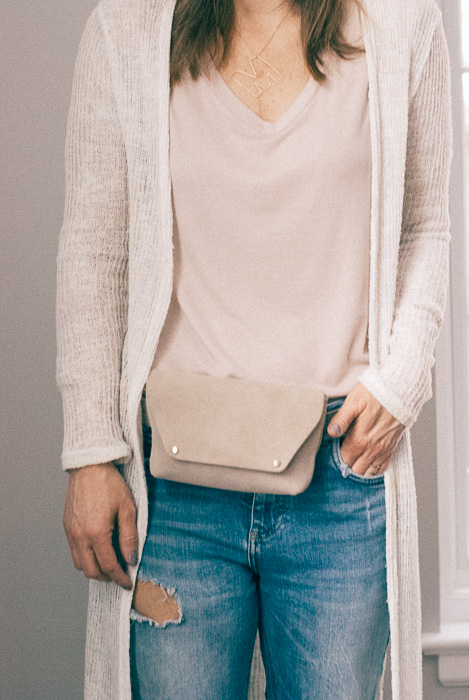 I am a huge fan of duster cardigans. It is the perfect layering piece that works with just about anything you are wearing. Maxi dresses, summer dress, denim and tanks, shorts and shirts, over a swimsuit, and the list goes on and on. This knit version (similar versions here and here) I wear all summer long and easily becomes the perfect travel companion.
Accessorizing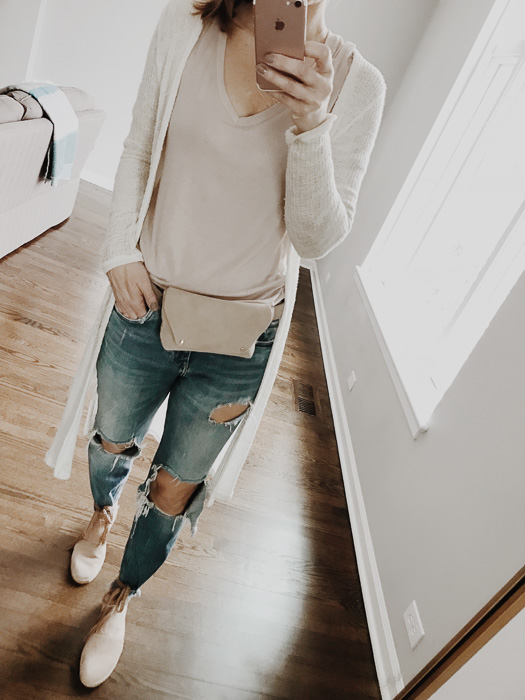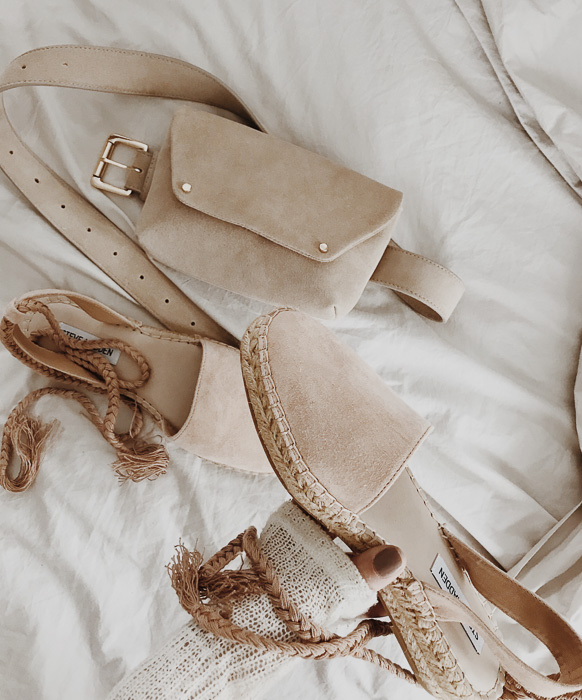 Two of my recent favorites purchase are these wraparound espadrilles and this fanny pack belt bag. Let's talk about these espadrilles first.  For a basic shoe, these sure do pack a lot of punch! I love the fact that they are closed toed which takes the pressure off of having to have the perfect pedi in order to wear them! They come in all sorts of fun colors, but I am partial to this blush neutral (color is "nude suede" but has a blush undertone). The braided ties are what makes these espadrilles so special. For under $100, they are a no brainier purchase!
The concept of a fanny pack exists for a reason. It is a super convenient way to carry around a light load of essentials whether it be while traveling, heading to a concert or out biking or hiking. Yet let's be honest. The banana style nylon version of the past definitely has a stigma attached to it! One might sum it up as fashion suicide! Luckily, fashion house Gucci came out with a more updated and stylish version of this concept and other designers quickly followed suit! This one from Free People easily holds a cell phone, car keys, a lipstick and small wallet. From vacations to concerts, this will be getting a ton of use!
Neutral Blushes Mood Board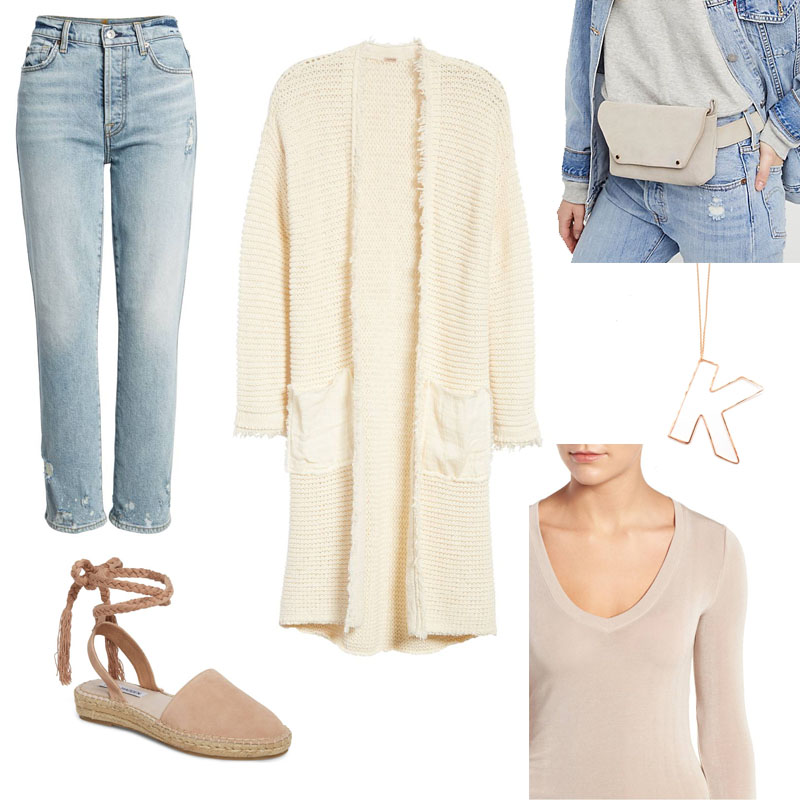 Denim similar here //  Cardigan similar here, here and here // Belt bag here (color more actual in my pictures, runs big) // Necklace here // Tee here // Espadrilles here
Never Without Navy is also on Facebook, Instagram and Pinterest 
Thanks for stopping by!
L, M