Holiday Baking Traditions
This household takes baking seriously! And when it comes to the holidays? Well, cookie baking easily is one of our favorite holiday traditions. We bake for our family and for our friends. We bake for our teachers and for cookie exchanges. And of course we bake for ourselves and for Santa Claus. Lots of love goes into what we make for those we love!
Over the years, many cookie recipes have been tried (and sometimes failed!). We have made meringues, russian tea cookies, peppermint bark and gingerbread men. Our iced cookies are legendary (thanks to my daughter's expertise decorating) and our M&M kissed pretzels have traveled as far as Greece. So at this point, we have a handle on our holiday baking. In other words, we are only rolling (wink, wink) out the best of the best.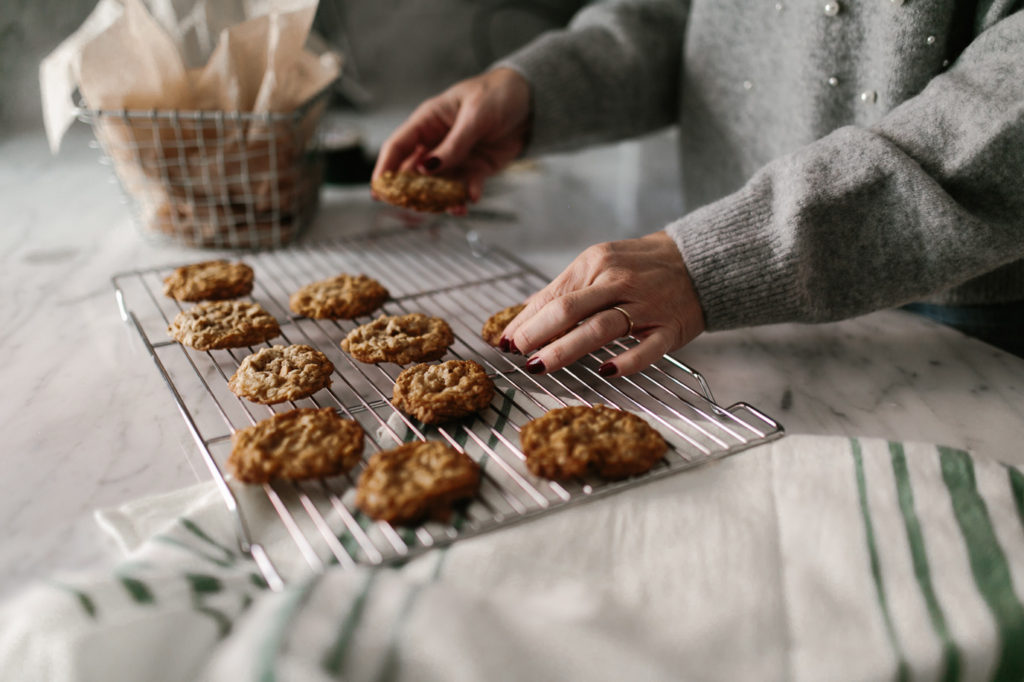 Oatmeal Scotchies Cookies
With all that said, it might be surprising that of all the cookie recipes that have graced our kitchen, I am choosing to feature this simple holiday cookie. For starters, it is by no means the prettiest cookie. So much so, that if you saw it at a cookie exchange, it might be one of the last ones you try or pick at the party! It is not festive and frankly, looks bland. Yet for all these reasons, it easily has become one our favorites. Because once you try it, it is a mouthful of delicious surprise! Welcome to the simple holiday cookie: the oatmeal scotchie!
I came across this recipe years ago at a a friends's cookie exchange. I don't even think I even tried the cookie (for all the above reasons!), but when the recipe was shared, it looked easy to make. That is one of the other reasons why I love this cookie is that it is so simple holiday cookie to make. In addition, this recipe can easily be doubled and batches can easily be churned out.  Ingredients and directions are as follows:
Oatmeal Scotchies Recipe
Ingredients
1 1/4 cups

all-purpose flour

1 teaspoon

baking soda

1/2 teaspoon

salt

1/2 teaspoon

ground cinnamon

1 cup (2 sticks)

butter or margarine, softened

3/4 cup

granulated sugar

3/4 cup

packed brown sugar

2 large

eggs

1 teaspoon

vanilla extract or grated peel of 1 orange

3 cups

quick or old-fashioned oats

1 2/3 cups (11-oz. pkg.) Nestle Tollhouse Butterscotch chips
Directions
PREHEAT oven to 375° F.
COMBINE flour, baking soda, salt and cinnamon in small bowl. Beat butter, granulated sugar, brown sugar, eggs and vanilla extract in large mixer bowl. Gradually beat in flour mixture. Stir in oats and morsels. Drop by rounded tablespoon onto ungreased baking sheets.
BAKE for 7 to 8 minutes for chewy cookies or 9 to 10 minutes for crisp cookies. Cool on baking sheets for 2 minutes; remove to wire racks to cool completely.
Baking Presentation
As much love as we put in the baking, we also put into the presentation! The Container Store is an excellent resource for baking packaging with plenty of festive food safe containers and wax paper to choose from. This year, I chose to use wire baskets. In addition to them being easy to fill, they also can be kept and used afterwards for pantry storage, bathroom storage, etc.!
Products used in this post are linked below. Happy baking!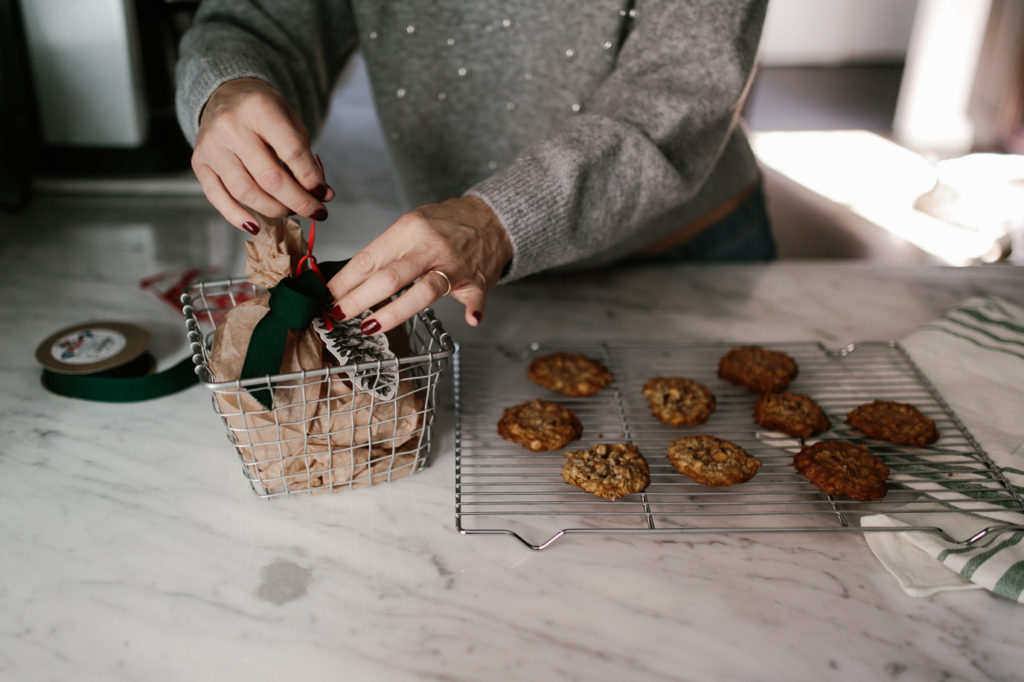 Looking for a festive drink to make this season? Head to post here
Never Without Navy is also on Facebook, Instagram and Pinterest 
Thanks for stopping by!
L, M
SaveSave