Spring Break is just around the corner, thank goodness! I can handle the weather in January and February in Chicago but come March, get me out of here! We head out of town next week (our spring break destination is Florida!), so I spent most of yesterday shopping on-line for spring break essentials. Refreshers in tops and shorts, new sandals, a dress for dinners out, a fun beach bag and of course a bathing suit! In this post, I am rounding up what I bought and what I am bringing. You know I always love to share my packing list with you!
Spring Break Essentials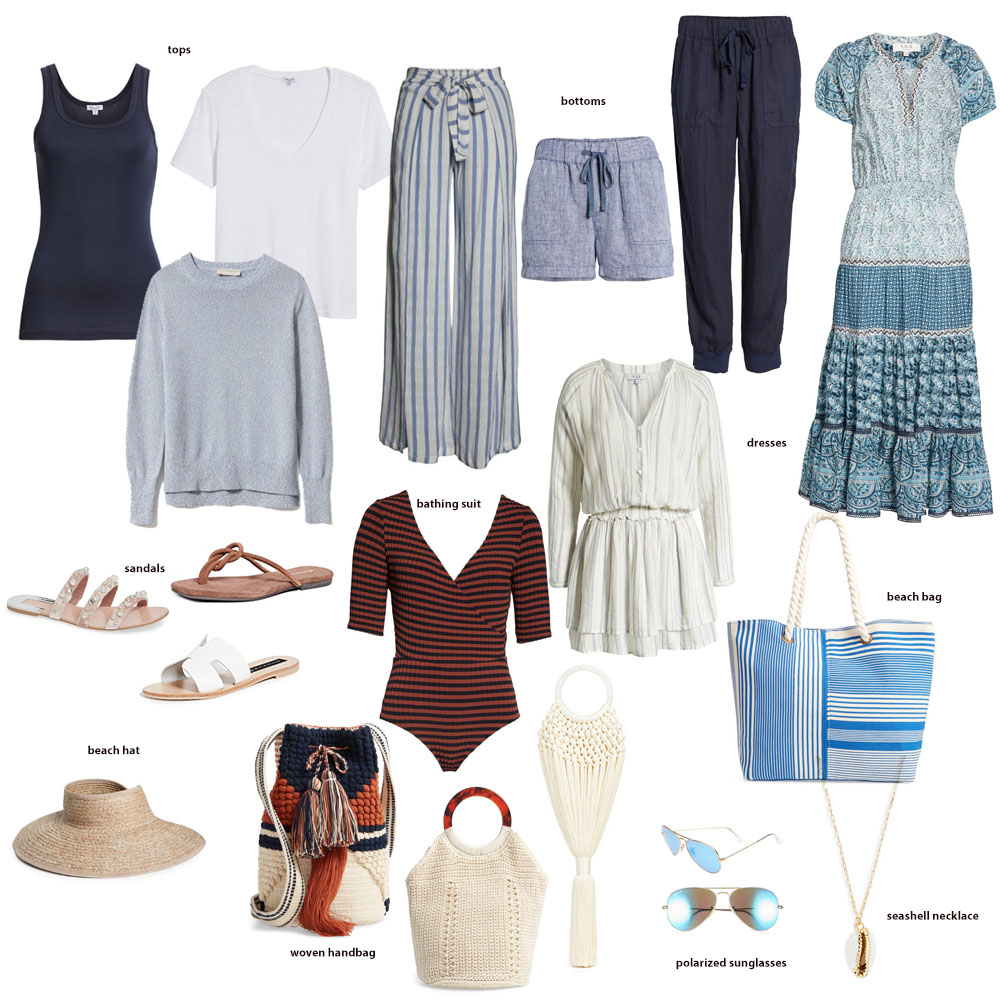 Navy Tank // Knit Sweater // White Tee // Beach Pants // Linen Short // Linen Jogger // Striped Dress // Maxi Dress //
Pearl Sandal // Knot Sandal // White Sandal // Bathing Suit // Beach Bag //
Beach Hat // Woven Bucket Bag // Woven Bag // Woven Statement Bag // Polarized Sunglasses // Seashell Necklace
Tops
Who doesn't need refreshers in tees with each season! I wear most of mine year round so come spring break, I want fresh ones to pack. Something Navy makes really nice ones and this one is currently in stock and on major sale!  For a great deal, this line from Nordstrom carries these tees for under $20 with lots of color options for stocking up.  I also turn to Free People as their tees always have some sort of interesting detail them, making them a nice option for wearing with white denim.  You know my Splendid 1X 1 tanks are my fave so I always pack those in my suitcase. They never lose their color or shape and are worth every penny. Finally, I have a major thing for knit sweaters. They are perfect to wear on an airplane over a tee and in the evening after the sun goes down.  I love this style and color from Everlane and this hooded striped one from Lou & Grey!
Bottoms
Anyone else no longer love wearing structured shorts for everyday? Instead, I need breathable, comfortable and lightweight fabrics to wear on the bottom! Linen is always a great option here! I also love to throw on a jogger in linen too! Paired with a tank and sandals this is one of my favorite go-to looks! Of course, white denim needs to make it into the suitcase as nothing is easier to throw on in the evening for a dinner out. I finally ordered these white ones from BLANKNYC. I love the gold button detail!
Dresses
Dresses are my absolute favorite item to pack! Whatever your spring break destination might be, include a dress in your suitcase! We always plan one nice dinner out and it is the best feeling in the world to put on a pretty new dress. I splurged on this one  and hope it works! Honestly though, I could pack a whole suitcase of dresses because they are so easy to throw on during the day over a bathing suit or for a quick trip to town. This one is perfect for that!
Sandals
Sandal options are endless. I try to focus on ones that are neutral and can take me from day to night. These Hermes inspired ones are perfect for that! If you do need or want something strictly dressier, the Mystique line of sandals here has beautiful options. I also love this pearl embellished option here for under $100.
Bathing Suit
I usually hesitate to recommend bathing suits. Fit and styles varies on everyone. However, I did receive a lot of great feedback on two bathing suits I bought last summer. So I am going to share them again here and here. Do not let the models fool you. They are not as revealing as they seem and fit beautifully! The Solid & Striped line makes really cute options and is a very popular bathing suit line right now. My girlfriend has also been telling me I need to look into the Summersault line for a "hold you in" flattering fit!
Beach Bag
What's more fun than buying a beach bag? While I love a straw tote they are not always conducive for packing or as a carry on. I try to find a canvas one instead and fell in love with this one! Make sure it's the right size to throw things like sun screen, your phone charger, a water bottle, etc. in it!
Spring Break Destination Accessories
Accessories: The pretty add-ons that can elevate an outfit! Yes, polarized sunglasses and a beach hat are packing list essentials for sure. (I love this sun visor that can easily roll up into your bag.) But accessories are about adding some fun to your spring break look too! I love all the macrame bags that I am seeing and couldn't choose just one! Finally, how fun is this seashell necklace to add to a basic tee or a summer dress?
If your spring break destination does not take you someplace warm but rather somewhere exciting like Europe, check out my London Packing List here!
You can also follow me on Facebook, Instagram and Pinterest 
Thanks for stopping by!
L, M