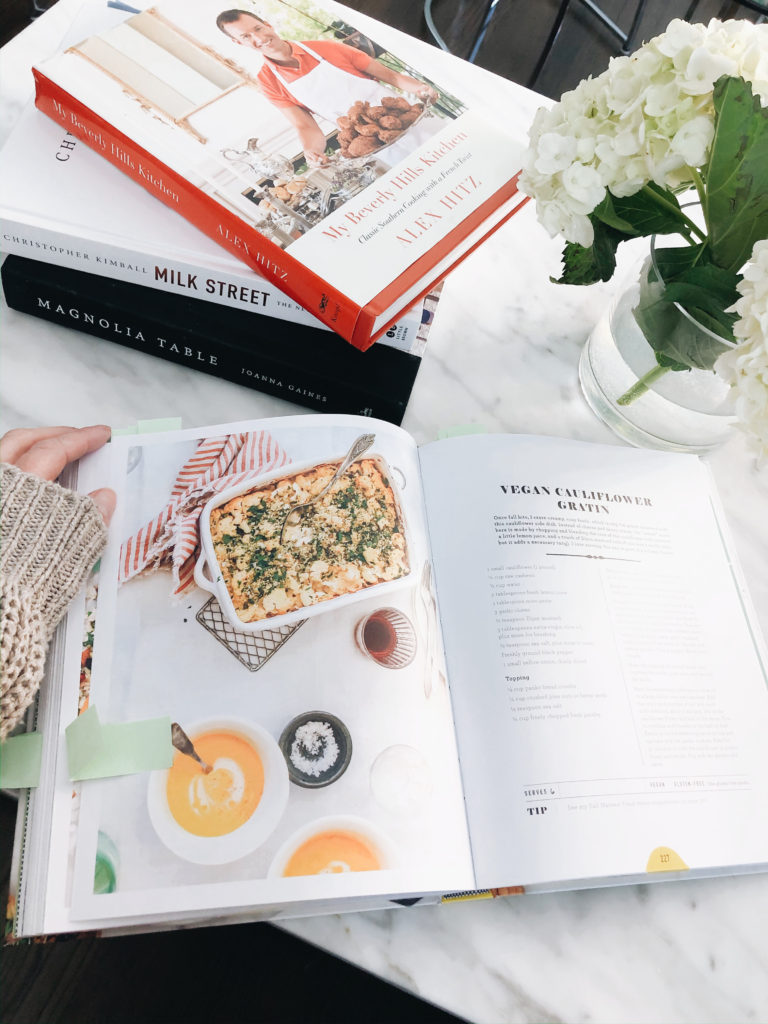 It has been a few weeks since I last uploaded a meal plan but truth be told, I have been heavily rotating our families favorites that I have already shared. I definitely was in need of some new inspiration and I found it in two cookbooks I recently added to my kitchen. The first is Love and Lemons Everyday Cookbook.  When Madeline decided to become a vegetarian, the Love and Lemons website has been my go-to resource for her! I have used and referenced this website countless times so I thought it was about time I got my hands on the cookbook. It has exclusive recipes only found in this cookbook and I am sharing my absolute favorite in this week's meal plan!
The second cookbook I am loving, my mom sent me for my birthday: My Beverly Hills Kitchen: Classic Southern Cooking with a French Twist. Well enough said there! But besides deliciously classic attainable recipes, Alex offers some great kitchen notes and stories from his famous friends!
Weekly Meal Plan Vol.8
For Link To All Recipes Click HERE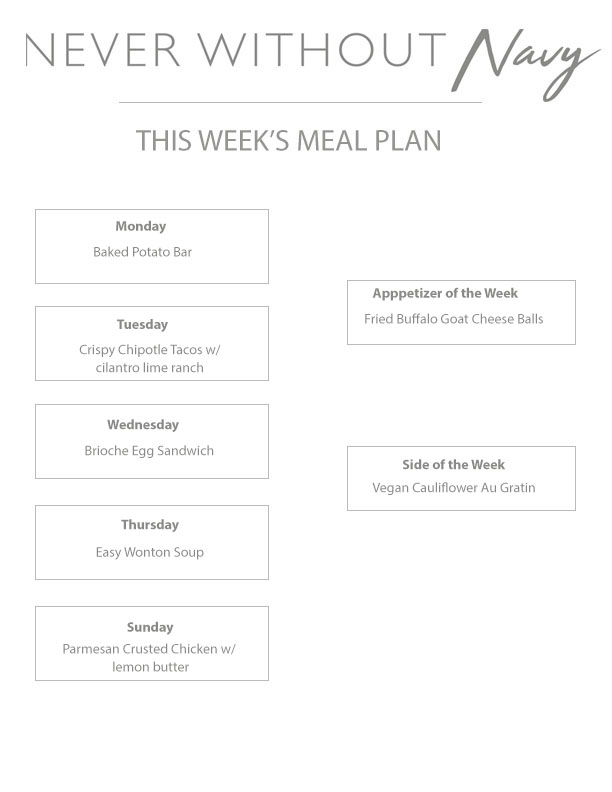 Monday
Baked Potato Bar. I used to this all the time for dinner and I forgot how simple it is. Plus, it really satisfies everyone as sky is the limit for adding your favorite toppings. Consider these for delicious add-ons:
Diced onions or green onions
Chives
Cheese
Salsa
Broccoli
Crumbled Bacon
Shredded Chicken w/ BBQ Sauce
Black Beans
Grilled Onions
Fresh Tomatoes
Chopped Avocado
Peas
Tuesday
Crispy Chicken Chipotle Tacos w/ Cilantro Lime Ranch She had me at crispy taco shells and cilantro lime ranch! We need a fresh spin on tacos in our household and these look delicious! Most of the ingredients can be found in your spice drawer!
Wednesday
Brioche Egg Sandwich. You know I love making quiche. I really could have it every week but this is a close second as far as my love for eggs go. Personally, I hold the Prosciutto because the addition of the Gruyere cheese and Frisée is good enough for me. This is also one of those meals you can adapt to satisfy everyone's taste with toppings!
Thursday
Wonton Soup I know the Rotisserie Chicken Ramen was a huge hit so I wanted to come up with something similar that was just as easy and just as good! This takes 15 minutes to prepare from start to finish as long as you take advantage of the Trader Joe's hack and buy their frozen wontons!
Sunday
Parmesan Crusted Chicken w/ Lemon Butter. Even though I love nothing more than a butterfly breast of chicken, I hate doing it myself. It recently dawned on me though that you can ask the meat counter at your grocery store to do it for you! LOL! Anyway, if you do that, this meal becomes even simpler to prepare! Serve over a bed of arugula salad with shaved Parmesan!
Appetizer of the Week
Fried Buffalo Goat Cheese Balls. Why, why, why did I not see these ahead of Super Bowl Sunday! How delicious do these look? No way will I wait to the next Super Bowl to make these. A fun appetizer to make or bring anytime, anywhere!
Side of the Week
I wasn't quite sure how to work this recipe in but I knew it HAD to be shared. It literally has been the best thing I have made in awhile! So I give you, the "Side of the Week"-Vegan Cauliflower Gratin. Madeline really wanted to try it but I had little expectation. I mean how do you make au gratin without cream and cheese? The answer is in cashews (huge surprise for me!). I swear I will never make au gratin the traditional way again!
Vegan Cauliflower Gratin
Ingredients:
1 small cauliflower
1/2 cup raw cashews
3/4 cup water
2 tablespoons fresh lemon juice
1 tablespoon miso paste (I substituted with Tahini sauce)
3 garlic cloves
1/2 teaspoon Dijon mustard
3 tablespoons extra-virgin olive oil, plus more for brushing
1/2 teaspoon sea salt, plus more to taste
freshly ground black pepper
1 small yellow onion, thinly sliced
Topping
1/4 cup of the following:
panko bread crumbs
crushed pine nuts
finely chopped fresh parsley
1/4 teaspoon of sea salt
Directions:
1. Preheat the oven to 400° and brush an 11X7 inch baking dish with olive oil.
2. Break the cauliflower florets into small bite-sized pieces and set aside for later use. Do not discard the cores!
3.  Roughly chop the cauliflower cores. Bring a medium pot of salted water to a boil and boil the cauliflower cores for five minutes or until fork-tender. Drain and transfer to a blender along with the cashews, water, lemon juice, paste, garlic, mustard, 2 tablespoons of the olive oil, the salt and several grinds of the pepper. Blend until creamy.
4.  Make the topping: In a small bowl, mix together the panko, pine nuts and sea salt. Set aside.
5.  Heat the remaining 1 tablespoon of olive oil in a large skillet over medium heat. Add the onion and pinches of salt and sauté until softened, about 5 minutes. Stir in the cauliflower florets and half the sauce. Toss to combine and transfer to the baking dish. Evenly pour the remaining sauce on top and sprinkle with the panko mixture. Bake for 30 minutes or until the cauliflower is golden brown and tender. Top with parsley and serve.
In case you missed it, make sure to to also check out, "What I Make Madeline for Lunch"  and "Soup Recipes for Fall & Winter"
Buon Appetit!
You can also follow me on Facebook, Instagram and Pinterest 
Thanks for stopping by!
L, M