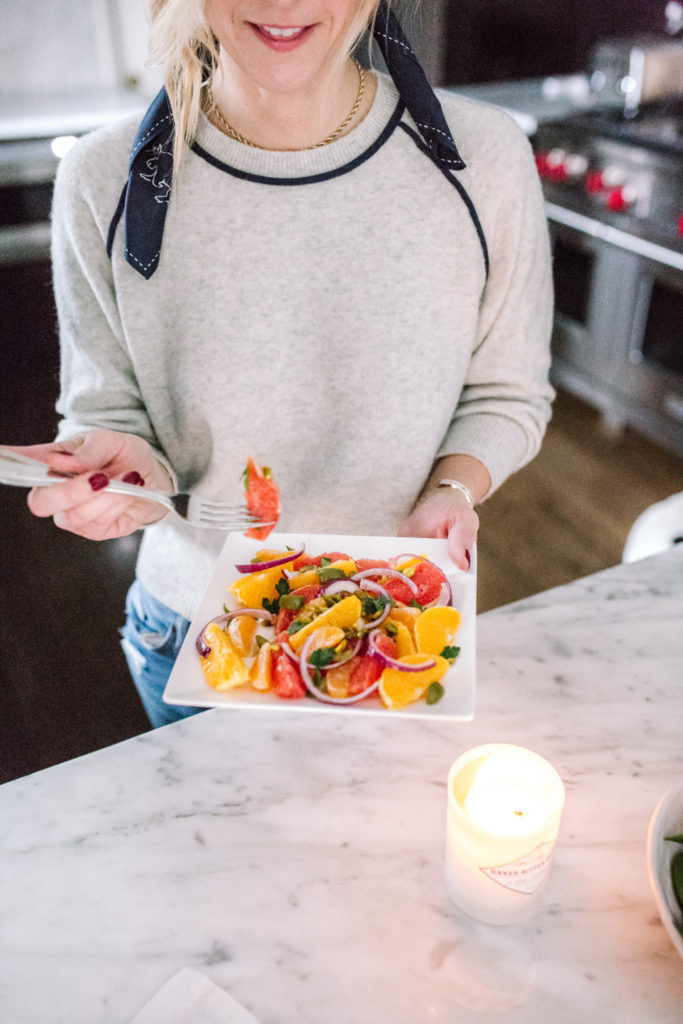 There are many complaints we could register against winter! Especially for those who live in the Midwest. Frigid temperatures, endless shoveling and shorter days to name a few! Another one that comes to mind is the lack of fresh, seasonal fruit and vegetables available this time of year. It breaks my heart heading to the grocery store and seeing all the lifeless options on the shelf for picking. With the exception of one though: citrus.  Head to your local grocery store, particularly in late-winter as we are in now, and you will find an abundance of tangerines, grapefruits, clementines and oranges all in season.
It is no coincidence that my body craves all the Vitamin C I can get my hands on during the winter months. It is only fitting as we constantly seem to be warding off the viral illnesses on rotation this time of year. Protective immunity boosts in the form of refreshing, juicy and ripe fruit. Yes please! And while we keep a drawer full of clementines and grapefruit to have on hand for snacking during these months, incorporating citrus into everyday meals is another way to take advantage of these seasonal offerings.
I have been playing around in the kitchen lately with adding citrus to everyday salads. (You can always catch a glimpse of what I am cooking up in the kitchen on my Instagram stories!) I just whipped up a Kale Citrus Salad with jalapeno and goat cheese from The Pioneer Woman Cooks this weekend which proved satisfying! But truly my most favorite citrus salad dish is from Athena Calderone, creator of EyeSwoon. One glimpse of this salad, and it takes aesthetically pleasing dishes to a whole new level.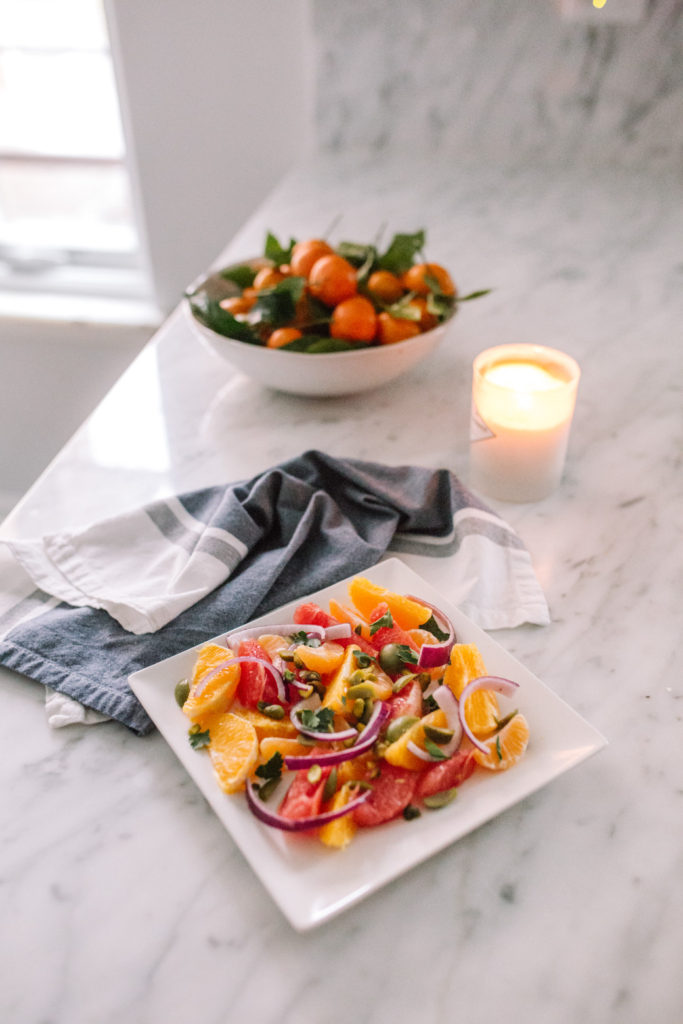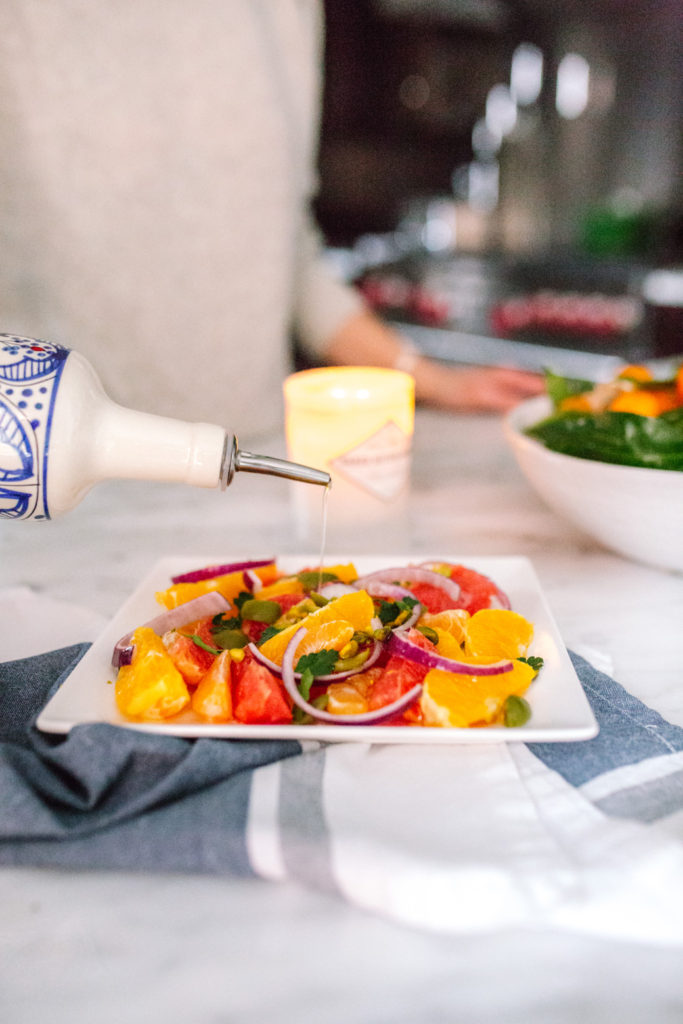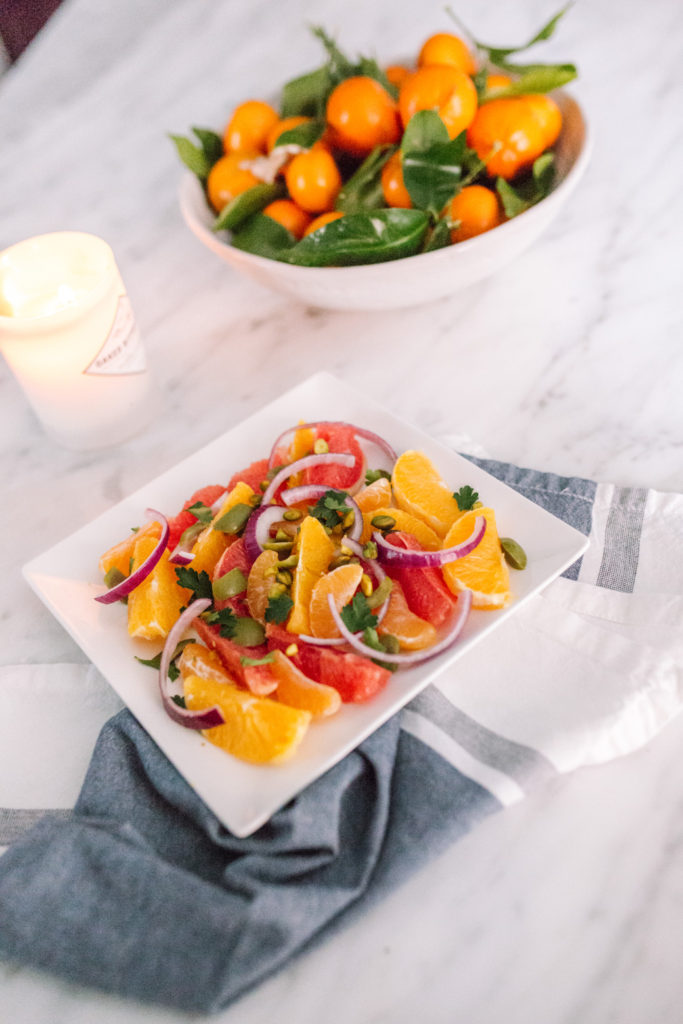 Items featured:

EyeSwoon's Winter Citrus Salad Recipe
While this citrus salad recipe is available on her website, you probably do not want to miss getting your hands on her cookbook, Cook Beautiful. She has sections dedicated to seasonal cooking and incorporates plenty of citrus in her winter based recipes. Everything of course is beautiful (and simple to make!)
As you look over this recipe, you might raise an eyebrow to a couple of the ingredients listed. But please trust me, it all works and leaves you with a pleased palate!
Ingredients
2 blood oranges (I substituted with ruby red grapefruit)
2 clementines or tangerines
1/2 small red onion
2 cara cara or navel orange
2 tablespoons red wine vinegar
¼ cup Castelvetrano or other mild green olives, pitted and sliced
2 tablespoons best quality olive oil
2 tablespoons chopped fresh flat-leaf parsley
3 tablespoons toasted and roughly chopped pistachios
Pinch of finely diced habanero pepper to taste (optional)
Flaky sea salt, like Maldon (My local Williams Sonoma has it or on Amazon for less here)
Preparation
Peel and remove the pith* from the blood oranges, making sure to remove the pith* in strips from top to bottom, following the contour of the fruit without losing too much of the flesh. Cut the blood oranges into 1/8-inch round slices.
Peel and remove the pith* from the cara cara oranges in the same way but rather than slicing into rounds, segment the orange, cutting in between the membrane.
Peel your Clementine with your hands and segment.
Slice the halved red onion into thin half moons.
Arrange the citrus in overlapping slices.
Season with sea salt, this will bring out and intensify the flavor of the fruit.
Disperse the sliced onion on top.
Sprinkle with the vinegar.
Drizzle the olive oil over.
Sprinkle the olives, parsley, habanero, and pistachios on top.
Season with a touch more salt.
Admire the vibrant colors, and swoon!
*the pith is the stringy, spongy white stuff between the peel and the fruit
Photos by Jules Kennedy
You can also follow me on Facebook, Instagram and Pinterest 
Thanks for stopping by!
L, M