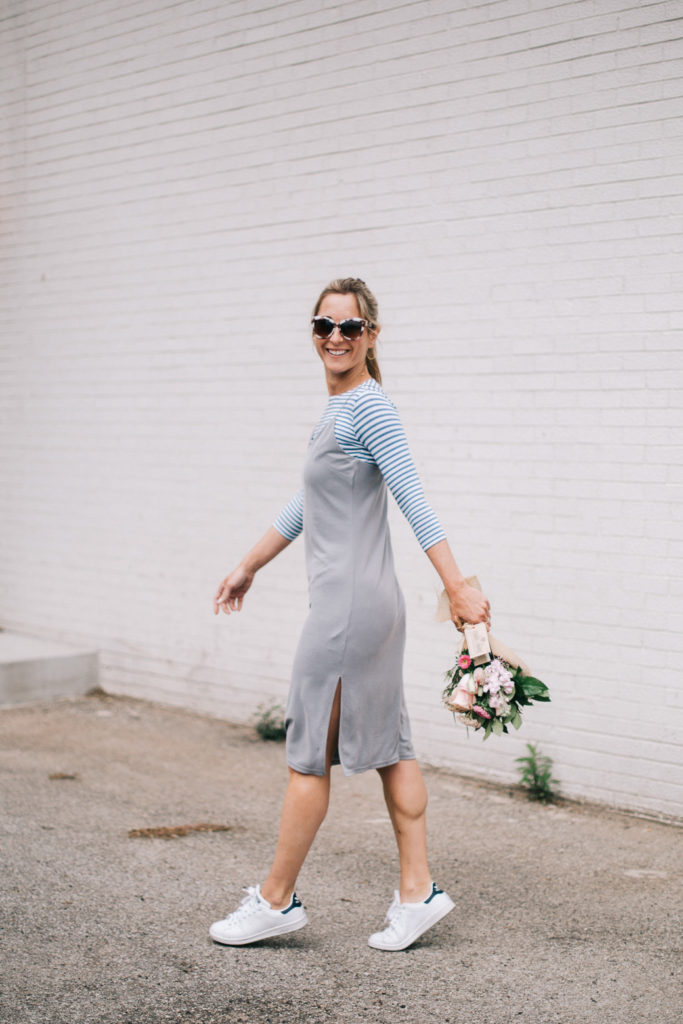 Mother's Day! It is almost here! It's right about now that my family starts asking me what I would like to do for Mother's Day. While breakfast in bed or heading out to brunch are the obvious go-to answers,  I like to milk this ENTIRE day for all it is worth! If you too are looking for some ideas as to how to spend your Mother's Day beyond the obvious, here are some suggestions for a Mother's day spent in the city or the burbs!
Mother's Day: What To Do & What to Wear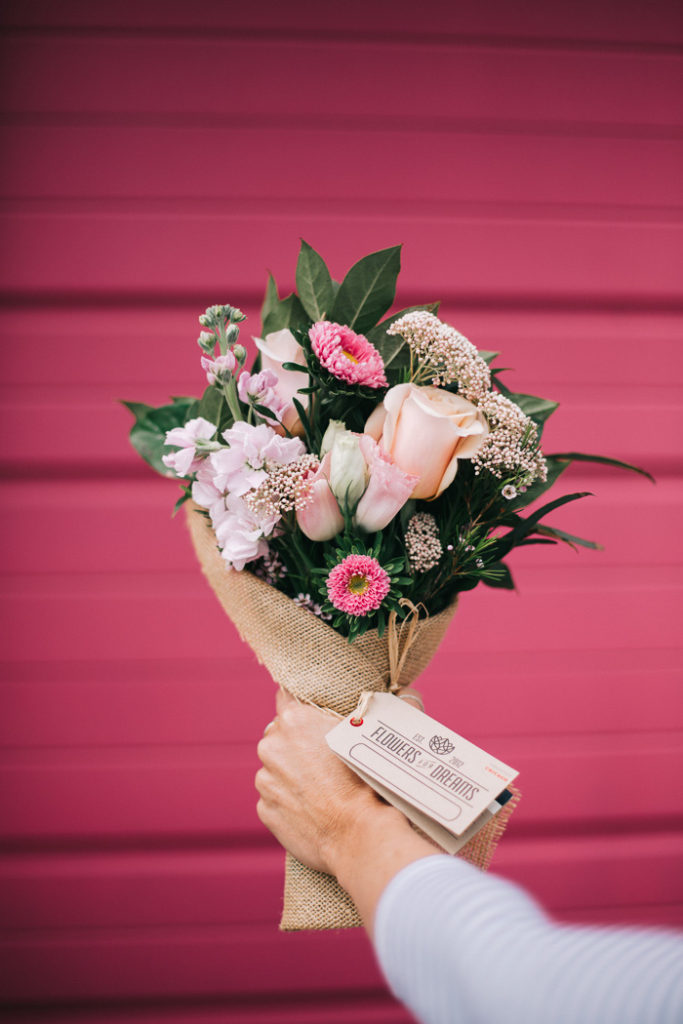 Mother's Day in the Burbs
Every Mother's Day morning should start off by lounging in bed.
I prefer to be handed a stack of magazines and a hot cup of coffee over being served breakfast while in bed. I love having these few moments to myself in the morning (a rarity!) before setting out for the day.
If the weather is nice, take the morning to head out on a family walk or bike ride to grab pastries or more coffee.
For the afternoon, I love the idea of packing a picnic and heading to Arlington Race Track. Each guest is allowed to bring in one cooler of food and drink but there are also plenty of dining options inside the park as well. The parade of horses before the races and placing small bets on your favorites has always been a family favorite and a great way to spend an afternoon!
If the weather is lousy, hop in the car, and take a leisurely drive to another neighborhood.
A drive down Sheridan Road is a great option (Note: Anyone who plans to visit Chicago needs to do this! A drive through the northern burbs hugging Lake Michigan where you pass beautiful beaches and mansions with plenty of points of interest!). Take a stop at Northwestern University or Bahai Temple and grab some lunch to go from Foodstuffs  (I do my best to avoid sit-down restaurants on Mother's Day!) but definitely end your drive at Bennison's Bakery in Evanston for some baked goods!
Wrap up the day by engaging in a little Hygee-the concept of creating a cozy environment with your loved ones!
For the grand finale, end your day with how you started it by having a moment to yourself. Draw yourself a hot bath, fill it with some soothing  sea salts, and indulge in a hot soak. Enjoy the moment, because Monday and the full return to motherhood comes fast!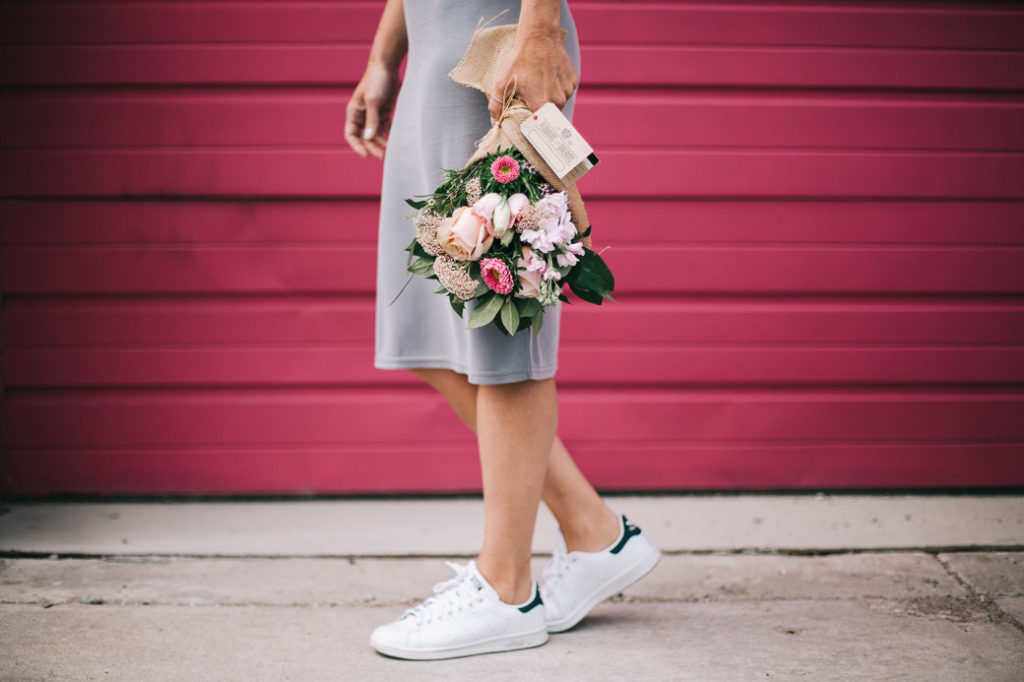 Mother's Day in the City
If you choose city, (Hello, Me!!) options seem endless but if the day is beautiful, take advantage of the lake front!
An organized bike ride with either Bobby's Bike Tour or Bike and Roll Chicago is a safe, easy and very fun way to experience an afternoon in the city. Rather sit back and relax? Wind down on a boat tour giving you a different vantage point of Chicago's architecture narrated with interesting facts and history.
If the weather is lousy, head to one of the Chicago conservatories!
Filled with beautiful flowers, greens, ponds and warm, humid temps, the conservatories are often overlooked hidden Chicago gems. The Lincoln Park Conservatory is small but worth a visit as there is plenty else to do in the area. The Garfield Park Conservatory is a bit further away from the traditional city path but a must see with over two acres of landscape to explore! Parking in the area and admission is free for both!
Before heading back home, grab an early dinner (after the breakfast and brunch crowd have vacated!) at Little Goat Diner or the Allis-early reservations still available at the publishing of this post!
As you make your way back home, stop at one of the Stan's Donuts Chicago locations for the best donuts the city has to offer!
Whether you stay in the burbs or head to the city, the start and end to Mother's day should remain the same, by taking some moments for yourself!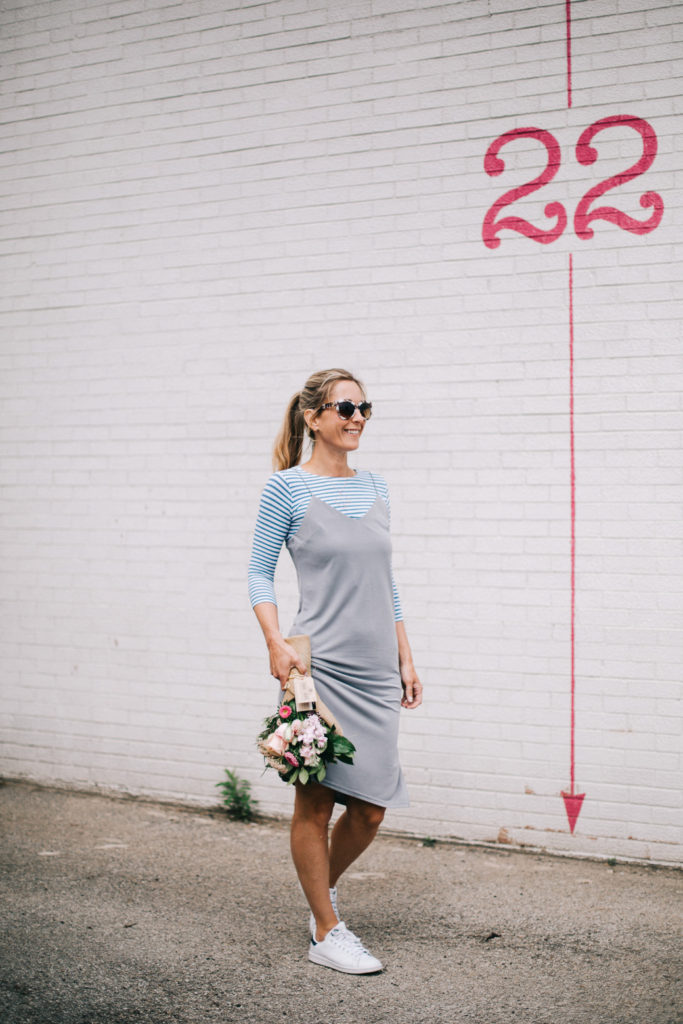 What to Wear
Now on to what to wear for Mother's Day! If you would have asked me a year ago if I ever would have purchased this dress (on major sale!), the answer would have been no. Who else hates purchasing something that requires you to think about what bra am I going to wear underneath? Hand held high over here! Thank goodness for some genius in the fashion world then, that came up with the idea to rework a slinky spaghetti strap dress and layer it underneath with a fitted tee or blouse! Now you have got the ultimate street style casual look and something to wear for Mother's Day!
Absolutely put on your Sunday best if you are heading out for a lovely brunch.
(I talked about some of my favorite dresses here) but if your day lends to the two scenarios above, I love this look! This dress is easy, moveable and breathable so it's perfect for taking the day on! You can grab just about any fitted tee or blouse in your closet and throw it on for underneath. The best part is that sneakers are the perfect shoe to wear with it, but I absolutely would put on a pair of Hunter rain boots and a cozy cardigan if the day lent to rain. Headed out on a bike ride? Slip the dress off (or keep it on!) and add pair of denim shorts or leggings with the tee!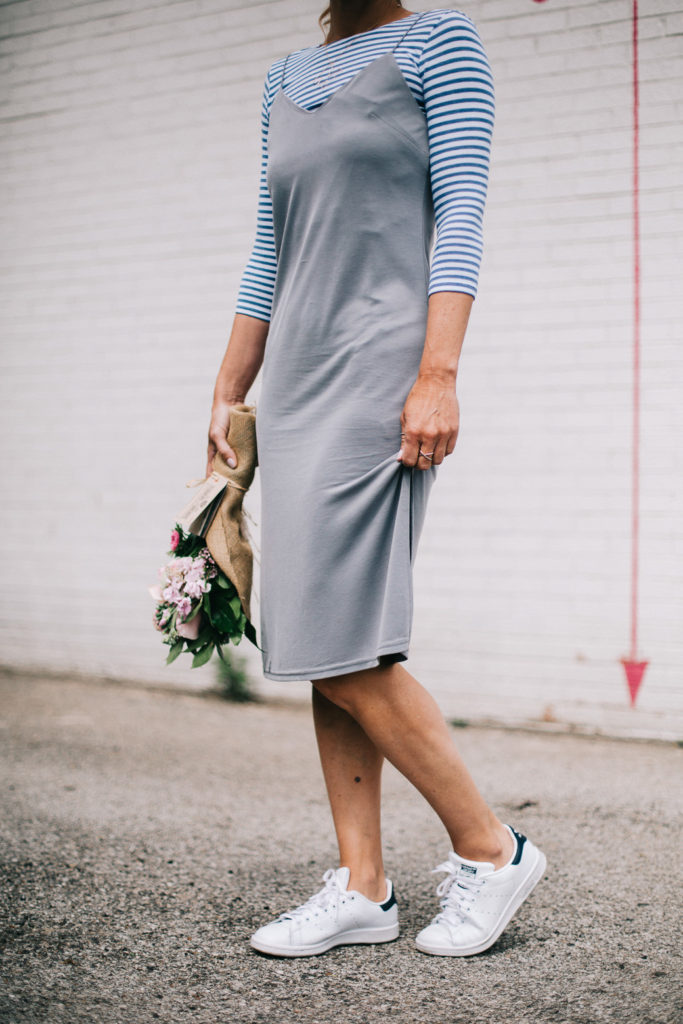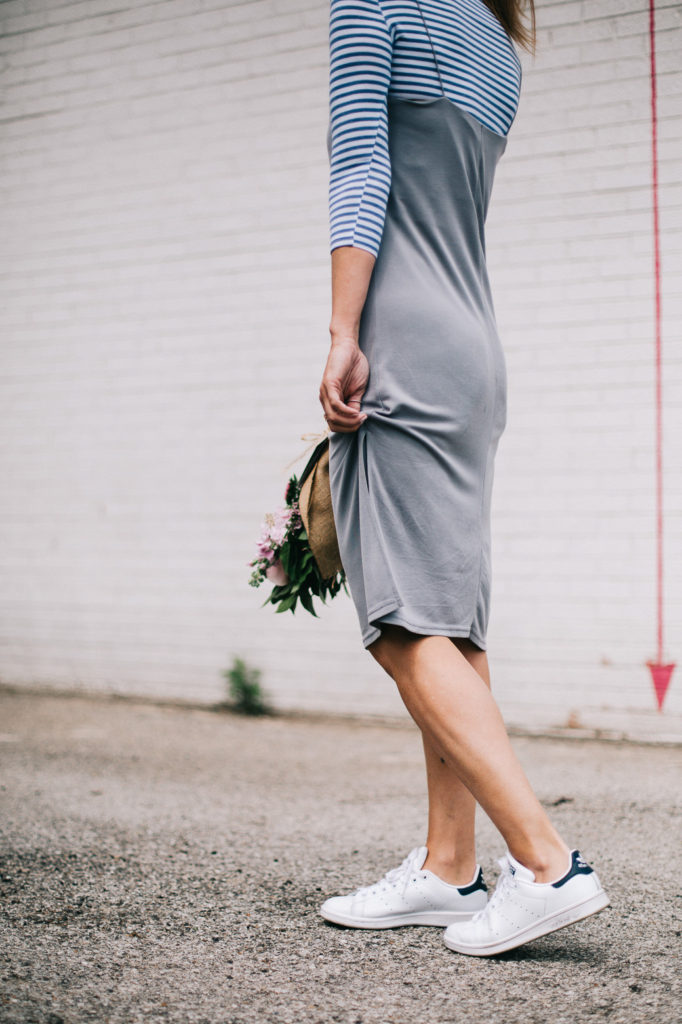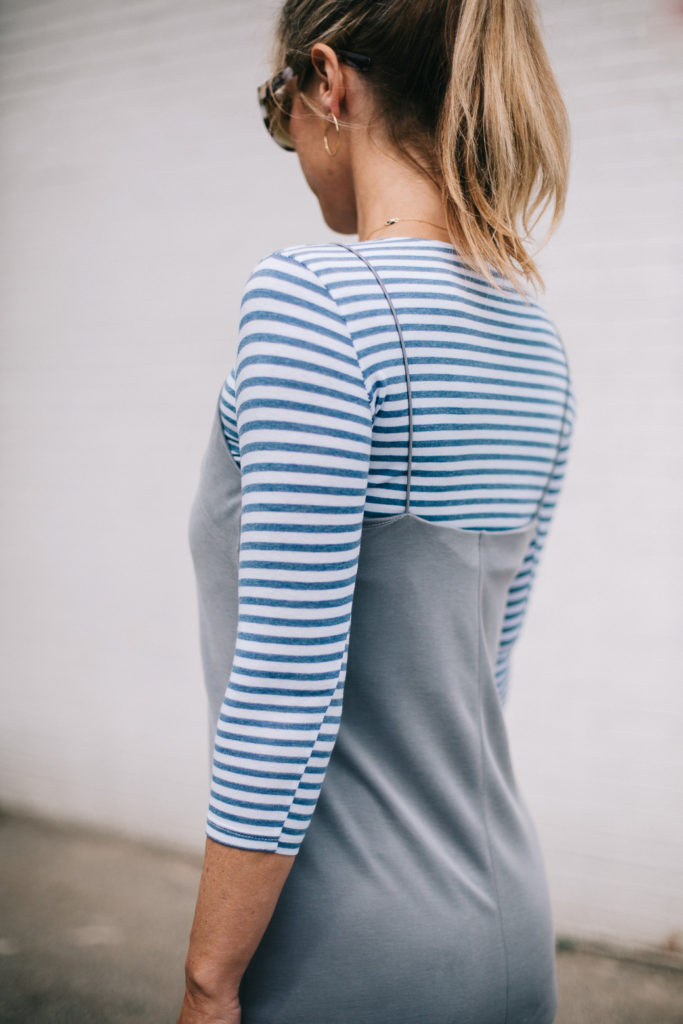 What are your suggestions for how to spend Mother's Day? Feel free to leave them in the comments below! Whether you are a mom, or celebrating your own, I wish you the happiest of Mother's Day whatever your plans might be!
You can also follow me on Facebook, Instagram and Pinterest 
Photos by Jules Kennedy
Flowers from Flowers for Dreams
Thanks for stopping by!
L,M