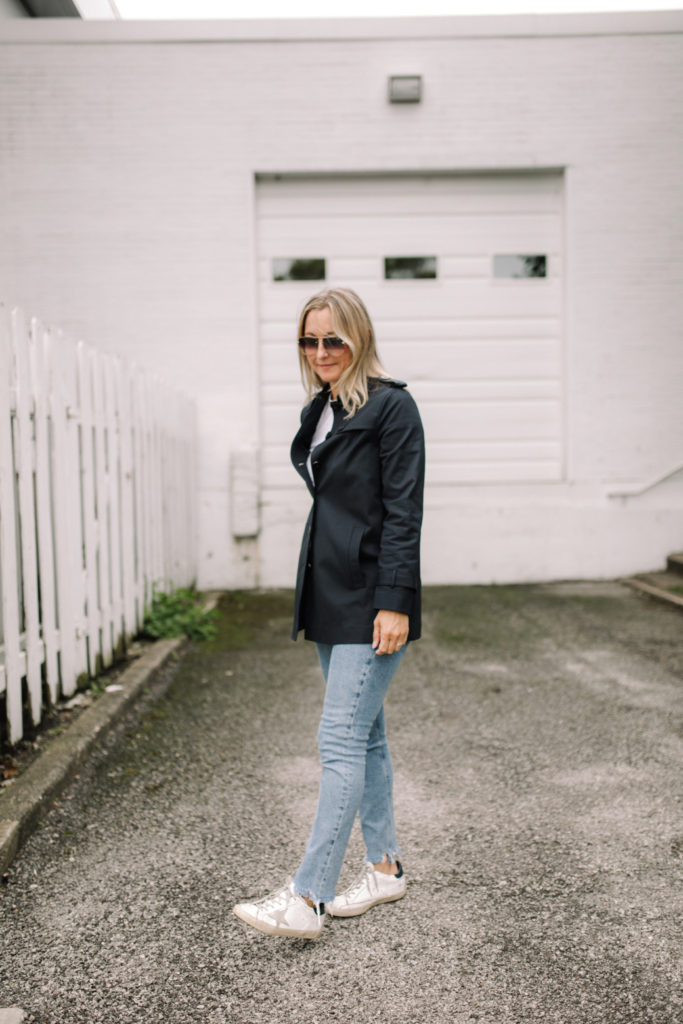 It's officially fall! And I am going to get back to my roots here. Talking all things navy when it comes to fall coats! Even if navy is not necessarily your first color choice (gasp!), this round-up covers a great range of styles to consider having in your closet for the fall season; especially in the midwest, where anything goes! I mean, where else can you experience all four seasons in one day? LOL!
Without a doubt, anytime you leave the house in cooler temperatures, a coat is often your staple piece. Obviously it should be practical for the weather but it should also be a piece you are excited to put on.
Investing in good outerwear is always a good idea. And while trends are fun, honing in on pieces that carry you from season to season are worthy purchases!
8 Best Navy Fall Coats
Trench

It is a classic coat that never goes out of style. I love a trench coat because it is a tailored and polished piece of outwear. You can literally be wearing a sweatshirt, denim and sneakers, then throw on a trench coat and immediately have your whole look chicly put together! It is also the perfect travel companion!
Rain Coat

Inevitably we see rainy, damps days in the fall. A rain coat thrown over a thick sweater keeps you warm and dry. Barbour rain coats are always a good investment.  A true lifestyle icon of the British, the English knows what it means to live with rain! Designed with an outer wax coating, Barbour raincoats are waterproof! To layer with thick sweaters underneath, I recommend sizing up one size! Another European line that focuses on waterproof rain gear is STUTTERHEIM. Straight out of Stockholm, the a-line fit of their raincoat is synonymous with the brand. Their coats run generous so consider sizing down. Finally, for something more basic, consider this coat here. I love the addition of a hood!
Vest

The most versatile fall jacket you can own because you can layer it over long sleeve tees and sweaters but you can layer it under just about any other jacket for extra warmth. That is why I own and love this one. Warm enough to wear on its own, but with a close crop fit, it is perfect for layering! This one is also a great option to scoop up on sale!
Light Down

When you need something just a little more on those cooler days, or for outside in the evening (one day we will be watching football in the stands again!), a lighter down or quilted jacket is the answer! Again, a closer crop fit means it can be layered underneath a fleece, trench or rain coat!
Denim Jacket

A good idea anytime of year, but a darker denim jacket is so versatile for fall paired with off-white or olive green denim or thrown over a maxi dress or worn with a maxi skirt!
Windbreaker

Warm but windy? A windbreaker is sometimes just that little extra something you need to thrown on. It is also great for throwing over your workout clothes.
Faux Fur

Faux fur has been trending for sometime and I cannot imagine it going away anytime soon. I mean, how can you not love wearing something that feels like you are wrapped up in a cozy blanket! But a cropped faux fur jacket is great for a dressier touch too. I have this one in brown but love that they just released it in navy!
Blazer

It is a wardrobe staple. A wool one easily translates into a fall jacket. I love a blazer paired with an oversized scarf! For a classic fit, I love mine here from Everlane. For a more tailored fit, this one is a beautiful cut and style!
Navy Fall Coat Outfit Ideas
Trench
As I mentioned, just about anything you wear will keep you looking pulled together with the addition of a trench coat!. Denim, a cozy sweatshirt or cashmere sweater and street style sneakers!

(click on images to be taken directly to product details)
Rain Coat
Rain coats usually mean rain boots too! A shorter version rain boot is more practical in my opinion. Instead of a skinny jean, opt for straight leg or kick flare denim. And of course, layer a cozy sweater under that rain jacket!

Vest
A thermal long sleeve top, sneakers and your favorite denim! Perfect weekend wear!

Light Down
If this coat is on, chances are it is a colder fall day! Wear with a turtleneck (J. Crew's Perfect-fit turtleneck is back in stock), denim and a heavier fall boot!

Denim Jacket
Bring out your colored wash denim or your favorite maxi dress. Pair with a short fall bootie!

Windbreaker
Athletic wear or anything casual. Sneakers, denim and a sweatshirt here or your workout gear!

Faux Fur
It can easily be paired with a dress or a blouse, denim and boots for an evening out but looks just as good with an everyday look of denim and sneakers!

Blazer
One of my favorite pieces to style! I just love a blazer paired with an oversized scarf, cozy top, denim and a fun shoe for fall!

You can also follow me on Facebook, Instagram and Pinterest 
Thanks for stopping by!
L, M