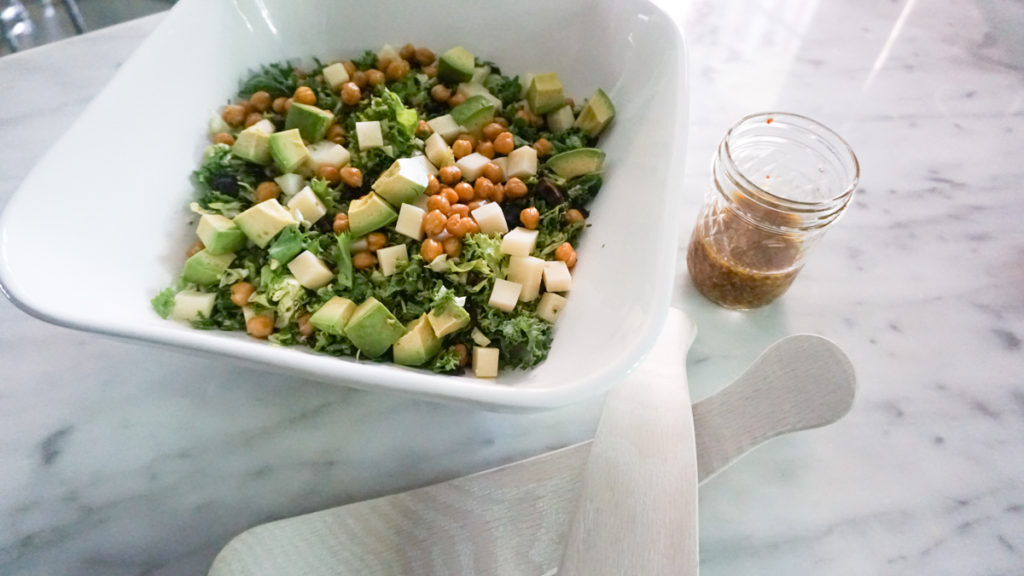 I had a few of my high school girlfriends over last night for cocktails and a light dinner on the patio. It was so nice to be with some of my favorite people on a beautiful summer night! In fact, these types of get-togethers will be the norm here this summer. So I look forward to hosting more small intimate gatherings!
I didn't make anything that kept me in the kitchen all day. I served cheese and crackers alongside some fruit and nuts. So for the main dish, I put together a salad with grilled chicken and topped the evening off with a tray of lemon bars. The standout of the evening ended up being the salad and everyone asked for the recipe. In addition, I had some direct messages on Instagram asking for it as well! So I thought I would share it with everyone here, as it really is so simple to throw together and works very well for all seasons!
I found this recipe in Jenni Kayne's entertaining book, "Pacific Natural". Aesthetically, I am a huge fan of her style (laid-back California luxe!). Moreover, I find most of her recipes to be delicious and attainable! What I love about this salad is that it is wonderful on its own but also has the ability for your favorite protein to be added to it! So while her recipe does not call for it, I am adding my go-to grilled chicken marinade recipe to this post too! What I love about this marinade is that you really do not need to marinade the chicken for very long in order to experience the full flavor! In fact, a few hours ahead of time seems to do the trick!

Italian Kale Chopped Salad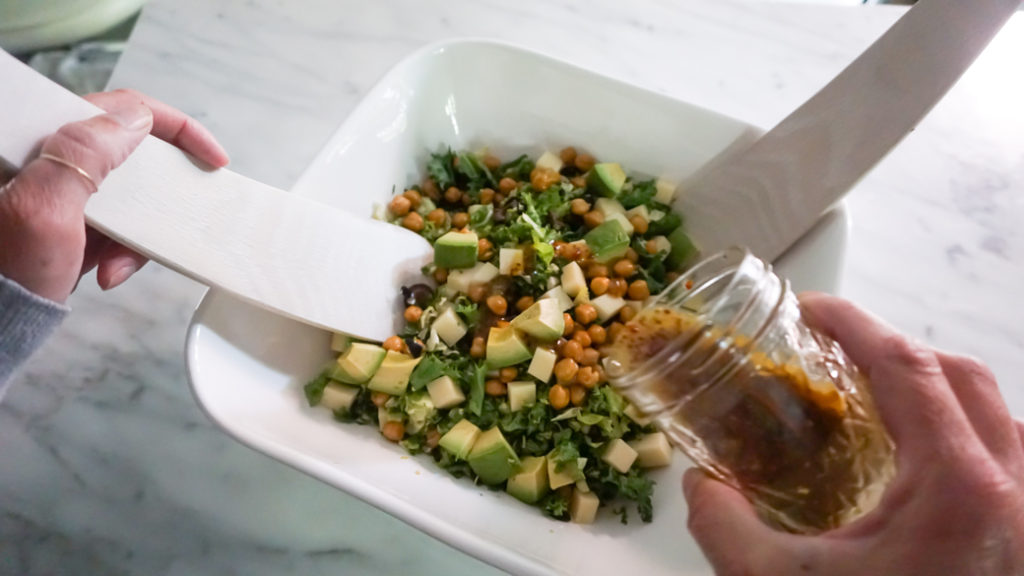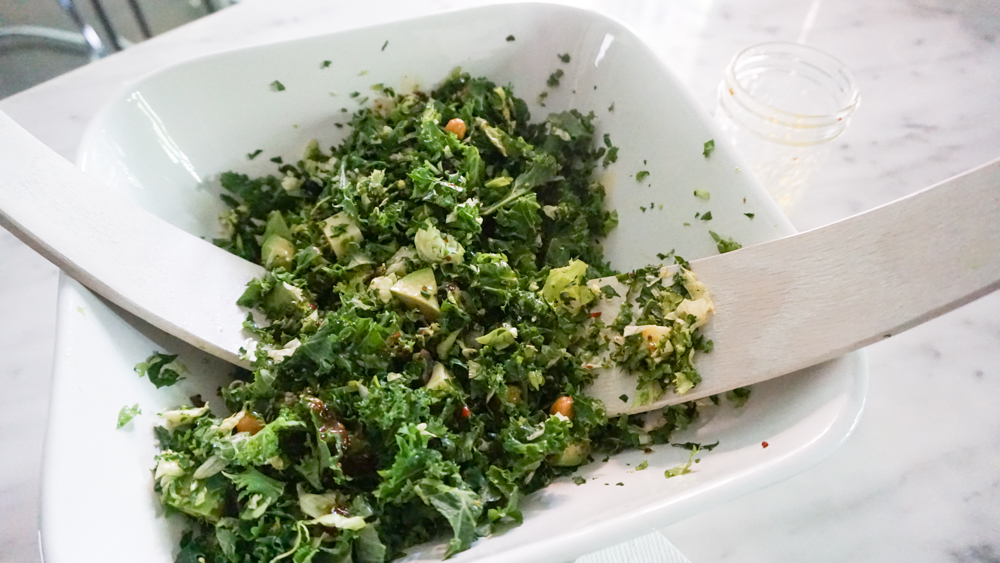 Serves 4
Ingredients:
Salad
2 cups kale, chopped & stemmed
2 cups butter lettuce, chopped
2 cups fris

ée, chopped

1/2 cup pitted black olives, chopped
1/2 cup cucumber, cubed
1/2 cup provolone, cubed
1/2 cup roasted garbanzo beans
1 avocado, cubed
Honey Mustard Dressing
6 tbsp Dijon Mustard
6 tbsp honey
2 tsp apple cider vinegar
2 tsp Calabrian chiles (found jarred in the olive section of the grocery store)
1/2 cup extra-virgin olive oil
salt & pepper
Directions:
To assemble the salad: Place all ingredients in a large bowl and mix until well combined. Note: To chop the lettuces, I pulse in my food processor fitted with the metal blade. It cuts down on chopping time considerably! As for the chickpeas, I take the can and drain them, then rinse and pat dry. I then place them on a baking sheet, drizzle with olive oil and a dash of salt, mix them up and then roast them at 350° for 20 minutes! Finally, buy good quality provolone for full flavor!
To make the dressing: Mix the mustard, honey, vinegar, and chile in a small bowl. Slowly whisk in the olive oil then season to taste with salt & pepper.
Grilled Chicken Marinade
Ingredients:
1/2

 

cup

 

extra virgin olive oil

1/2

 

cup

 

balsamic vinegar

 

or other vinegar

1/4

 

cup

 

soy sauce

1/4

 

cup

 

Worcestershire sauce

1/8

 

cup

 

lemon juice

3/4

 

cup

 

brown sugar

2

 

tsp

 

dried rosemary

2

 

tbsp

 

Dijon or Spicy Brown mustard

2

 

tsp

 

salt

1

 

tsp

 

ground black pepper

2

 

tsp

 

garlic powder

6

 

chicken breasts*
*I usually cut the recipe in half and use three chicken breasts
Directions:
Combine all ingredients, except for chicken, in a large Pyrex measuring cup or mixing bowl then whisk together.

Remove a half a cup of marinade and reserve for basting the chicken later.

Place chicken in a

large, Ziploc bag

then pour marinade over the top. Close securely

Marinate for at least 4 hours and up to 24 hours.
Bon Appétit!
You can also follow me on Facebook, Instagram and Pinterest 
Thanks for stopping by!
L, M