Another week and another sales event of the season! Have you shopped the Amazon Prime Day 2019 sale yet? I love having an Amazon prime membership for many reasons (hello two day delivery!) but shopping their infamous 48 hour Amazon Prime Day Black Friday sale in July has to be one of my top ones. Taking place July 15 and July 16 this year, there are so many good deals on products!
Love it or hate it it is hard to ignore the power and convenience of Amazon. It is the ultimate search engine for any product one could possibly need or want.  If you cannot get your hands on that hard to find school supply, need a last minute gift, or are shopping for a good deal on an expensive item, Amazon can be the ultimate savior. I love putting together account lists of items I want. To keep tabs on price adjustments, use the "Search" tab to find a specific product. Select the item from the search results to view its price history. From there, you can choose to get price alerts via emails, Facebook notifications or public tweets on Twitter. That, coupled with free two day shipping for Amazon prime members, and it is practically instant gratification at your disposal!
If you do not already have a prime membership then let me convince you to get one! Prime members enjoy free two-day shipping and exclusive access to music, movies, TV shows, audio series and kindle books. Free two-day shipping (sometimes even quicker) alone makes it worth it to me! In some cities (like Chicago!), you can even have access to Prime Now, exclusive two-hour delivery from establishments like Whole Foods. Amazon Entertainment is a great added bonus to having a Prime account. TV Shows like the "The Man in the High Castle", "The Marvelous Mrs. Maisel" and Tom Clancy's "Jack Ryan" are all Amazon original favorites. And you can now synch your Amazon prime account to your Xfinity serviced TV! At a cost of $119 per year, you can learn more about Amazon Prime here.
Amazon Prime Day Shopping Tips
Download App
My top tip for you to shop this sale is to download the Amazon app. This is the best way to stay in the know.  Once you have the app, click "Today's Deals", then "Upcoming" and you will be able to access deals before they go live and be alerted when they are live by clicking "Watch This Deal"! You can also create a wish list of items and get an alert if it hits the sale!
Focus on Deal Categories
Deals on all sorts of products are released throughout the days. SPOTLIGHT deals run until the item runs out of stock (you've got to be quick on these because these are usually some of the best sales). LIGHTNING deals pop up randomly for a limited amount of time and ends within a specific time frame (and truthfully, they are what make Prime Day so exciting!) All day SAVINGS are promotions that run the entire day. And of course, Amazon devices take center stage for Amazon Prime Day markdowns! Finally, I love looking to see what is coming up soon in UPCOMING deals 
Use Drop Down Menu
Another easy way to look up if a product is on sale is too simply head to the drop down menu on Amazon's website and select "Prime Day". From there put in any item you want to search for to see if there are any good deals going on for it!
Best Amazon Prime Day Deals
I am rounding up a few Amazon Prime Day deals I think are worth shopping. Because these deals are in real time, some deals might be over if you come across this post later. You can always search an item though to see if it will go on sale again or if a similar is on sale too!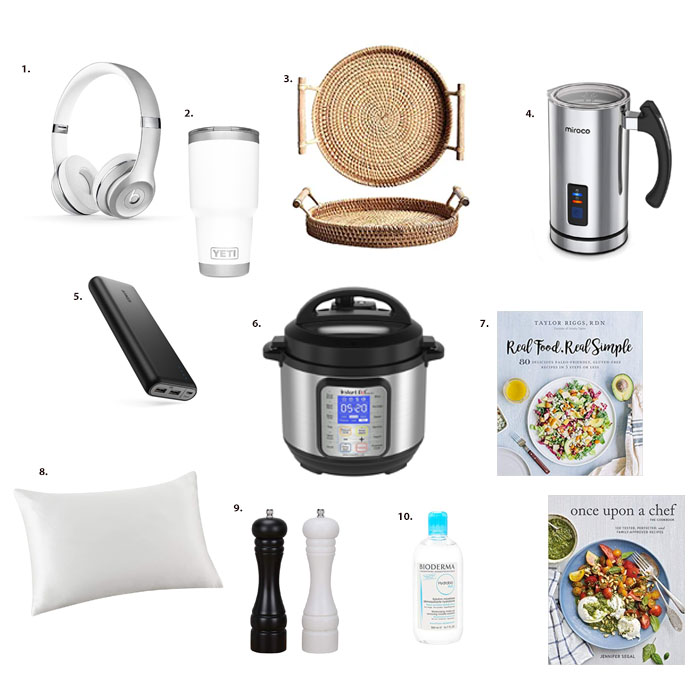 Shop the post
Headset Love these for airplanes! // 2. Yeti Tumbler // 3. Rattan Tray // 4. Frother // 5. Portable Charger One of my favorite Amazon purchases ever! // 6. InstaPot Makes weeknight meals so easier! // 7. Cookbook and Cookbook I can never have enough! // 8. Silk Pillowcase  // 9. Salt and Pepper  // 10. Micellar Water Cleanser One of the most versatile beauty products that I use everyday!
You can also follow me on Facebook, Instagram and Pinterest 
Thanks for stopping by!
If you like this post about Amazon Prime Day shopping tips, also, check out Nordstrom Anniversary Sale Early Access and Everything You Need For Summer.
L, M