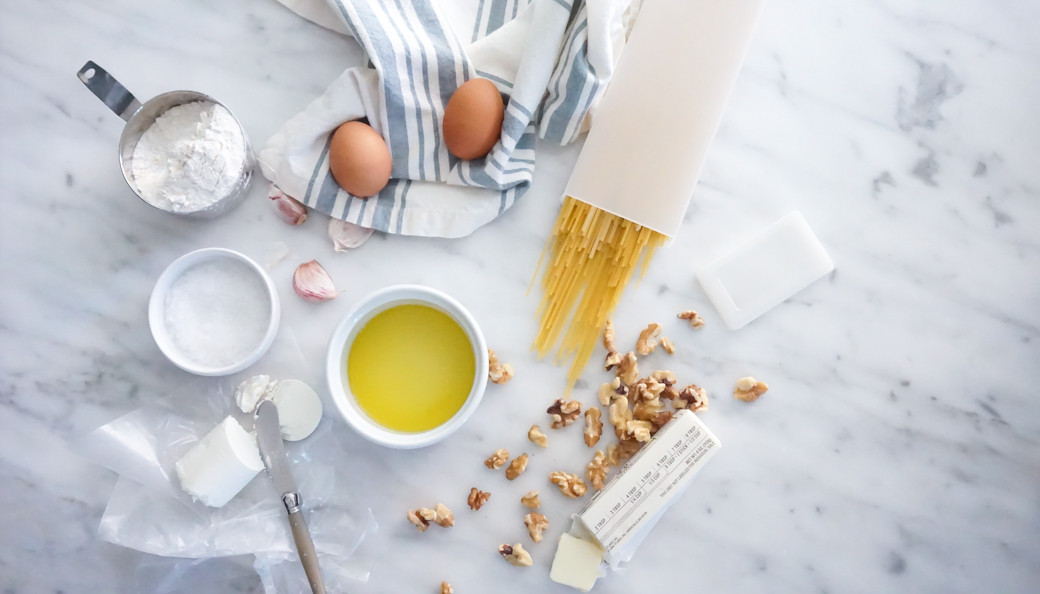 When it comes to grocery shopping, there are two take aways I have from the Stay At Place order. One, I don't think I will ever go back to grocery shopping in a store again (other than Trader Joe's of course!). By taking advantage of many grocery stores now offering on-line ordering and curbside pick-up or at-home deliveries, I have quickly come to realize how much more efficient and organized I am with my grocery shopping. And two, with so much time spent in the kitchen lately, I now have a much better grasp of the items I always want stocked in my fridge and pantry.
As such, I have gone ahead and created a must have basic grocery shopping list.  What I like about this list is that it allows for a lot more creativity and flexibility in the kitchen on those days or weeks we cannot meal plan.  And just like a capsule wardrobe, great basics offer plenty of opportunity to mix and match for a variation of different meals and dishes!
So as I approach my grocery shopping each week, I do a quick pantry, fridge and freezer check to make sure I have all these basics covered!
Must Have Kitchen Items List
Baking Basics
These are the items I commonly use when it comes to baking. It makes throwing together chocolate chip cookies, oatmeal cookies, brownies and banana bread so easy.
All Purpose Flour
Baking Powder
Baking Soda
Cocoa Powder
Confectioner's Sugar
Granulated Sugar
Light Brown Sugar
Rolled Oats
Semi-Sweet Chocolate Chips
Vanilla Extract
Canned Goods
It is amazing what meals you can come up with based on canned goods alone! Soups, pasta sauces, chili; roasted chickpeas for throwing into salads, black beans for veggie burgers or taco Tuesday!
Assorted Soups
Broth (chicken, beef, vegetable)
Black Beans
Garbanzo Beans (chickpeas)
Kidney Beans
Tomato Paste
Diced Tomatoes
Condiments
As a base for salad dressings, flavoring up stir-fry, marinating meat and poultry or spreading on your favorite sandwiches, these versatile condiments are the ultimate flavor enhancers!
Cooking Oil (vegetable, canola)
Olive Oil
Hot Sauce
Ketchup
Mustard (dijon, yellow)
Mayonaise
Minced Garlic
Minced Ginger
Soy Sauce
Vinegar (balsamic, cider, red wine, rice)
Worcestershire Sauce
Honey
Jelly
Peanut Butter
Dairy & Eggs
Quiche, frittata, breakfast casserole or a scramble, I could create a whole weeks worth of meals based on eggs alone. In addition, I love yogurts as a base for smoothies and vegetable dips! Lots of cheese options on hand are great for quick quesadillas, nachos, tacos, grilled cheese, toppings on salads and simple snacking!
Butter
Cheese (block, shredded, sliced, and/or string; cheddar, goat, mozzarella, parmesan and pecorino)
Eggs
Milk
Yogurt (vanilla, greek)
Whipping Cream
Grains & Breads & Nuts
Whenever in a pinch, pasta is always the simplest of meal solutions. Cacio e Pepe requires just six ingredients but is consistently one of the most popular and flavorful pasta dishes! I love having a stash of assorted nuts on hands too! As Madeline and I eat more vegetarian meals, they make a great fill in for protein and healthy fats!
Bread
Bread Crumbs (plain & Italian)
Nuts (almonds, cashews, pine nuts, walnuts)
Pasta (spaghetti, penne, macaroni)
Rice (arborio, brown, white, wild)
Snacks (chips, crackers, popcorn)
Taco Shells
Tortillas
Quinoa
Produce
Beautiful, colorful, nutritious produce! These items are readily available throughout the seasons! Most of these items keep well in the fridge for awhile while items like green beans and herbs can be frozen if you do not get around to using them!
Avocado
Bell Peppers
Broccoli
Bananas
Green Beans
Fresh Herbs (cilantro, basil, dill)
Leafy Greens
Lemons
Limes
Onion (red, yellow)
Scallions
Shallots
Potatoes
Tomato
Meat & Seafood
Ground beef for tacos, burgers and chili. I love crumbled Italian sausage for pasta, soups and breakfast casseroles. Chicken breast and salmon freeze well and are easy to pull out for sautéing, roasting and grilling!
Crumbled Italian Sausage
Chicken Breasts
Ground Beef
Salmon
Spices and Seasoning
These basics spice flavor up marinades, dressings, soups and sauces!
Chili powder
Cinnamon
Crushed red pepper flakes
Cumin
Garlic Powder
Paprika
Oregano
Taco Seasoning
Whole bay leaves
Salt (coarse/kosher and table salt)
Black pepper
Grocery Shopping Tips
Whether you are shopping on-line or in a store, here are some convenient shopping tips to make your grocery run go smoothly!
Have  A List
Plan menus and make your list of what basics need to be replenished ahead of time to stay focused as you shop. Being prepared with a  grocery list, also helps save time and money on items you do not need! I use this pad to help me stay organized!

Use a Rewards Card
If you don't have a rewards card for your most-frequented grocery store, then you are missing out on savings every time you shop. It usually takes no time to get one! Plus, most stores offer additional points and cash back rewards that quickly add up in your favor!
 Stick to a Day
It is one of my least favorite things to do so if I am going to do it, I only want to do it once a week! Pick and stick to a day you plan to grocery shop or pick up your grocery order.
Don't Shop on an Empty Stomach
How many times have I done this over the years? It obviously leads to impulsive (and often unhealthy!) purchases due to hunger!
Check Your Receipts After Every Trip
Make sure you have been charged correctly and the appropriate discounts and savings have been applied. I can count a half a dozen times in a year where I have been overcharged on something!
Organize Your Groceries When You Get Home
Clean your veggies and fruit. Cut up and store anything that will give your a head start on meal prepping for the week. Freeze any extra fresh food that you will not need for the week (herbs especially!)
In need of meal plan inspiration? I have weekly meal plans here
Also, sharing what my Trader Joe's haul looks like here
You can also follow me on Facebook, Instagram and Pinterest 
Thanks for stopping by!
L, M