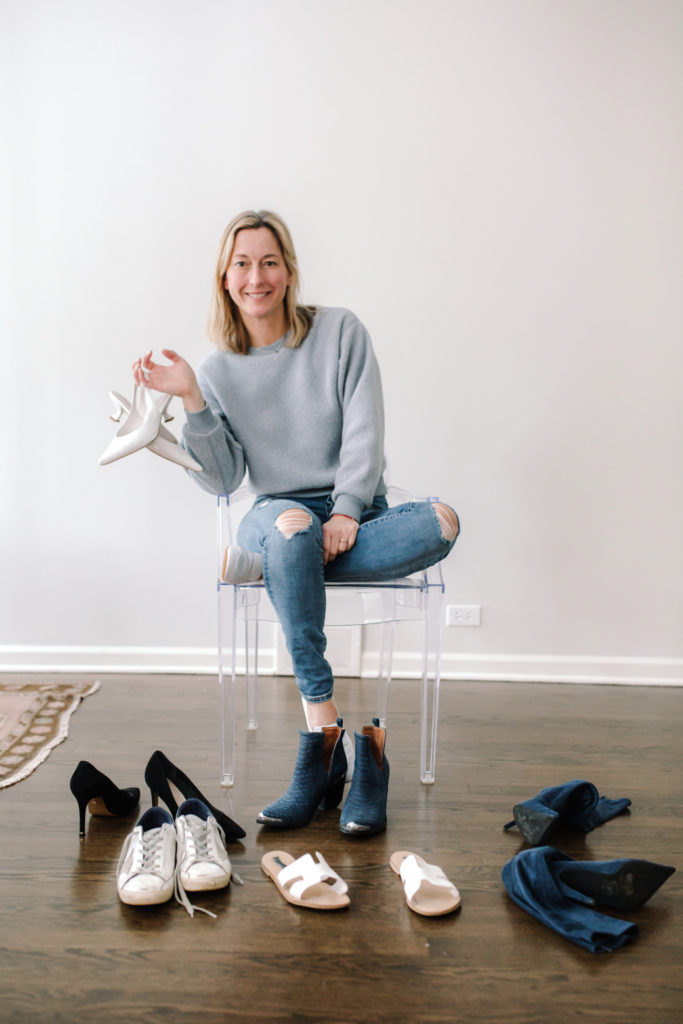 It has been a little over a year since I committed to minimizing my closet and creating a capsule wardrobe. And a year later, I still could not be happier about it! While most days lately have been spent in slippers, sweats and tees, I find on the days I "properly" dress, there is a better sense of normalcy to them. With that said, I plan to switch over my capsule wardrobe from fall/winter to spring/summer in the next couple of weeks.
Even though I have less in my closet now and could keep all my clothes in it, I find it refreshing to change it out with the seasons. That way, my closet stays consistent with the time of year, making it that much easier dressing each day. Plus, it always nice to pull out a favorite sweater or pair of shoes that I have not seen in several months.
Speaking of shoes, I wanted to touch more on the importance of including shoes when building capsule wardrobes. For me, there was a bigger learning curve in building a shoe capsule versus a wardrobe capsule. Let's be honest, most of grew up with the fashion rule that your shoes make an outfit. Shoes act as that finishing touch to your look, with the capability to completely transform it.
Over the years, that means there are some shoes I have bought to specifically go with an outfit. And then those shoes often stay dormant in my closet otherwise. So when it comes to a minimal and curated capsule closet, I wanted to make sure that I had the essential shoes that work into my lifestyle but I also want to make sure they are versatile (without compromising on style).
How to Create a Shoe Capsule
When building a shoe wardrobe the first question to ask is what shoes correspond to your lifestyle: professional work shoes, casual, athleisure, dressy and those shoes with a specific purpose. Once you determine the categories of shoes you wear (or don't wear), build your shoe collection off of that. For me this comes down to three categories: casual, dressy and shoes with a specific purpose. Similar to your capsule wardrobe pieces, shoes should be versatile (comfortable, neutral colors) but also should reflect your personal style!
Like my capsule wardrobe clothes, I rotate my shoes according to season. Items like white sneakers, running shoes and rain boots are in my closet all year, while sandals and winter boots come out according to the season.
Capsule Wardrobe Shoes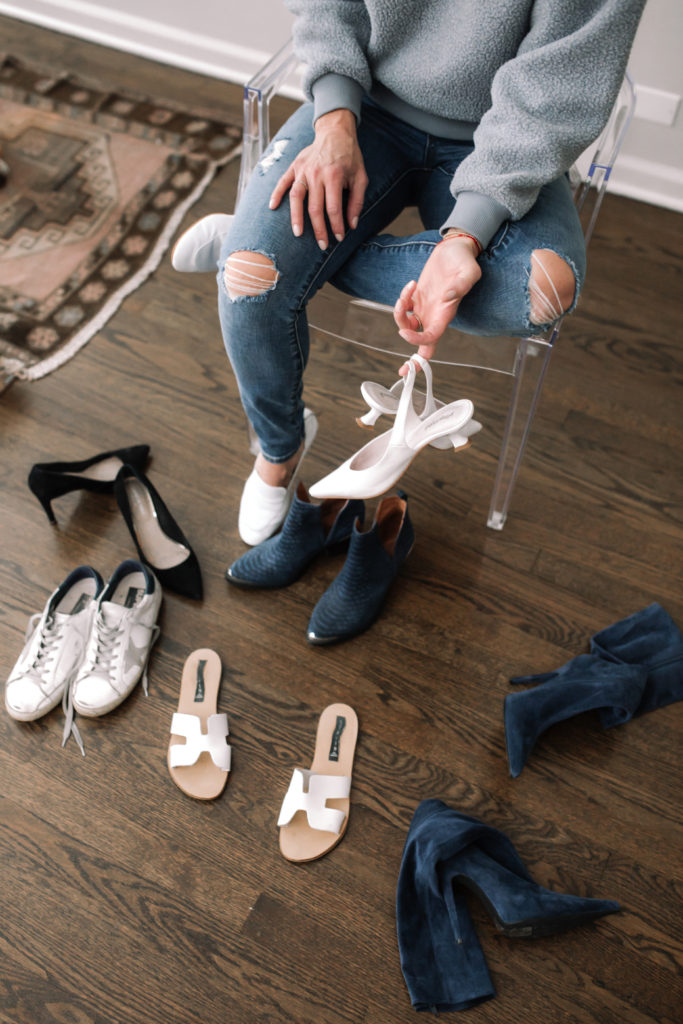 Casual
The shoes that make up most of my closet! Most days I find myself in jeans and a sweater or denim shorts and a tee! My casual shoes need to complement my everyday uniform!
White Sneaker.
A white sneaker goes with just about EVERYTHING. Cutoff shorts and a summer knit sweater, denim jeans and a navy blazer, a maxi dress with a jean jacket. I wear my white sneakers all year round! I invested (yes they are expensive!) in a pair of Golden Goose sneakers here over a year ago and have not regretted it! They are not for everyone but each time I wear them, I feel that everything else I have on is instantly elevated. Looking for something similar but a lot less?
I have this pair from Everlane that is the perfect combination of street style and comfort. For summertime, I stick with a classic converse but with a more comfortable and updated style. The Converse shoreline style here has a supportive and comfortable footbed and a stretchy back for easy one and off! For other street style sneakers I absolutely love, click on the pictures below!

Combat Boots.
The breakout star of last season, combat boots are edgy, comfortable, and easy to wear over and over again. Create a high-low combination by wearing combat boots with a feminine maxi skirt and a fitted cashmere sweater, or keep it casual in your favorite denim and a white t-shirt. These are the pair I picked up last season-great price, structure and very easy to break in!

Ankle Boots. 
There is a reason an ankle boot is consistently the most popular boot to wear each fall season.  Made for endless walking and designed with comfort in mind, an ankle boot pairs just as easily with denim and an oversized sweater as it does with a maxi dress and leather jacket for fall. My favorite and most worn pair here gives a nod to western style. I love them with a cashmere sweater and ankle jeans.


Loafer. 
Classic, timeless but not necessarily boring, there are plenty of opportunities to add distinct details like a wooden heel, gold hardware, or a grosgrain ribbon. Even a patent pair completely up dates a blazer, white tee and denim look. This season my eye is on this pair!

Flats.
This comfortable classic should be in everyone's closet! I think a chic flat is the ultimate capsule wardrobe shoe – easy to walk in and a simple shoe solution to complete a look. A flat is the perfect option for always looking put together. Jeans and a white tee or denim shorts and a summer knit are two of my favorite ways to wear them!

Slides.
When you want the ease of flip-flops but want a chicer look, slides are the summer go-to. I stock up on simple versions in neutral colors to wear with my entire summer capsule! These pair are timeless and by far the ones I wear the most during the summer. I love them in white, but here is another great neutral.

Dressy
I no longer buy a shoe just to go with an outfit. My dressy shoes need to be just as versatile as my casual ones!
Slouchy Boots.
While they might by evocative of 70's and 80's style, the latest designs are refreshingly modern and can easily integrate into your wardrobe. Coupled with tailored dressier pieces, skinny jeans and a blazer or a monochromatic look such as a navy turtleneck and cigarette leg trousers, a slouchy boot is my favorite silhouette in a tall boot!

OTK Boots. 
The solution to wearing shorter skirts and dresses during winter without tights is investing in a pair of over the knee boots! You will realize just how practical they really are! To keep the look edgy but classic, stick to pairing your OTK boots with structured dresses ands skirts and classic tailored winter coats.

Pointy Heel.
The most classic of heel styles, this is one that effortlessly adds polish to any outfit that they're paired with. Neutral colors such as black and nude best complement a capsule wardrobe but bold colors and prints can play into your personal style! By far my most comfortable and versatile pair are these. I bought them before the holidays last year and wore them all season long!

Slingbacks.
Slingbacks are the heels of spring and summer for me. They are easy to style with flowy skirts, white jeans and cropped denim. White is my go-to neutral color here!

High Heel Strappy Sandal.
Continually one of the most popular set of summer shoes each season, these Steve Madden sandals are timeless. They dress up everything from tailored shorts to jeans to a cocktail dress!

Embellished Sandals.
My dressy summer sandal of choice, I love an embellished sandal with a maxi dress! I bought these out of desperation for a recent trip to Mexico thinking they wouldn't last but I was so pleasantly surprised with the quality especially for the price!

Specific Purpose
The shoes we need but do not necessarily consider everyday! The miscellaneous category specific to weather or activity!
Cowboy Boots.
Country concerts and trips to Nashville, my cowboy boots are some of my most beloved shoes in my closet. I absolutely will pull them out on some days to wear with a cashmere sweater and jeans as well!

Rain Boots.
Come fall and winter, it rains a lot in Chicago. As much as I love my tall Hunter Boots, a shorter rain boot that is easy to slip on and off is much more conducive to everyday wear. Here are my current favorites!

Winter Boots. 
There is just no getting anyway around it. If you live in Chicago, winter boots are an essential part of your wardrobe. I find a tall one necessary for the really bad snow days and a shorter one as an easier option for every day!

Running Shoes. 
I only wear my running shoes when working out in order to get the most wear out of them!

Flip Flops.
I do not love flip flops for every day use but I absolutely need and wear them anytime I head to the pool or beach. My biggest pet peeve with them though is a dirty and "slappy" rubber bottom. That's why this pair is so wonderful.  They are chic yet comfortable and can absolutely be worn in place of a traditional sandal!

Travel. 
A good travel shoe can make or break your vacation! I have rounded up some of my favorite summer vacation shoes here.
You can also follow me on Facebook, Instagram and Pinterest 
Thanks for stopping by!
L, M