It almost goes without saying that winter can cause havoc to your skin, lips and hair. I feel like I am constantly battling sand paper hands, chapped lips and dry ends. While the best recipe to combat this would be jet setting off to a warm, humid tropical destination for the winter, I have had to find a more realistic way to combat winter's dryness! Local drugstores offer some of my favorite products to keep my skin, lips and hair moisturized and hydrated during the harshest of seasons.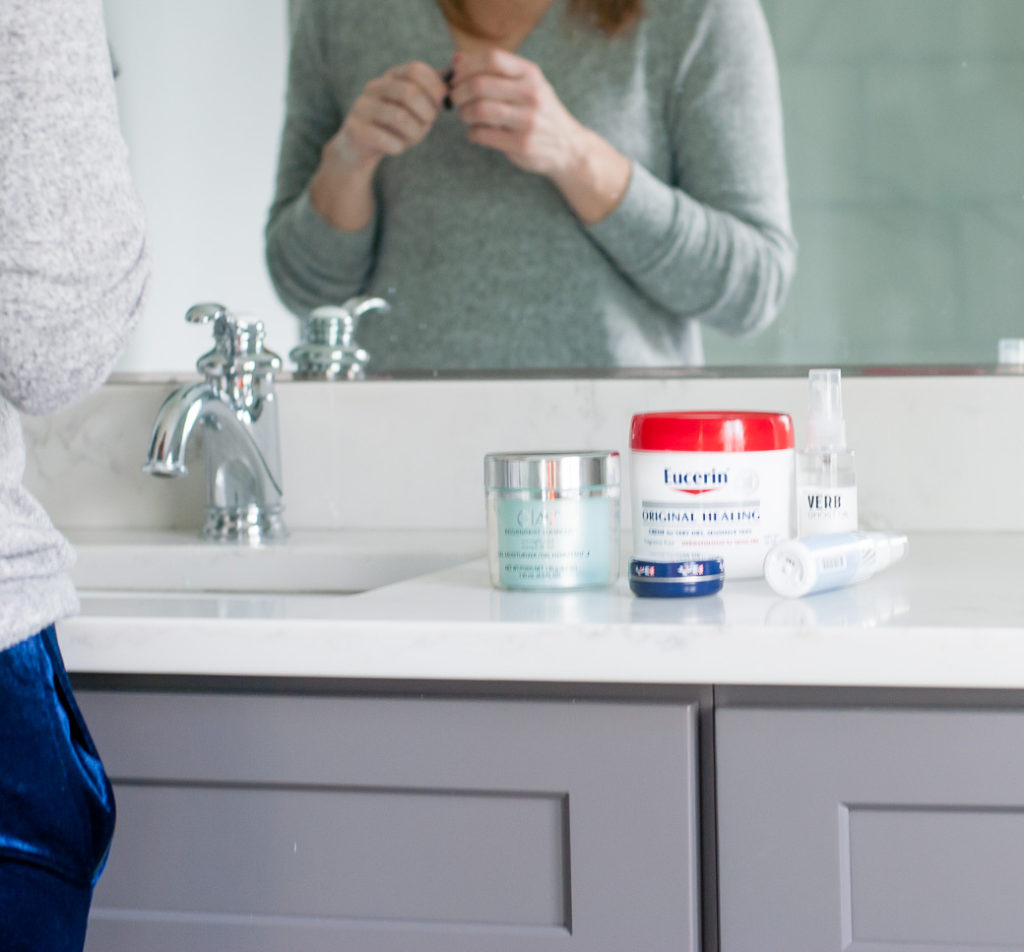 Best Drugstore Products to Combat Winter's Dryness
Skin
Cleanser
My daily skin regiment is ever changing and evolving but one thing always stays consistent. I cleanse my face with Cetahpil. My dermatologist recommended it to me as a teenager and I have been using it ever since! It is perfect for a combination of dry-oily skin! Not necessarily exclusive to a winter skin care routine but as long as we are taking drugstore products, I thought I would mention it!
Moisturizer
In terms of finding a deep moisturizer for my face, I enjoy using masks in the winter. The Elf Moisturizing Sleep Mask is cool on the skin leaving it feeling refreshed and glowing! It is a great price (and I love the packaging!).
For an overnight mask, the Olay Overnight Gel Mask hydrates the skin while you sleep, again leaving a nice glow by morning. It is not thick and goes on smoothly so you do not get that I am going to ruin my pillowcases greasy feel! Truthfully this is a great mask for anytime of year!
In terms of all over moisturizing, there are two products I love. Weleda Skin Food is a natural skin care product and is great for throwing in your bag. It is an all over moisturizer that is perfect to pack when traveling too (especially for ski and dryer destinations, i.e Arizona!) It does have a distinct smell that I personally don't mind but others may not feel the same way.
Equally as good is Eucerin Original Healing Cream that I have been using ever since I can remember! There is no fragrance and it is my liquid gold in the winter. If my hands or feet are in really bad shape, I lather them in this creme and throw on a pair of gloves or socks for an hour or two. They come out baby soft! (Because we are talking winter, these two moisturizers go on thick, can be greasy and will take a few minutes to absorb but they are deeply moisturizing and restorative to your skin.
Finally, if you ever feel like your skin is thirsty, I am a fan of hydrating mists. This one from Mario Badescu is great to keep in your purse or carry-one when traveling!
Hair
The best line of defense to keeping hair healthy is to wash and apply heat as little as possible, especially during the winter.  In between washings, I love, love to use Dove Dry Shampoo for my roots (that are always oily!) and  Verb Ghost Oil for my ends that are always dry (truly the best hair oil on the market!).  When it is time to wash, applying a hair mask once a week instantly helps. I personally like Fekkai Salon Professional PrX Reparative Mask which can be found at your local Target.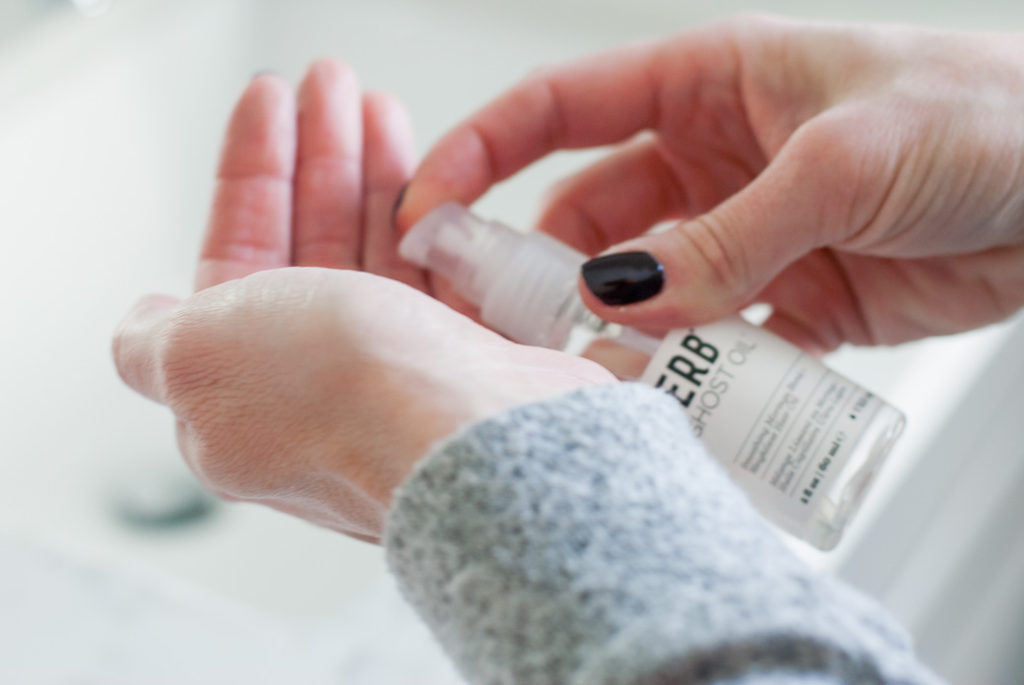 Lips
I don't use anything "medicated" on my lips. I heard years ago that medicated lip balm (i.e. Blistex) is addictive to your lips. Not sure if that is true, but that is the story I have stuck with over the years! Instead, I have two drugstore favorites on current rotation.  Smith's Rosebud Salve has been around forever! You can use it on your skin and cuticles too! It goes on smooth and has a nice, light rose scent.  When I want a little tint to my lips then hands down one of the best products out there is the Neutrogena Revitalizing Balm. They offer several colors but I personally like the Petal Glow 40! Both of these products truly make my lips feel like a soft pillow!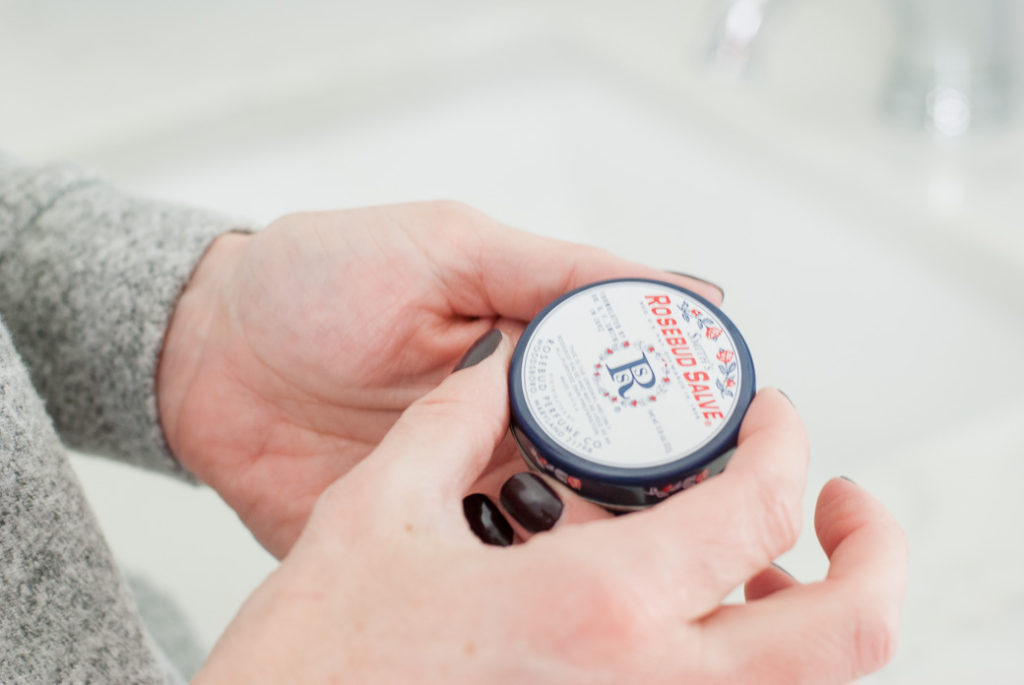 Just about all of these products can be found at your local Target, CVS or Walgreens. First Aid Beauty Supply can be found at Ulta and Sephora while Rosebud Salve can be found at Ulta or at my favorite on-line drugstore, smallflower.
Thanks for stopping by!
L, M