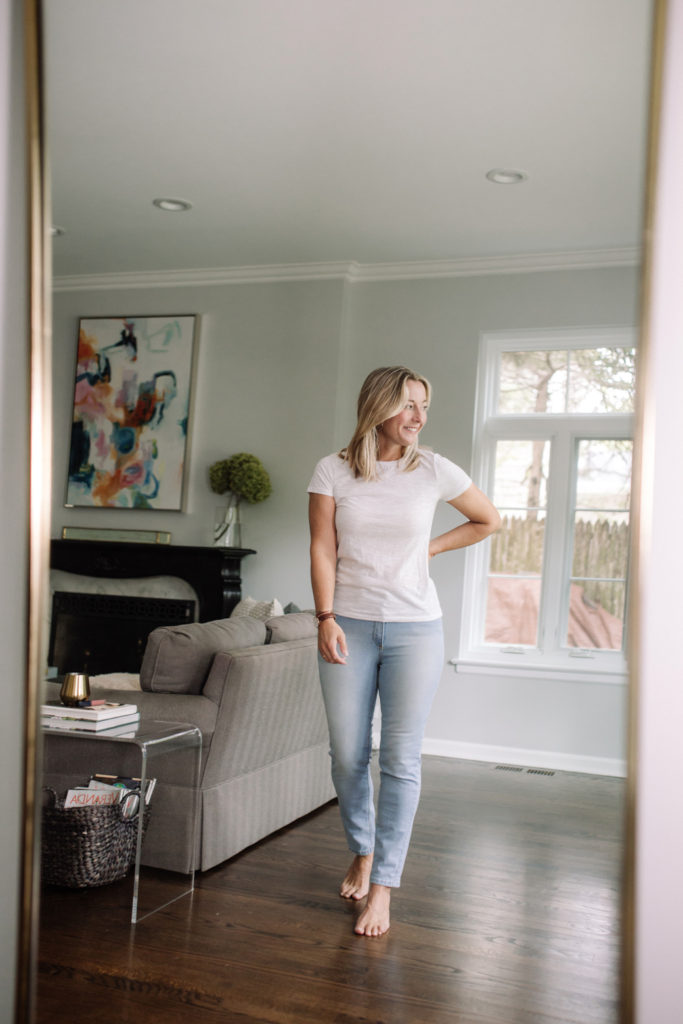 Wearing the the Mom-Ridge from  Mott & Bow. Available here 
(Use code: NAVY10 for 10% off your first time purchase)
How do we feel about skinny jeans nowadays? I seem to have shelved them lately. It has been awhile since I wore skinny jeans tucked into high boots or with sandals in the summer! Personally, they are just not my favorite style anymore. While I still like a skinnier fit through the hips and thighs, I now tend to shy away from denim with skinny legs tapered right to the ankle for an everyday look. For someone with muscular legs, this style (unless worn with tall boots) is just not that flattering on me.
Thank goodness there seems to be more denim options trending when it comes to non skinny jean styles then!  So if you too are considering adding some non skinny denim to your fall closet, I thought it would be helpful to break down and discuss all the best non skinny jeans out there right now.
Best Non Skinny Jeans
I define non skinny jeans as any denim style that is not fully form fitting from the hips and thighs down through the calf and ankle. In other words, they don't fit like leggings!  Most non skinny denim styles still have a slim fit through the hips and thighs though, with the exception of a couple such as the boyfriend style.
Before we dive into non skinny jeans, let's touch base on denim rises.  Because rises can be paired up with any denim style: high rise skinny; mid rise straight; low rise boyfriend. In other words any denim style can have any rise:
Low Rise Fit:
Waistline generally sits at or below your hips. I find this rise flattering if you are shorter in the torso or wearing a looser fit denim such as boyfriend style.
Mid Rise Fit:
Waistline generally sit between the hips and the belly button. If you are evenly proportioned or even slightly longer in the torso, this is a great fit! I find this rise flattering for slender to curvy figures and everything in between. Simply put: they are a great universal, classic rise. Plus this rise is helpful in holding in the tummy!
High Rise Fit:
Waistline is above the hips and bellybutton. If you are tall, this is always a nice fit but if you are long in the torso and shorter in the legs (hand raised high here!) then a high rise fit helps elongate the legs. And yes, this rise also does a great job of holding in the tummy!
Once you find the rise and jean style you like, from there you can choose wash preference, size and trend. Most on-line retailers do a nice job of providing these category breakdowns for easier searchability. Now onto non skinny denim styles . . .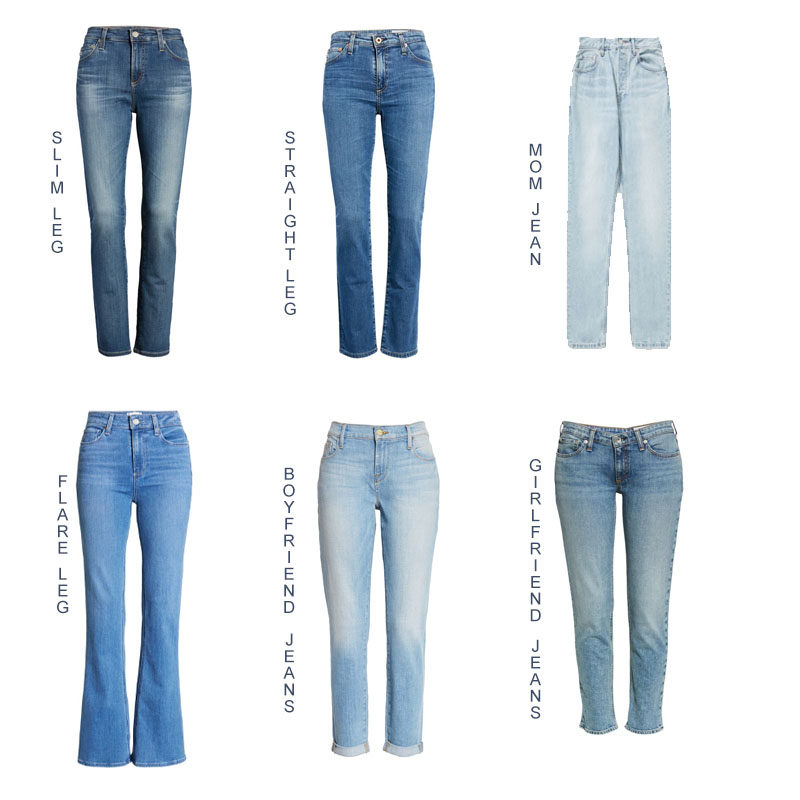 Slim Leg Jeans

Style: Slim Leg / Rise: High / Wash: 17 Years Jamboree . Found here
Almost a skinny stretch denim because it still showcases the contours of your calves but without clinging to them! This style creates a sleek but not skin-tight silhouette. Slim leg jeans help polish off the look of a blazer or oversized sweater, while still allowing you to slip into a tall boot!
Straight Jeans

Style: Straight Leg / Rise: High / Wash: 15 Years Interject. Found here
As the name implies, straight leg jeans are jeans with a silhouette running straight down to the bottom. They have a consistent leg width (think of a tube!) and are slightly looser in the waist and thighs then slim styles. Straight leg jeans offer a comfortable, classic fit that look great paired with flats, heels, sandals and sneakers!
Mom Jeans

Style: Mom / Rise: High / Wash: Light (but lots more available). Found here
In the past, mom jeans were a type of denim style considered unfashionable or unflattering. Yet in an effort to bring comfort back to the world of denim for women (yes, denim lines do not want you reaching for your leggings all the time!), mom jeans have made a comeback (albeit some important reinventing!). Mom jeans generally fit high waist, loosely on the thighs and around the hips (making your bum appear longer and flatter) and with a relaxed fit in the zipper area. In order to keep in line with the current, contemporary style, avoid a pull on elastic waist at all costs! LOL!
I mean if Urban Outfitters are selling mom jeans, then even the younger generation has given their street style stamp of approval for them. But all kidding aside, I have two pair I absolutely love here and here.
Flared/Wide Leg Jeans

Style: Flare /  Rise: High / Wash: Sky Blue. Found here
A denim style that becomes wider from the knees downward, forming a bell-like shape over the lower leg. A staple since the seventies a flared jean is not necessarily the most versatile jean but one of the most flattering for a night time look thanks to its floor grazing hems and a-line fit that slims the legs. Perfect for wearing with your highest heels in boots, pumps and sandals!
Boyfriend Jeans

Style: Boyfriend / Rise: Mid / Wash: Light Blue (Finn). Found here
Denim that is synonymous with a slouchy and baggy feel. A loose fit all over although the hem line can be tapered. The trick to wearing this comfortable denim is all in the styling. Pair with a heeled shoe or sleek sneaker and a slim fitting top!
Girlfriend Jeans

Style: Girlfriend /  Rise: Mid /  Wash: Light (Edge Cliff). Found here.
Aptly named as they are a more feminine version of the boyfriend jean. Less baggy, tighter and higher on the hip then boyfriend, with a tapered slim straight leg, they are generally made with more rigid denim.
Denim Trends
As with every season, comes along different denim trends within your favorite styles. Here are a few to look out for:

Slim Boot: Boot cut jeans are back in 2021 but with a slimmer cut. They are super sleek and pair well with heeled ankle boots or high heeled sandals!

Ram Hem: Instead of a tapered hem, a raw hem is a released or frayed hem at the ankle adding a little edge to your denim.

Light Wash: You will see an influx of light washes this season! And this 90s-inspired denim wash is so easy to style and wear year round!
Denim Brands
We have all tried on countless denim brands over the years looking for the cuts and styles that fit us perfectly. Similar to swimsuits, denim brands are often a personal preference. Yet I still thought it would be worthwhile to highlight those that seem to have a lot of success across the board among women.
Time and time again, women rave about the quality and flattering fit of the AG line of denim. The Ex-Boyfriend (featured above) is probably the top selling boyfriend jean of all time! LOL!
My personal favorite, AGOLDE is the current darling of denim right now. How denim fits in the bum is most important for me and AGOLDE never disappoints in this department! The Nico High Rise Straight/Slim (featured in grey above) is my most worn pair of denim right now!
I was initially wary of this line of denim (I don't necessarily gravitate towards the Kardashian empire!) but after trying on pair of their GOOD LEGS style denim on a recommendation from a friend, I was sold. An all body inclusive line of denim, GOOD AMERICAN definitely knows how to design a flattering all over fit!
I remember when THE GAP was my go to store for denim. Fast forward to now, and that is the way I feel about the denim styles from EVERLANE. They are never concerned about what is trending. They always just put out a great quality, great fitting denim!
I have literally lived in their mom jean this winter (which actually fits more like a straight jean!). I love their denim for the fact that the price point for high quality denim is reasonable. Their denim is also a great mix of just enough stretch without losing the true denim feel. Use code: NAVY10 for 10% off your first time purchase
You can also follow me on Facebook, Instagram and Pinterest 
Thanks for stopping by!
L, M