What is a Capsule Wardrobe?
Fall is here! And with that I am looking to incorporate those clothing pieces into my closet that are perfect for mixing and matching with my already go to basics! In other words, I am looking to create a fall capsule!
I'll say it again! A capsule wardrobe is an everyday collection of core key pieces that make dressing each day easy. As a result, I wanted to build upon the capsule wardrobe concept I started at the beginning of this year as we head into the fall season. I want to introduce some additional wardrobe fall essentials that can easily be mixed and matched.  Pieces that still include denim and layering tees but also will allow you to mix things up in the new season while keeping dressing for everyday effortless! This fall capsule wardrobe is meant to complement my main capsule wardrobe.
Fall Capsule Wardrobe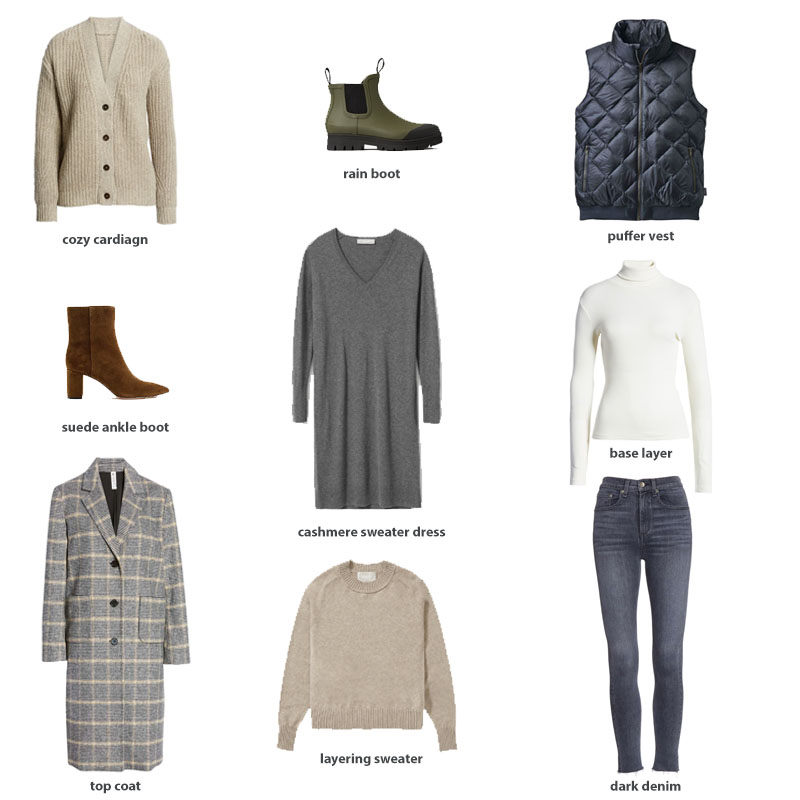 Cardigan here // Rain Boots here // Vest here // Ankle Boot here // Sweater Dress here // Base Layer here // Top Coat here // Layering Sweater here // Denim here 
Nothing says fall like a cozy chunky knit cardigan to wrap yourself up in! I love to put this over button downs, layering tees and light weight sweaters, paired with my favorite denim.  I would also wear this over the featured cashmere dress and pair it with street style sneakers.
I shared these earlier this year and I have worn them continuously ever since. Rain boots are an essential wardrobe anytime of year in the Midwest but particularly in the fall! I especially love the green color right now. Super comfortable and well cushioned, I love pairing them with my cozy camp socks. Wear them with your skinny denim and corduroys!
What jacket goes best over all our cozy sweaters for fall? A vest of course! Just the little extra needed to keep that fall chill away.  This style also works well under a rain or fleece jacket!
I am obsessed with these boots! I consider them an ankle boot but they come just above them making them a great style to wear with skirts and dresses. They honestly look like they are so much more then they are! The color is perfect too!
Is there anything cozier than a dress made of cashmere? I love this style from Everlane because it's a looser fit but can also be belted to give it shape. Add a button down or mock turtleneck underneath and top it off with the top coat or leather jacket and suede boots.
Yes I have a base layer in my main capsule wardrobe but for under $20, this is the one you want to get in every single color for fall!
The perfect outerwear for layering, I love a boxy coat in a neutral colors for fall. This one is super soft but structured and comfortable. The quality and tailoring is so good with an even better price point.
Again, I have a cashmere sweater in my main capsule wardrobe but what I love about this one that Everlane just launched is the lightweight texture. It almost feels like wearing a tee but with that extra bit of warmth. It can be worn alone or layered under other sweaters! True to Everlane, it is ethically sourced with my kind of price point!
My favorite wash of denim ever! Somewhere between a grey, black and a blue, the universe color from rag & bone goes so well with navy and all the neutral and moody colors of fall.  I love the raw ankle hem to pair with the ankle boots and high rise fit for elongation in the legs!
Fall Capsule Wardrobe Outfits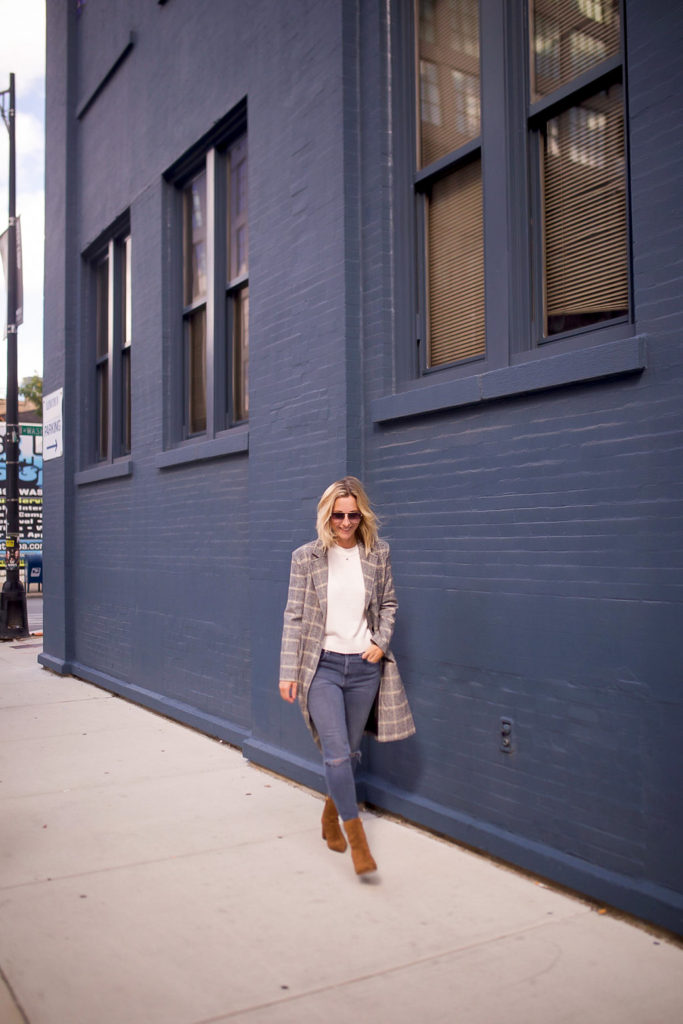 Outfit 1: Top Coat, Layering Sweater, Dark Denim, Suede Ankle Boots
This look can take you anywhere this fall! I love it for travel, for a day in the city or for a lunch with friends. The warm, neutral tones and plaid pattern make it a classic fall go-to outfit.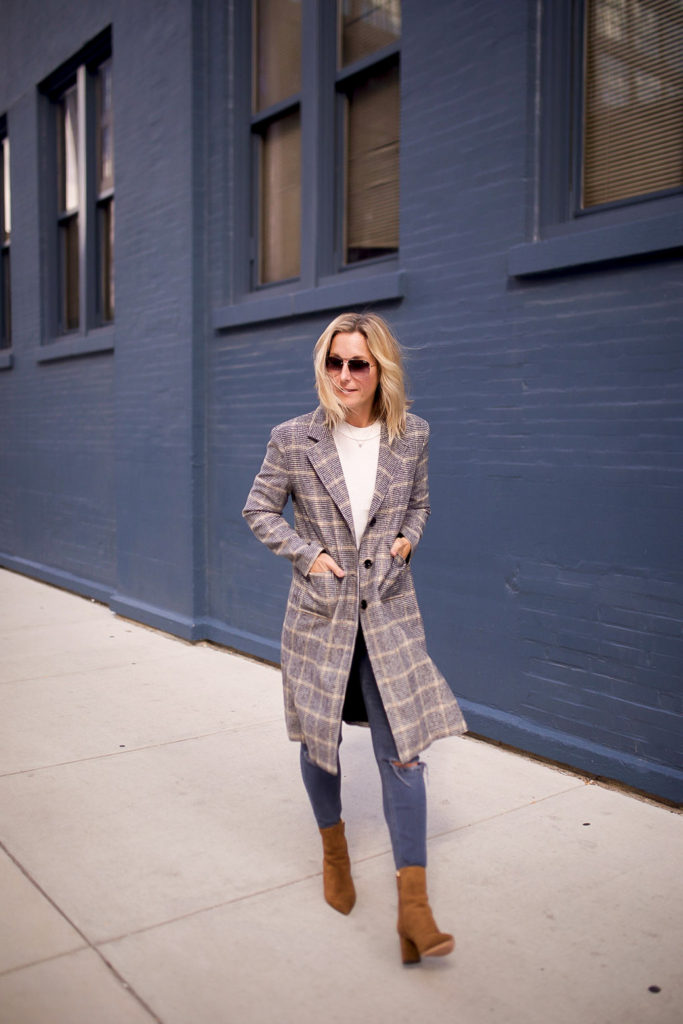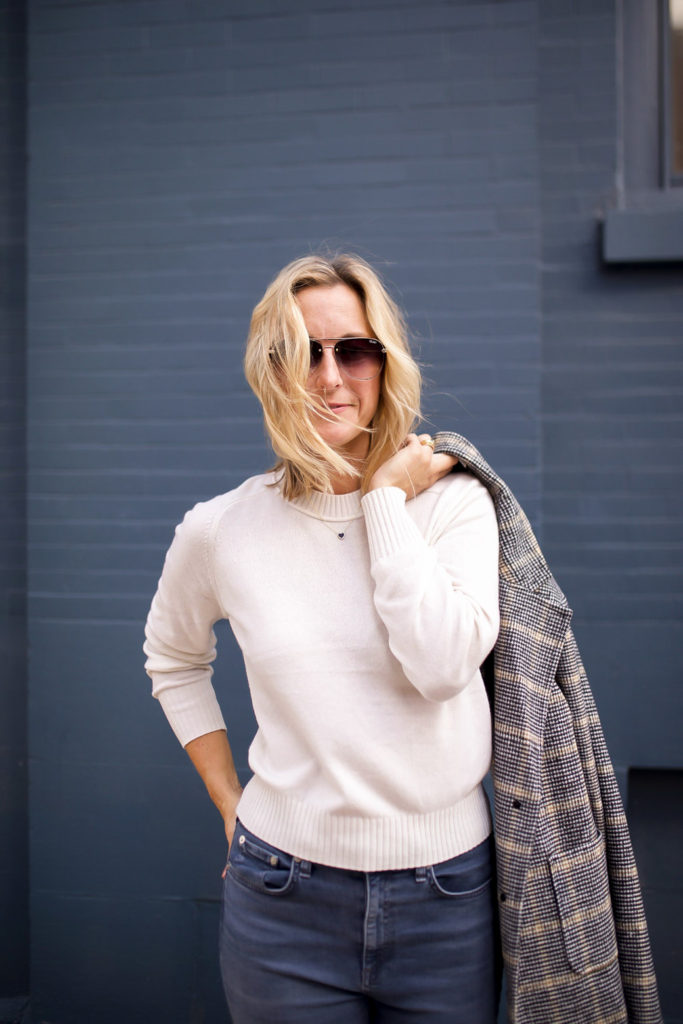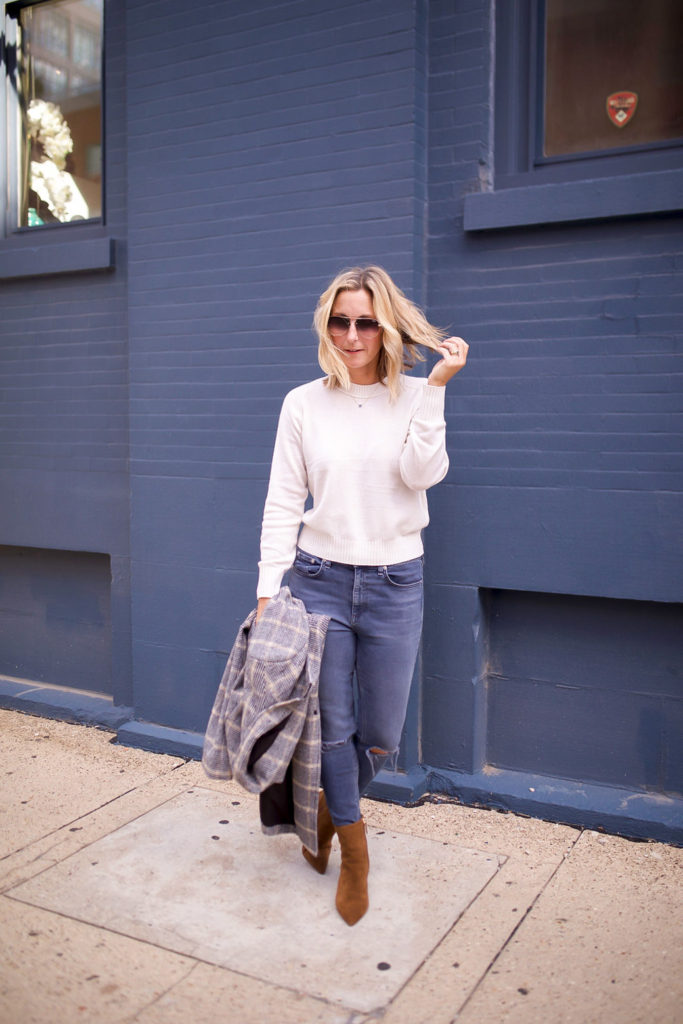 Outfit 2: Top Coat (Draped), Chunky Knit Cardigan, Layering Sweater, Dark Denim, Street Style Sneakers (featured in main capsule wardrobe)
A wear anywhere no fail outfit, I love a cozy cardigan, a pair of denim and street style sneakers for a look that works all week into the weekend! To add a little elevation to these pieces, drape a top coat over it.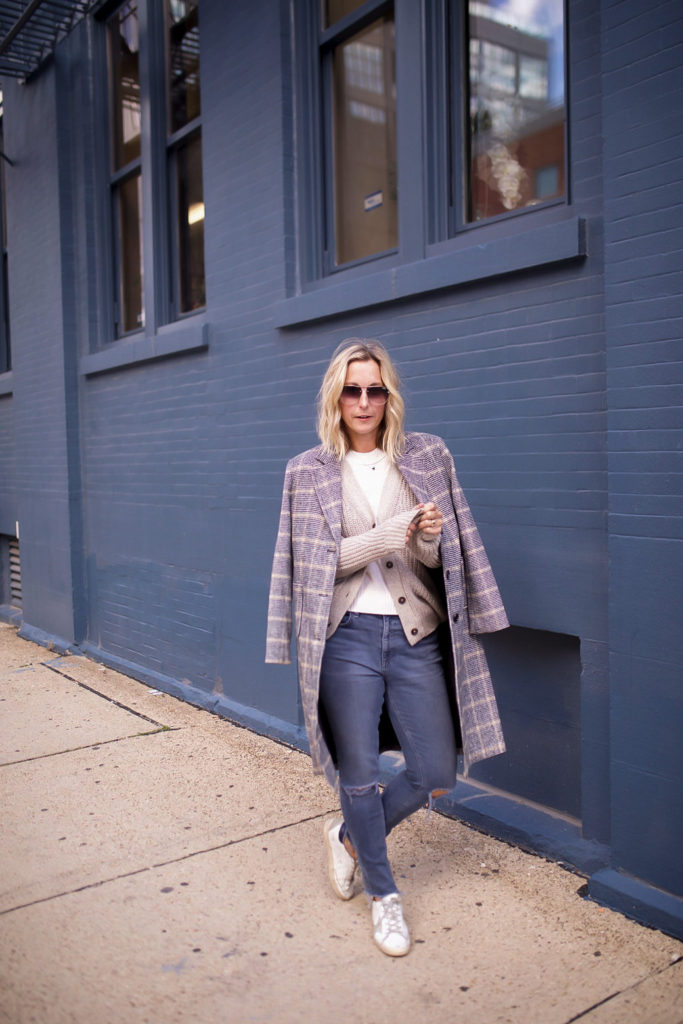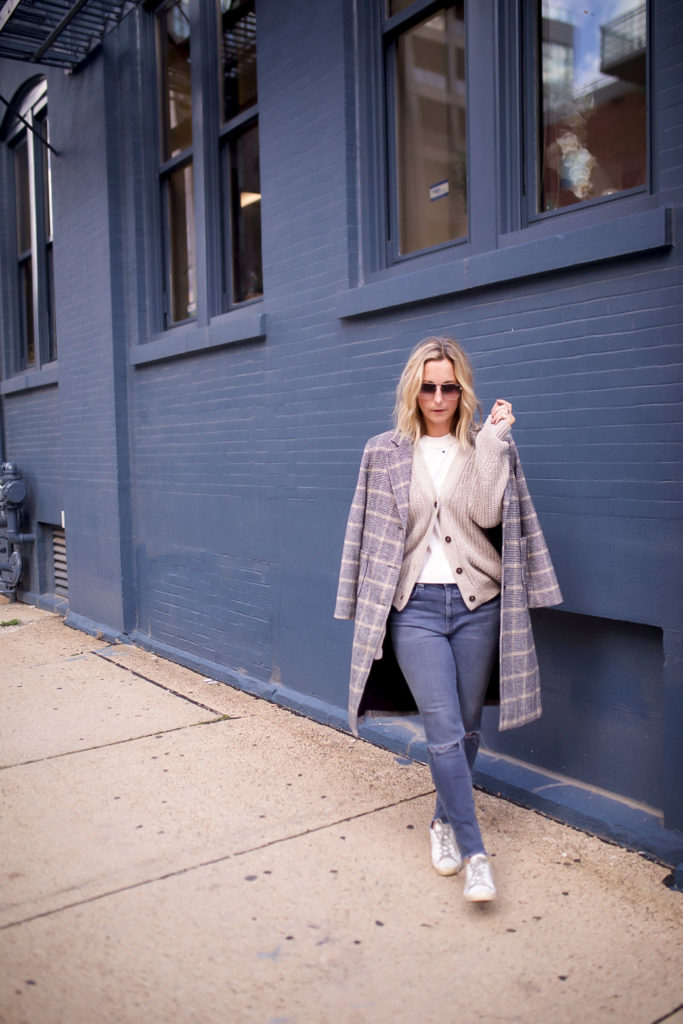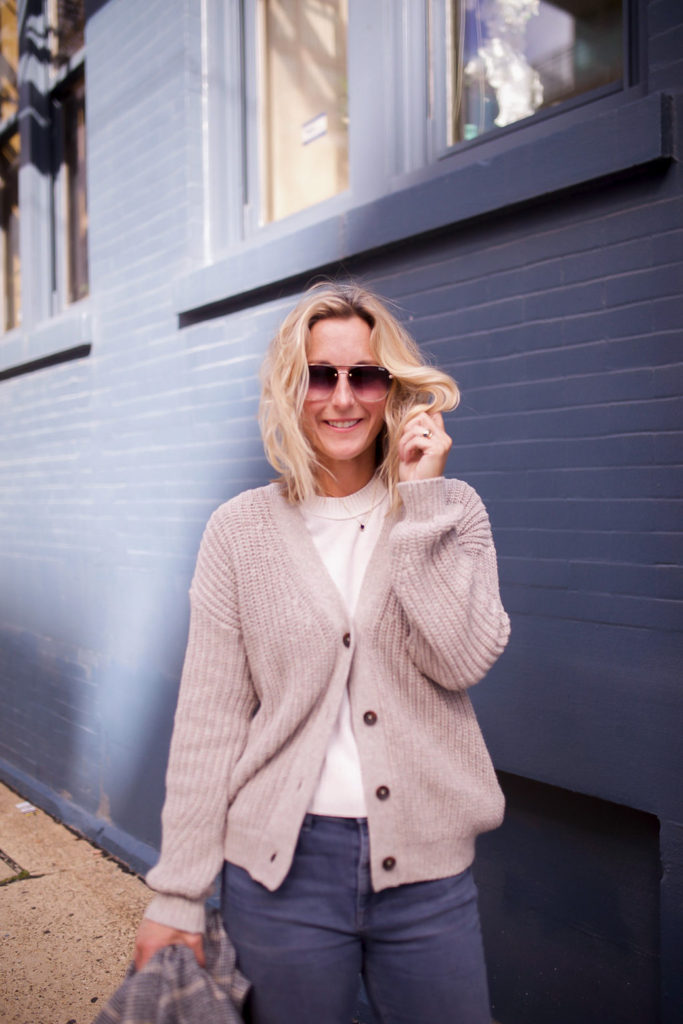 Outfit 3: Puffer Vest, Layering Sweater, Dark Denim, Rain Boots
All you mama's out there that spend their weekends cheering your kids on the sidelines, this look is for you this fall! Muddy and windy fields, no problem! Rain boots and puffer vest for the win! Add the cashmere scarf from my key pieces capsule wardrobe and you are good to go all season long!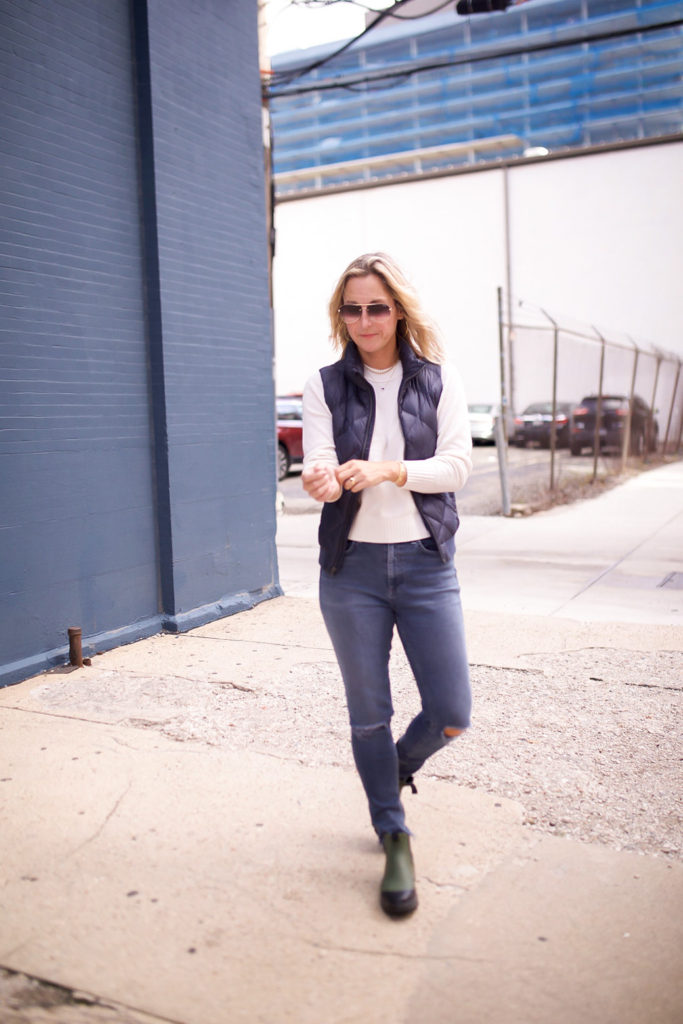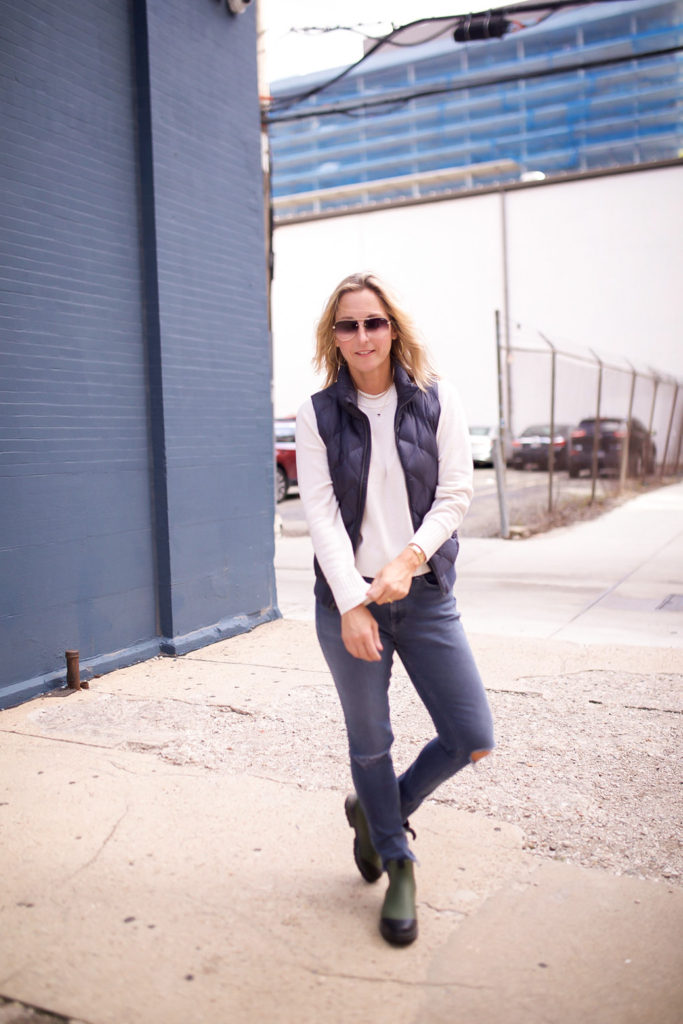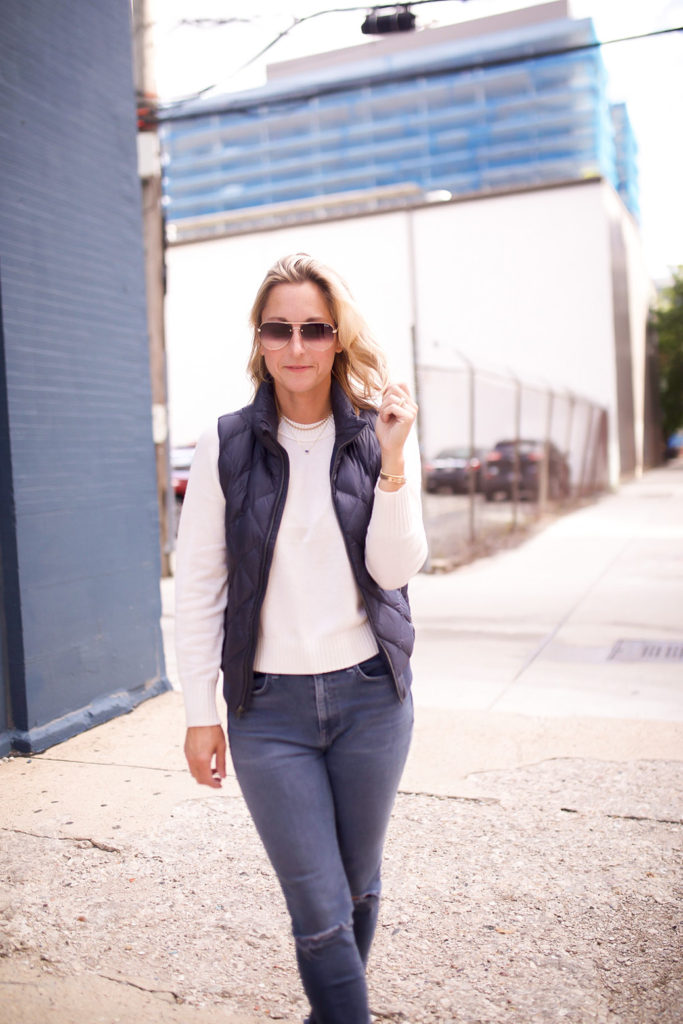 Oh and I just got myself a new pair of sunnies so details on them are here!
Photos by Hannah Schweiss Photography
You can also follow me on Facebook, Instagram and Pinterest 
Thanks for stopping by!
L, M