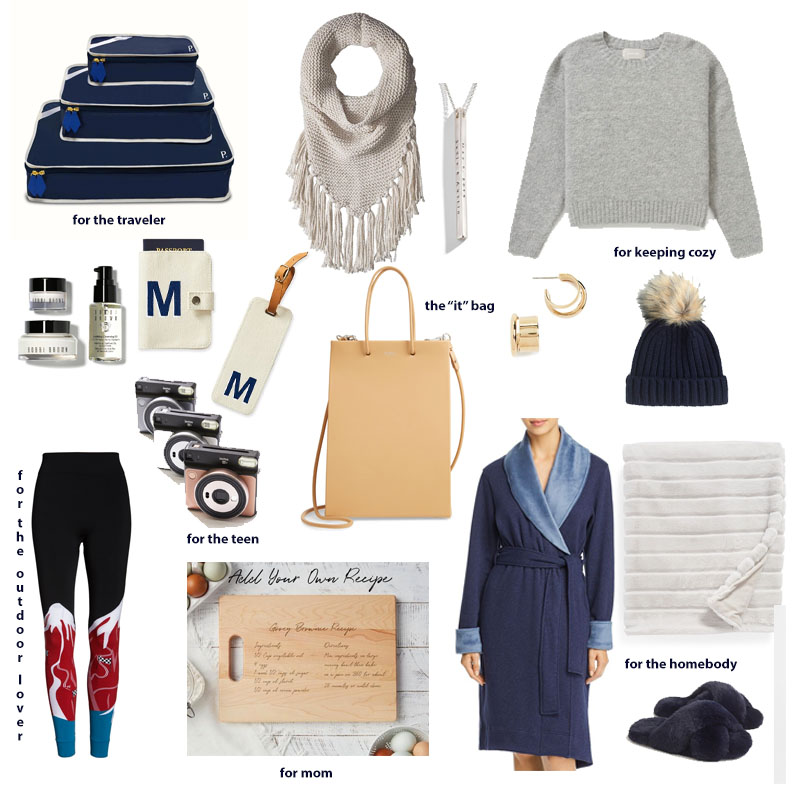 Whether you are shopping for yourself this season or for any of those special women in your life, I hope you find this guide helpful for finding the perfect gift for all the ladies on your list!
Holiday Gift Guide for Her
Top Row L: R
I featured these in a recent travel post here! For anyone that travels frequently packing cubes are a must! I love that this set has the option to add a monogram!
I bought this at my local Evereve and I get stopped in the street every time I wear it. It is fashionable yet functional and has just the right amount of material for keeping warm without feeling suffocated.
I honestly could dedicate an entire post to all the wonderful gift options available at Mark & Graham. They have the best selection of personalized gifts. I love the modern feel of this pendant necklace which includes personalized hand stamping on two sides.
From Teddy blankets to Teddy coats to Teddy sweaters, it is all about keeping cozy! I was going to feature an Everlane cashmere sweater on this gift guide (always a good idea!) but then I saw they just launched this Teddy sweater and I had to include it. Comes in six colors!

Middle Row L: R
Under $30, this is a nice gift to give for those who love a good beauty product and who love to travel!
Another Mark & Graham find, these are offered in lots of colors but there are lots of other gift options in this canvas material as well!
The break out designer of the summer, all the celebrities were going nuts over this line of bags. Nordstrom carries them on-line and offers a nice selection on markdown.
Huggies are having a moment. I love that there is a little more substance to these and they are well priced under $60!
Not every pop pom hat is the same. In fact, I  think it is actually really hard to find a pom pom hat with a nice full pom. As far as I have searched, this is the best one I have come across. One of their everyday basics, it is currently on sale!

Bottom Row L: R
If there is a skier among your people, how fun is this to give as a gift? I absolutely love these. A perfect mix of function and style!
Every year there is a different spin on one of these cameras! They make great gifts for teens. Small and portable they are so great to carry around in your bag for those candid moments of capture! Much better than relying on your phone all the time!
This is such a wonderfully sentimental gift to give! An heirloom family recipe or just a family favorite, this makes for such a special gift for a family member, especially if you can get your hands on a recipe card your grandmother or great-grandmother wrote. You send in the file of the recipe and they engrave it onto a cutting board to match the handwriting!
Gifting a robe is always a wonderful idea! Even though this one is fleece, it is not too think but sure to keep you cozy warm! Runs a bit big so consider sizing down. Other colors available.
It is a constant battle in our house with the heater in the winter. My husband likes to maintain a barely tolerable temperature. So to make up for it, I scatter faux fur blankets throughout the house for keeping warm! They are not inexpensive (it would make more sense to turn up the heat in fact!) but this one has a great price point on it (so I ordered two of them! Touche husband!)
Cute, cozy and available in other colors, these keep your feet extra warm but allow your toes to breathe!

You can also follow me on Facebook, Instagram and Pinterest 
Thanks for stopping by!
L, M