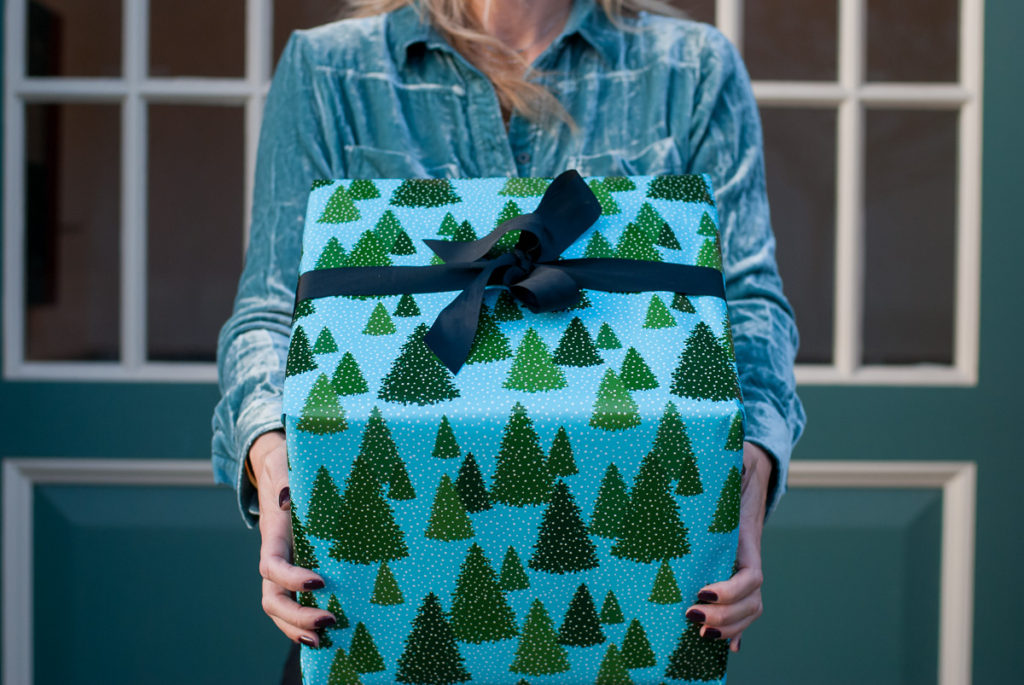 Welcome to the Holiday Gift Guide! I am sharing my favorite gift ideas for the him, her and teen in your life! My guide offers unique and fun finds! Those marked by an asterisk *are my top picks in that category! I also have posted important shopping dates and my favorite places to shop. I will be featuring stocking stuffers, hostess and teacher gift ideas in the coming weeks! Tis' the Season! Let the shopping being!
Holiday Gift Guide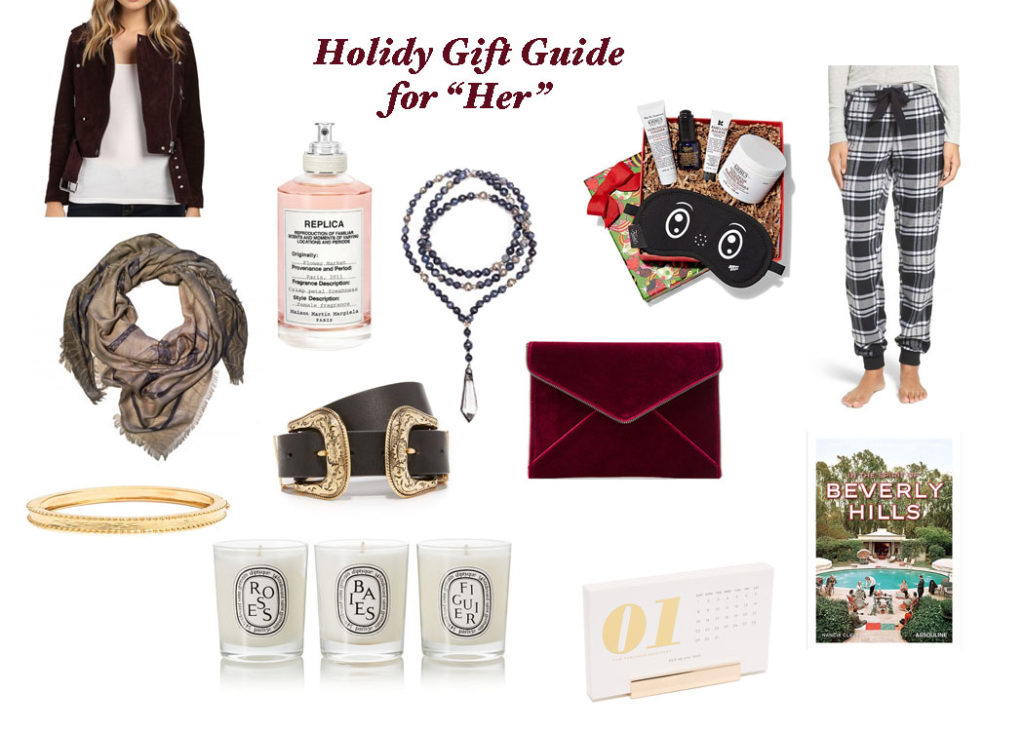 Gifts For Her:
Suede Moto Jacket-the perfect color and timeless style
Replica Perfume-the "it"perfume
Shoshanna Lee Necklace-beautiful and wearable piece
Keihl's Gift Set-nightime essentials
Pajama Bottoms-the "jogger" style gives an updated look to traditional flannels (lots of color options)
Beverly Hills Coffee Table Book-one that you will actually open and look through!
Kate Spade Desk Calendar-it is refreshing to have "paper" on your desk
Rebecca Minkoff Velvet Clutch-a huge fan of this style and love the texture and color of this clutch
Diptyque Candles-so many choices with candles nowadays but these are always the best in my book
Black Belt-the "it" belt
*Shoshanna Lee Gold Bangle-this comes in silver, oxidized silver and rose gold too. Perfect price point although they look like they should cost so much more. I am obsessed!
Printed Scarf-I am a little over plaid scarves and these scarves are so soft and great to wear all year round. They come in a variety of beautiful prints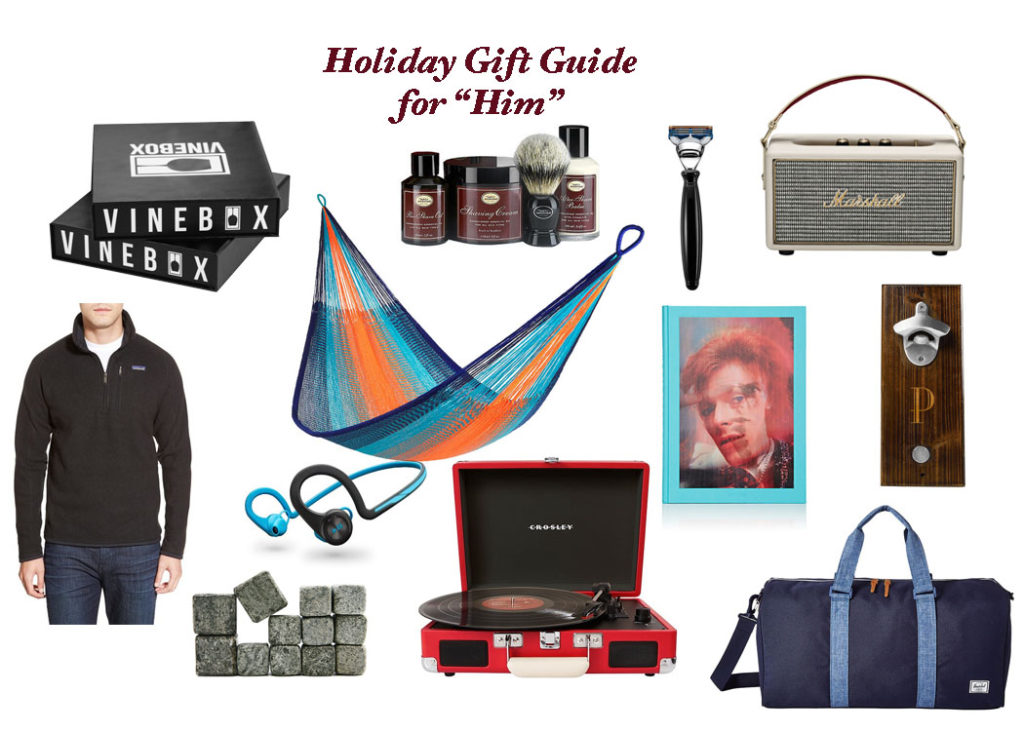 For Him:
Vinebox-a fun twist on the traditional "gift by the month"
The Art of Shaving Gift Set-because men should enjoy their beauty routine too!
Marshall Speaker-nostaligic in feel but portable and top quality in sound
Wall Mount Bottle Opener-perfect for the "man cave"-we have ours right next to the pool table!
Duffle Bag-I am a huge fan of this line! Perfect weekender or gym bag
David Bowie Coffee Table Book-a great tribute to this legendary artist
*Record Player-this was on my Father's Day Gift Guide and continues to be my top choice. (I am showing a fun option but you can get more serious with the equipment) Vinyl has made a comeback in a big way!
Soapstone Whiskey Rocks-keeps drinks hot or cold without diluting the flavor
Plantronics BackBeat Fit Bluetooth Headphones – Blue
-perfect for running or talking on the phone
Patagonia Pullover-only article of clothing to make the list. Versatile and classic (lots of color options)
Hammock-the outdoor alternative to a "man cave". This style is not susceptible to mold or mildew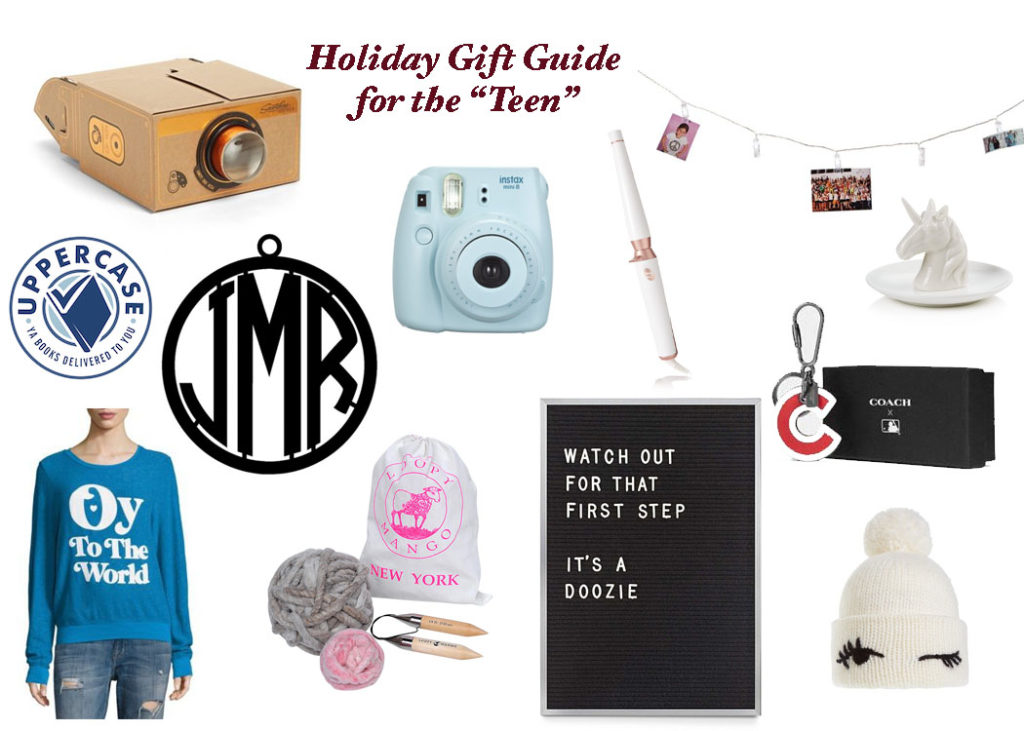 For the Teen:
Smartphone Projector-the gift where parent and teen can live in the same "tech" world!
*Instamix-A fun use of the polaroid! I gave one to my daughter before we took our road trip and she loved it. Film is expensive but Costco sells it in bulk for a reasonable price!
Styling Wand-simply the best one on the market
Clothespins String Lights-a fun way to display your polaroids, pictures or postcards
Unicorn Ring Holder-because unicorns are a thing right now
Coach MLB Key Fob– Coach in partnership with MLB baseball offers fobs of your favorite teams. Go Cubs go!
Wink Hat-the "wink" also a thing right now
Letter Board-love this for a dorm room, bedroom or laundry room. A fun way to write personalized messages
Knitting Set- knitting with thick yarn is on trend
Wildfox Sweatshirt-a line beloved by the younger generation offering the most comfortable sweats with kitschy messages
Uppercase Book Club-subscription box for your adult book readers
Metal Name Plates-perfect to hang in a room or dorm room. Names, initials and greek letters are all options
My Favorite Places to Shop:
Department Store:
Unique Gifts:
Luxury:
Beauty:
Jewelry:
Local Home Decor and Gifts:
Local Women's Boutique: (on-line too!)
Important Shopping Dates:
November
25th-Black Friday
26th-Small Biz Saturday
28th-Cyber Monday
December
12th-Green Monday
16th-Free Shipping Day
18th-Last Day: Standard Shipping
19th-Last Day: Rush Shipping
21st- Last Day: Two Day Shipping
23rd- Last Day: Next Day Shipping
Thanks for stopping by! Lots more to come this holiday season!
L, M