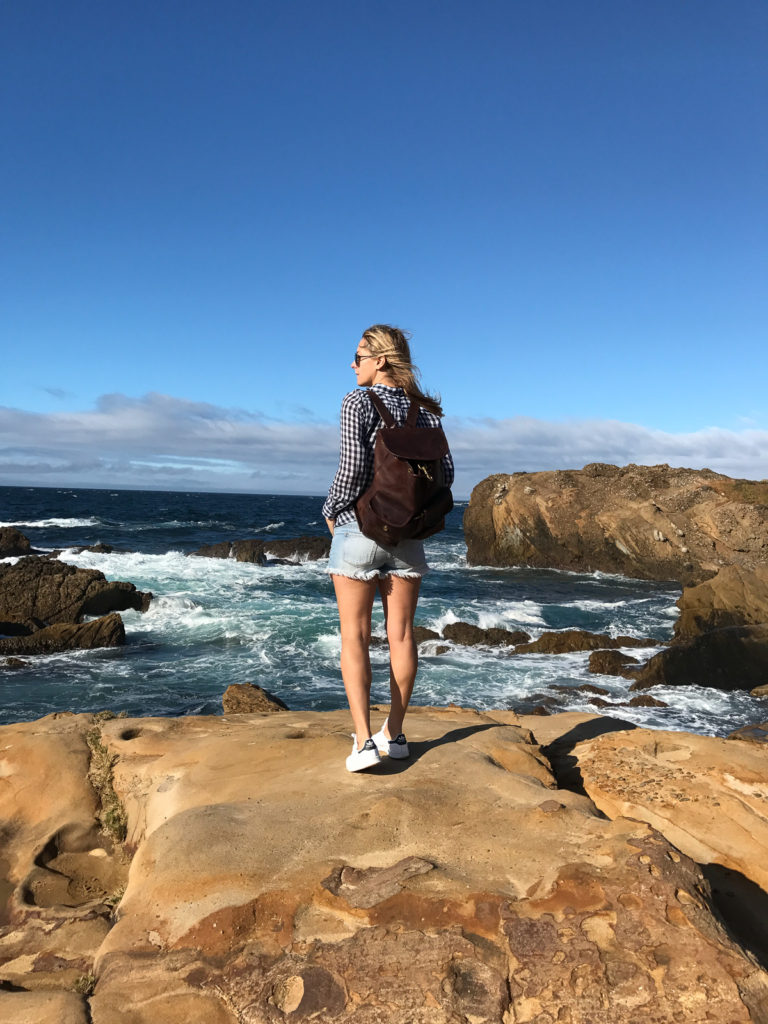 Pacific Coast Highway Road Trip
I cannot imagine living anywhere else other than Chicago. But if I had to choose my absolute favorite place to visit,  it would hands down be California. One of my very first posts when I launched this blog was on my love for LA. But ironically, as much as I love California, most of my time spent there has rarely been outside this city. It has always been a dream of mine to cruise down the California coast on Highway 1, famously known as the Pacific Coast Highway. I finally had the chance to do it last month. While there are so many variations as to how one can experience this road trip, I am sharing my experience and tips for embarking on this scenic and breathtaking journey!
Planning the Logistics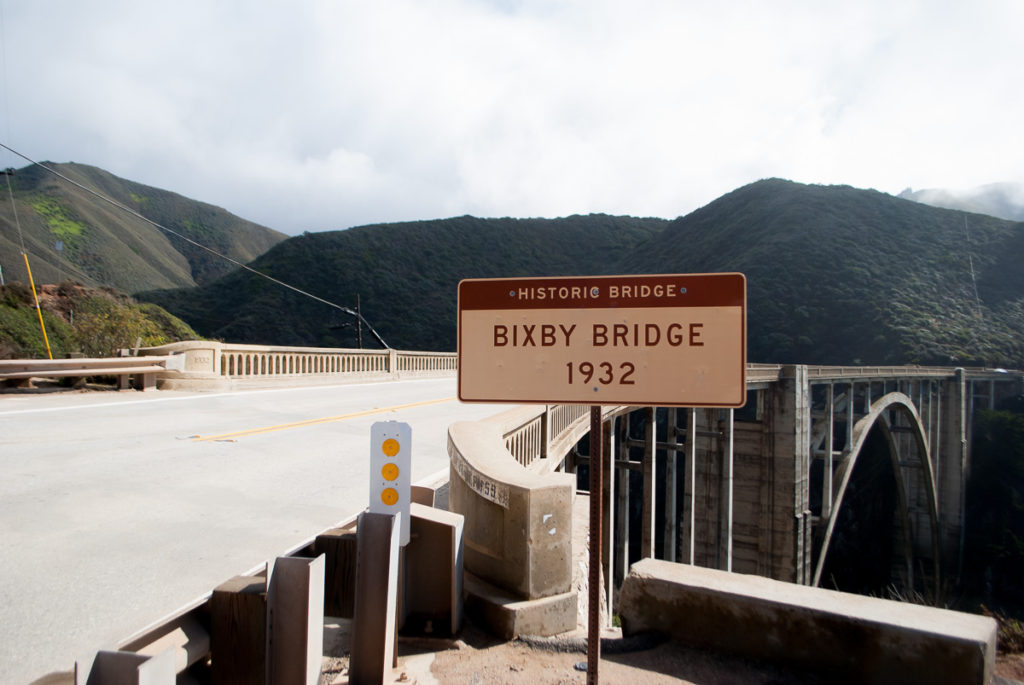 While the Pacific Coast Highway is over 1700 miles long, most people think of it as the drive between San Francisco and Los Angeles. In other words, this is the most popular route and the one we did! From start to finish, the drive is at least 6.5 hours and over 400 miles long so technically it can be done in one day, but you really would not wan to as you would be missing out on a lot of the magic!
I spread our drive over four days and three nights and really felt we got to experience the best of what the PCH offers! While most road trippers start in San Francisco and work their way south, I found that the rental car cost was half by going from Los Angeles to San Francisco so I booked it this way. While you're not necessarily gripping the coast by driving south to north, I enjoyed driving on the mountain side and in no way felt our views were compromised!
DAY 1: LA to Santa Barbara-100 miles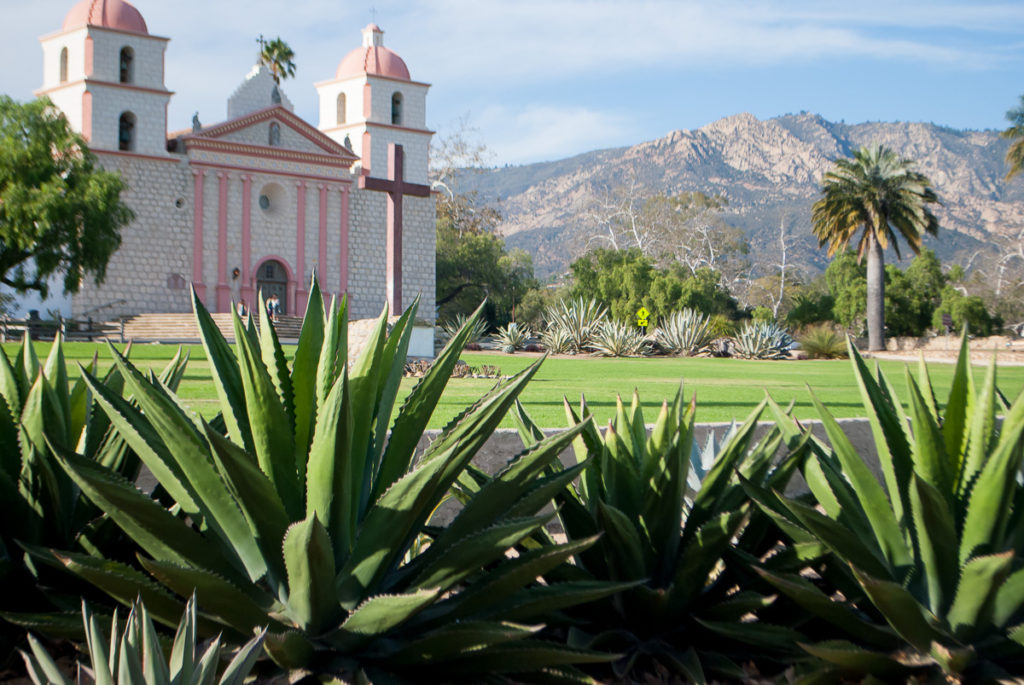 We arrived at LAX late morning, picked up our rental car and headed straight to Santa Barbara, about 100 miles north of LA. Since I have spent so much time in LA, this was an easy skip. But if you are heading there for the first time, you want to spend at least one night there! For us, our first night was in Goleta. About eight miles north of Santa Barbara, staying at the Goodland Hotel.
I cannot say enough good things about this hotel! Truly, I could dedicate a whole post to it. The Goodland oozes California cool with it's surf-inspired, laid back, retro Southern Cal attitude. They offer morning yoga, trivia nights, DJ's spinning vinyl by the pool and tarot card readings on the weekends. It is a fun and social atmosphere perfect for couples and families (especially teenagers!).
As far Santa Barbara, it is a wonderful place to spend the day. While State Street is the main shopping and dining destination here, I found the side streets closer to the ocean to have the most charm. Lots of chic wine bars and boutique shops including the Blue Door, a mid-century haven of modern and vintage wares. For a little culture, visiting the Old Mission  is a must in Santa Barbara, the chief historical landmark of the city!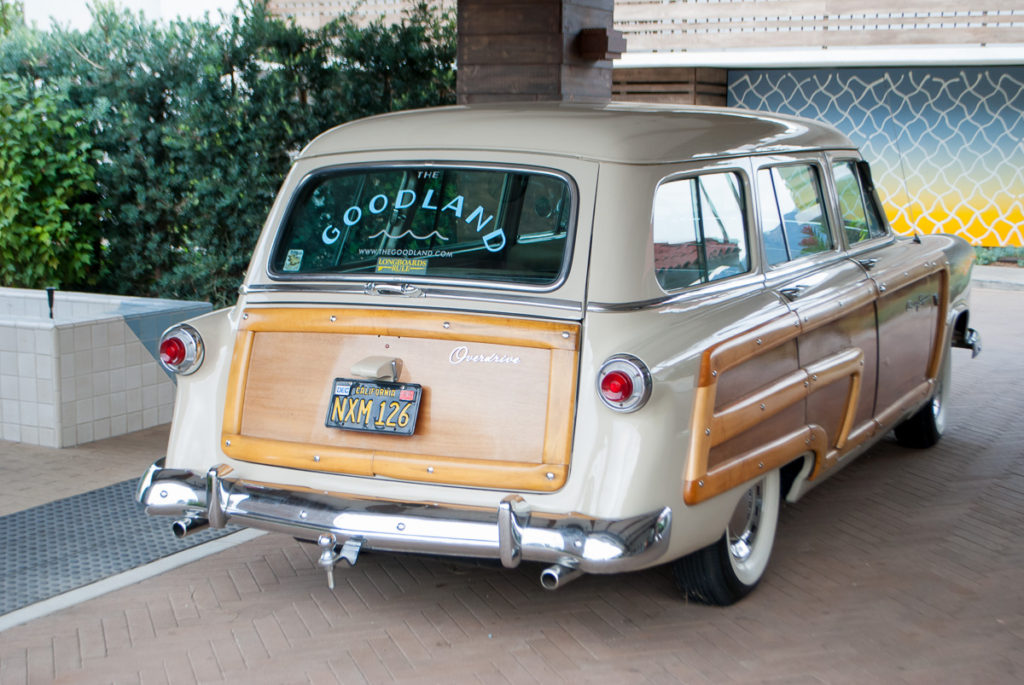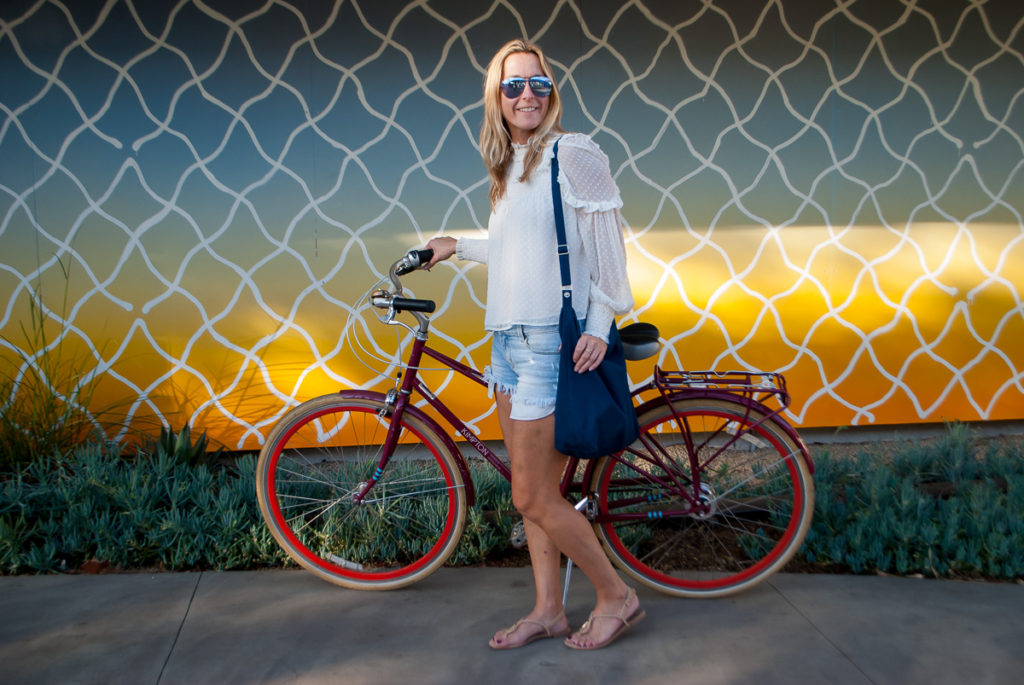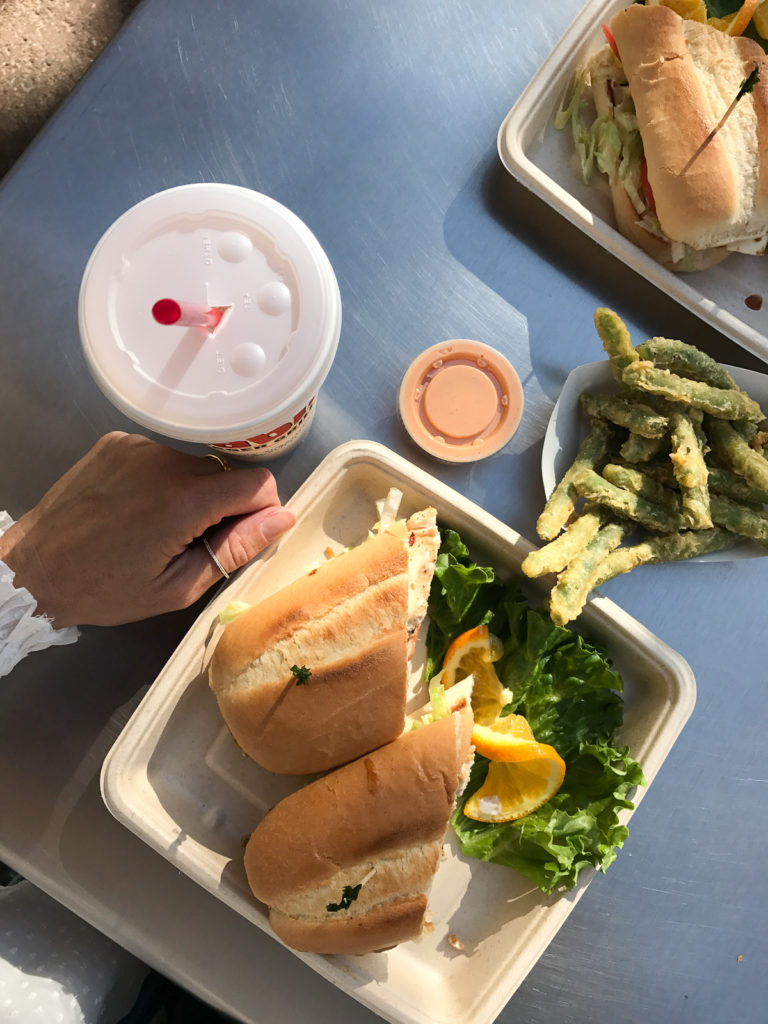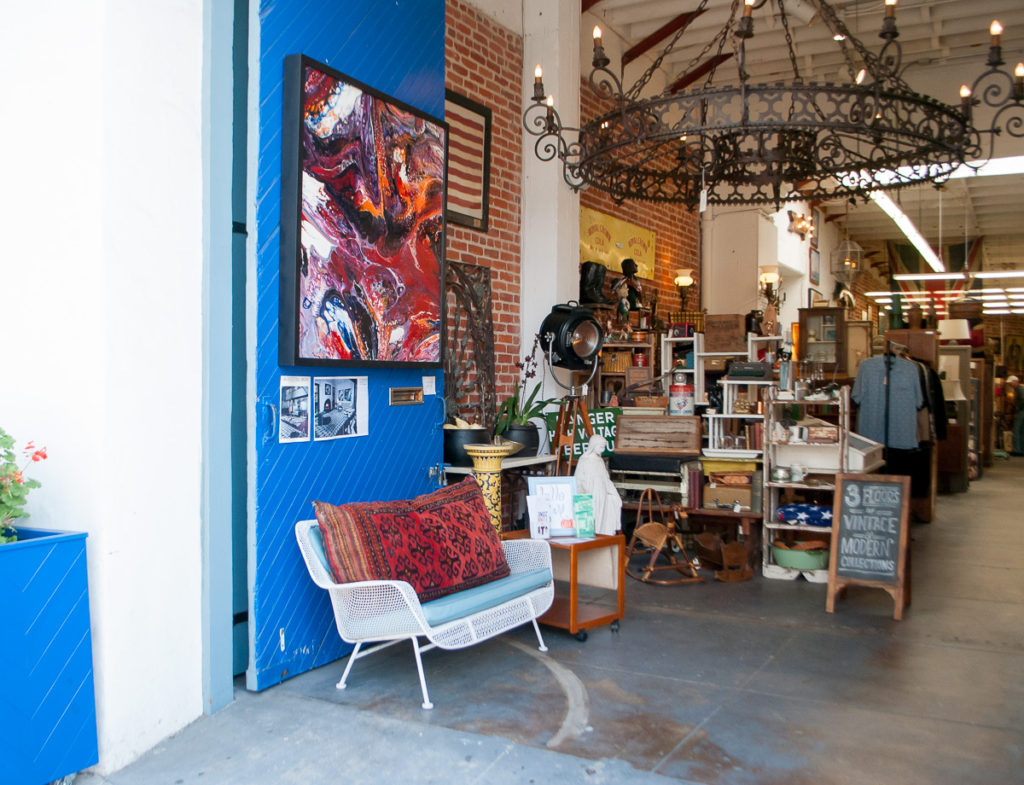 Other things to do:
Whale-watch cruise on the Condor Express. Rent a buggie at SB buggies for exploring the town. Visit the Santa Barbara County Courthouse (for its beautiful gardens and Spanish architecture). Venture to nearby towns of Montecito and Ojai.
Day 2: Santa Barbara to Big Sur-200 miles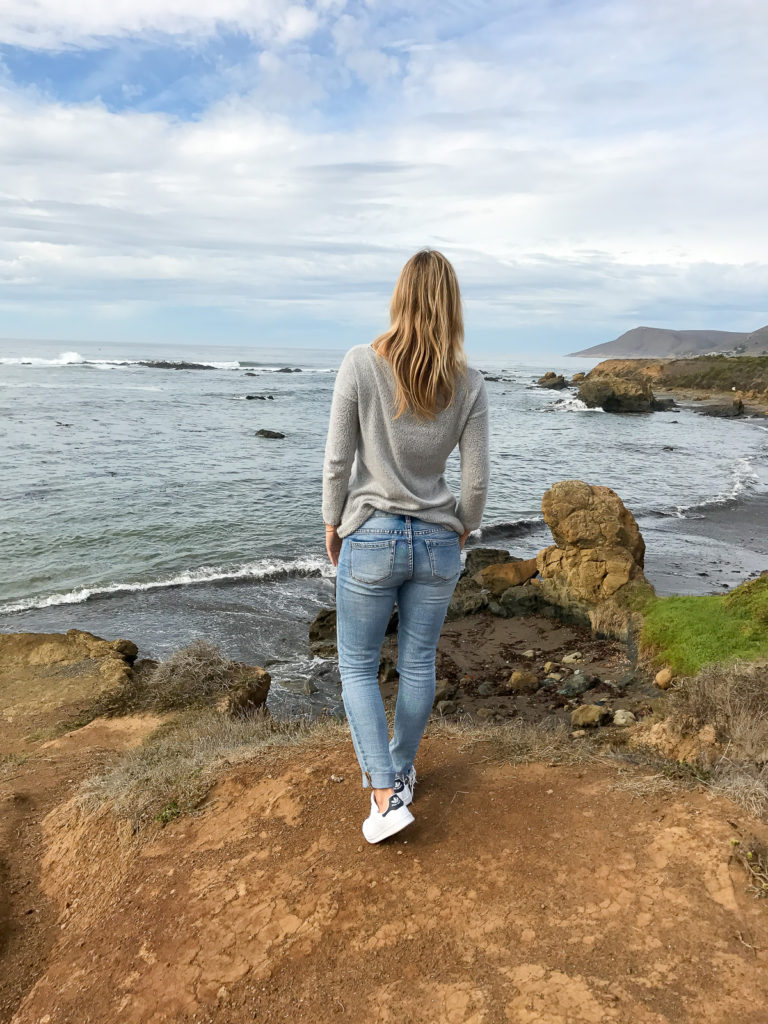 Leaving Santa Barbara on the PCH, you are not hugging the coast quite yet. But the scenery is still beautiful with rolling hills filled with grazing cattle and vineyards. There are some towns worth pulling over to see. But we were anxious to get up towards Big Sur by the end of the day.
This was our longest day on the road but we broke it up with an absolute must stop a little more than half way through the drive. Right at the southern gateway to Big Sur, sits one of California's top attractions, Hearst Castle.  It would be a shame to take the road trip and not stop here! Plan for at least three hours to have a guided tour (only way to see it!). And roam my favorite part, the gardens. It is the closest thing we have to a royal establishment in this country. So you really have to see it to believe it!
After leaving the castle, the next must, is a stop at the elephant seal rookery 9 miles up the coast. Hundreds and sometimes thousands of elephants seals gather here on the beach. We could have stayed here all afternoon watching them!
From here on, our drive really started feeling like everything I imagined it to be as we made our way into the heart of Big Sur. Narrow, twisting roads filled with hairpin turns and awe-striking views of 5,000 foot mountains jutting out of the ocean. We could have stopped a hundred times just to take in all the scenery!
Deetjens Inn
Our final resting spot on day two was at the Deetjens Inn. The Deetjens Inn is a very special place boasting a spot on the National Register of Historic Places! It is also one of the more moderately priced options in the area. With no television and access to internet you really get the chance to unplug. There is plenty of rustic charm here with cabins nestled in the redwood forests containing well-appointed rooms with fire burning stoves. It also hosts one of the most popular restaurants in the area for breakfast and dinner.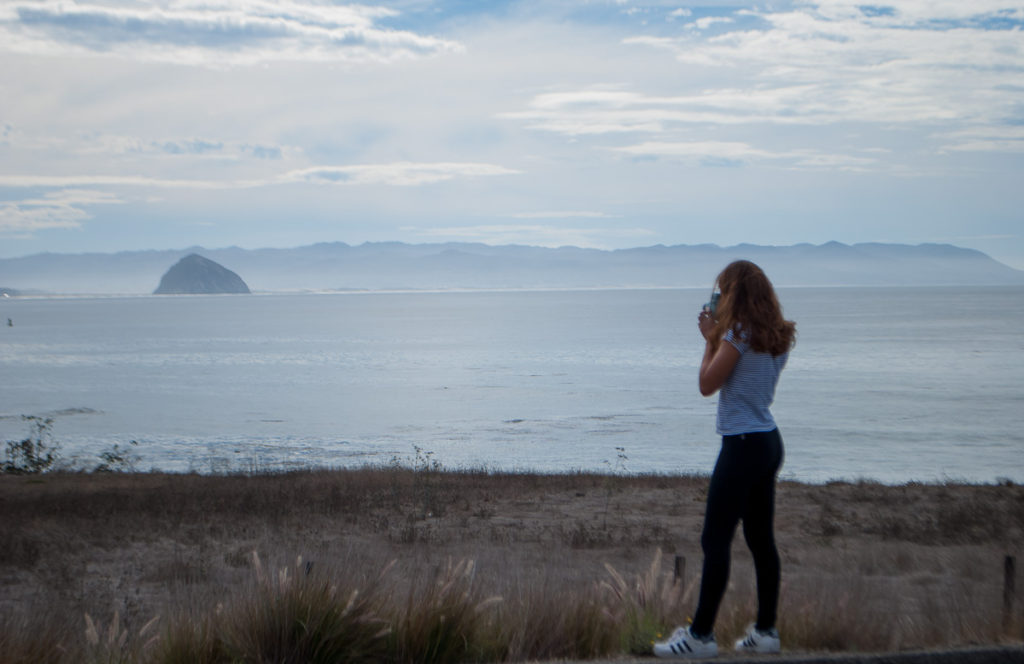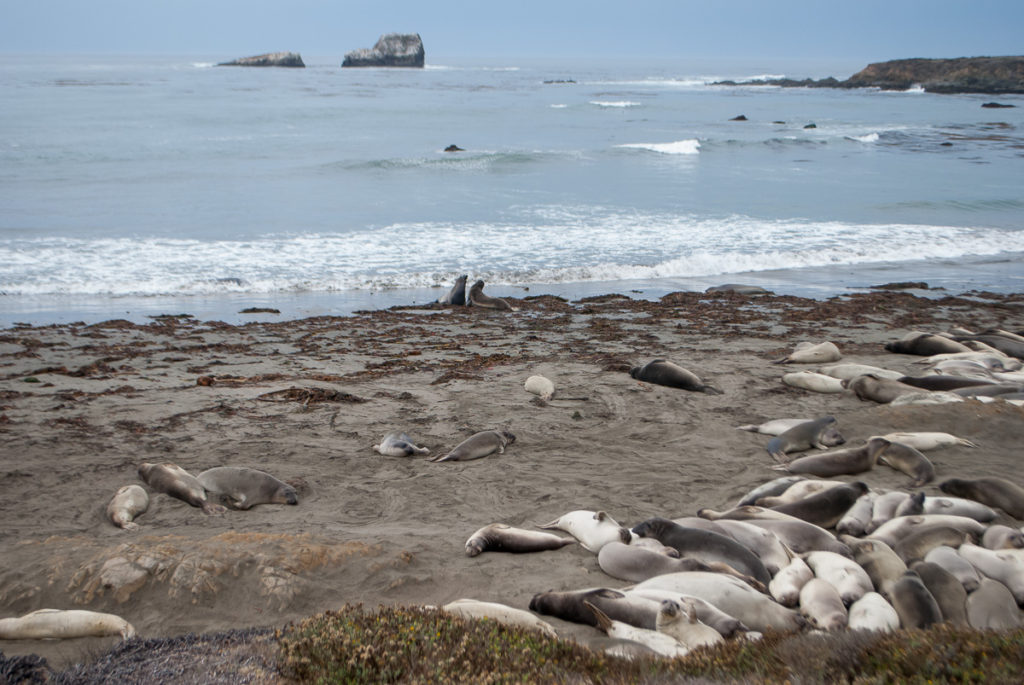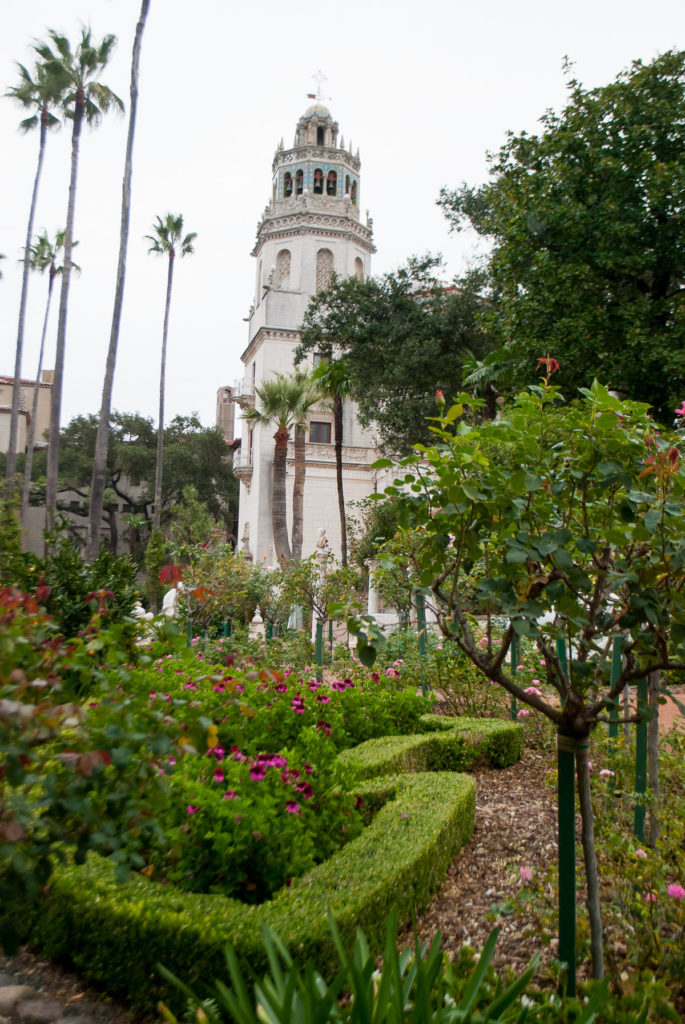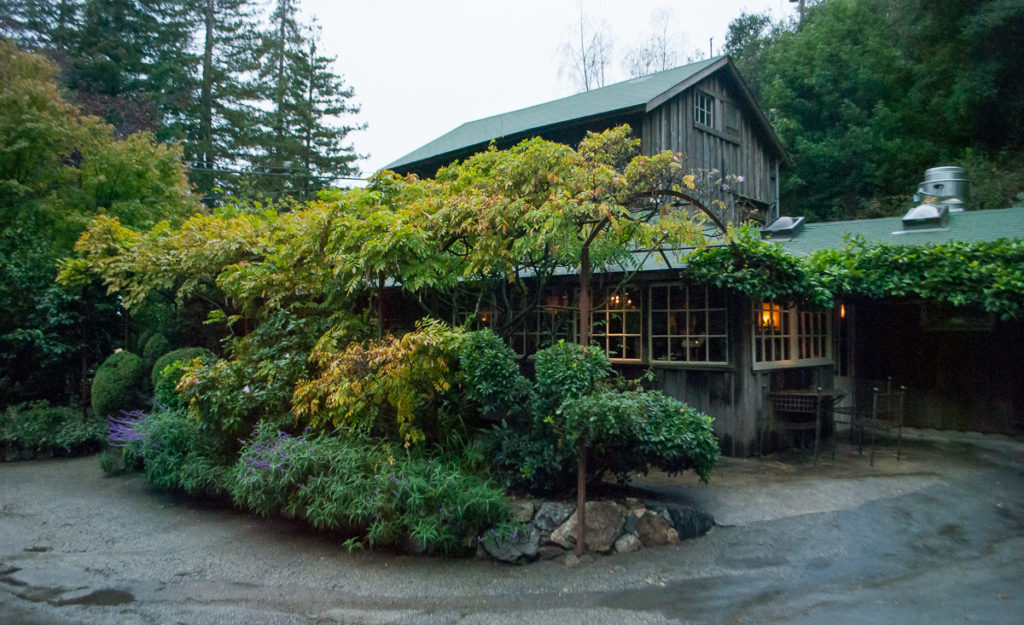 Note: Big Sur itself is about 90 miles of coastline that has resisted development. And boasts a population of about 1,000. This is part of what makes it so unique and special. With that said, there is no such thing as cell service (truly) on this stretch of highway. If you choose to stay in the area, a few hotels do offer wi-fi service. Also, plan to fill up on gas before entering Big Sur. As gas options are limited and prices are inflated once there.
Day 3: Exploring Big Sur and Carmel-30 miles.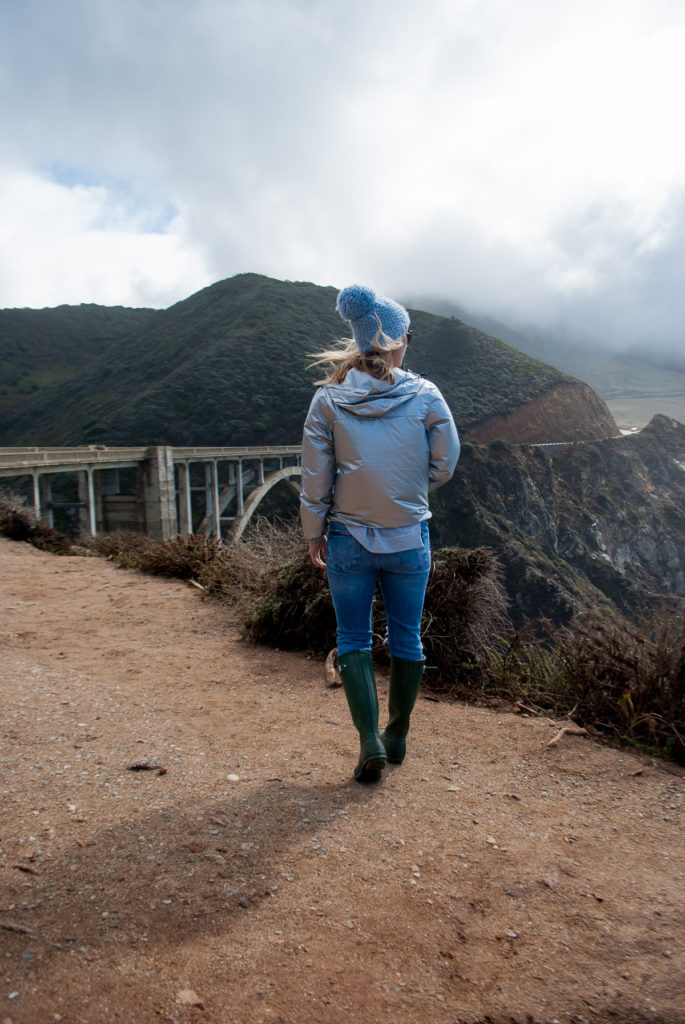 Bixby Creek Bridge
The weather in Big Sur can be unpredictable! For us, that meant waking up on day three to overcast skies, fog and drizzle. There were moments when the sky opened up and we were able to see views of mist rising up from the ocean and redwood forests. No matter though, as our morning was spent reading and relaxing in our room by the fire and visiting Big Sur Village home to the Big Sur Bakery !
By noon, the weather was not clearing so we decided to make our way towards Carmel crossing over the famous Bixby Creek Bridge. No sooner had we driven ten miles up the road where all of a sudden the skies opened up. We were once again able to see what this amazing stretch of coast has to offer.
As we made our way into Carmel, it was jarring and almost overwhelming to connect again with the "real world". Being in Big Sur can be equated to a very spiritual experience.
I was thankful I booked ourselves at the Misson Ranch in Carmel, as it still offers the views and the tranquility of the coastline while still being within walking distance to the downtown. Downtown Carmel itself is very charming filled with art galleries, boutiques and plenty of good restaurants. We chose to come back to the ranch for dinner though so we could have our views of the coast, the pasture of sheep and what turned out to be a double rainbow that graced itself over the ranch that evening. Magic!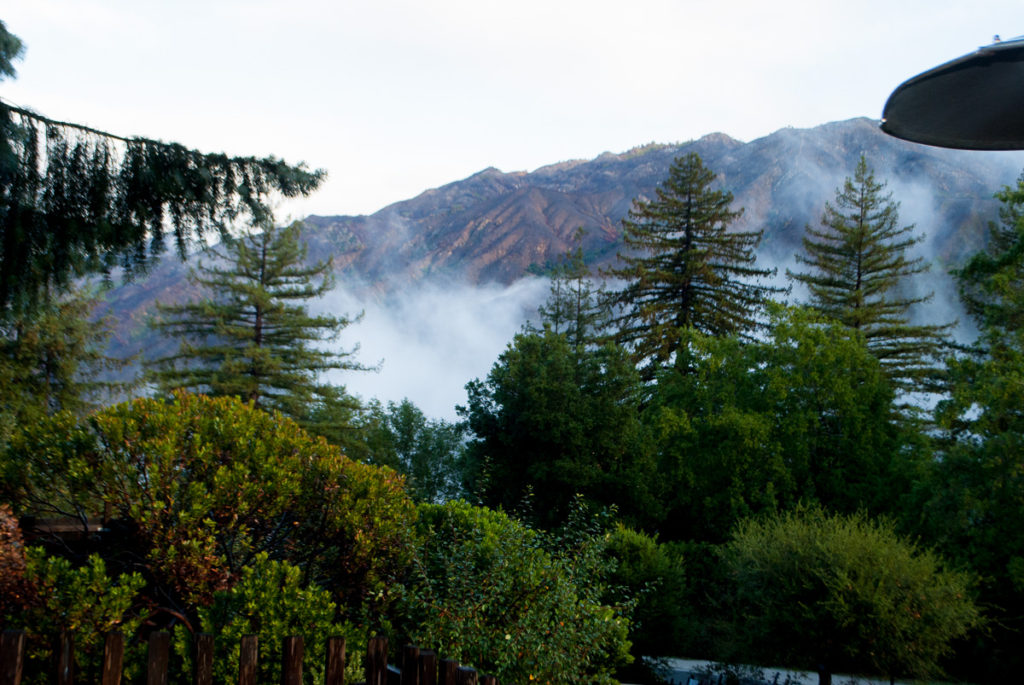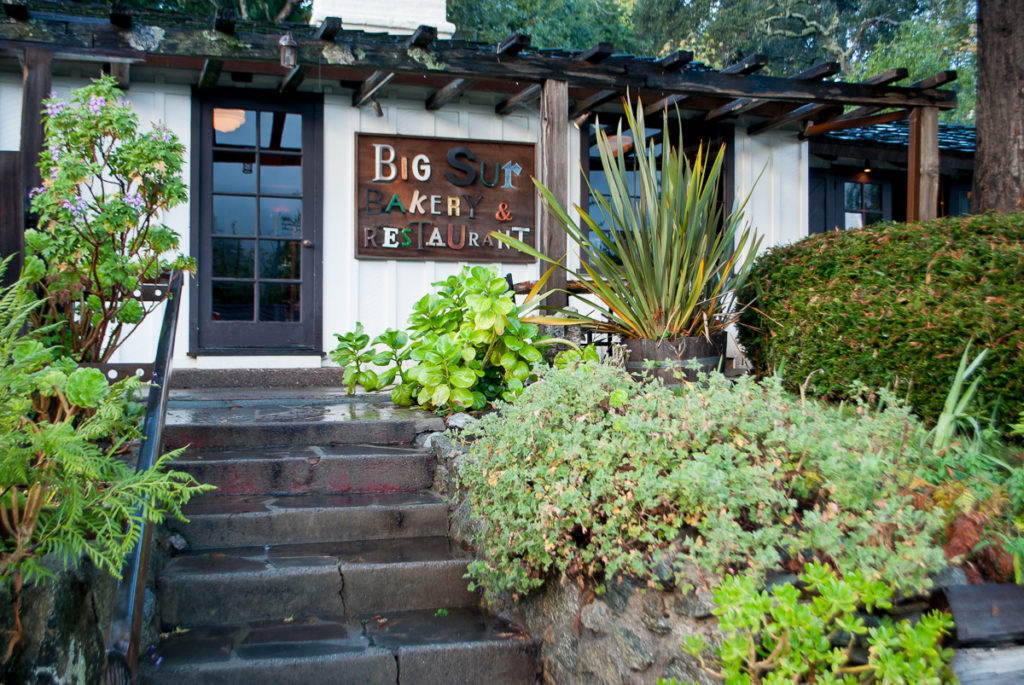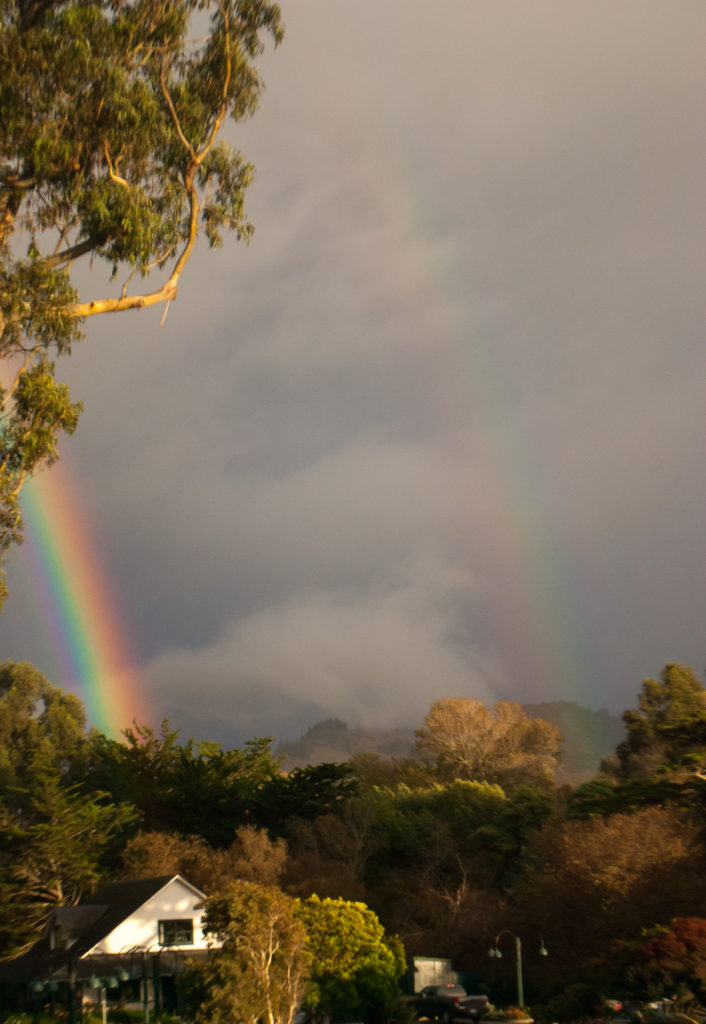 Other things to do in Big Sur: 
have lunch at Nepenthe for some of the best views in the area; horseback ride at Andrew Molera State Park; take a short hike to the waterfall at Julia Pfieffer Burns State Park (which due to the weather we could not do; visit luxury accommodations in the area including Post Ranch Inn,  Glen Oaks Big Sur and Ventana Inn & Spa, each extremely unique in their own right.
Day 4: Carmel to San Francisco-120 miles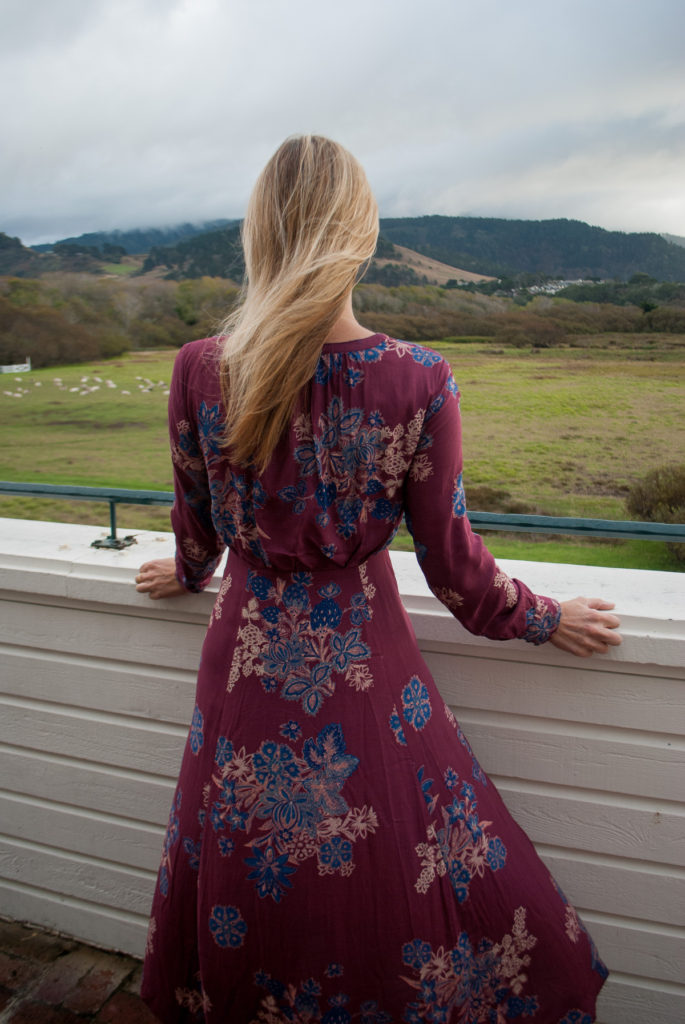 Waking up to pure sunshine, we decided to head back into the northern tip of Big Sur to do a little more exploring before we made our way to San Francisco. Our first stop was the Post Lobos State Natural Reserve, one of California's most popular state parks. That means if you go, go early as the parking lots fills up fast. And there is usually a long line to get in! Yet do not skip it because it the best chance to get up close and personal with the coast. The trails are well-groomed and the views are like nothing you will ever encounter.
Another stop we made in northern Big Sur was at the Garrapata State Beach.
A short trail takes you down to the water. You can experience the most magnificent views of the waves breaking!
Making our way to San Fran, we stopped in nearby Monterey for lunch at the deliciously fresh Wharf Marketplace (which has now since closed). Overall Monterey is a little too commercial for my taste. Although, it does have what is to be said the best aquarium in the world.
From Monterey to Santa Cruz there is not a whole lot to take in but once in Santa Cruz, we took a brief sidetrack to the Santa Cruz Beach Boardwalk. A vintage amusement park located right on the beach. It was fun to experience rides and attractions dating back to the 1920's.
From here on our way up to San Francisco, the views are virtually unspoiled with rocky tide pools, bluffs lining the ocean and empty driftwood strewn beaches, save for a few surfers here and there. There are also plenty of farm and pie stands to stop at along the way too. And I found the town of Davenport to be charming.
Our final stop on this road trip had to be none other than the Golden Gate Bridge in downtown San Francisco.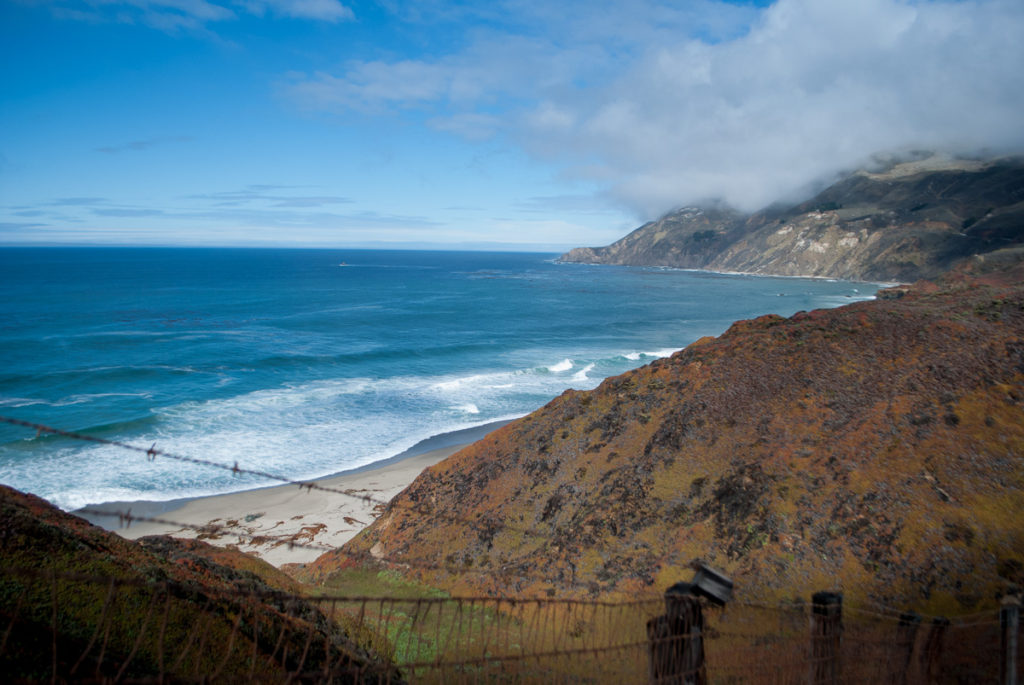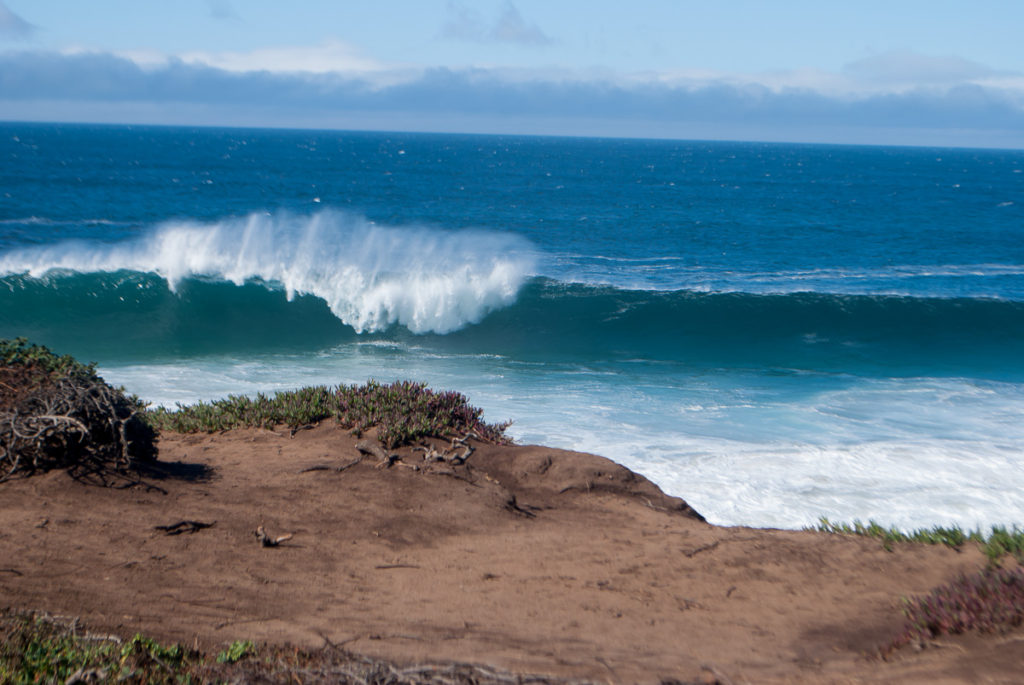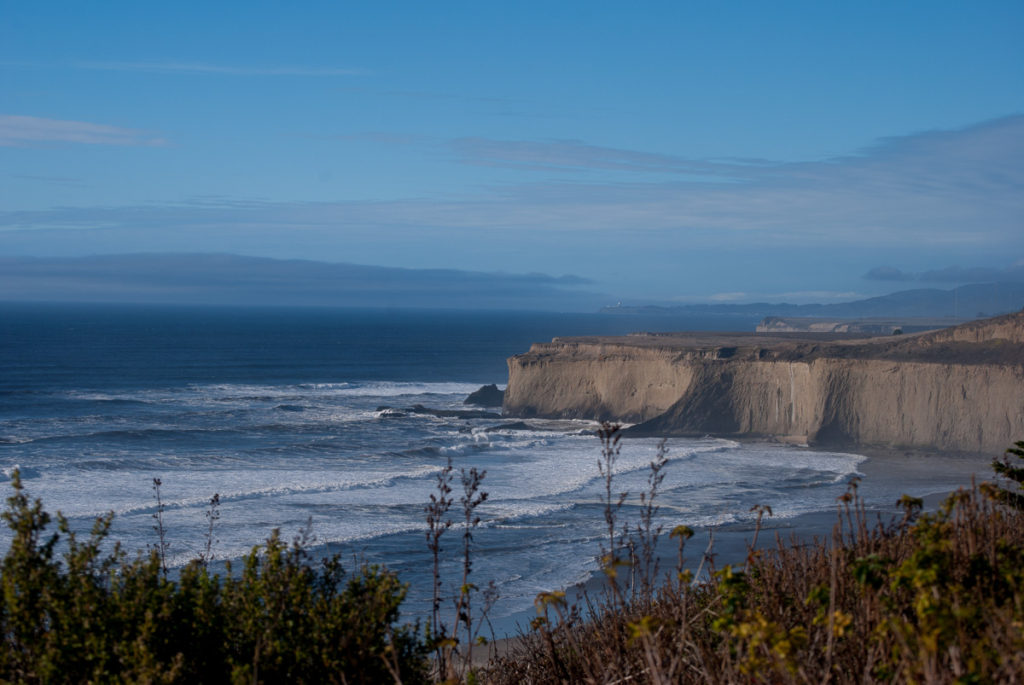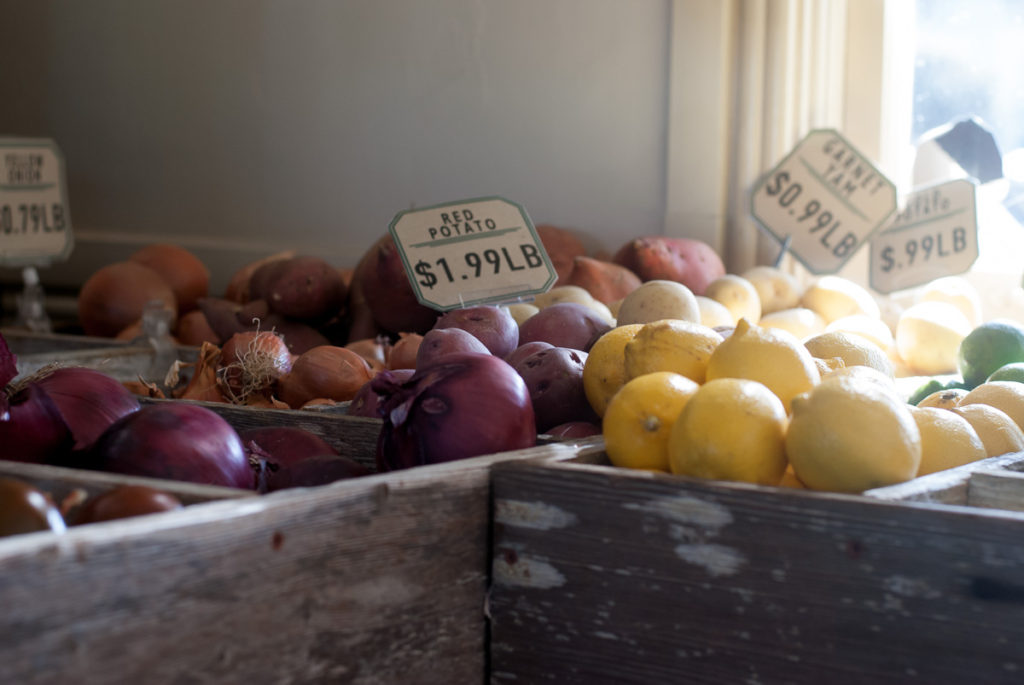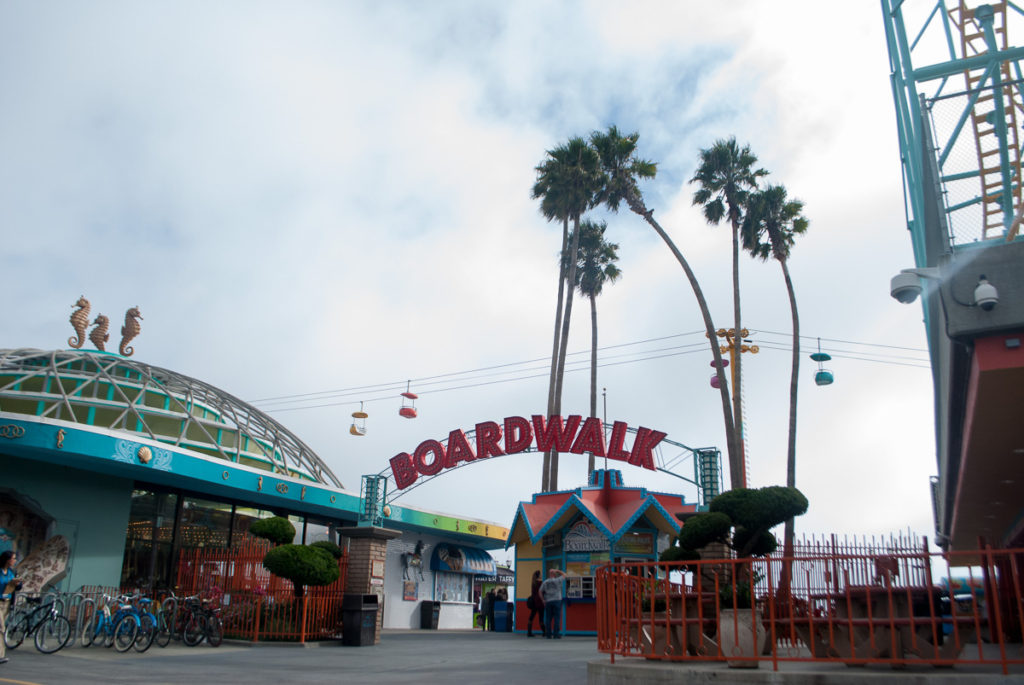 Other things to do: take the 17 mile drive in Pebble Beach, see the elephant seals at Ano Nuevo State Reserve, pick your own produce at Swanton Berry Farm, tour Pigeon Point Lighthouse.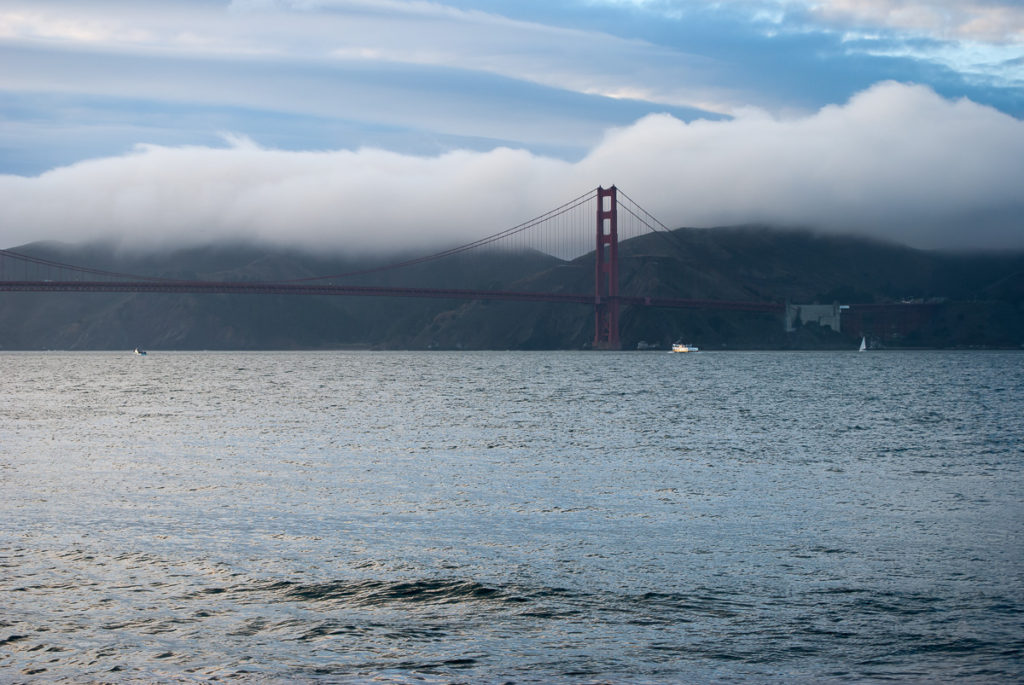 The Pacific Coast highway should be a road trip on just about every travel bucket list! At the very least, head to Carmel and explore Big Sur from there. I was lucky enough to share this adventure with my daughter but absolutely want to head back and share this epic adventure with the rest of my family!