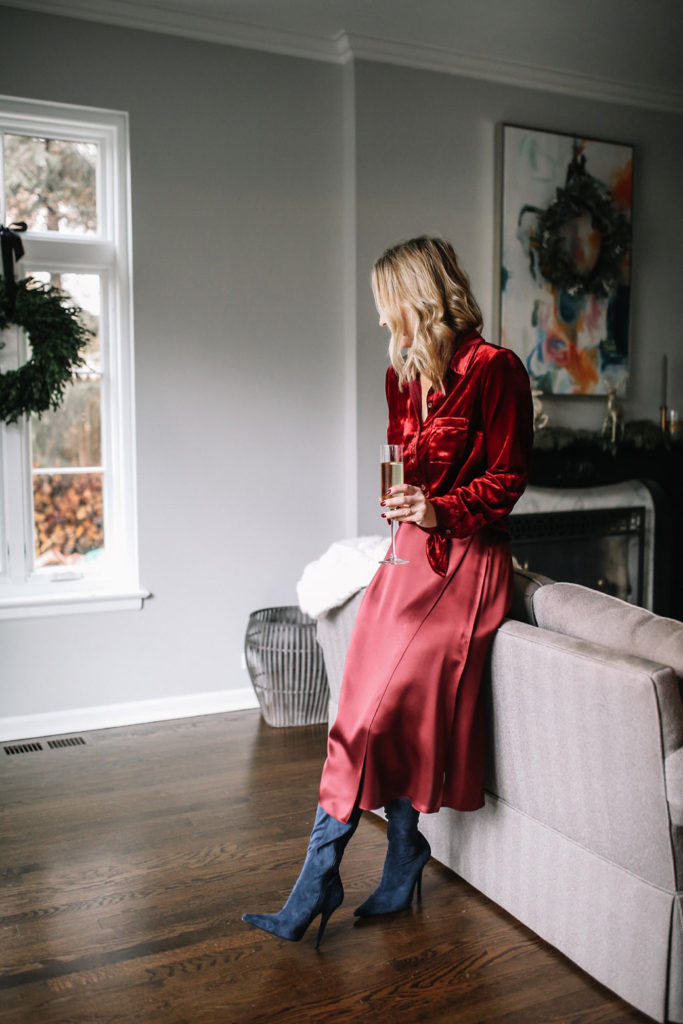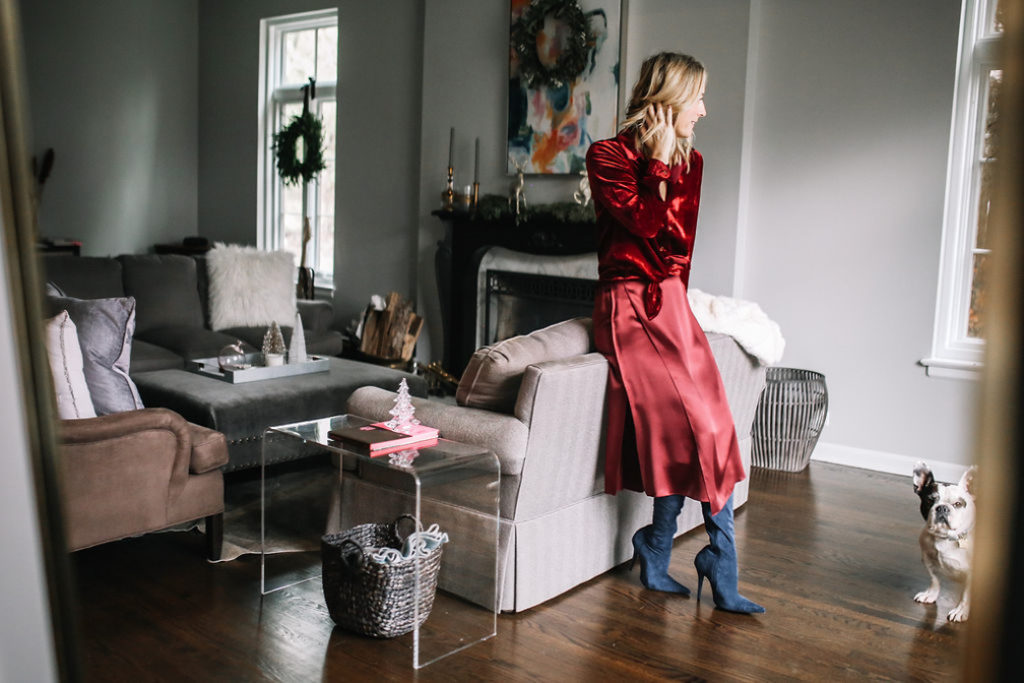 Red Velvet Holiday Outfit
It seems like forever and a day since I last did a style post! But alas, I need to put something on this holiday season so I thought I'd share what I plan on wearing. And can you tell the color and fabric I am loving right now? Do you find that at certain times of year you gravitate towards a certain color? A color that fits into the landscape of the season? This past fall it was everything marigold for me and right now I am obviously having a moment with red. It might seem like the obvious choice for holiday wear as there is probably no other color that identifies with the holiday season more than red.  Yet combine red with velvet and you've got a winning and upscale combination that rises to the holiday occasion. Red velvet is your fool proof recipe for holiday dressing success.
Red Velvet Button Down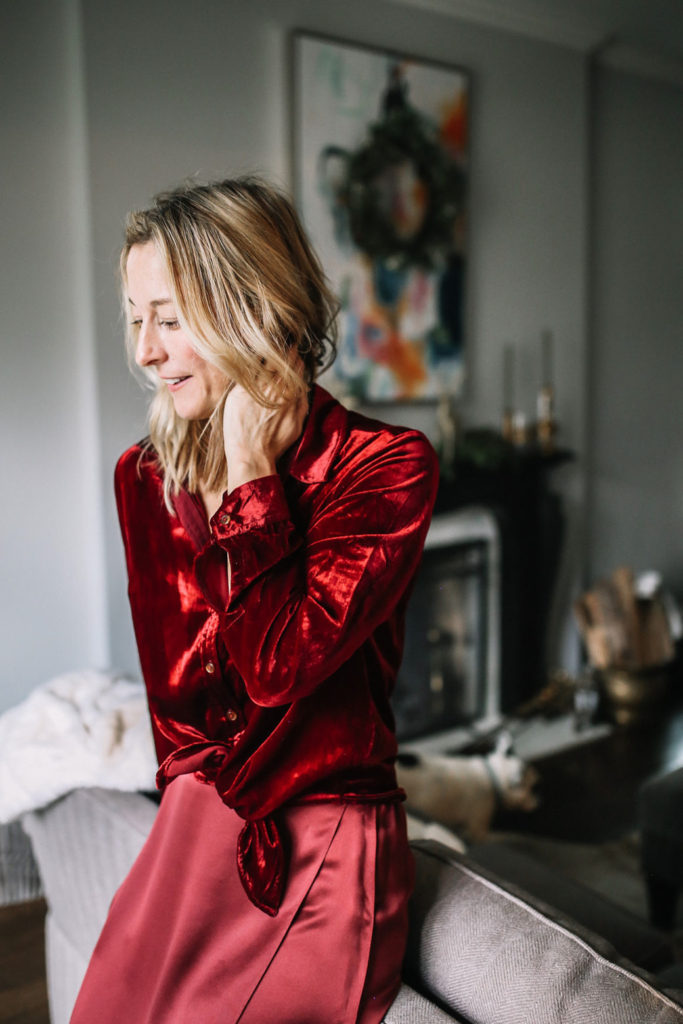 What I love about a long sleeve red velvet button down is that it can go with anything and be appropriate for just about any holiday event. Comfortable enough for casual events but luxurious enough for parties, a red velvet button down top is a shoe-in pick for the holiday party circuit. With its luxe fabric and rich color, it can easily replace the need to wear a cocktail dress or party dress.  Pair it with a silk skirt or pants and you are Christmas party perfect! For a more casual but still holiday styled look, do not hesitate to marry this luxe piece with your favorite denim and a pair of party pumps.
Red Silk Skirt
Since velvet is a visually heavy fabric, pair it with more delicate fabrics for balance. I was able to find a red silk skirt that worked perfectly with this top. Silk is a softer yet still luxe fabric that works nicely with velvet and I love bringing these two fabrics together.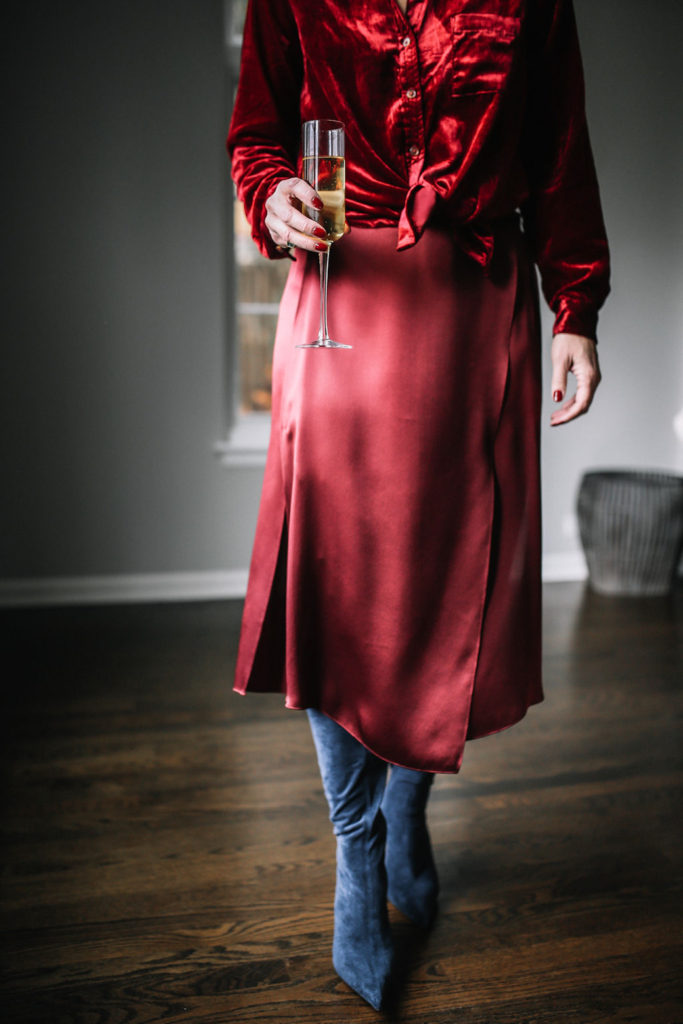 Navy Suede Boots
I will find any excuse I can to wear my navy suede boots this season. It might seem like an unexpected color to add to this outfit but I love how it not only breaks up the monochromatic look but also adds a contemporary edge to it as well. And ladies! These boots are on major sale right now! I am talking under $100 and fully stocked in just about every size.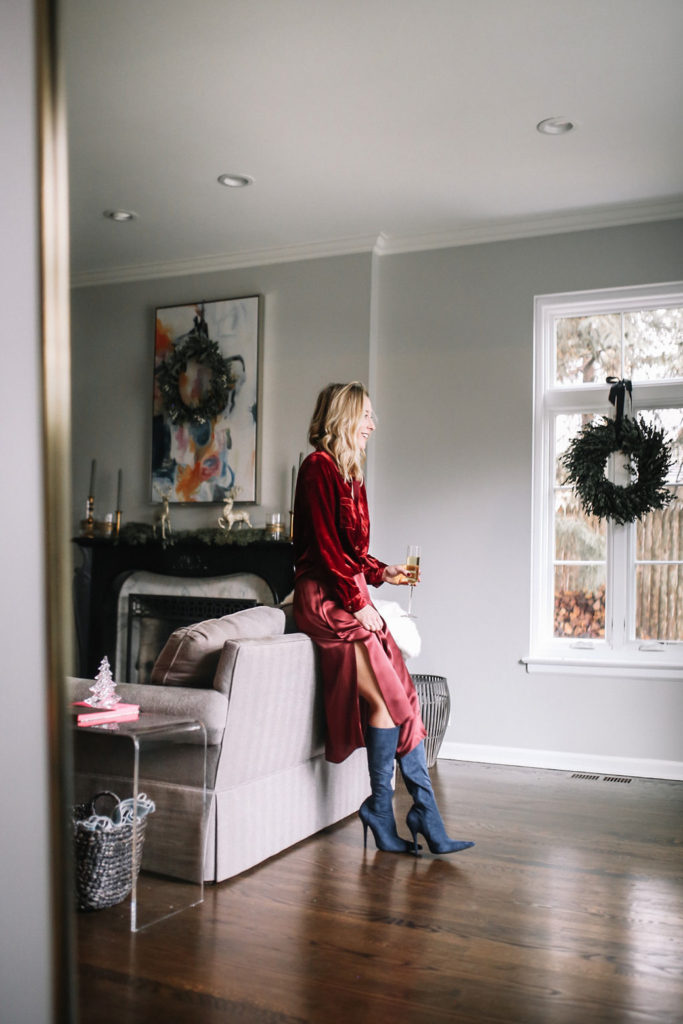 Tips for Styling Velvet
Gone are the days when wearing velvet would be considered childish or over the top feminine. From blazers to boots to hair accessories, designers are covering anything and everything in velvet. But that doesn't mean we should cover ourselves in velvet from head to toe! I would suggest wearing just one velvet piece and pair it it with softer feminine fabrics or your everyday basics. A velvet blazer looks beautiful paired with a silk cami or white tee underneath. When wearing a velvet dress, complement with simple accessories. A velvet headband, clutch or shoes are easy ways to add a touch of luxury to your holiday look.
How to Style Red
Wearing bright reds can sometimes look cliche during the holiday season. Instead opt for the deeper reds of cranberry, merlot and burgundy. Go for pieces with texture such as silks, velvets and cable knits. When wearing a red dress of any shade, let that be the stand alone nod to your holiday look. Leave the glitter and sequin accessories aside and select sleeker, simple accessories to pair with it.
Shop My Red Holiday Outfit

Shop My Other Holiday Favorites

***Don't Forget: Sharing this Season's Ultimate Holiday Gift Guide Here***
(updated 12/12 with the latest sales!)
Photos by Jules Kennedy
You can also follow me on Facebook, Instagram and Pinterest 
Thanks for stopping by!
L, M