Without a doubt, it is the traditions of the seasons that make the holidays merry and fulfilled. In our household, those traditions start in the kitchen. Ever since our kids could stand on a stool, they have been helping me bake in the kitchen during the holiday season. Our baking may have started simple with pre-cut cookies bought in the refrigerated section of the grocery store but over the years (and as they have become more helpful!), we have gathered three Christmas cookie recipes we now draw on every year: chocolate pretzels, oatmeal scotchies and our traditional holiday cookies: cut-out Christmas sugar cookies with royal icing.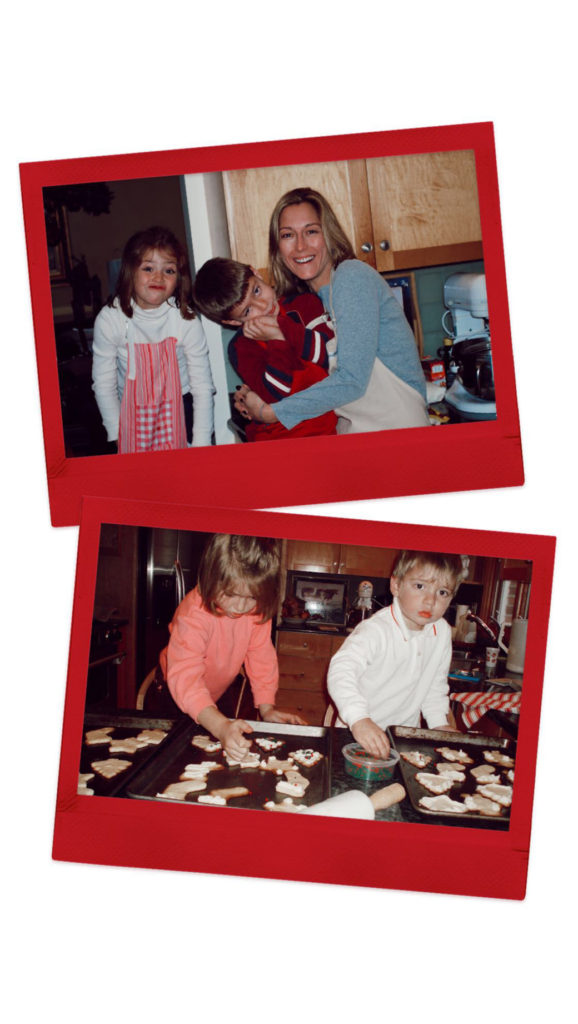 Holiday Cookie Traditions
Traditional holiday cookies are not the same in everyone's household I know.  Russian tea cake cookies, spicy gingerbread snaps, fingerprints with raspberry jam and Viennese crescents are a few you that might make up your own family baking traditions. For our family though, cut-out Christmas sugar cookies with royal icing are the holiday tradition in our own home. It is a holiday tradition that started with my grandmother.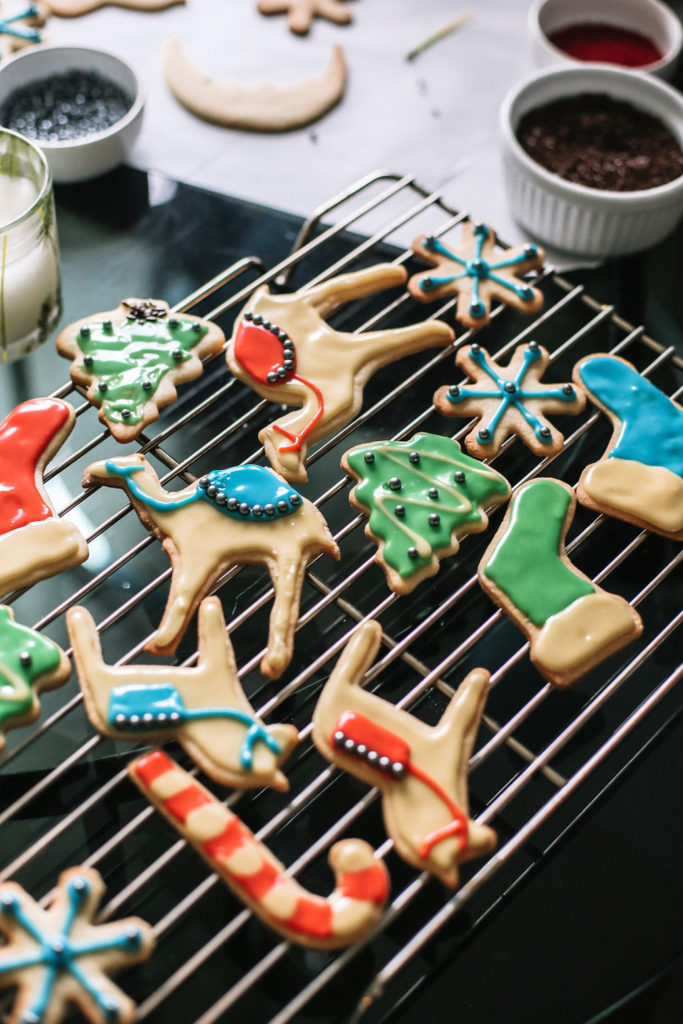 Grandma's Christmas Cookies
Growing up there was one thing my entire family eagerly waited for each holiday season. And that was the box full of Christmas cookies my grandmother sent to her families each Christmas. The arrival of those cookies, delivered to our doorstep in a big beautiful Christmas box, is perhaps my fondest childhood memory of the holidays.
Not only were my Grandmother's cookies melt in your mouth delicious but they were so beautifully decorated. She put so much love into each and every one. My mom would have to take at least half of them once they arrived and hide them until Christmas day or they would all be gone instantly. This tradition of her sending cookies never ceased and she continued to send them each year once I had my own family as well.  My own children were also lucky enough to spend a holiday season or two baking in the kitchen with her when she came in town to spend Christmas with us. When we suddenly lost my grandmother, I knew instantly that making her traditional holiday cookies would be carried on in our home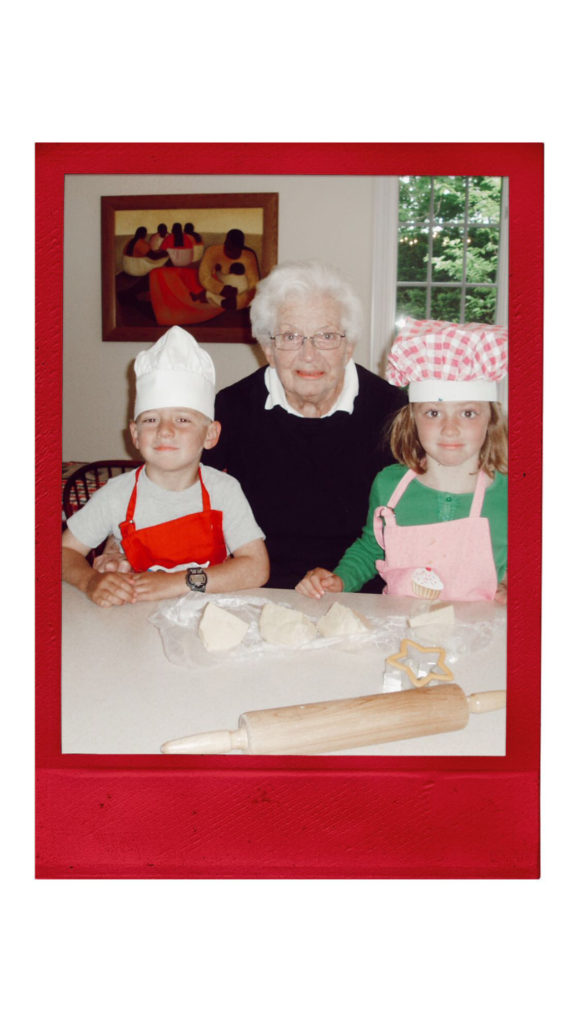 Carrying on Holiday Cookie Traditions
I was not the only one who knew this tradition needed to be carried on. My aunt has also carried on this tradition with her own children and now her grandchildren, making it an epic holiday event each year in her own home.
When we started out, and with small kids underfoot, I had no expectations that we would instantly be able to create the beautiful cookies that my Grandmother made. We started out by just making and rolling out the dough, with the kids using cookie cutters to cut out the Christmas shapes. Once they were baked, pre bought frosting and sprinkles were initially used to decorate them. Overtime, we gradually incorporated the royal frosting. In recent years, it is my daughter that ices and creates cookies as beautiful as my Grandmother's.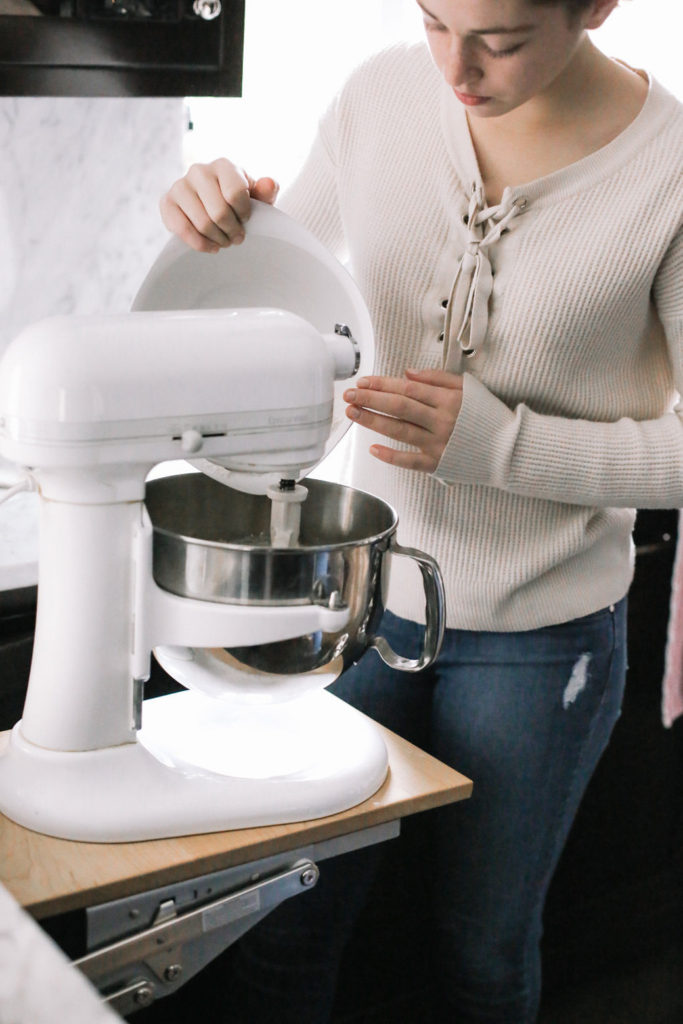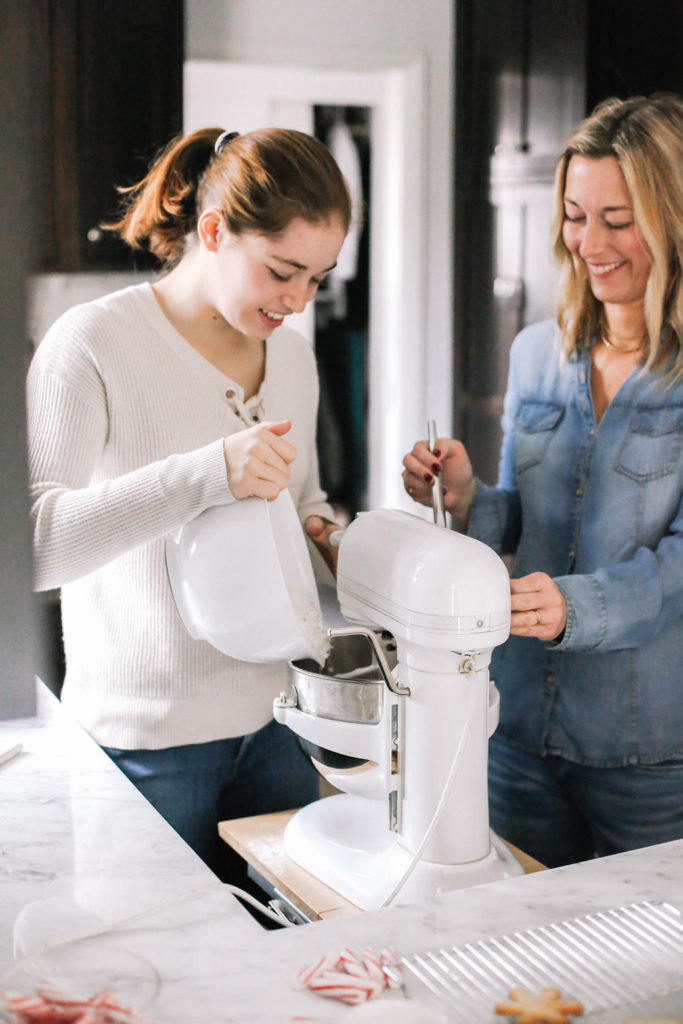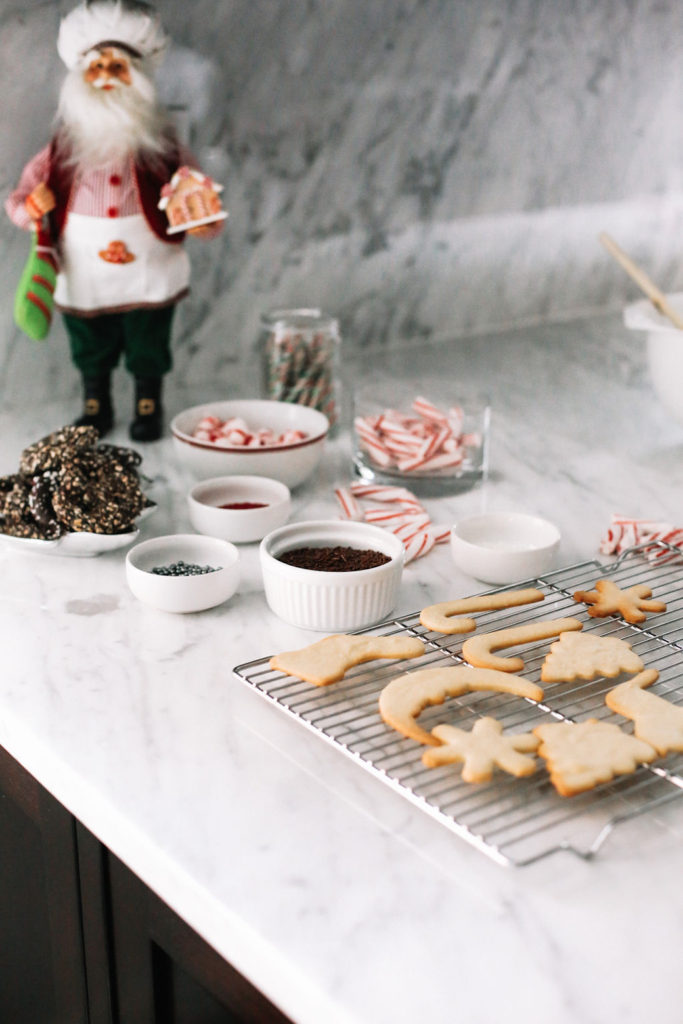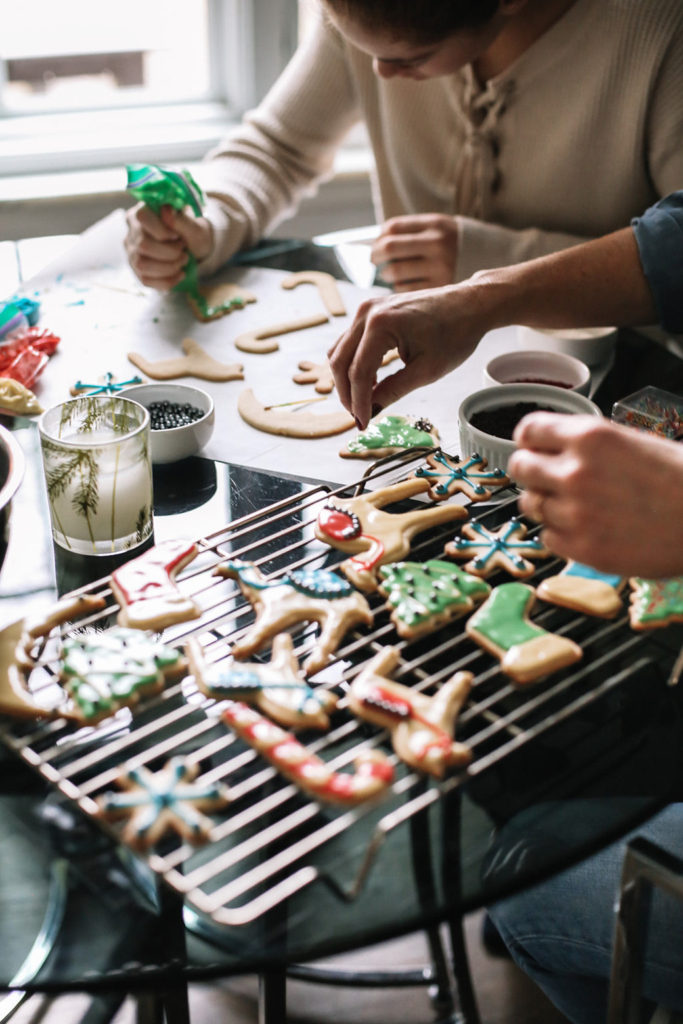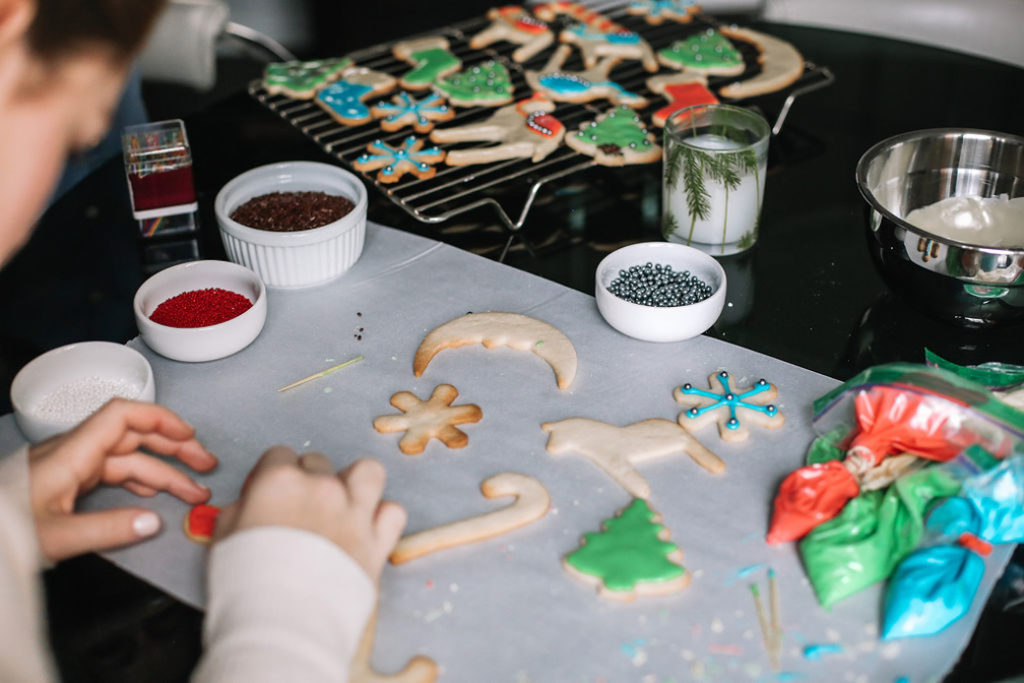 Making these cookies takes time but it is the perfect way to spend a Sunday as a family during the holidays. We start a fire in the fireplace, light a Frasier Fir scented candle in the kitchen and turn on the Christmas music. I often will make the dough the day before to save a little time. We also will freeze extra rolled and cut out cookies and ice at a later time too if need be.
Wrapping Up Christmas Cookies
Each year I like to switch up how we gift the cookies. You know by now that using white linen is one of my favorite ways to wrap this season! Wrapping up the Christmas cookies with white vintage linen, red baker's twine and adding a gift tag is the perfect way to finalize the personal touch of gifting our homemade cookies.
As far as sharing goes, we don't pack them up and send them out to family just yet. We do local deliveries to dear friends and keep plenty on hand to have with family on Christmas Day.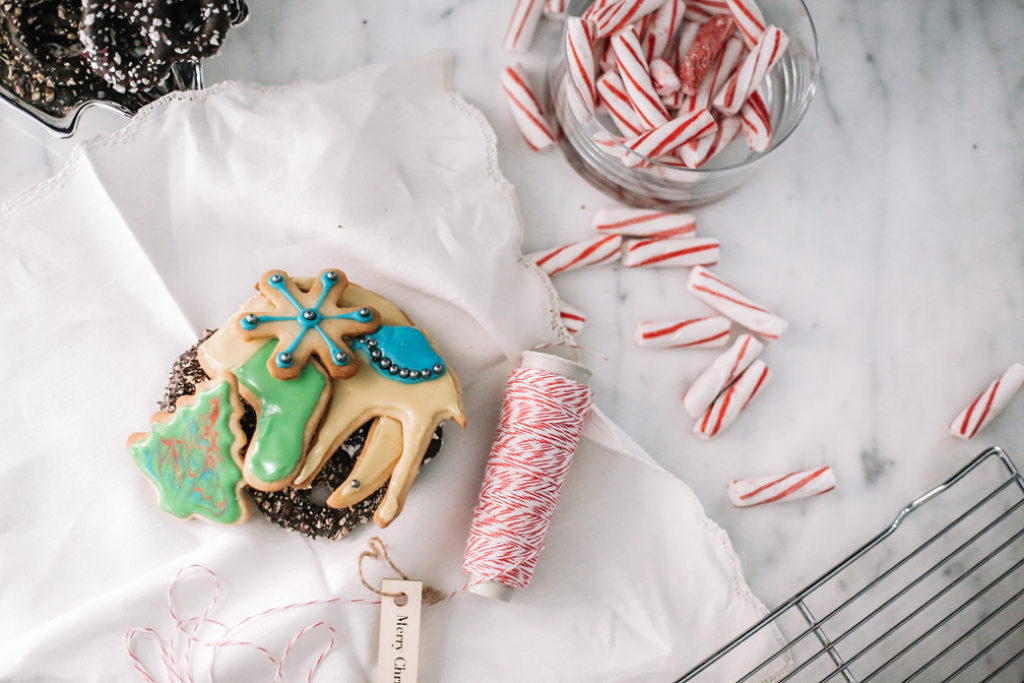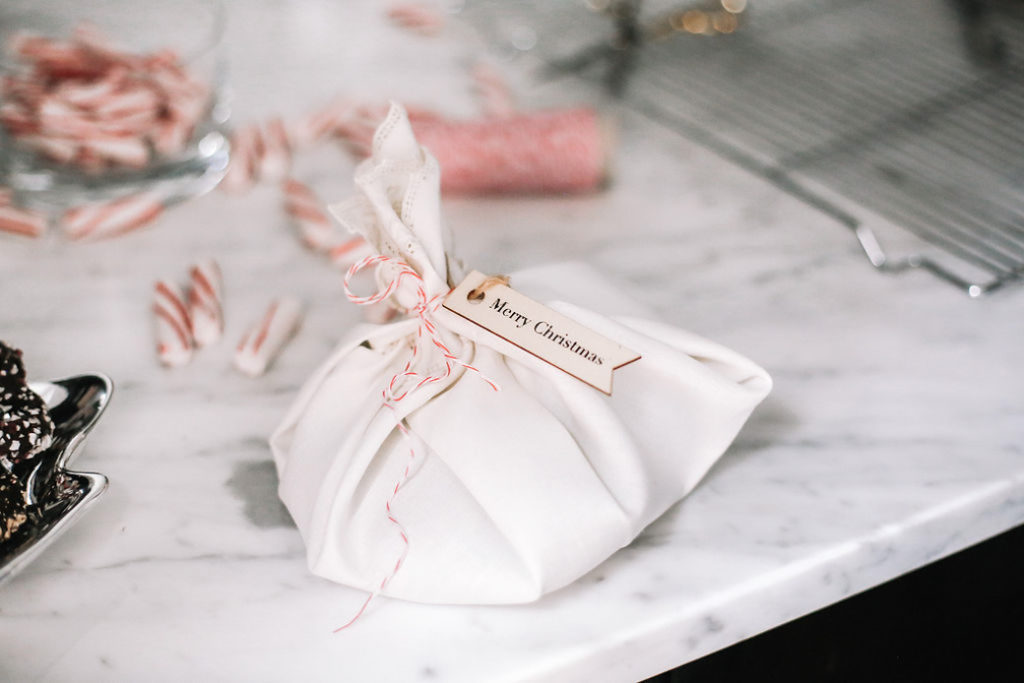 Traditional Holiday Cookies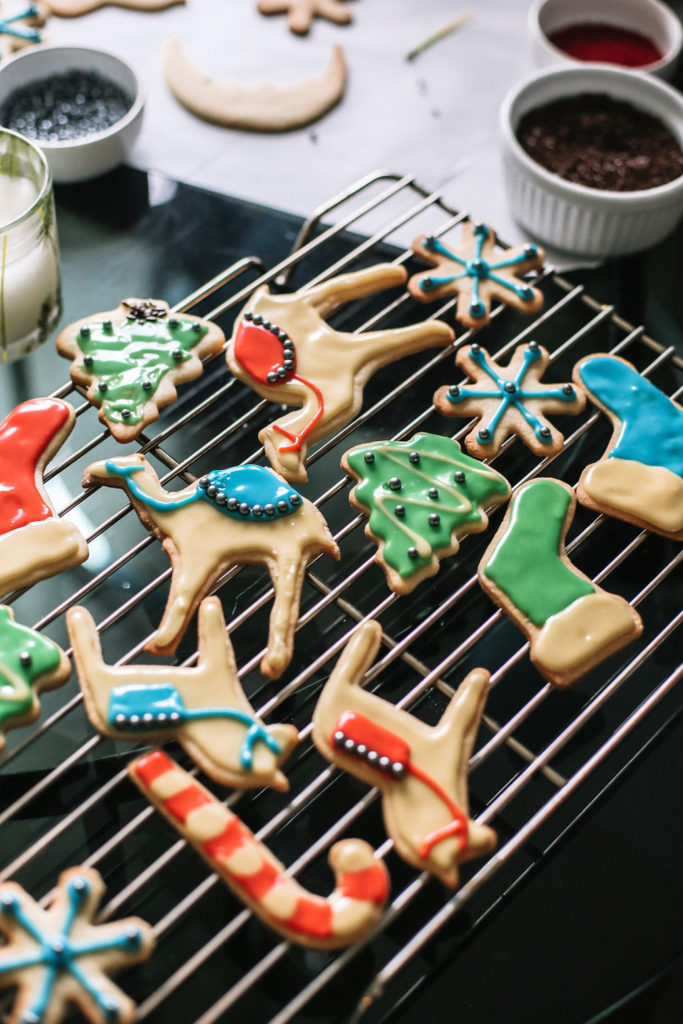 Christmas Cookie Recipe
Cookies:
Materials:
Rolling pin
Assorted cookie cutters
Ingredients:
1 1/2 cups butter, softened
2 cups white sugar
4 eggs
1 teaspoon vanilla extract
5 cups all-purpose flour
2 teaspoons baking powder
1 teaspoon salt
Directions: 
In a standard mixer, cream together butter and sugar until smooth. Beat in eggs and vanilla. Stir in the flour, baking powder, and salt. Cover, and chill dough for at least one hour (or overnight).
Preheat oven to 400 degrees F . Roll out dough on floured surface 1/4 to 1/2 inch thick. Cut into shapes with any cookie cutter. Place cookies 1 inch apart on non-stick cookie sheets.
Bake 6 to 8 minutes in preheated oven. Cool completely.
Royal Icing: 
Materials:
Plastic baggies for frosting application (optional)
Toothpicks for dragging frosting  (optional)
Ingredients:
1/4 cup warm water
1 tablespoon light corn syrup
1/4 teaspoon almond extract
3 cups confectioners' powdered sugar, or more as needed
Assorted food coloring
Directions:
Stir warm water, corn syrup, and almond extract together in a small bowl until corn syrup and extract have dissolved. Place confectioners' sugar into a separate bowl and add liquid ingredients. Beat with an electric mixer on low speed until royal icing is smooth. Icing consistency should be thick enough to hold upside down on a spoon.
Divide icing into separate bowls and add food coloring of your choice to each bowl.
Shop Holiday Cookie Essentials
Like with anything, being organized ahead of time makes baking that much easier and more enjoyable. I love checklists, so I put together a list of all the things we use to help make our Christmas cookies:
Holiday Cooking Essentials Shopping Checklist:
Kitchen Aid Stand Up Mixer (linked one below for 40% off!)
Marble Rolling Pin
Cookie Cutters
Cooling Racks
Assortment of Mixing Bowls (favorite is linked below. Love because this set has a rubber bottom so they don't slip!)
Food Coloring
Sprinkles
Plastic Baggies
Toothpicks
Gift Boxing
White Linen Napkins
Baker's Twine

What are some of the Christmas cookie recipes that are part of your own family traditions during the holiday season?
Looking for a quick and easy holiday cookie recipe? Then head to my Oatmeal Scotchies recipe here:
***Don't Forget: Sharing this Season's Ultimate Holiday Gift Guide Here***
(updated 12/12 with the latest sales!)
Photos by Jules Kennedy
You can also follow me on Facebook, Instagram and Pinterest 
Thanks for stopping by!
L, M