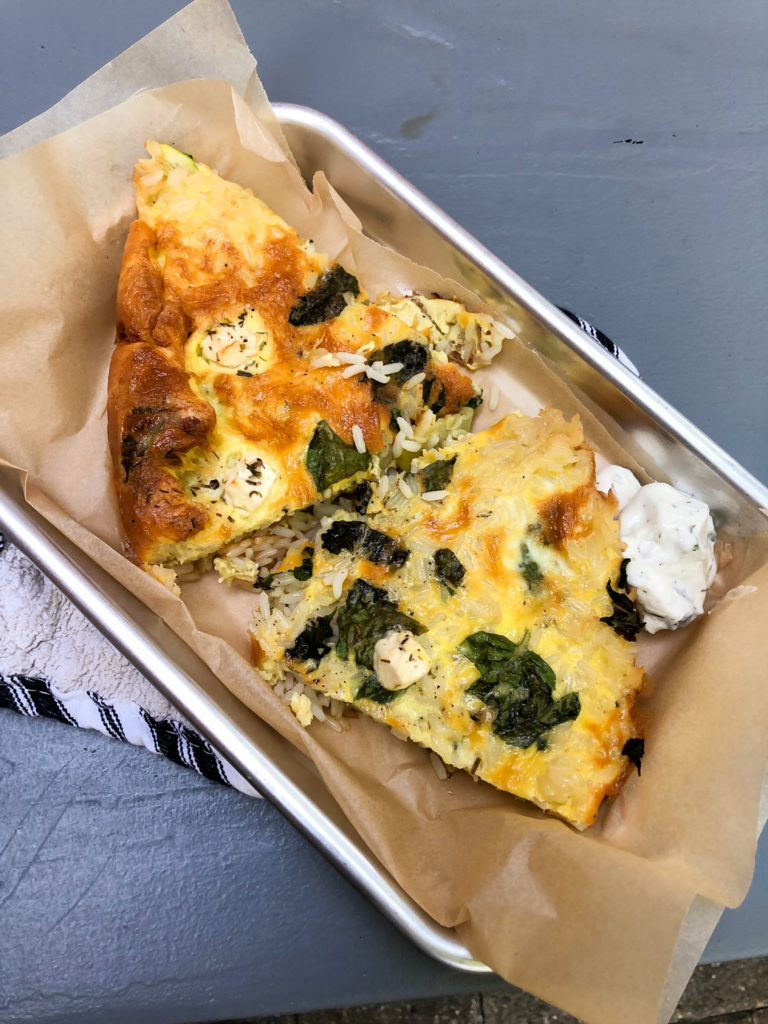 It is no secret that a quiche is one of my favorite quick and easy yet elegant meals to serve at my dinner table. So much so, I probably make it once a week! However, for the past couple of months, I have traded in my weekly quiche for a frittata recipe that has quickly taken center stage in my kitchen this summer.
What I love about this Rice, Zucchini and Feta Frittata is that it asks for plenty of fresh herbs and veggies which are so easy to come by this time of year. The addition of rice and feta makes for wonderful texture and flavor. It also can be served warm or cold, making it perfect for packing in a picnic.
I promise you it could not be easier to make and because it all happens in one pan, it makes clean up that much easier too! So simple and so delicious!
Rice, Zucchini and Feta Frittata
Ingredients:
2 tablespoons unsalted butter
2 tablespoons olive oil
1 zucchini, sliced lengthwise
4 scallions, sliced
1 cup cooked rice
1/2 cup fresh mint
1/2 cup fresh basil
2 tablespoons, chopped fresh dill
6 eggs
1/4 cup heavy cream
3/4 cup crumbled feta
salt and pepper to taste
Directions:
Preheat the over to 400° F.
Heat the butter and oil in a cast-iron skillet over medium-high heat. Add the zucchini and scallions and sauté until soft. Mix in the rice, mint, basil and dill and season with salt and pepper.
In a separate bowl, whisk the eggs, cream and season with salt and pepper. Pour over the rice mixture and cook without stirring for 3 minutes. Sprinkle the crumbled feta on top.
Transfer the skillet to the oven, and bake for 12-15 minutes, until golden. Serve with a dollop of sour cream or tzatziki.
Bon Appétit!
For more recipes and meal plans head here!
And don't forget the Nordstrom Anniversary Early Access Sale starts tomorrow. Details and my favorite picks here!
You can also follow me on Facebook, Instagram and Pinterest 
Thanks for stopping by!
L, M