2020 Nordstrom Anniversary Sale Early Access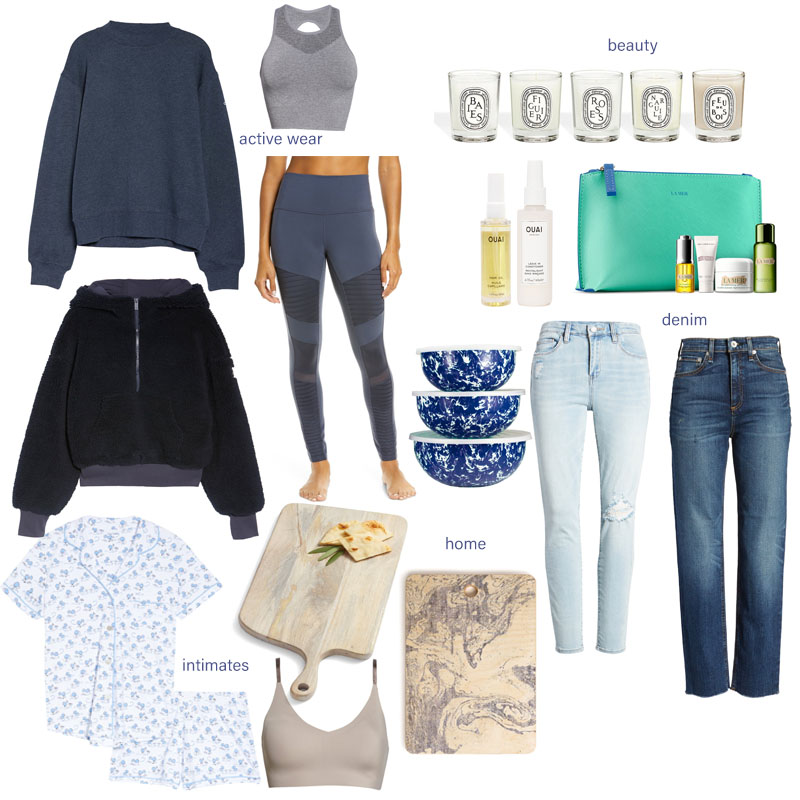 I applaud Nordstrom for still moving forward with their yearly Anniversary sale! And I am not mad about the new date either as it puts us more in the mindset for fall and our fall wardrobe needs. While fall still might look a little bit different this year then in years past, I have already started putting together a wish list for items I have my eye on with lots of emphasis on home and athletic wear!
Yep! You can already start previewing the sale here and putting together your own wish list!
New this year, Nordstrom is giving everyone the ability to preview all sale items even earlier, starting July 24. This way, you have plenty of time to shop and save your favorites to your wish list so you can check out faster when it's time to shop. This preview experience replaces the print catalog this year.
Because there is often a lot of hype with this sale, it is easy to become overwhelmed with it. It is also easy to over shop it. However, I don't look at this sale as a way to run up my credit card or invest in a whole new wardrobe. Instead, I plan to organize a list for myself so that I can shop responsibly and purposefully.
In order to get ready for the sale, I have put together a few shopping tips that will help you get organized and stay on track with both your needs and your spending:
Inventory your closet-take inventory of what you need. Make a list and then fill in the holes for your  wardrobe.
Stalk your favorite designers-some of my favorite designers I can only afford on sale, so make sure to see what your favorite designers have decided to reduce!
Be exhaustive -this sale is not just limited to clothes and accessories. Look for beauty, athletic wear and home products as well.
Make a budget. Decide how much you want to earmark for this sale and stick to it! Guarantee your purchases will be more thoughtful and made without guilt!
Download the app. If something is sold out, chances are it will restock. Now you can get notified when items in your Wish List and Shopping Bag are back in stock. App details are here.
Double Your Rewards. Cardmembers, use a Personal Double Points Day to earn 2X the points on any day you choose.
Contactless Curbside Pickup. It's a fast and easy way to get your Anniversary Sale finds! Details here.
How to Shop Early Access for #NSALE
The early access sale is only open to Nordstrom cardmembers. If do not have a Nordstrom credit card and you would like to shop early and before the general public, you still have time to have apply for a Nordstrom credit OR debit card here . Even if you do not have a Nordstrom card or do not plan on applying for one, team up with a friend or family member who does in order to take advantage of the early access sale.
Why You Should Shop Early Access
What makes this sale of the year is that you can get a head start on purchasing all your fall needs at discounted prices. This means you are able to shop brand new arrivals that are immediately reduced for you! While most store "sales" mean end of season savings on older merchandise with limits on styles and sizes, the Nordstrom Anniversary Sale allows you to save on brand new merchandise that has just arrived for fall. Even beyond fall needs, think about the things you would rarely buy unless they were on sale. For me that means athletic clothes, designer pieces and home fragrances! The Nordstrom Anniversary sale is the Black Friday of summertime shopping!
When Is Nordstrom Anniversary Sale Early Access
All Nordstrom cardholders can shop Early Access starting August 13, 2020. You can shop even earlier depending on your Nordy Club status.
The sale opens up to the public on August 19 through the 30th.  Prices go up August 31!
My Nordstrom Anniversary Sale Wish List
Athletic Clothes
As much as I love to exercise, buying athletic clothes never really excites me. Yet I absolutely know that quality pieces are essential to feeling good during and after (no chaffing please!) after a workout. I really look to this sale to invest in quality pieces to get me through the year. Alo is one of the most popular lines that Nordstrom is known to consistently reduce during their sale. I am also a huge fan of Nordstrom's in house brand Zella. Here are some of the items I added to my wishlist:
Beauty and Fragrance
Two things I always love to see on sale are candles and beauty products. Rarely does one see either of these categories marked down, so I absolutely take advantage of it on the rare instance they are:
La Mer Mini Hydration Collection Soft Cream Set
Oribe Full Size Gold Lust Dry Shampoo & Dry Texturizing Spray Set
Ouai Thirsty Hair Oil & Leave-In Conditioner Kit
Denim
At this point in my life, I am confident with two denim brands that are always a good fit, BLANKNYC and Rag & Bone. When the sale drops on Friday, these brands will be one of the first things I enter in the search engine bar. I know there are a lot of AG fans out there and here are some great price drops on that denim line too:
AG Ex-Boyfriend Relaxed Slim Jeans
BLANKNYC The Great Jones High Waist Ripped Jeans
Rag & Bone Nina High Waist Ankle Skinny Jeans (love this color!)
Rag & Bone Nina High Waist Raw Hem Straight Leg Jeans
Home
I went a little nuts with my wish list here! While I think some categories fall short this year (designer for instance), Nordstrom more then makes up for it in all the home items offered on sale!
200 Thread Count Cotton Percale Sheet Set
Blush Set of Six Stemless Glasses
Mango Wood Cheese Board (gorgeous color!)
Golden Rabbit Set of Three Nest Mixing Bowls
Intimates
I always can use refreshers in this category! Better yet then those items are marked down! There is a nice selection as part of the anniversary sale so make sure to see if some of your favorites are on sale too!
Wacoal Red Carpet Convertible Strapless Bra
Happy shopping everyone!
*Note the Nordstrom Anniversary Sale does not include affiliates Nordstrom Rack and Trunk Club
You can also follow me on Facebook, Instagram and Pinterest 
Thanks for stopping by!
L, M