How to Style Ripped Jeans
I do not foresee retiring my beloved pair of ripped jeans anytime soon (sorry mom!). Similar to a favorite sweatshirt, they only get better with time and they continue to be one of my favorite items in my closet.
It seems that anytime I wear my distressed denim, they usually elicit two reactions. There are those who absolutely love them and have to know where I got them (they are rag & bone and about five years old!). And then there are those who shake their head in disbelief that I actually spent money on jeans with so many holes in them (hi again mom!). There is even a further truth to the latter-it does seem to hold true that the more distressed the denim, the more they cost!
Yet I will argue that I passionately believe every closet needs to have one great pair of distressed denim. Because nothing evokes the ultimate in a street style look quite like ripped jeans.
Street Style
I use the word street style a lot in my fashion posts. Yet, what does it mean when I use it? The actual definition goes something like this: Street style is a specific fashion style which comes originally from British fashion culture. It is a comprehensive approach to fashion and produces styles which intersect and differ from mainstream fashion considerations. For me, it means mixing different fashion items to produce a unique look. In other words, it is taking different fashion genres and merging them.
So when I wear my distressed denim, I want them to be the edgy standout. The focal point of my look. Yet I want to balance the edginess with classic and feminine pieces to round out the outfit.
Before I even share some ripped jeans outfit ideas and looks l love, I want to suggest what I think makes the best base for distressed denim. Opt for an oversized or boyfriend style of distressed denim. I tend to stay away from skinny jeans with an exaggerated distressed look. I think they are harder to pull off. And as much as I love a denim on denim look, I would avoid wearing denim jackets with distressed denim. Instead, opt for something more structured and classic like a blazer. As for the rest of your clothing items, feminine, classic and streamlined work best!
Ripped Jeans Outfit Ideas
Basic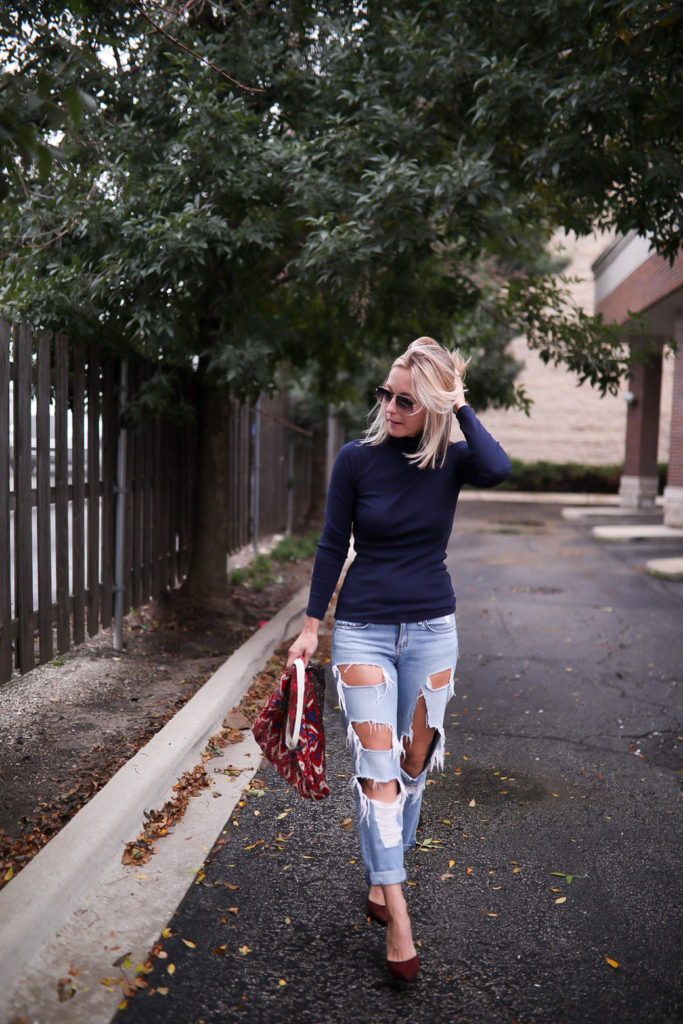 Turtleneck here  (more colors should reload for fall!) // Sunnies here // Pumps (similar) here
A great basic easily pulls together any outfit! That couldn't be more true when it comes to wearing distressed denim. This turtleneck is sleek, fitted and monochromatic creating a good balance to the more standout bottom. Top the look off with a sleek heel and a fun bag! A button down, cashmere sweater, or fitted tee would be other great basic options to pair with distressed denim.
Key piece:

Feminine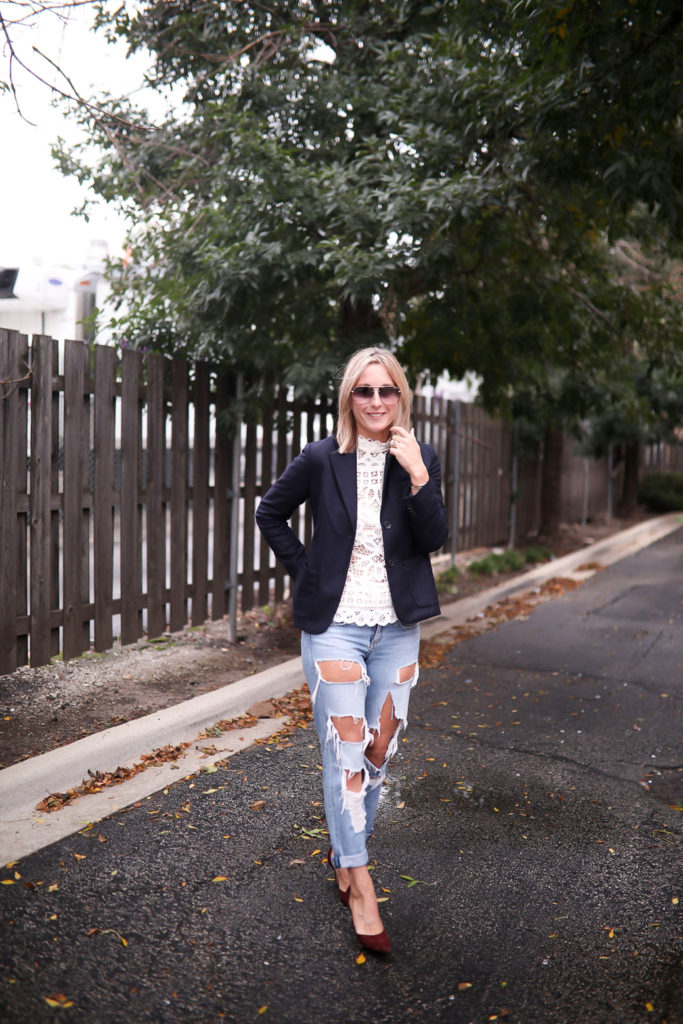 Lace Top (similar) here //  Blazer here // Sunnies here//  Pumps (similar) here
Wearing a feminine piece such as a lace top or silk cami works beautifully with distressed denim. It helps to soften the overall look. I love a sleek heel as an additional feminine detail (this is the one time I will not suggest sneakers!) Finally, add a blazer to polish off the look!
Key pieces:

Ripped Denim Suggestions:

You can also follow me on Facebook, Instagram and Pinterest 
Thanks for stopping by!
L, M