Easy Fall Food Recipes
I hope you find this post as a source of inspiration for the season. A page you want to bookmark for the start of each fall! Because here you will find a collection of easy fall recipes perfect for whipping up on a Sunday or for a busy week day.  Meals that capture the best of what the season offers while providing the comfort food we begin to yearn this time of year.
A slow cooker and a skillet are perhaps my two favorite tools to use in the kitchen during fall. Both bring out the best of the flavors and aroma in whatever you are preparing!
In addition to meals, you will also find other fall recipes. The Brussels sprouts with lemon and herbs is an easy side dish to take you through the holiday season. Putting together a charcuterie board? Elevate it with the sweet and savory apple chutney that pairs so well with the saltiness of cheese. It also serves as a wonderful spread for turkey sandwiches! Sure I love store bought baked goods but making pumpkin bread is so easy! Plus, your own baking fills your home with all the aromas of fall!
If you are looking for other ways to fill your home with fall, then head here for my simple Stovetop Potpourri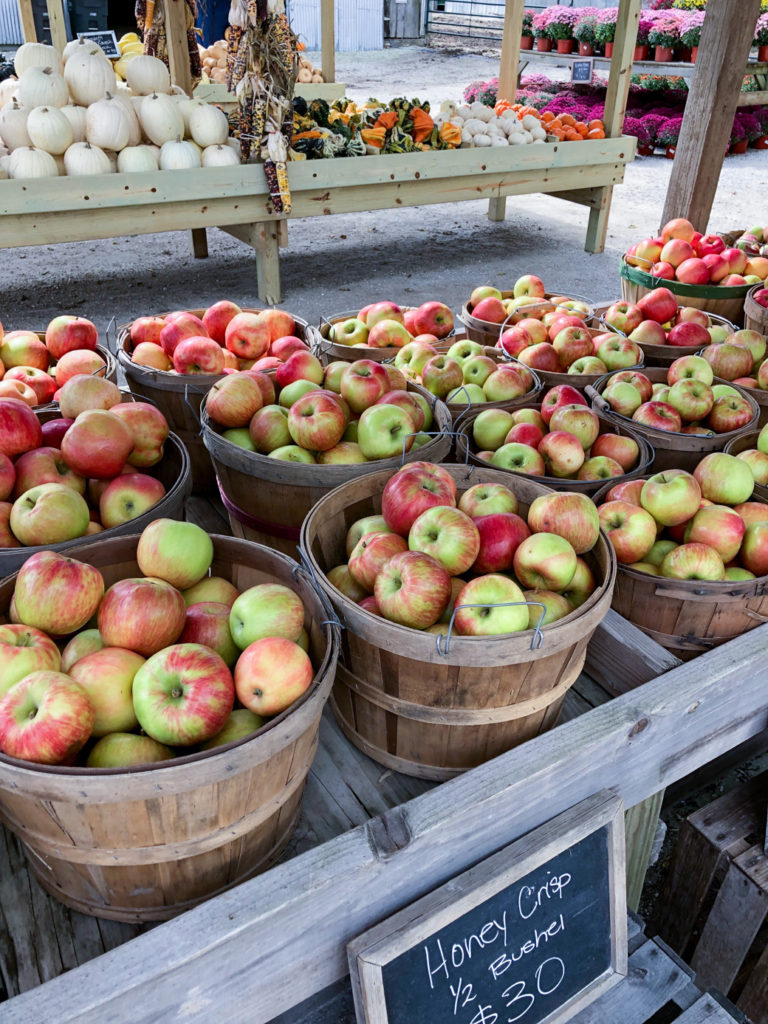 Skillet Chicken Pot Pie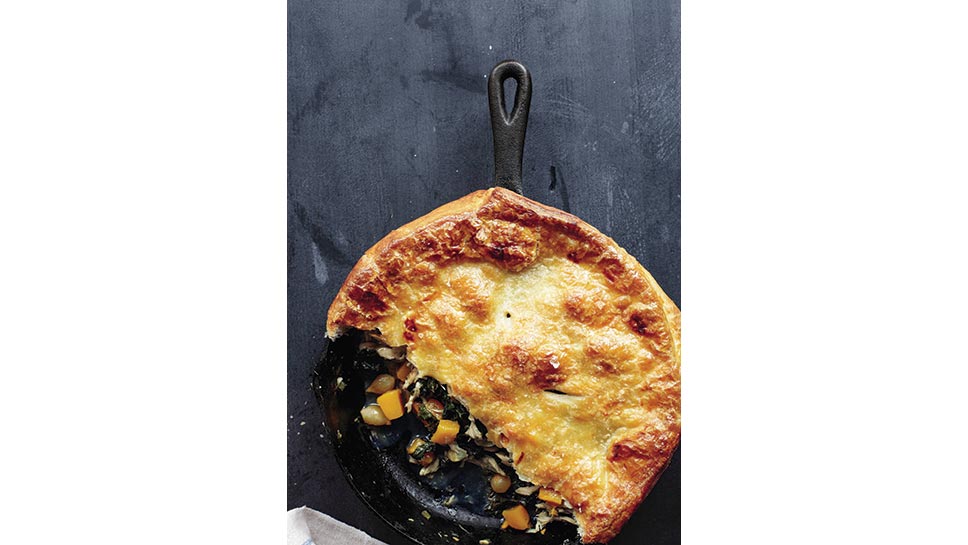 Ingredients:
1/4 cup olive oil
1 cup frozen white pearl onions, thawed
4 garlic cloves, finely chopped
1 tablespoon chopped fresh sage
1 small bunch kale, center ribs and stems removed, leaves chopped
Kosher salt & freshly ground pepper
1/4 cup all-purpose flour
3 cups low-sodium chicken broth
1/2 small butternut squash, peeled, cut into 1/2 inch pieces (about 1 1/2 cups)
1/2 rotisserie chicken, meat shredded into bite size pieces (about 1 1/2 cups)
1 sheet frozen puff pastry (Pepperidge Farm), thawed
1 large egg
Directions:
Place a rack in upper third of oven; preheat to 425°F.
Heat oil in an 8" cast-iron or other heavy ovenproof skillet over medium-high heat. Add onions; cook, stirring occasionally, until beginning to brown, about 4 minutes.
Reduce heat to medium-low. Add garlic and sage to skillet and cook, stirring occasionally, until garlic begins to brown, about 2 minutes.
Add kale and season with salt and pepper. Cook, tossing often, until wilted, about 4 minutes.
Sprinkle in flour. Cook, stirring constantly, for 4 minutes.
Stir in broth, 1/2-cupful at a time, then add squash. Bring to a boil, reduce heat, and simmer until squash is just softened and broth is thickened, 8-10 minutes.
Add chicken to skillet, stir, and season with salt and pepper.
Unfold pastry and smooth any creases; place over skillet, allowing corners to hang over sides. Whisk egg and 1 teaspoon water in a small bowl. Brush pastry with egg wash; cut four 1" slits in top to vent.
Bake pot pie until pastry is beginning to brown, 15-20 minutes. Reduce oven temperature to 375°F and bake until pastry is deep golden brown and crisp, 15-20 minutes longer.
Let cool for 10 minutes before serving.
Source: Forest & Bluff Magazine 
Slow Cooker Honey Garlic Chicken Thighs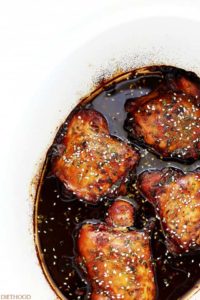 Ingredients:
6 boneless , skinless chicken thighs*
4 garlic cloves , minced
1/3 cup honey
1/2 cup low sodium ketchup
1/2 cup low sodium soy sauce
1/2 teaspoon dried oregano
2 tablespoons fresh parsley
1/2 tablespoon toasted sesame seed
*Use enough chicken thighs (bone-in or boneless, skin-on or without) to cover the bottom of your slow cooker. You can also use chicken breasts.
Directions:
Arrange chicken thighs on the bottom of your slow cooker; set aside.
In a mixing bowl, combine garlic, honey, ketchup, soy sauce, oregano and parsley; whisk until thoroughly combined.
Pour the sauce over the chicken thighs.
Close with a lid and cook for 4 to 5 hours on LOW, or 3 to 4 hours on HIGH.
Remove lid and transfer chicken to a serving plate.
Spoon the sauce over the chicken and sprinkle with toasted sesame seeds.
Serve
Source: Diethood
Skillet Apple Pork Chops
Ingredients:
1 1/2 tablespoons olive oil, divided
4 (6-oz.) bone-in pork chops
3/4 teaspoon kosher salt, divided
1/2 teaspoon freshly ground black pepper, divided
1/2 cup unsalted chicken stock (such as Swanson)
1 teaspoon Dijon mustard
1 tablespoon chopped fresh sage
1 1/2 teaspoons chopped fresh rosemary
2 medium apples, thinly sliced
1 small red onion, thinly vertically sliced
Directions:
Heat a large skillet over medium-high heat.
Add 1 1/2 teaspoons oil to pan; swirl to coat.
Sprinkle pork chops evenly with 1/4 teaspoon salt and 1/4 teaspoon pepper.
Add pork chops to pan; cook 5 minutes on each side or until pork chops are done. Remove from pan.

Combine stock and mustard, stirring with a whisk. Set aside.

Add remaining 1 tablespoon oil to pan; swirl.

Add remaining 1/4 teaspoon salt, remaining 1/4 teaspoon pepper, sage, rosemary, apple, and onion to pan; cook 4 minutes, stirring occasionally.

Stir in stock mixture.

Return pork chops to pan; cook 3 minutes or until liquid is reduced by half.

Serve
Source: My Recipes
Spinach Tortellini in Broth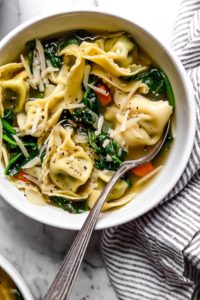 Ingredients: 
2

 

teaspoons

 

butter

2

 

stalks of celery

, 

chopped

1

 

small onion

, 

chopped

1

 

carrot

, 

peeled & chopped

2

 

cloves

 

of garlic

, 

minced

8

 

cups

 

chicken broth

3

 

cups

 

water

1

 

small Parmigiano Reggiano Rind

, 

optional

18

 

oz

 

spinach cheese tortellini (in refrigerator section)

1/2

 

teaspoons

 

fresh ground pepper

1/2

 

teaspoon

 

ground nutmeg

2

 

cups

 

baby spinach

Salt to taste

Parmigiano Reggiano

, 

grated (optional)
Directions:
In a large pot, melt the butter over medium-low heat.
When melted, add the celery, onion, carrot & garlic.
Cover and reduce heat to low and cook for approximately 8-10 minutes until vegetables begin to soften.
Add the chicken broth, water, parmesan cheese rind and increase heat to medium-high and bring to a boil.
When broth boils, add salt (to taste), pepper and nutmeg. Stir to combine.
Reduce heat to low and add tortellini. Simmer until tortellini cooks to al dente according to package directions.
Once cooked, remove the rind, and add the baby spinach.
Stir to combine then serve with freshly grated Parmesan
Source: Skinny Taste
Slow Cooker French Wine and Mustard Chicken
Ingredients:
1

 

cup

 

dry white wine, such as Pinot Grigio or Sauvignon Blanc

1/3

 

cup

 

heavy cream or canned full fat coconut milk

2

 

tablespoons

 

Dijon mustard

2

 

tablespoons

 

grainy Dijon mustard

2

 

shallots chopped

2

 

cloves

 

garlic, minced or grated

kosher salt and pepper

2

 

pounds

 

boneless chicken breasts, skin on or off

1

 

tablespoon

 

extra virgin olive oil

2

 

tablespoons

 

fresh thyme leaves

1

 

tablespoon

 

fresh chopped sage

2

 

tablespoons

 

salted butter

1/3

 

cup

 

freshly grated parmesan cheese

1/2

 

bunch kale, chopped

Mashed potatoes or steamed rice, for serving
Directions: 
In the bowl of your slow cooker, combine the wine, milk/cream, both mustards, shallots, garlic, and a pinch each of salt and pepper.
Rub the chicken with thyme, sage, and a pinch each of salt and pepper.
Heat the olive oil in a large skillet over medium high heat. When the oil shimmers, add the chicken and sear until golden brown on both sides, about 3 minutes per side.
Remove the chicken from the skillet and place directly into the slow cooker, skin side up, along with any juices left in the skillet. Add the butter.
Cover the slow cooker and cook on low for 4-6 hours or on high for 2-3 hours.
During the last 30 minutes of cooking, add the parmesan and kale, gently tossing to combine.
Serve the chicken over mashed potatoes

 or rice and spoon the creamy mustard sauce over top the chicken.

Serve with additional herbs and parmesan.
Source: Half Baked Harvest
Brussel Sprouts with Lemon and Herbs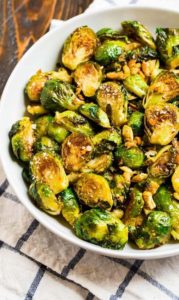 Ingredients:
1/2 cup olive oil
3 pounds Brussels sprouts, trimmed and halved
Salt & black pepper
1/2 cup water
1/2 cup apple cider vinegar
2 tablespoons stone ground mustard
Juice of 1 lemon
1/2 cup parsley leaves, finely chopped
1/2 cup tarragon, finely chopped
Directions:
In a large saute pan, heat 1/4 cup olive oil over medium heat, until the oil starts to shimmer.
Carefully add half of the Brussels sprouts, cut side down, in a single layer. Season with salt and cook until the Brussels sprouts are caramelized. Remove and set aside.
Add the remaining 1/4 cup olive oil and repeat with second batch.
Once all the Brussel sprouts are browned, return all of them to the pan over high heat, add the water and vinegar, and allow the spouts to steam slightly.
Once all the liquid has evaporated, turn off the heat and fold in the stone ground mustard, lemon juice, parsley and tarragon.
Season to taste with salt and pepper.
Source: Jenni Kayne, "Pacific Natural: Simple Seasonal Entertaining" 
Apple Chutney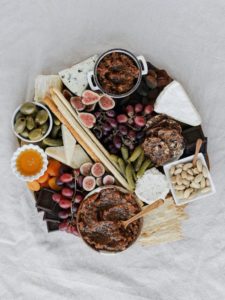 Ingredients: 
2 tablespoon of cooking oil
1 sweet yellow onion, about 2 cups finely diced
A pinch of salt
Garlic clove, finely minced
1 teaspoon fresh grated ginger
1 jalapeño, seeded and finely minced
Heaping 1/4 tsp mustard seeds
1/2 teaspoon  coriander powder
1/2  teaspoon cumin seeds
1 bay leaf
2 Granny Smith apples, peeled and finely diced
2 Gala apples, peeled and finely diced
4 tablespoons granulated sugar
1 tablespoon honey
1 1/4 teaspoon salt
1/2 teaspoon pepper
1/2 cup apple cider vinegar
2 tablespoons of water
Directions:
In a dutch oven style pot, add the oil and bring up to a medium heat.
Add the onions and a pinch of salt and cook, stirring occasionally for about 5 minutes until the onions start to become translucent.
Add the minced garlic, grated ginger, minced jalapeño, and spices, stirring to combine with the onions. Let cook for another 5 minutes while you prep the apples.
Peel and dice the apples into small pieces. add to the pot along with the sugar, honey, additional salt, pepper, apple cider vinegar, and water. stir to combine.
Bring the heat down to a low-medium, and let the chutney cook down for about 45 – 50 minutes, stirring occasionally to keep it from sticking to the bottom of the pot.
The chutney is done once the apples and onions have broken down and there is no liquid leftover in the mixture.
Remove from heat and let cool. taste and salt as needed.
Store in the fridge until ready to use!
Source: Camille Styles 
Pumpkin Bread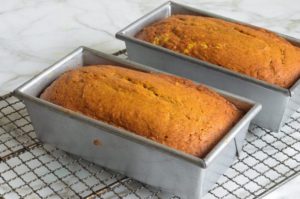 Ingredients*:
2 cups all-purpose flour, spooned into measuring cup and leveled-off
1/2 teaspoon salt
1 teaspoon baking soda
1/2 teaspoon baking powder
1 teaspoon ground cloves
1 teaspoon ground cinnamon
1 teaspoon ground nutmeg
1-1/2 sticks (3/4 cup) unsalted butter, softened
2 cups sugar
2 large eggs
1 15-oz can 100% pure pumpkin (such as Libby's)
*makes two loaves. Cut recipe in half for one loaf. 
Directions:
Preheat the oven to 325°F and set an oven rack in the middle position.
Generously grease two 8 x 4-inch loaf pans with butter and dust with flour (alternatively, use a baking spray with flour in it, such as Pam with Flour or Baker's Joy).
In a medium bowl, combine the flour, salt, baking soda, baking powder, cloves, cinnamon, and nutmeg. Whisk until well combined; set aside.
In a large bowl of an electric mixer, beat the butter and sugar on medium speed until just blended. Add the eggs one at a time, beating well after each addition. Continue beating until very light and fluffy, a few minutes. Beat in the pumpkin. The mixture might look grainy and curdled at this point — that's okay.
Add the flour mixture and mix on low speed until combined.
Turn the batter into the prepared pans, dividing evenly, and bake for 65 – 75 minutes, or until a cake tester inserted into the center comes out clean.
Let the loaves cool in the pans for about 10 minutes, then turn out onto a wire rack to cool completely.
Source: Once Upon a Chef
You can also follow me on Facebook, Instagram and Pinterest 
Thanks for stopping by!
L, M