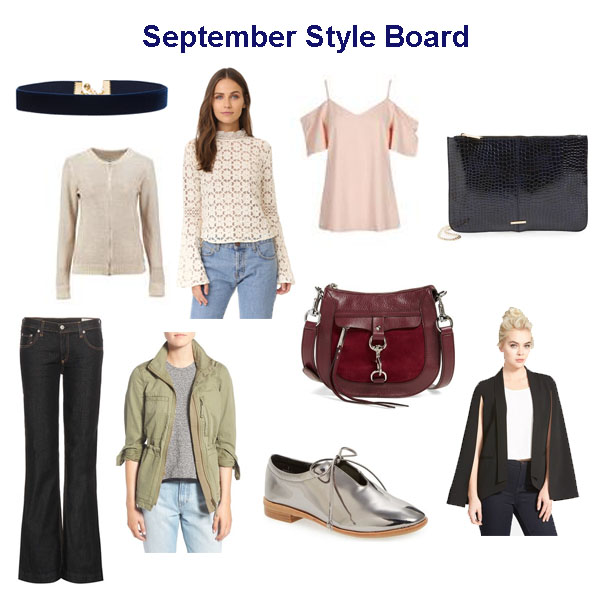 Fall! Warm but crisp days mean denim layered with textured pieces and lightweight jackets. It is one of my favorite times of year for fashion! I love seeing what new style trends take form and how I can incorporate them into what is already in my closet! All sorts of great looks came off the runways this season! Trending looks were Military chic, Menswear inspiration, and the Renaissance woman. Materials were made up of metallics, velvet and plaid.  Tops centered on lace-ups and cold or one shoulder.  Jacket standouts were the bomber-and my favorite-the capelet! Chokers continue to be the hottest trend in accessories. And for an everyday shoe, an oxford or loafer. September's Style Board focuses on these trends while still incorporating what is already in my closet.
Capelet/The Oxford Shoe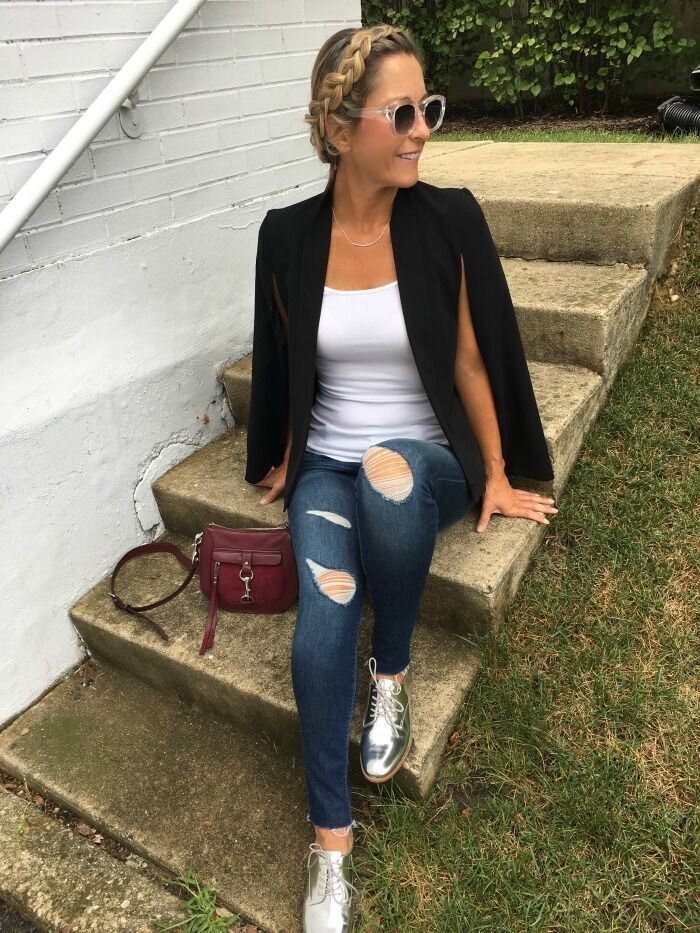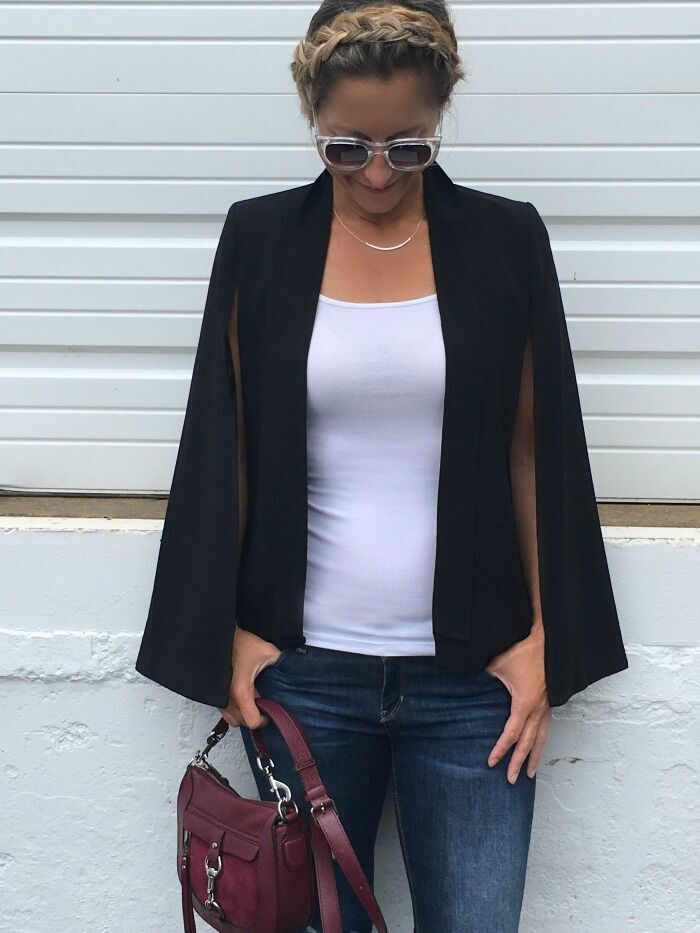 Both looks here show two of my favorite trends for fall! The capelet and the oxford shoe. The capelet is just the thing needed when I want a little cover-up on an evening out. Capelets are nothing new but they are now updated to have a more chic and structured look to them. It dresses up the most basic outfits like this simple white tank and denim. As to the oxford shoe, I admit, I paused for a minute when I saw these as a hot trend this season but now I am obsessed! I found the pair I am wearing on sale at Nordstrom's (they are now sold out!) but linked a very similar pair here. The oxford shoe definitely falls into the menswear look and in order to pull it off, contrast it with something super feminine. In this case, I chose braids! Not loving the oxford? Then bring out your loafers again! I love, love these ones here!
Military Look/Renaissance Inspo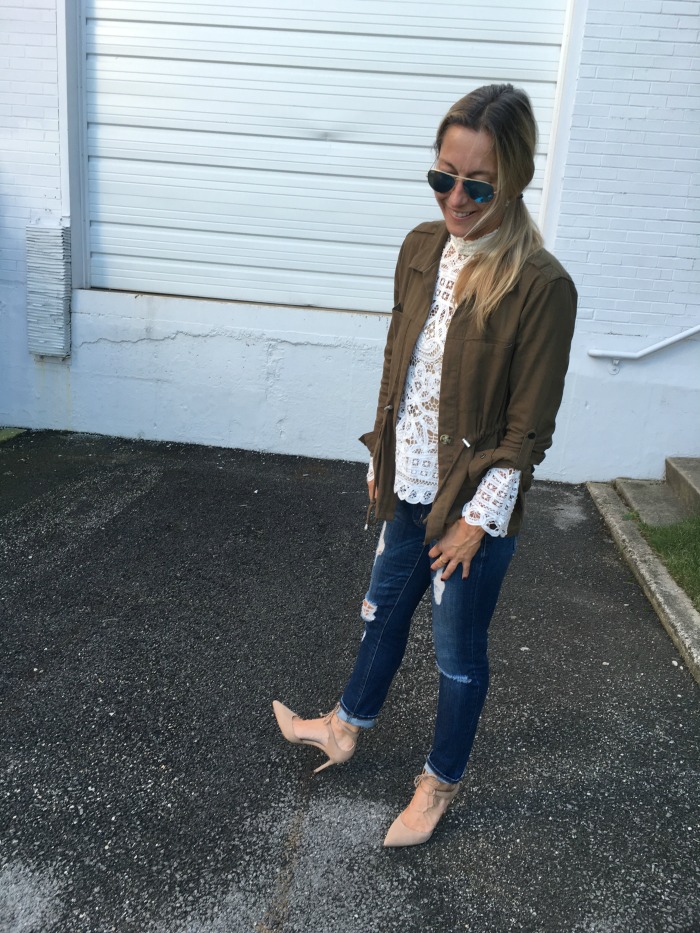 Both of these items I have had in my closet for sometime. While military chic may be in style, an olive green military jacket never goes out of style and is always a wardrobe staple for me. Similar to the oxford shoe, the military look should be contrasted with something feminine.  I love that I can pull off two trends into one look by adding this Renaissance inspired top that incorporates both lace and bell sleeves. I have linked a similar lace top here but do note that is has an open back. If you want to take the military trend one step further, camo is back in a big way! I linked a really fun shirt here that I think would be great with denim this season. Notice I am still in my neutral shoes that I bought this spring! While something in cranberry would be great here too, I love that I always have a neutral to fall back on!
Cold Shoulder/Bomber Jacket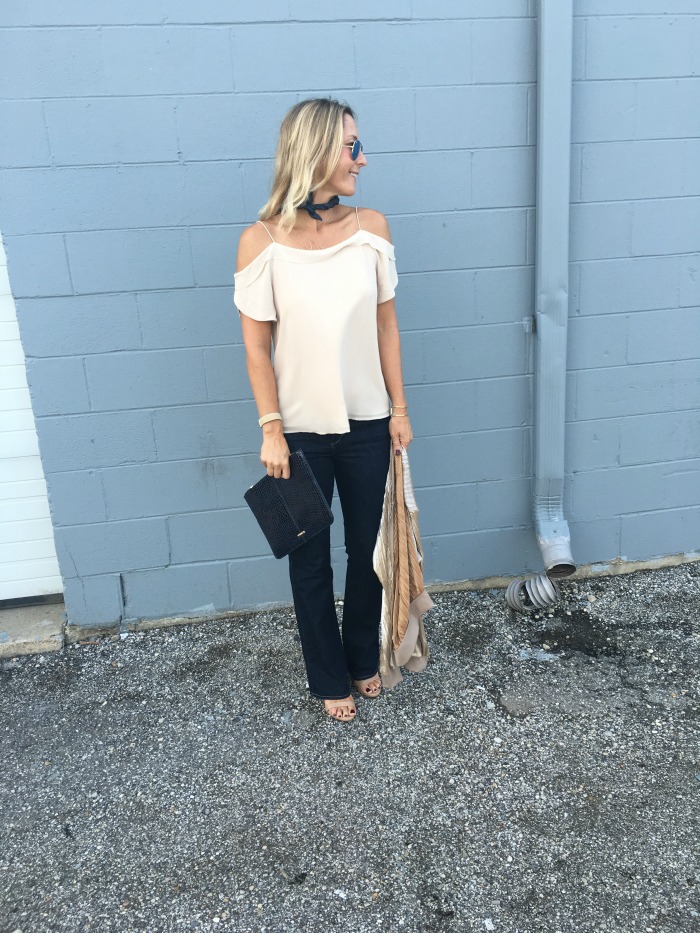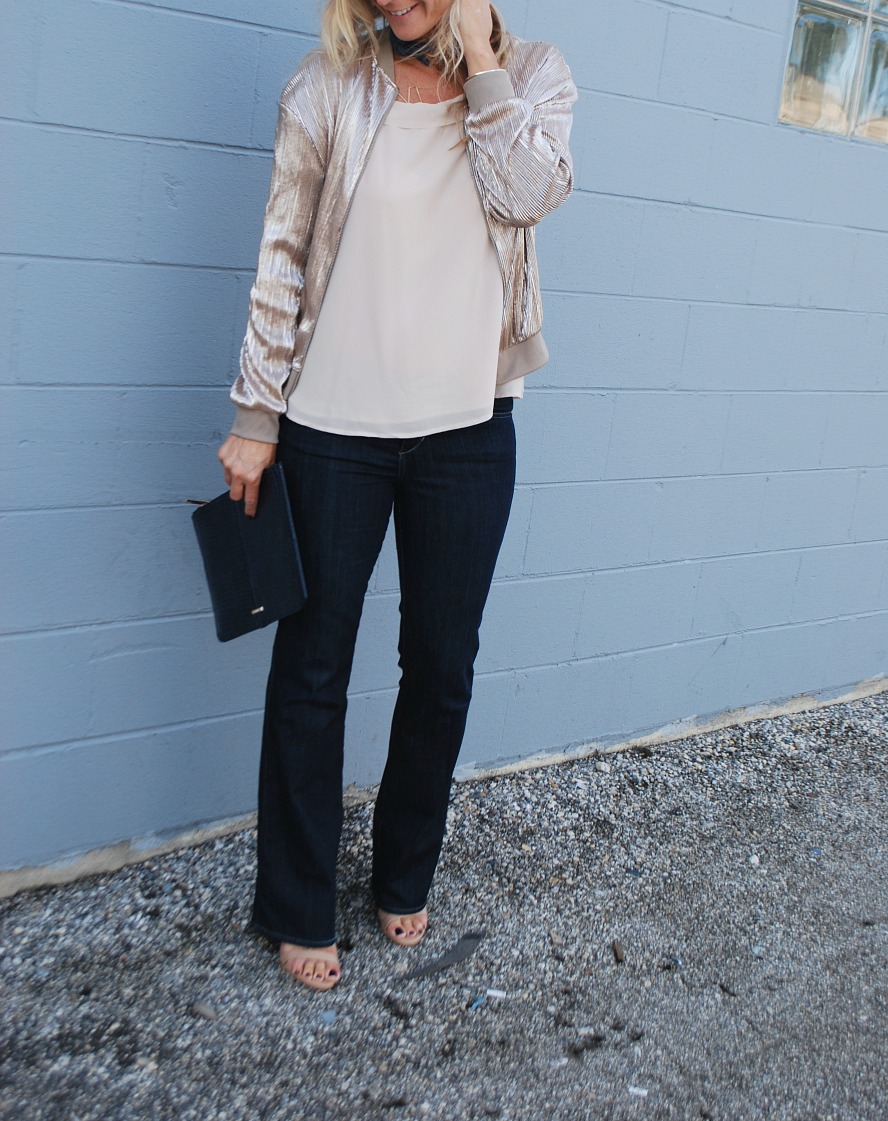 In this look I have brought out two closet staples-a dark wash flare denim and my neutral sandal- and added a couple of fall updates. Off shoulder, cold shoulder and one shoulder have already been on summer rotation and they will continue to the the hottest fall trend in tops. To add a little more touch of dressiness to this outfit, I grabbed one of my favorite Zara purchases to date-my metallic bomber jacket in gold. This one is sold out but I linked another color in stock here  as well as a great knit one below.  I am so happy to see the choker continues to be a big accessory trend. I am still wearing my denim one but absolutely will be purchasing this blue velvet one here. We will be seeing major statement chokers too for fall and winter!
I have brought you just a snapshot of my favorite fall trends! There is more I will be bringing to the blog in fall fashion! If there is anything you would like me to feature, please leave a comment in the section below! Behind the scenes, I am working hard on photography and photo editing to bring you even better pictures!
Thanks for stopping by!
To discover more fall fashion, click here, here, and here
L, M