It almost goes without saying that one of my favorite things that happens in July is the Nordstrom Anniversary Sale! There are some other things (okay one has to do with the sale!) that have peaked my interest though! My five favorites for the month of July include the following:
Series: July Five Favorites
Wear:

Midtown Short. I am usually in denim shorts most of the summer but I was in need of something a little more breathable to wear, especially on hotter days! This short from Athleta is the perfect mix of an athletic short and a classic chino for a more put together style when you still want to be comfortable. It's a great go-to travel short whether you are heading to the city or the mountains. Its sister short here is also another great option!
 Slip On:

Converse Shoreline Sneakers. I have always loved the look of them but could never wear Converse sneakers until now! Never comfortable and always bottom heavy, this style has changed the way I feel about them. With more comfort support and a stretchy back, these slip on sneakers are easily my most worn shoes for summer!
Check Out: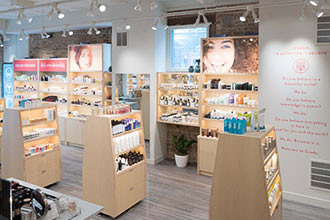 Photo Courtesy of Credo Beauty
Credo Beauty. Having just launched it's Chicago location, Credo Beauty is your go-to clean beauty shopping destination. In fact, Credo Beauty is an oasis of cruelty free and organic products with honest experts that will help change the way you think about the products you put on our body! With locations in four other cities and an expansive website, Credo is a destination go-to! Oh! Their locations also have an on-site spa and beauty bar!
Pick Up:

Innovation Duo Make-Up Cleaner: Part of the Nordstrom Anniversary Sale, this beauty buy exclusive is a must for keeping your make-up brushes clean. I am terrible with keeping my brushes clean so I was inspired by this set when checking out the Anniversary sale beauty buys! In fact, this product has received excellent reviews and with this purchase you get a cleaning mat, cleaning solution and a 3DHD® Kabuki foundation brush!
Declutter With :

Storage Baskets: Blankets, pillows, dog toys, you name it, I have been buying up a storm of baskets this summer to help declutter the things that seem to always be laying around. Pottery Barn and West Elm have my favorite options and I have also bought this large rounded one here for our bedroom, this one here for the living room and this one here for the family room! Most of these options are on sale!
You can also follow me on Facebook, Instagram and Pinterest 
Thanks for stopping by!
L, M
SaveSave
SaveSave
SaveSave
SaveSave
SaveSave
SaveSave
SaveSave
SaveSave
SaveSave
SaveSave
SaveSave
SaveSave
SaveSave
SaveSave