The color black. Not a color that I often find myself in. I am in the minority, I know, but I just don't think it is the best color for me. So anytime I do choose to wear black, you bet that I really need to love the pieces! So that is how you find me sharing two of my favorite everyday black pieces on the blog.
Series: Outfit of the Day-Black Basics
Basics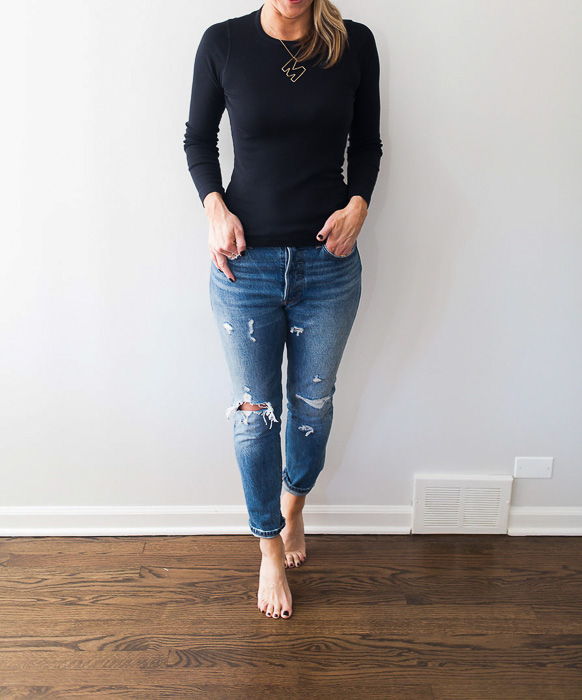 If you were to ask me where my favorite line of basics helms from, I hands down would tell you Splendid. Splendid put the concept of great black basics on the fashion map with their initial quest to come up with the perfect basic t-shirt. Since then, and thank goodness, their line of basics has grown. So what makes their basics so great then?
Let's take their long sleeve tee here that I am wearing. I have had this tee for at least six years!  That is six years of wearing, washing and reusing time and time again!  And in all that time, not once has this tee faded, lost its shape, or pilled. The weight and feel of their fabric is in a class all on it's own. I am truly amazed at the level of quailty that go into their tees. I would pay 3 times as much for them because they are just that good.
This style is called the 1X1 and this exact tee can be found here. It comes in white and now, navy too! The 1X1 style is also available in short sleeve here and here and a tank as well here. The latter offering a ton of great colors to choose from!

Layering

One of my favorite items to add to this basic tee is this black cape. I love the clean lines and modern look of this piece. With a modern twist, this cape actually has arm holes making it much easier to wear. This cape elevates even the most basic look but easily can be worn with a cocktail dress or dress pants as well.
Accessorizing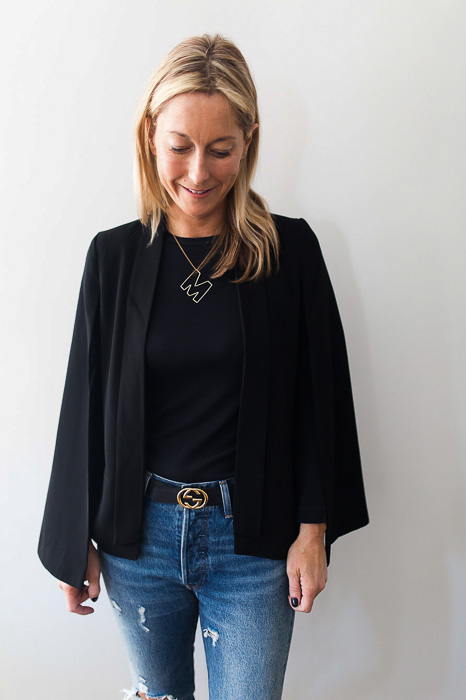 I love the fact that this monochromatic look easily becomes the perfect blank canvas. My favorite gold necklace is an instant accessory standout. The Gucci belt is another great tie in too. For once, I will say that accessories are an absolute must with this look. A great statement necklace like this would be another fun option here.
Mood Board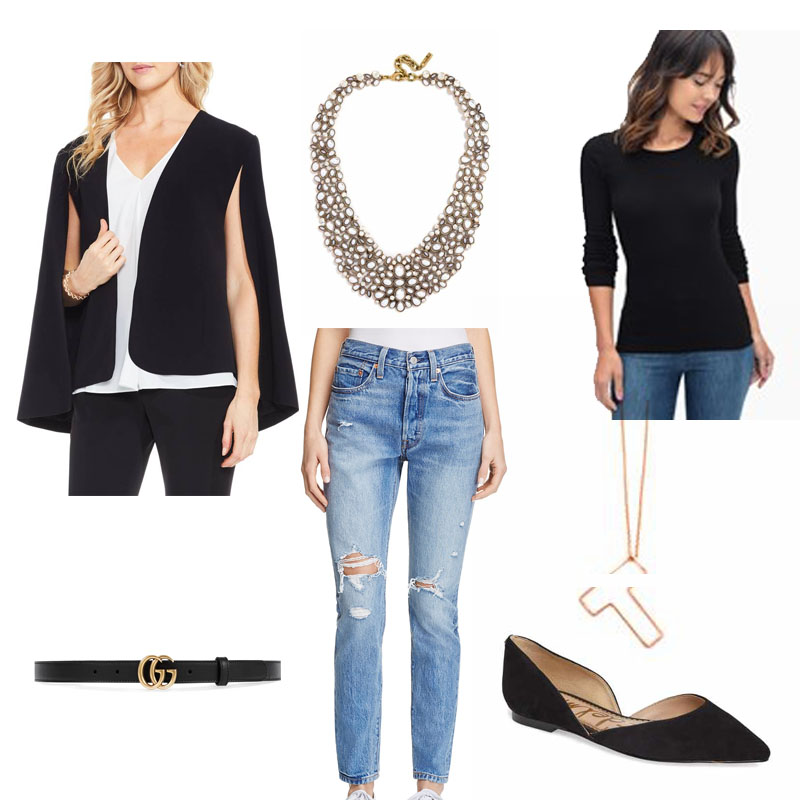 Cape here (size down) // Statement necklace here // Black tee here // Letter necklace here // Black flats here // Denim here // Belt here
Never Without Navy is also on Facebook, Instagram and Pinterest 
Thanks for stopping by!
L, M