We are getting back to my love of navy in this post! In my mind, there is no other color out there that defines classic and chic as the color navy. Add that color to a wardrobe staple such as a blazer, and you have a forever classic piece in your closet. Options are endless in terms of what you can pair a navy blazer with. To keep things simple though, I am pulling out two of my favorite basics to create a great go-to outfit.
Series: Outfit of the Day – The Perfect Long Navy Blazer
Basics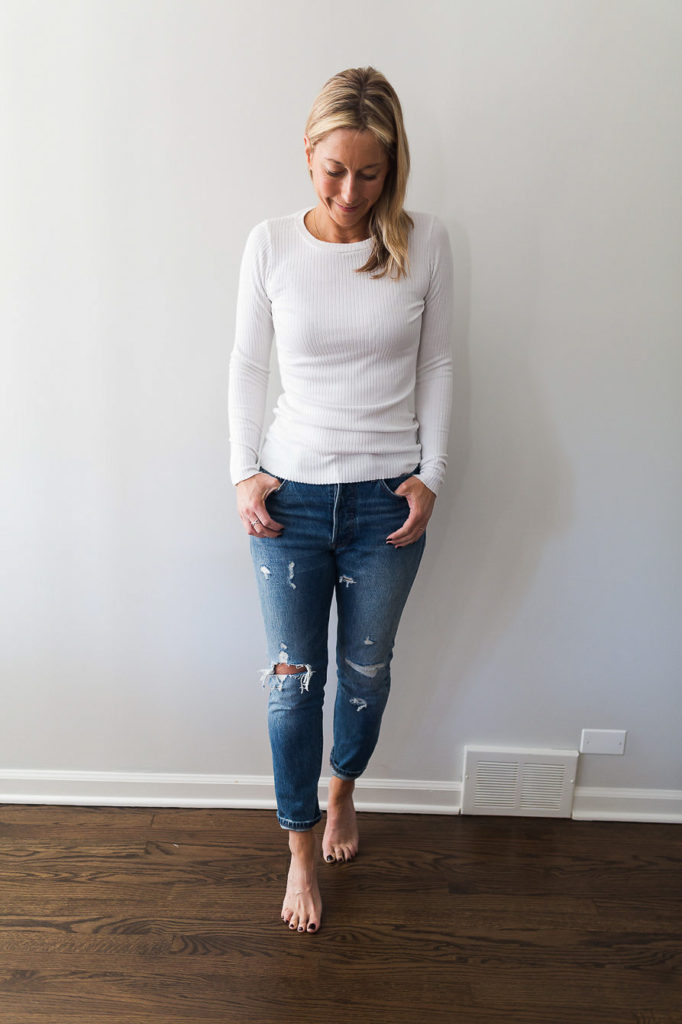 One of my favorite lines of mid-priced basics are by designer Michael Lauren. This white ribbed top by her is perfect for winter! With a little more weigh to it, it falls somewhere in between a long sleeve tee and a lightweight sweater. I love the thicker ribbing to it as well. I have had this for a couple of years but she does still make it in a pretty shade of gray linked here. There is also another similar style that I like of hers here . Note on sizing: for the more fitted tops, size up one from your regular size.
I am still wearing, and nicely breaking in for that matter, my Levi's denim! I always love a little distressing in my denim and I love that these pair are not overly done in that sense. Another note on sizing here is to once again size up, as Levis are made without stretch.
Layering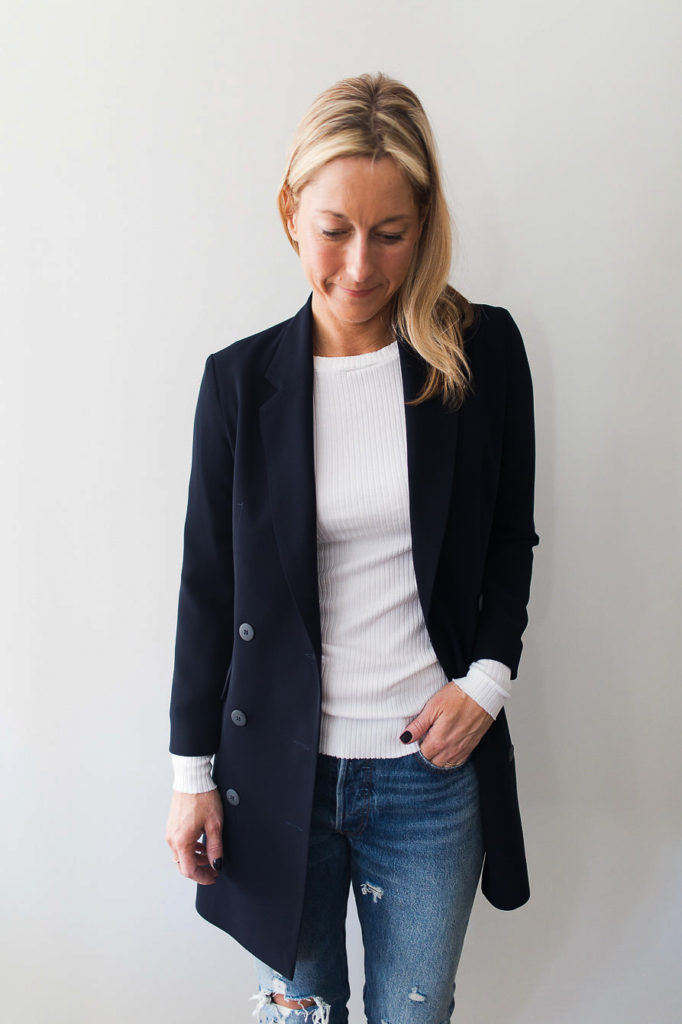 The focal point for this look comes down to the navy blazer of course. I am a huge fan of this longer version (similar here) for a couple of reasons. One, it can easily serve as a lightweight jacket and two, it lends to more versatility. On a recent trip to New York city, I styled this blazer with a sweatshirt  here, and as a suit jacket here. This longer version ended up complimenting two completely different looks. Yes, a traditional cut blazer could work too, but with this longer version, I never fear that it comes off looking too work attire related.
Accessorizing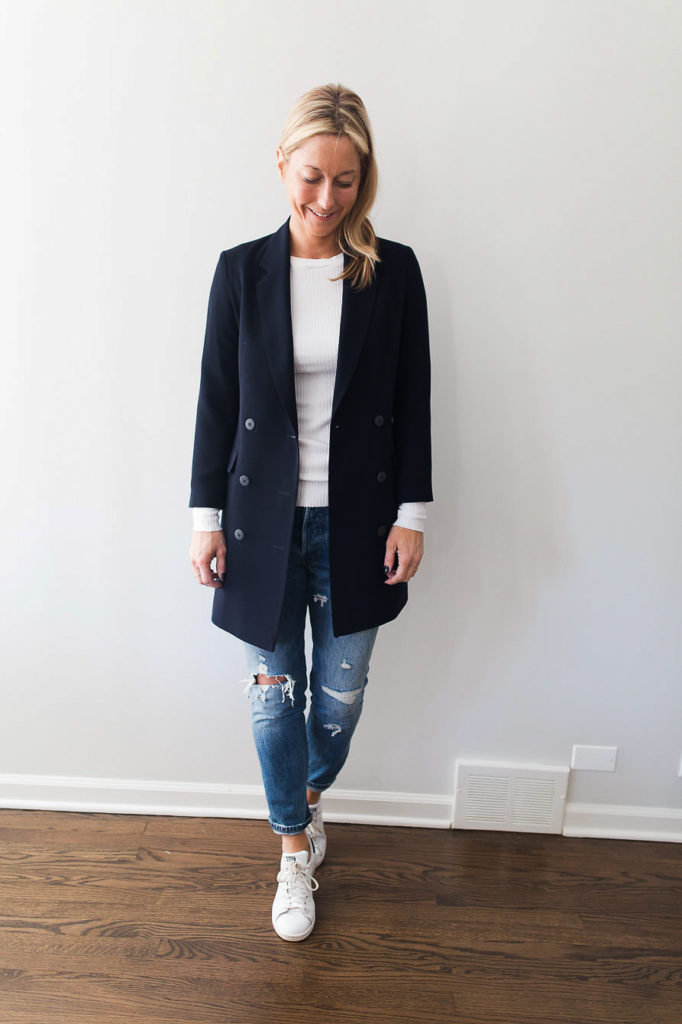 There is something about navy that makes a look require little else. With that said, I do not feel the need to accessorize. Could I envision an Hermes belt here? Yes, for sure (but I don't have one!). I might also even throw on a gold pair of hoops. For me, simply adding a pair of retro sneakers, completes one of my ultimate favorite outfit of the days.
Mood Board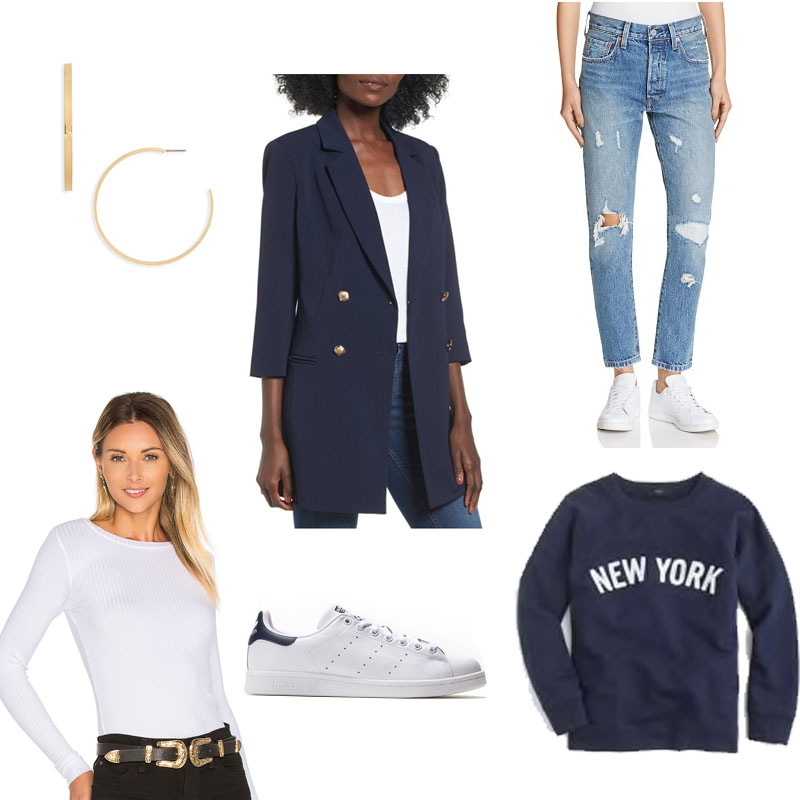 gold earrings here // navy blazer here // denim here // sweatshirt here // sneakers here // top in gray here (white sold out)
Never Without Navy is also on Facebook, Instagram and Pinterest 
Thanks for stopping by!
L, M