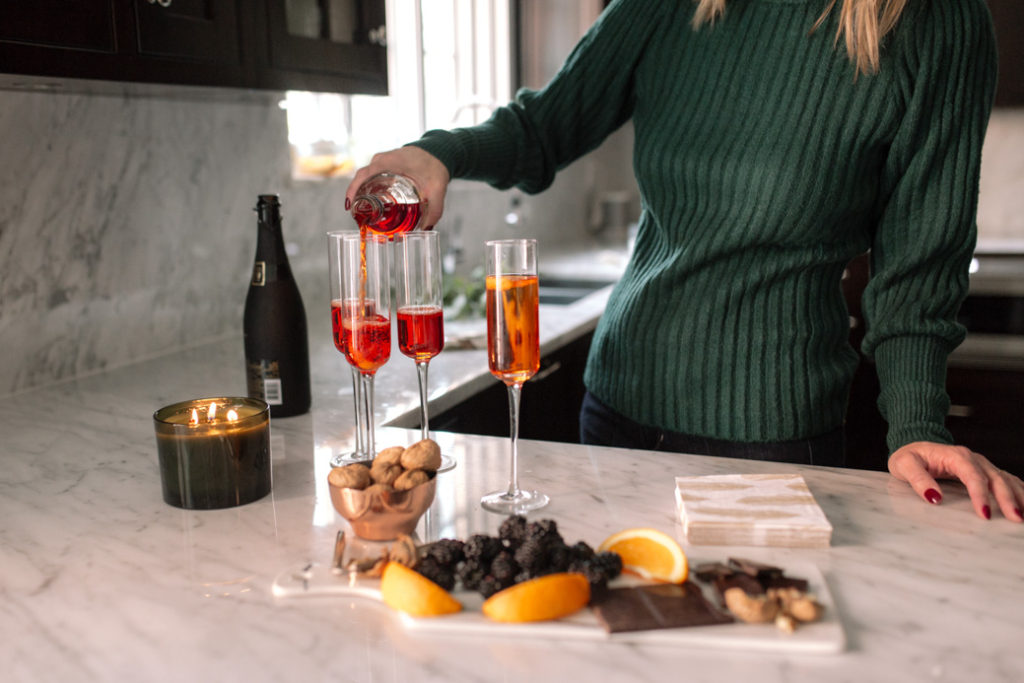 What's not to enjoy about all the food and libations the holiday season has to offer? When there is nothing wrong with pouring a glass of champagne and having a plate full of Christmas cookies before ten in the morning! I love setting up the bar with offerings of champagne cocktails, Bloody Mary's and wintery mixed drinks this time of year. Beautiful garnishes of pomegranate seeds and blood orange slices can make even the simplest drinks instantly festive.
I also love finding a new and festive drink to add into the mix each season. It is the perfect time to seek out and incorporate liqueurs and simple syrups into sparking wine and champagne cocktails. This year Aperol is my liqueur of choice.
I am not even sure how I stumbled upon Aperol. (It probably has to do with the fact that I am attracted to the deep orange color!) Truthfully it appears to be an orange liqueur that is enjoyed more in the summer served on the rocks. Yet I find the deep blood orange color, velvety texture and bitter and sweet orange flavors coupled with herbal and woody body notes, make it much more conducive for adding to sparkling wine cocktails in the winter.
And what I love even most about using it, is that it reminds me that creating cocktails do not have to be complicated. So if you are in need of a NYE drink offering that dresses up your sparkling wine, this is a wonderfully easy recipe to try.
Sparkling Holiday Wine Cocktail Recipe
My champagne flutes are available here:
Ingredients:
2 oz. Aperol
3 oz. Sparkling wine
Splash of soda
Slice of orange
Directions:
Take a champagne flute and start with the Aperol as the base.
Add the sparkling wine, then a splash of soda to top it off.
Stir gently and garnish with a slice of orange.
Serve and enjoy!
More Sparkling Holiday Wine Cocktails to Try
Classic French Cocktails
Kir Royale: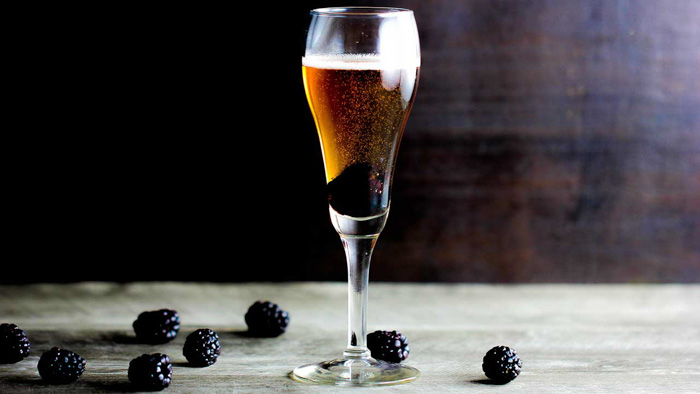 This Kir Royale Cocktail is a classic champagne drink that is so easy to make, and yet so very impressive.
Photo via Pinterest
Ingredients
1 tablespoon Creme de Cassis
Champagne
Fresh blackberries or raspberries
Directions
Add 1 to 2 berries into the bottom of a champagne flute.
Add the Creme de Cassis.
Top with chilled champagne.
Serve and enjoy!
French 75: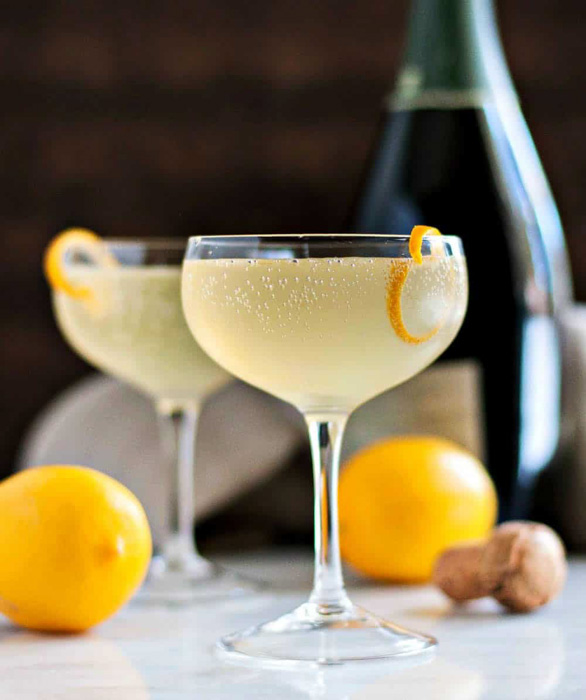 Created in New York in 1915 but we will credit the French with anything champagne based!
Photo via Pinterest
Ingredients 
1 oz. dry gin .
.5 oz. lemon juice
.5 oz. Cointreau
Champagne
Directions
Pour the lemon juice, gin and Cointreau into a cocktail shaker with ice. Stir well.
Strain into a champagne flute, preferably chilled.
Top with champagne.
Black Velvet Cocktail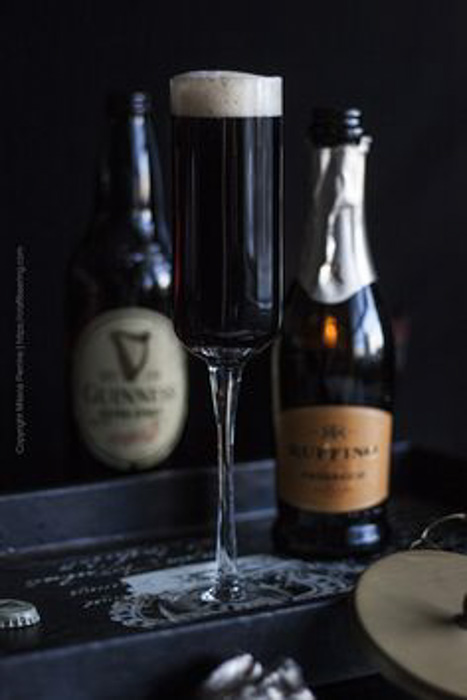 This Black Velvet Cocktail is a rich, bubbly and fun vintage cocktail with plenty of masculine vibes!
Photo via Pinterest
Ingredients
2 (12-ounce) bottles of stout
1  bottle of champagne
Directions
Fill six champagne flutes halfway with stout.
Place a spoon into the champagne flute, without touching the stout, with the rounded side facing up.
Slowly pour the champagne onto the back of the spoon and into the flute. The champagne should float on top of the stout creating a layered drink.
Repeat with the remaining champagne.
Pomegranate and Rosemary White Sangria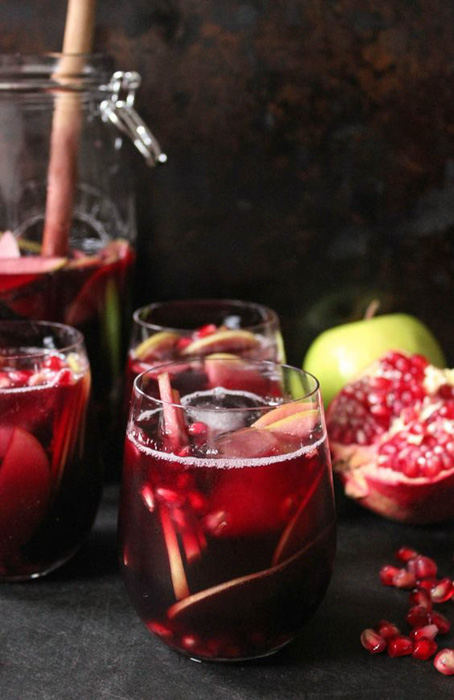 Technically not a sparkling wine cocktail but a festive and easy wine based cocktail to have on hand for the holidays!
Photo via Pinterest
Ingredients
1 bottle of dry white wine
3/4 cup pomegranate arils
4 springs of fresh rosemary
1/4 cup simple syrup
the juice from 1 lemon
the juice from 1 orange
1/3 cup Triple Sec  
Directions
In a large glass pitcher mix everything together.
Refrigerate for 24 hours.
Serve over ice.
Looking to serve a large crowd? Head here for my festive punch recipe perfect for right now!
You can also follow me on Facebook, Instagram and Pinterest 
Thanks for stopping by!
L, M