#denimskirt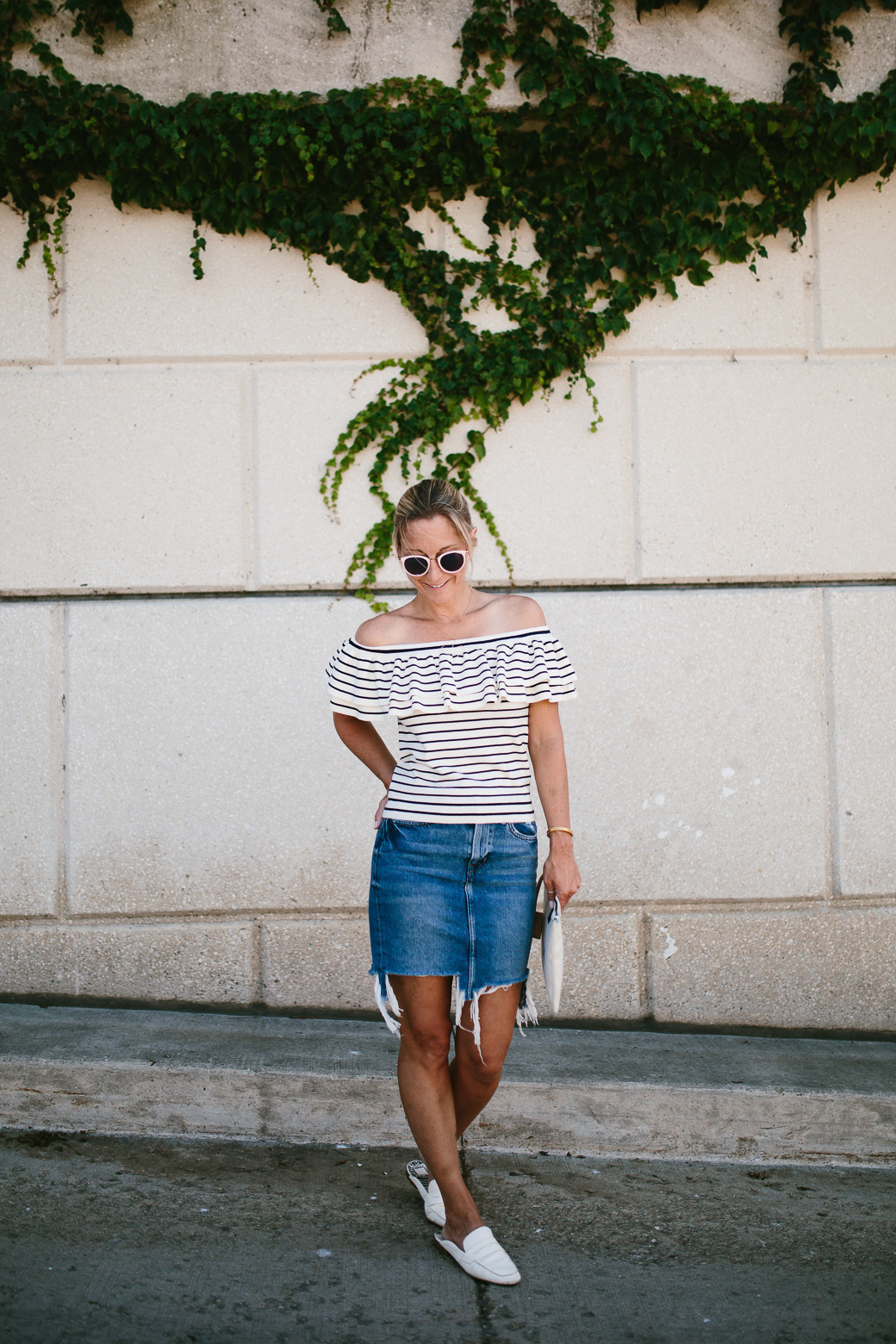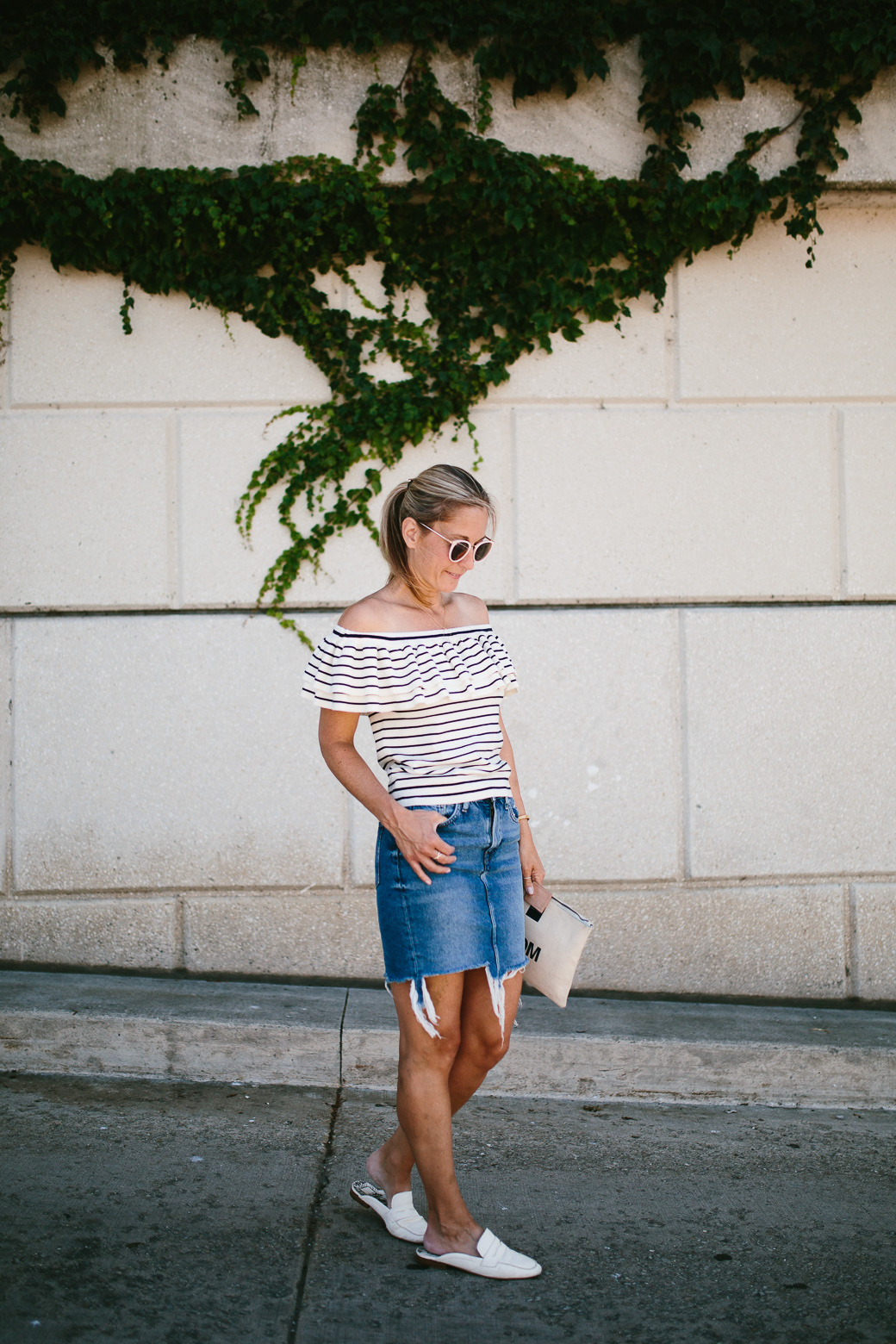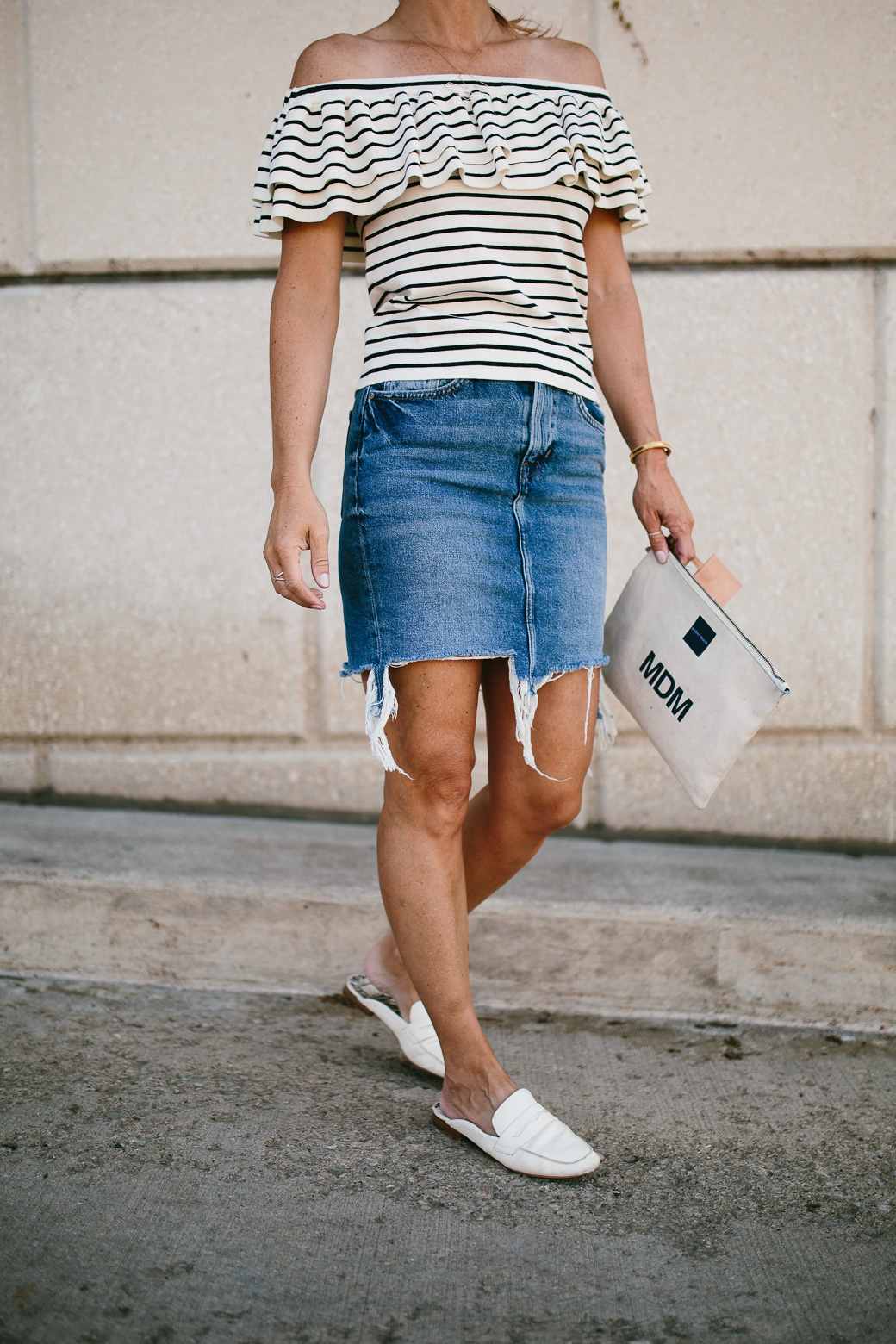 With no particular reason, I do not often find myself gravitating towards wearing skirts. They have never really been a go-to wardrobe item for me. Throw in the the thought of a denim skirt? My mind immediately goes to wearing them during my grade school days. Long story short, I never imagined wearing a denim skirt in my adult life. Yet you cannot ignore the fact that denim skirts are a style trend right now!
Style Trend: Denim Skirt + 3 Things On My Mind!
I will point out though that just because a trend is everywhere, does not always mean you have to embrace it! Meaning- I have ignored this trend for sometime! Yet as I was hitting up H&M for some basics a few weeks ago, this denim skirt (here) caught my eye! There it was lying in perfectly distressed splendor beckoning me in for a closer look. The length, the distressed hemline, the wash and high waist line gave me pause and I added it to my fitting room pile.
Ladies! It was love at first fit! This denim skirt felt chic, appropriate to wear beyond the school age years, and had just enough edge to make me happy! Sold! I love wearing it with a basic white tee and converse sneakers, (full look here) or feel completely pulled together with this OTS top, backless loafers and a clutch. The latter being a perfect outfit for perusing a farmer's market this fall with a straw bag in hand or a more lofty goal of wearing it while strolling the streets of Paris.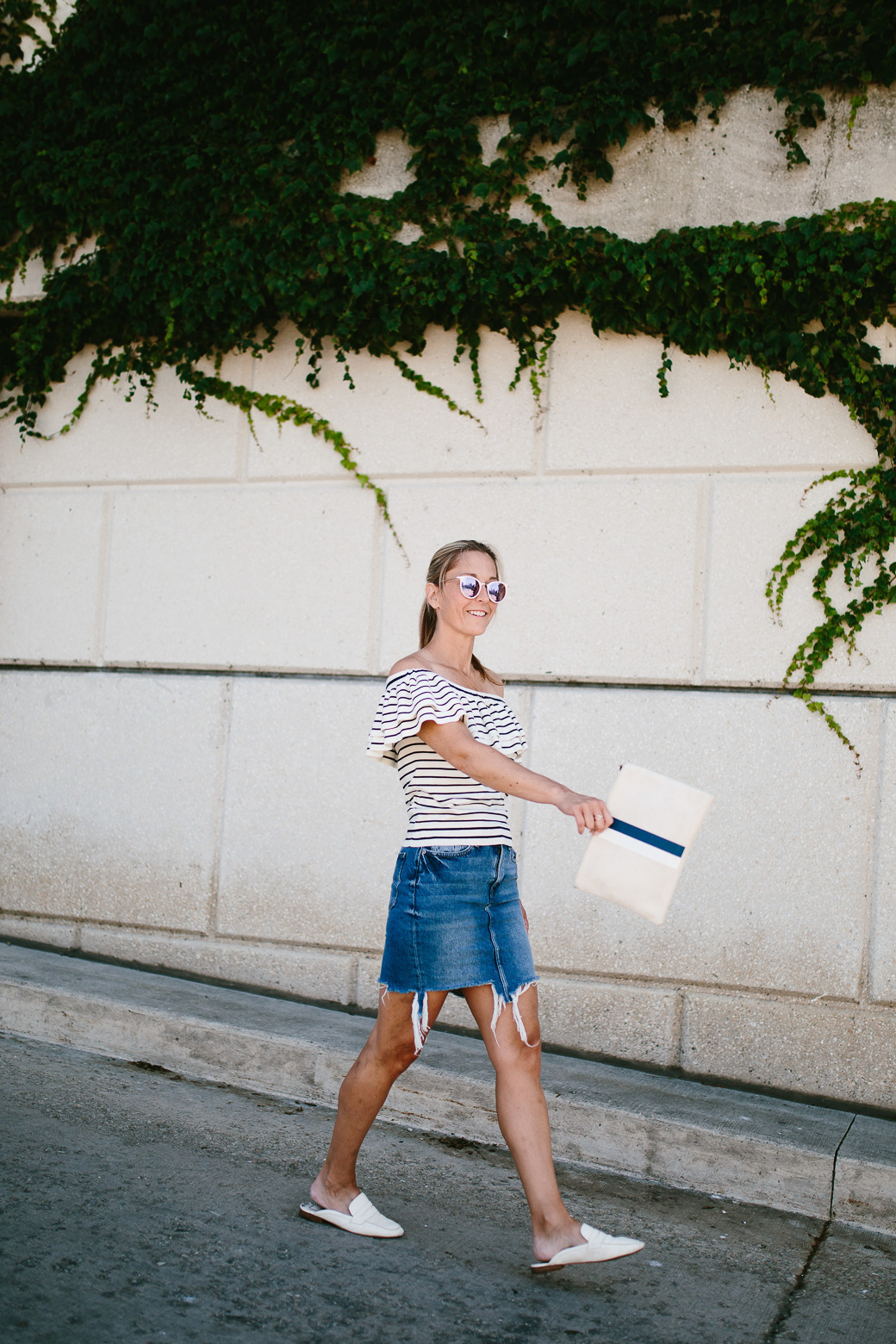 Skirt here (Size up. Wearing an 8)// OTS top here// Mules here// Clutch (tote version here)// Sunglasses here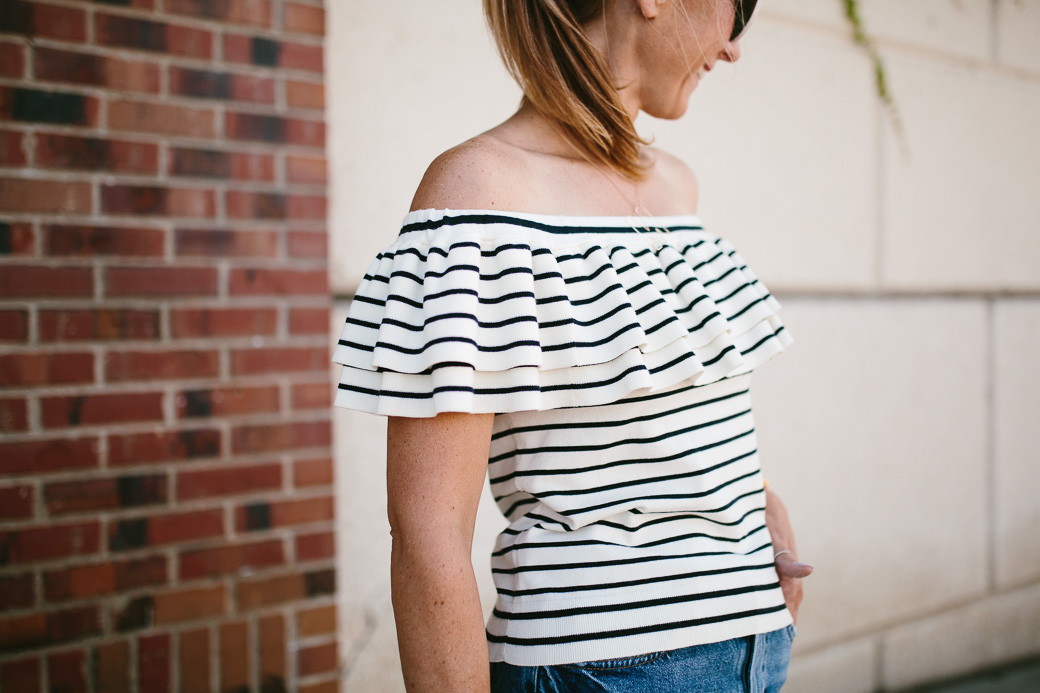 #ots
Just a little more about this OTS top as this is also an item not prevalent in my closet! Not being a huge fan of fussy clothes, I often find OTS tops to be just that-fussy! Yet once again, this item caught my eye. The fabric is so yummy! It's like putting on a comfy sweatshirt! It also does not need to be worn completely off the shoulder either but can rest on the shoulder as well. Win, win! I bought it at full price but it is now marked down and under $50 (here)!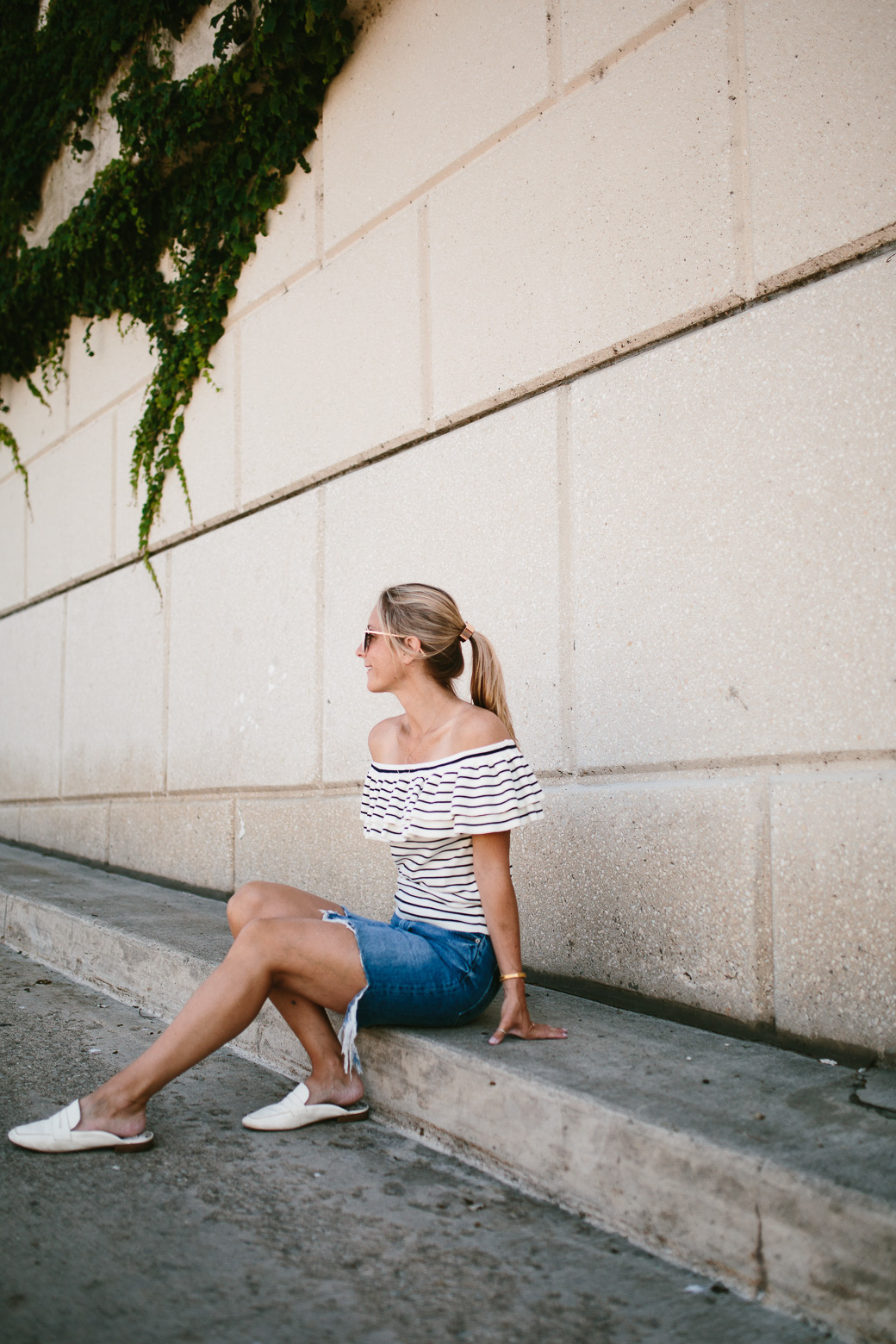 #threethings
#1
Some of you may have noticed (I hope!) that I did not post last week. For the first time since January, the blog took a week off from it's weekly post. School started back up in our household and I needed to be fully engaged in enjoying the last few days of summer with my kids. Plus, I procrastinated greatly in getting things ready for the start of the school year. I needed to play catch up! Oops! It felt good to be able to walk away from the blog for a week but I was also so happy to get back to posting today and have so much fun content coming your way this fall!
#2
Piggybacking off this, I am also thinking about moving my weekly post from Tuesday to Wednesday! With some holidays falling on Monday in the near future, I think we would all benefit from this move! Still expect posts to arrive in your inbox before 9:00 a.m. My Five Favorite Series will still come on the last day of each month.
#3
Finally, I wanted to update all of you on the Flat Belly Challenge I embarked on a month ago (post is here for those who missed it). To refresh, I chose to go completely dairy free, paraben product free and drink 40 oz of water every day in order to flatten my belly. I really did stick to this challenge for 30 days (with the exception of eating one giant cream puff). I am so happy to report that I noticed a big difference in my abdomen. Without being able to isolate one from the other, I really think giving up my daily, or twice daily, cappuccinos helped. I believe lactose has become an irritant for me and a major factor in abdomen swelling. Moving forward my belly will continue to avoid milk and most dairy. If I am craving a cappuccino, a nice alternative is coconut milk!
Thanks for stopping by!
You can also follow me on Facebook, Instagram and Pinterest 
L, M
Photos by Jules Kennedy
SaveSave
SaveSave
SaveSave
SaveSave
SaveSave
SaveSave
SaveSave