Summer Vacation Shoes
With summer vacations on the horizon, what to pack becomes an important question for most of us. Sure, our packing list varies from destination to destination but what we wear on our feet all day long usually has a consistent theme: they need to be comfortable for exploring! Yet I often find that style and comfort are not always compatible when it comes to finding a good pair of shoes for travel. I made it my goal then, to come up with a list of shoes for women that do not have to sacrifice style for comfort. A pair of shoes that you are excited to pack!
How to Choose the Best Travel Shoes For Your Summer Vacation
Destination
The destination we head to influences the type of comfortable shoes we need to pack. When traveling to a European city, it is easy to be singled out as an American if you are seen in an athletic shoe. In Europe, these are mainly worn for sporting activities only. Instead, consider a comfortable walking shoe.  Keep in mind that since you will be walking on many cobblestoned streets you are better off with a low-healed, closed-toed shoe. Also take into account that drainage is not the best in some countries, and flip-flops or a sandal can leave you open to some very unsanitary experiences! Often places of worship have dress codes that might forbid an open toed shoe as well!
If your summer travel takes you to cities like New York, LA or Toronto, then a super comfortable stylish sneaker is a great option! Heading to the National Parks means you will want to get fitted for a hiking shoe or a pair of hiking boots (do not forget to break them in well in advance!). For exploring coastal towns on the East or West coast, a comfortable sandal is ideal. If a beach destination is on your itinerary, forget the pair of $10 flip-flops. Instead invest in a substantial flip-flop with good foot bed support.
Landscapes
I know when planning for a summer vacation, your destination might involve a variety of different landscapes.  In turn, a few different pairs of comfortable shoes might be necessary for exploring each landscape. Take Italy for instance.  In Rome you will need a comfortable walking shoe to explore the city. In Cinque Terre or Tuscany, a pair of hiking shoes for the rugged landscape. And at the Amalifi coast, water shoes for the rocky beaches.
The Best Type of Summer Travel Shoes
Now more than ever, there are an abundance of shoe brands offering comfortable shoes for women. As mentioned though, it is a bit more of a challenge to find ones that are stylish. My list below is meant to accomplish both!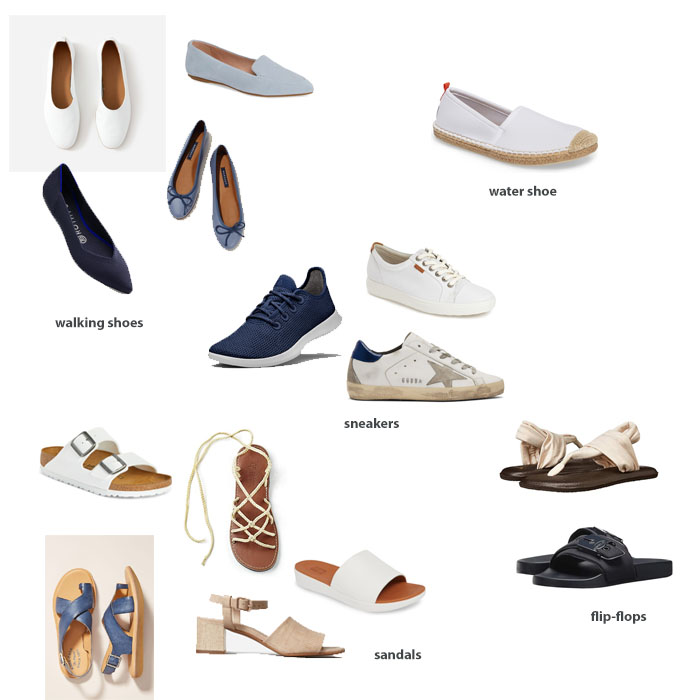 (Clink on underlined link below to be directed to product detail!)
Walking Shoes
If you are heading to Europe then this is your list! Each pair is versatile enough for day or night and comes with a ton of color options.
Everlane Day Glove Flat: Made with buttery, molds-to-your-foot leather, this flat pairs well with anything and is the perfect option to take you from day to night. They have durable rubber soles for slip-free grip and side vents to keep your feet from overheating.
Marguax The Demi Ballet Flat: Designed to be beautiful but engineered to be comfortable with 5 mm of plush foam padding, this shoe brand has a very dedicated following!
Rothy's The Point: There is no break in needed for their shoes! Megan Markle approved, the deep insole allows for all day comfort while the material is machine washing compatible!
Taryn Rose Faye Loafer: These elegant, pointed-toe flats may not look like a comfort shoe, but the generously cushioned, shock-absorbing footbeds will prove otherwise. Designed by an orthopedic surgeon, this pick from Taryn Rose's line of luxury comfort styles can easily be dressed up or down. And most of their suede color options are weatherproof!
Water Shoes
Water shoes are a must for navigating the rocky beaches of Europe but truly should be worn at just about any beach. They protect your feet from broken glass, sharp seashells and anything else littering the beach.
Sea Star Water Shoe: With quick drying neoprene fabric and a non skid sole, these water shoes take you from water to sand to the boardwalk for all day use!
Sneakers
There is a big difference between a sneaker and an athletic shoe. We now live in a time where an athletic shoe can simply be left for athletics. They are so many great options now in  comfortable street sneakers. They truly can become the most stylish part of your look while vacationing!
Allbirds Tree Sneaker: Allbirds' sneakers give you the best of both worlds with the feel of a slipper and the look of a stylish sneaker. Made from naturally derived tree material, this shoe is breathable, complete with a cooling effect to keep things breezy. The outsole's unique "S-curve" was designed to distribute your weight more naturally, making them equally as supportive as they are soft.
Ecco Soft 7 Sneaker: The plethora of positive reviews speak for themselves! These shoes deliver on arch support and comfort but I personally love the Scandinavian style!
Golden Goose Superstars: My favorite pair of sneakers on the planet! I got them for style but I wear them just about every day for comfort. Anything made out of natural material is going to provide more breathability. That is why these leather shoes comes with a heavy price tag but in my opinion, are worth every penny!
Sandals
While they may not be the first choice for exploring a European city, you still want a comfortable sandal for most summer vacations destinations!
Birkenstock: They have been around forever for a reason but it has taken awhile for Birkenstocks to make their way into mainstream style. With metallics, whites and bright colors as options, they are confidently fashionable now. It is hard to beat this shoe brand in foot bed comfort and arch support!
Everlane Block Heel Sandal: The only heel to make the list! Perfect for strolling in after a dinner out, this sandal is designed with a two-inch block heel and clean, minimalist lines. It pulls off all of the sophisticated style you'd expect from a designer shoe but with special attention to arch support and comfort!
FitFlops Sole Sandal: Confession. I have a friend who brought a pair of FitFlops on a girls trip to Miami and we mercilessly made fun of her. BUT they have since grown on me and this is the one style I love with its clean lines. Crafted with ergonomically friendly technology, the midsole provides cushioning with each step. Plus, they carry an American Podiatric Medical Association Seal of Acceptance.
Kork-Ease Canoe Slingback: Another nod to Scandinavian style but actually made in Brooklyn, highly quality craftsmanship goes hand in hand with comfort in this iconic brand!
Plaka Gladiator Sandal: The sister pair to these has over 4,000 positive reviews on Amazon but personally, I lean towards the gladiator style! It is hard to imagine these lace-ups win in comfort but reviews state that the sole is supportive and they can rack up miles of walking in comfort!
Flip-Flops
Rubber flip-flops may be affordable but they are terrible for your feet. With that said, finding comfortable, substantial and stylish flip-flops is no easy task! Yet when we hit the sand on vacation, most of look to a flip-flop. Only two brands made the list but I really love them both!
Sanuk Yoga Sling Two: The name holds true! This flip-flop is made with a yoga mat footbed providing supreme comfort for your foot. They are the ideal replacement to a standard flip-flop making them the perfect beach companion. There are so many color options and patterns to choose from too!
Dr. Scholl's Pool Slide: Not a flip-flop per se but a pool slide good for the beach none the less! I have these and love them! The contoured EVA footbed makes for comfortable wear and the oversized signature buckle adds retro stylish appeal.
You can also follow me on Facebook, Instagram and Pinterest 
Thanks for stopping by!
L, M