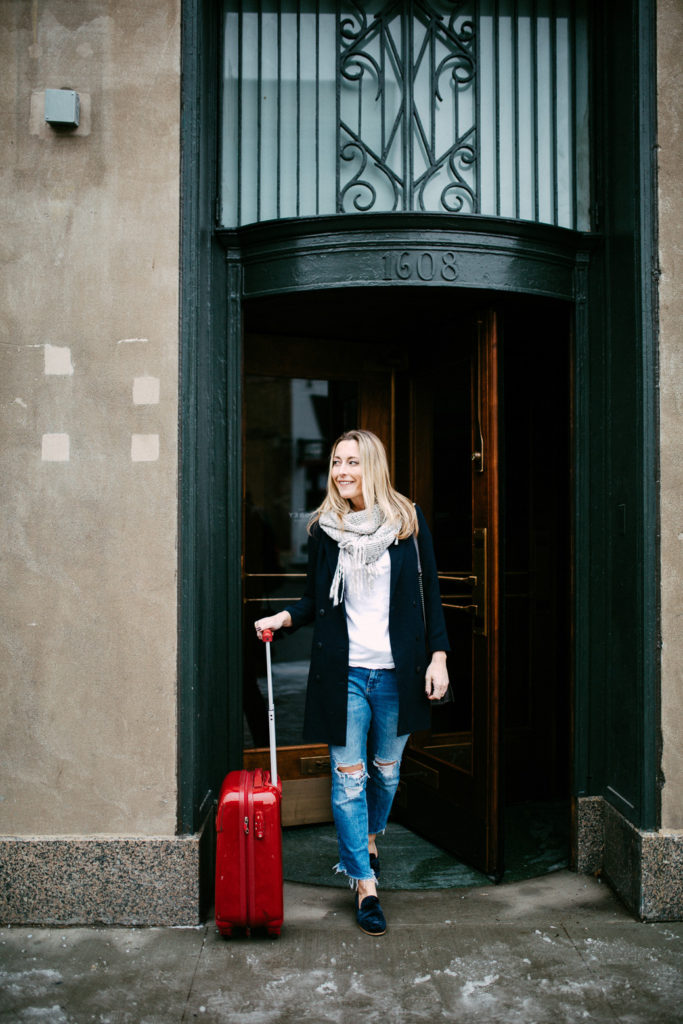 The key to packing efficiently is to think of your wardrobe as being a capsule. In other words, all your essential packing pieces should be able to mix and match and have the versatility to be worn day and night. Another key is sticking to a color scheme that should have neutrals as your base. Let's start thinking about this on a smaller scale (but more to come in this series!) by putting together a capsule for a weekend in the city.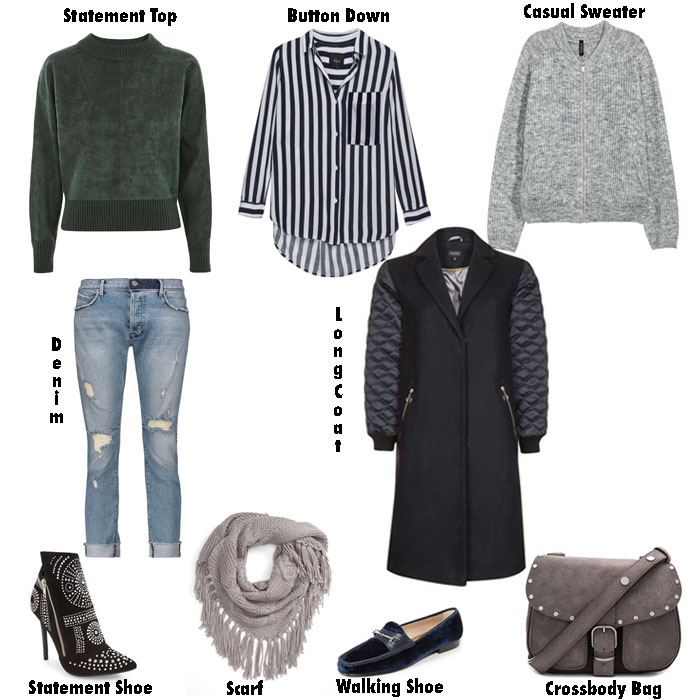 Packing List:
Statement Top: If you are heading to the city for the weekend, the highlight is usually going out to a fun restaurant for dinner! Absolutely pack a statement top that embraces a current trend like this velvet one!
Button Down: A button down can be worn on its own or layered underneath a sweater and is perfect for lunching and shopping or worn at night with statement shoes. Stripes are not only classic but a big trend for Spring.
Casual Sweater: If you are heading down to the hotel lobby for breakfast or need to add an extra layer over a button down or white tee, having a cozy yet stylish sweater is perfect for this.
White tee: (not shown) Perfect for lounging or layering. My new favorite line here.
Denim: A weekend staple! I think the boyfriend style is the most versatile being perfect for both day and night (always size down in a boyfriend style). Truthfully I would pack just two pairs adding a trendier denim like the one here that I am wearing below (limited on-line but also available in stores)
Long Coat: This time of year, having a longer coat shields from the chill and wind when out and about in the city. A reason I love this one so much is that it easily works for day and night!
Statement Shoe: Similar to the statement top, pack a great shoe that is on trend. I am currently having a love affair with anything embellished (these also would be great for taking to Nashville!)
Scarf: Besides keeping warm, a scarf makes any look more chic and the infinity style is always less fussy than a traditional one.
Walking Shoe: Of course, you already know my love for sneakers and that is absolutely an option, but I love the idea of a loafer too. These velvet ones are a nice update to a traditional one. The key here is comfort for walking around.
Crossbody Bag: The most comfortable style to be caring around all day and this one is good for carrying your necessities and a bottle of water. It is also transitions well into night.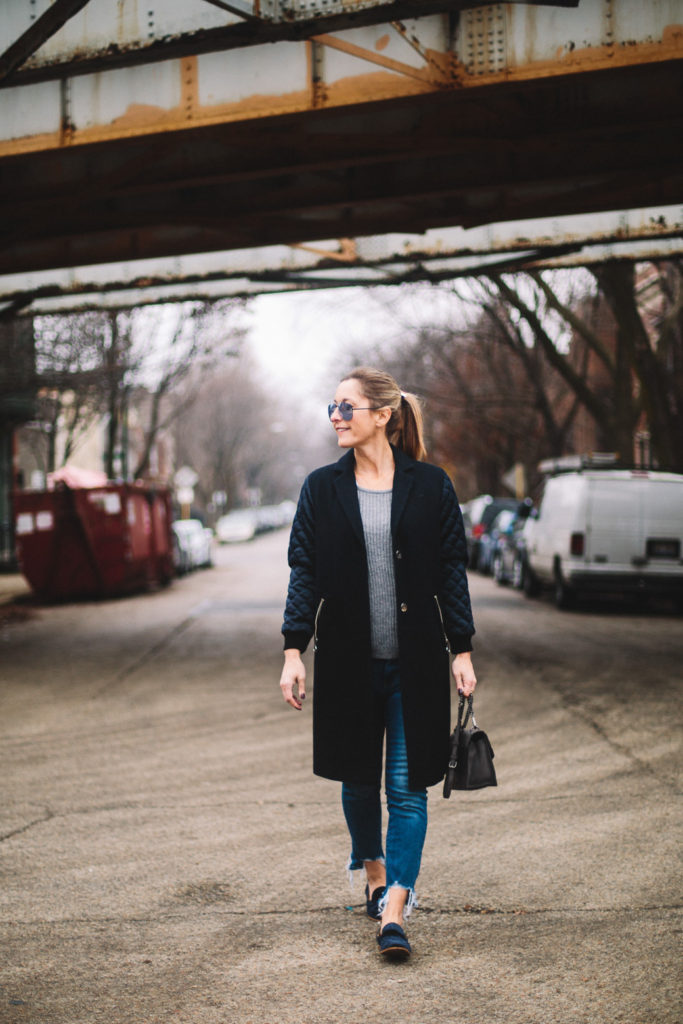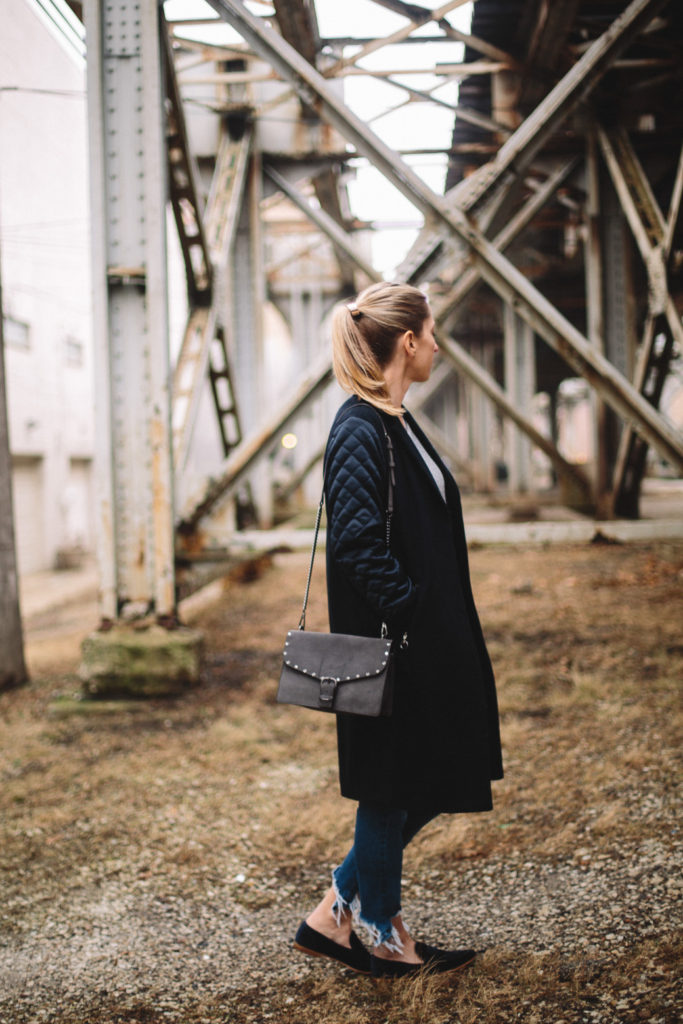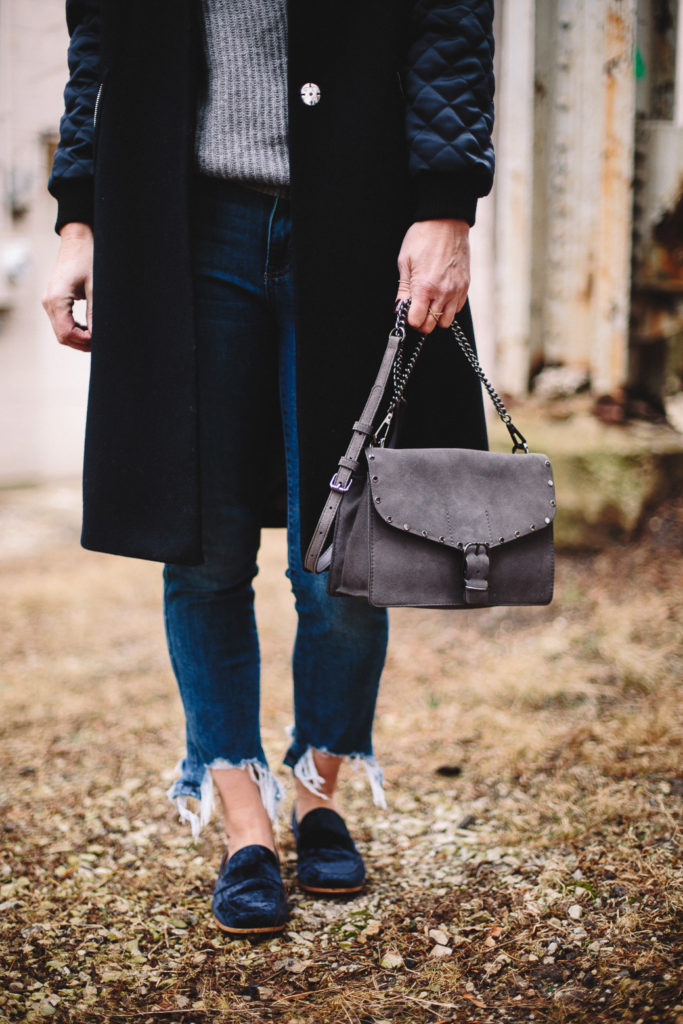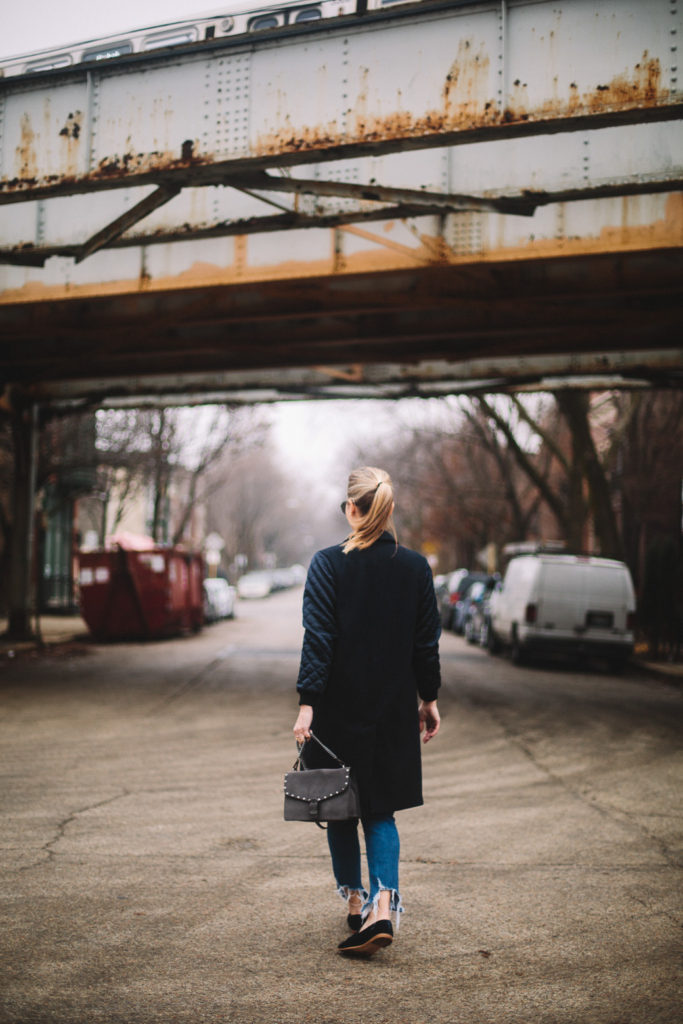 Shop the capsule:
Now that the packing is done, where should you go in the city? I have fallen in love with a new area in the city that still is within close proximity to Lincoln Park and the Gold Coast. Simply known as West Town, this area incorporates two Chicago neighborhoods-Bucktown and Wicker Park and right at the crossroads of these two neighborhoods, sits The Robey Hotel. Formerly known as the Northwest Tower, this art deco swoon of a building now houses 69 rooms, a cafe, a second floor lounge and bar area, a rooftop lounge (open all year!) and soon to be opened restaurant, Cabana Club, where a rooftop pool sits at their adjacent sister property, The Hollander. The hotel employees make you feel right at home with their warm hospitality in this urban, Americana setting. Their website is beautiful and goes into much more detail about the hotel itself and the surrounding neighborhood and where to go, but just to name a few of my favorites in the area, here you go:
Explore: the Victorian homes and tree lined streets of  Wicker Park (map here)
Cocktails: The Violet Hour
Dinner: Cafe Robey
Brunch: Mahalo
Coffee: Americano 2211
Sweets: Stan's Donuts
Shop: Penelope's
Visit: Myopic Books
Cafe Robey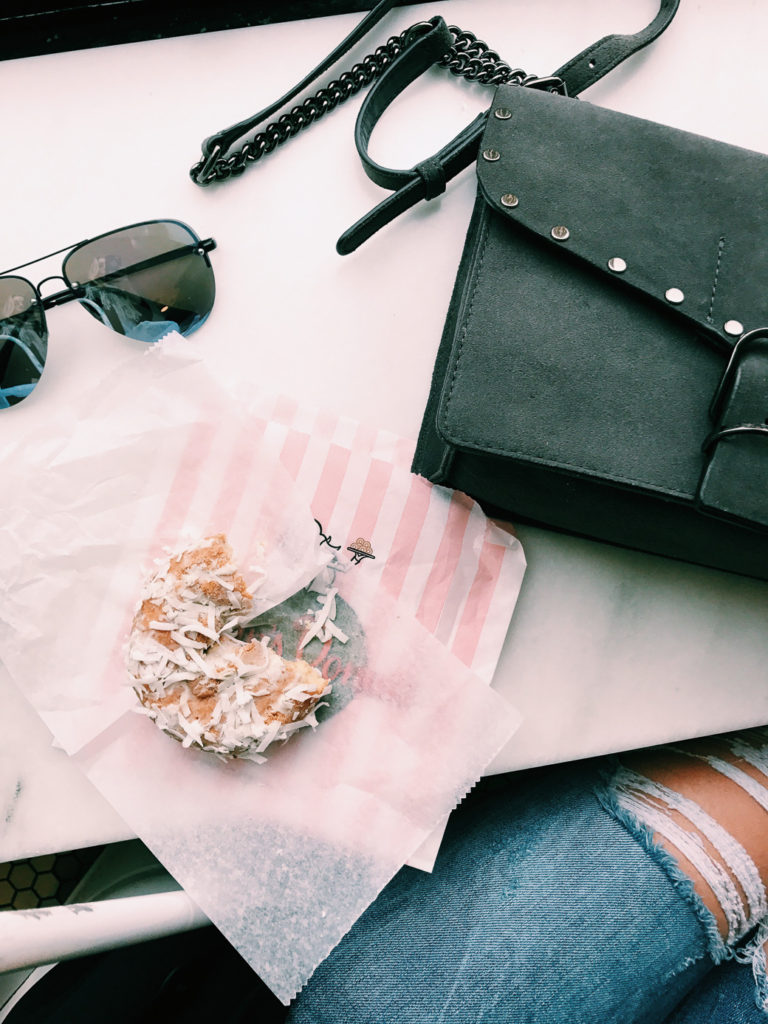 Stan's Donuts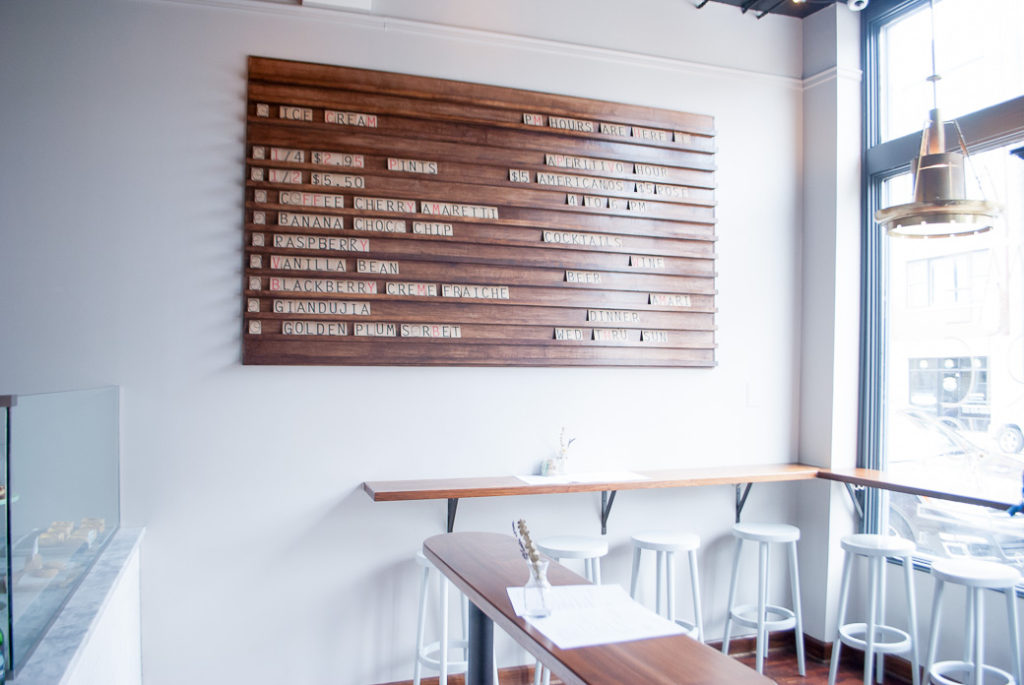 Americano
If you are spending a longer time in the city and are set out for more exploring, the Robey is within very close proximity of the subway (Blue Line) and also a straight shot down North Ave which puts you right in Lincoln Park and the Gold Coast.
Thanks for stopping by!
L, M
Outfit Photos: Jules Kennedy
SaveSave