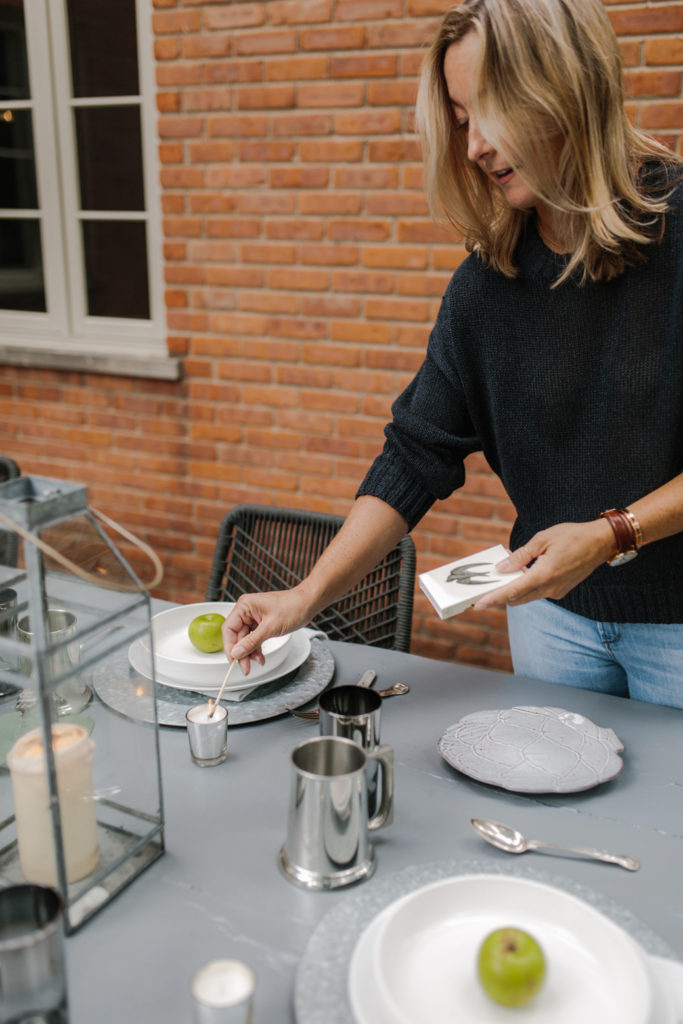 Small gatherings outside will still be a theme in our household during the fall and holiday seasons this year. To welcome these changing seasons at my dining room table, I love to incorporate seasonal decor with my everyday serving and dining pieces. I also like to think a little outside the box when it comes to my fall table settings. Yes, the fall colors of pumpkins and gourds are a classic way to dress up a fall tablescape but they may not be your first choice, especially if your everyday china or serving pieces are blue and white, shades of pink, or heavily patterned. Instead, I like to think about what other fall fruits and flower arrangements can be incorporated into my table decor this time of year. So I thought I would share other simple decorating ideas perfect for a fall gathering at your dining room table!
Table Settings for Fall Entertaining
As I have mentioned before, my everyday china is white and I love it because it gives me unlimited flexibility when it comes to setting my table from season to season. I also love to shop around my cabinets for other pieces to use right now too. Heavier glassware such as stein mugs, rustic silver chargers and my good silver (I always love to mix high and low!) are other good pieces to bring out this time of year. With a white palette and heavier texture as my foundation, I start thinking how to best incorporate fall offerings into my tablescape.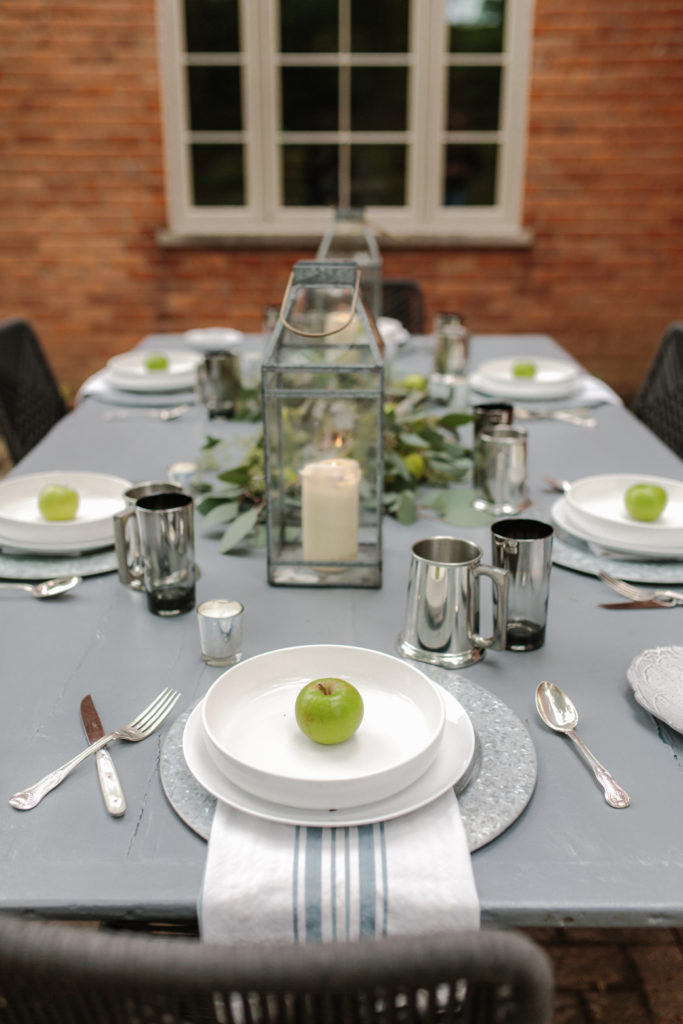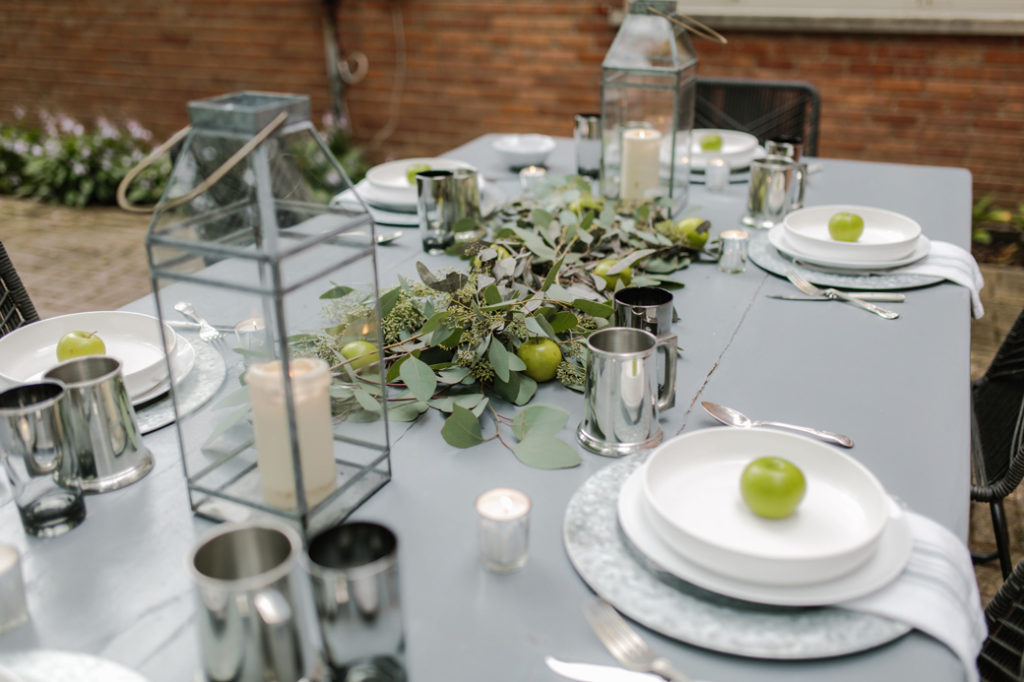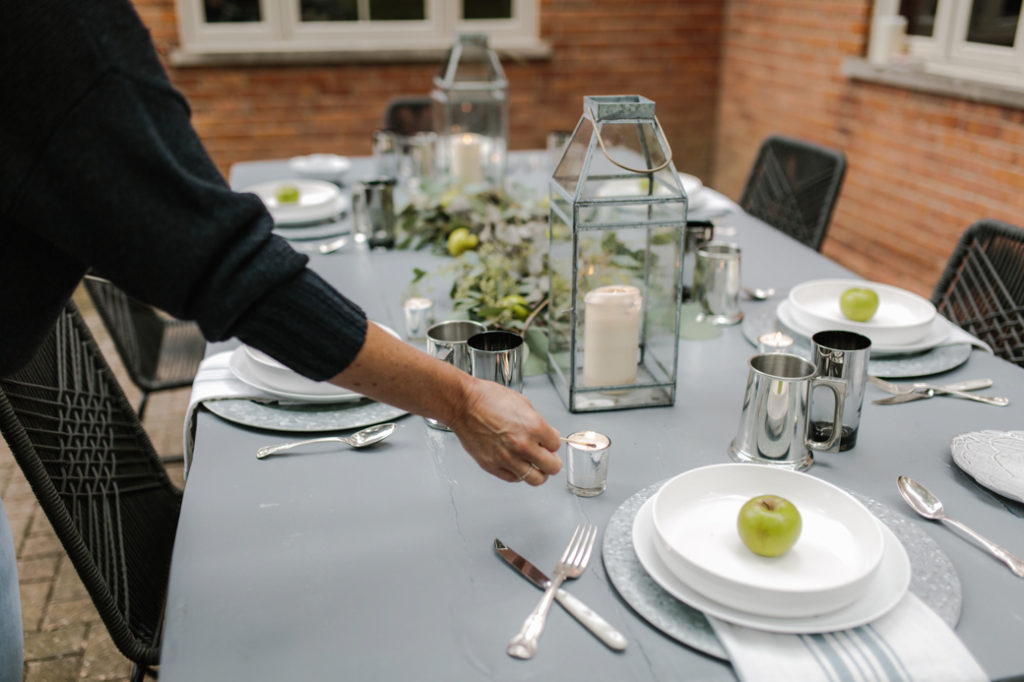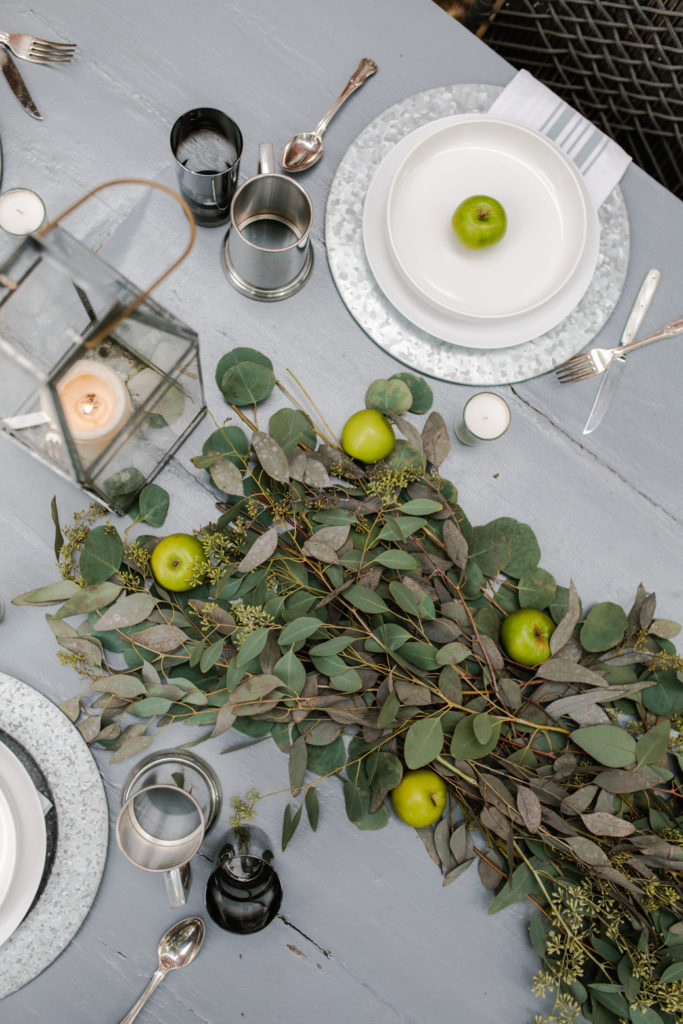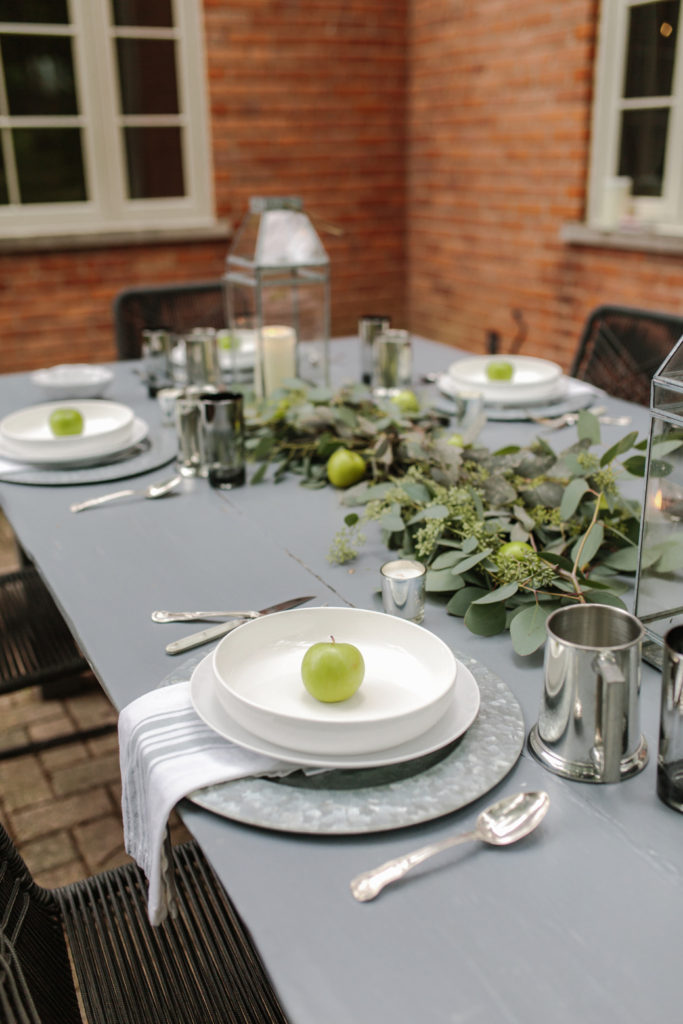 Best Fall Table Decorations
Fall Fruits
If there is one fruit that sticks out the most during fall, it is apples. I think they are perfect for a fall tablescape. Whether they are in shades of green, red or yellow, they provide a rustic country living element that play well off the silver chargers. I think Joanna Gaines would agree! Set an apple on each individual white plate setting, scatter them across the table, fill a couple of bowls with them and put them in the center of the table! Pears would be another great fall fruit option here!
White Pumpkins
If orange pumpkins do not work well into your tablescape, then how about white pumpkins? I love the unexpected idea of an all white fall table this time of year! Similar to apples, small white pumpkins can be scattered across the table, placed at each setting, tossed into bowls or incorporated into floral arrangements. Instead of a floral centerpiece, how about various sized white pumpkins arranged in the center of the table?
Candles
Beautifully lit candles set against the orange and red hues of a fall sunset creates a breathtaking atmosphere. Once the sun sets, a candle illuminated table continues to provide atmosphere and plenty of light to keep the party going! Mixing an assortment of styles, colors and sizes helps set the mood. White pillar candles always work and come in a nice assortment of sizes for mixing it up. Pillar candles coupled with tea light candles scattered across the table is one of my favorite uses of candles at a table setting!
Fall Florals
As we move away from the bounty of summer florals, I love (as most of you know) to incorporate seeded eucalyptus into a centerpiece for my holiday tables. Always in season and plentiful at your local Trader Joe's, seeded eucalyptus smells wonderful, is easy to work with and drys out beautifully. Layer branches in the center of your table, alternating direction each time. Layer seasonal fruit on top and scatter votive candles throughout. An easy but gorgeous way to dress up your table!
Another idea for floral arrangements in the fall is to utilize the dry grasses and flowers found abundantly outdoors. The fall colors of marigold, deep reds, brown and purple are vibrant additions to your tablescape. Use a variety of vases (styles and sizes) and fill with fall florals then scatter around your table and place at each table setting!
Products Featured

You can also follow me on Facebook, Instagram and Pinterest 
Thanks for stopping by!
L, M