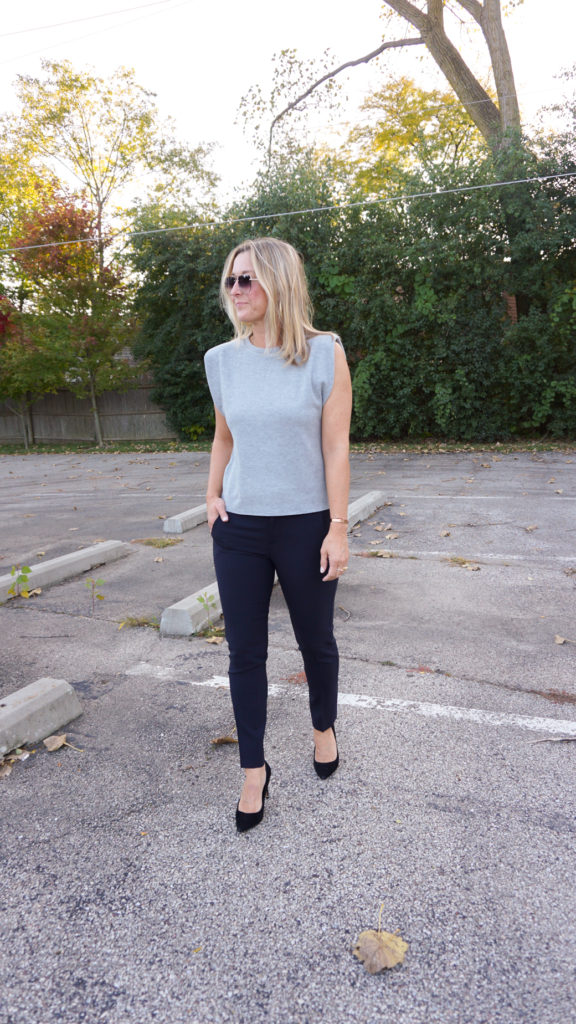 Top Zara in store // Pants (black) here (mine are navy) // Pumps here // Sunglasses here // Belt vintage
Keeping up with trends is not my style focus. Investing and dressing in key staple pieces that makes getting dressed easy every day is more where I like to be. However, each season does present itself with new styles, patterns and cuts that emerge onto the fashion scene. And often times, some of these trending pieces can help elevate our key pieces. As I just finished swapping out my summer closet to my fall closet, I realized I wanted to add a few things that were trending. A few fun things that can easily be paired with my wardrobe staples.
Fall Trends That Everyone Can Wear
If you type in your search engine bar "Fall Trends for 2020" these are the words that pop up: metallics, sequins, fringe, faux leather, prep, plaid. Can't say metallics and sequins are going to be making their way into my closet at this stage of the game! But I am definitely on board with fringe and plaid! In terms of cuts, the "muscle tee" is a big standout as are "shackets". God these words sound awful (yet more on this below)!
In shoes, the lug sole is still making a strong showing. Time to break out those combat boots again! However, you will see the lug sole trending all the way down to an everyday loafer. Another trend from top to bottom? Faux fur. I have had my faux fur jacket for a couple of years now but faux fur sandals are all the rage right now too! Finally, the puff sleeve top or dress is a trending statement piece!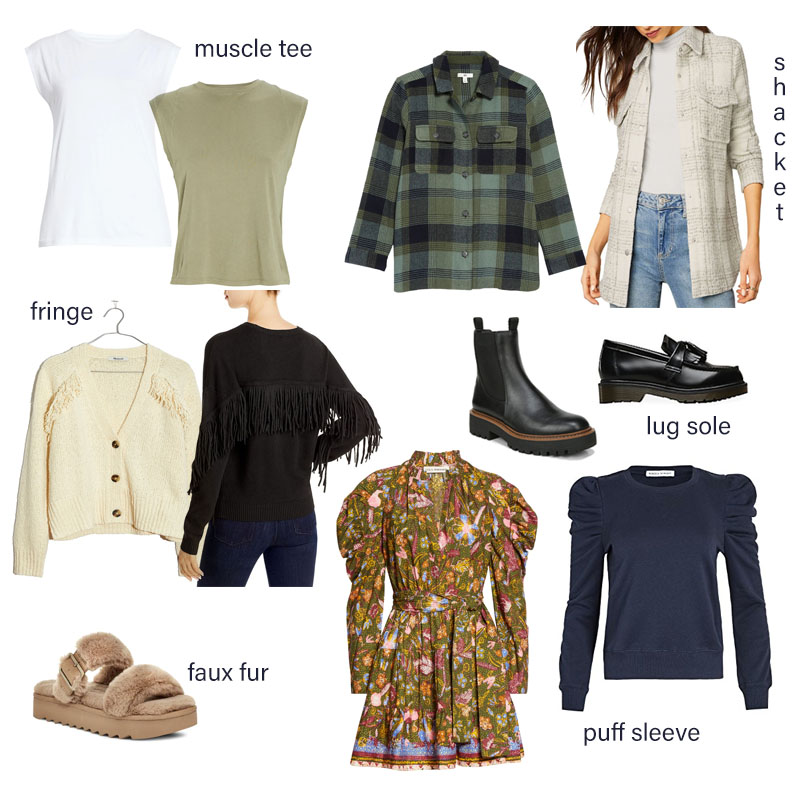 Muscle tee here and here // Shacket here and here // Fringe sweater here and here // Lug sole here and here // Faux fur sandal here // Puff sleeve dress here and top here 
Muscle Tee
It took me a moment to like the idea of a muscle tee! But it really is a simple yet striking way to refresh your tees this season. It is easy to incorporate into an everyday look but also a standout piece in the evening. Tuck one into a slim pair of pants or simply wear with denim. For more of a visual impact, try one with shoulder pads!

Shackets
A shirt jacket hybrid, dubbed the "shacket",  this piece is essentially a slightly oversized shirt-jacket which makes for the perfect layering piece! Thicker then your average shirt but lighter then a coat, you can layer them over a turtleneck or underneath a cape or vest. This style really suits everyone! I love them worn unbuttoned, paired with a layering tee, denim and a lug shoe or rain boot!

Fringe
Western inspired wear was a major theme on the virtual runways this season. And from this emerged fringe as one of this season's key motifs. It's not necessarily about layers upon layers of fringe on a coat or a bag. It is a more of a subtle use of fringe on a hemline or as an accent on a sweater!

Lug Sole
The combat boot still reigns supreme. Here is how how I style mine! But the lug sole is making its way to your everyday loafer. With non-skinny denim styles trending, the weightier look of a lug sole loafer is perfect to wear with your straight leg denim for fall. I just ordered these here!

Faux Fur
We have been adding it to jackets, blankets, pillows, slippers and inside of boots but now the Birkenstock inspired sandal is getting adorned with fur! Who doesn't want to keep their slippers on all day! This is the next best thing!

The Puff Sleeve
A nod to equestrian chic style, high neck and puff sleeve blouses and dresses are making a strong showing this season! A statement blouse is an impactful way to dress up jeans or a slim pant while a puff sleeve dress paired with high boots is an ultra chic look for the season!

You can also follow me on Facebook, Instagram and Pinterest 
Thanks for stopping by!
L, M