There has been a theme lately on the blog! Yep. It has everything to do with Spring Break! And since we are heading on a very long airplane ride in just nine days (and counting!), I thought I would share my go-to outfit when traveling to a warm destination.
I think we all have noticed that airline travel attire has definitely become more casual over the years. I remember always dressing up to go on an airplane as a child. The thought of wearing oversized sweatshirts and leggings was unheard of! Yet, more often then not, passengers want to be comfortable when traveling. The same goes for me . . . to a certain extent.  As a pilot's wife and often traveling on my husband's airline, I do not have the choice to roll on an airplane in my pajamas or something of the like! As comforting as that sounds, I truthfully don't think I ever would given the choice. So in today's post I want to share how I manage to be put together and comfortable at the same time when traveling!
Series-Outfit of the Day-Travel Attire Outfit and Tips
Travel Attire: Outfit & Tips
Basics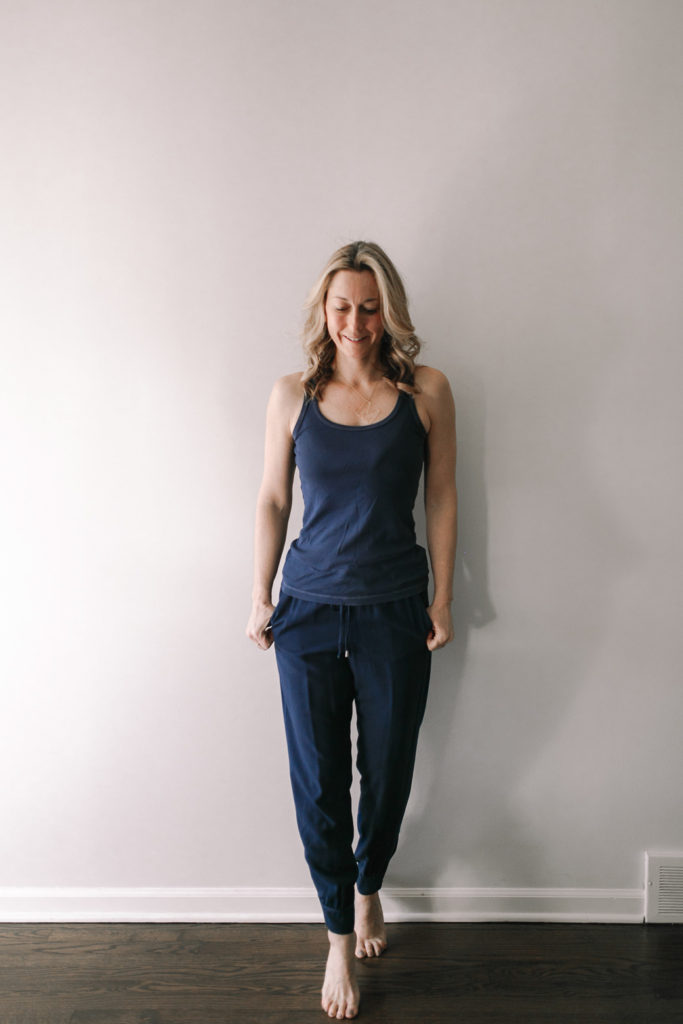 An initial must when choosing a travel attire is to find loose fitting clothes. Anytime I head out on a flight longer than two hours, I try to avoid wearing fitted denim. Obviously comfort plays a part here but more importantly, loose fitting clothing allows for better circulation and decreases your chance for blood clots-a higher risk when flying. One of my favorite travel go-to's then are these rayon joggers from Splendid. With gold details on the waist ties and side ankle zippers plus a silk like look, these joggers definitely give off a dressier vibe. (I have worn these with gold strap sandals and a dressy top too!).
Another must is wearing fabric that breathes well. Choose fabrics that allow air and moisture to pass through such as cotton, silk and linen. I am once again featuring a basic cotton top from Splendid, their 1X1 tank. I love having a tank as my base layer, especially when heading to a warm destination. No matter how much you layer on, you can easily peal it off and have this tank as your sole top for when the warmer temps hit upon landing!
Layering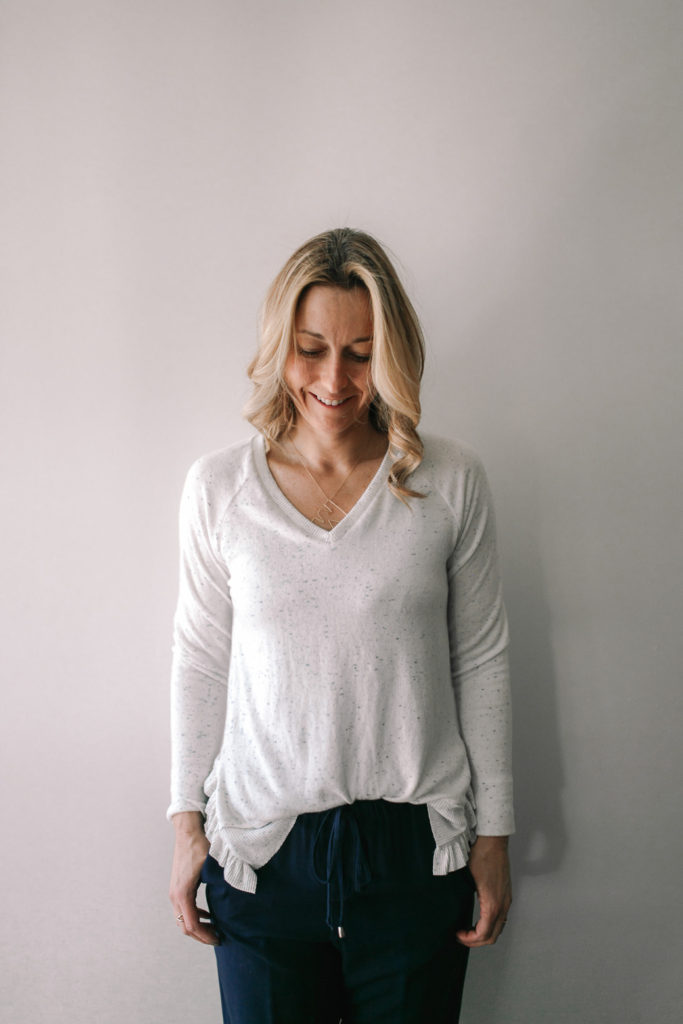 Temperatures can fluctuate so much on an airplane! More often then not, I find myself cold and in need of a cozy top layer. I love this top from Anthroplogie. It is perfect to travel with! Loose fitting, soft and with the cutest ruffle detail, it is definitely a style upgrade from a traditional sweatshirt.
Accessorizing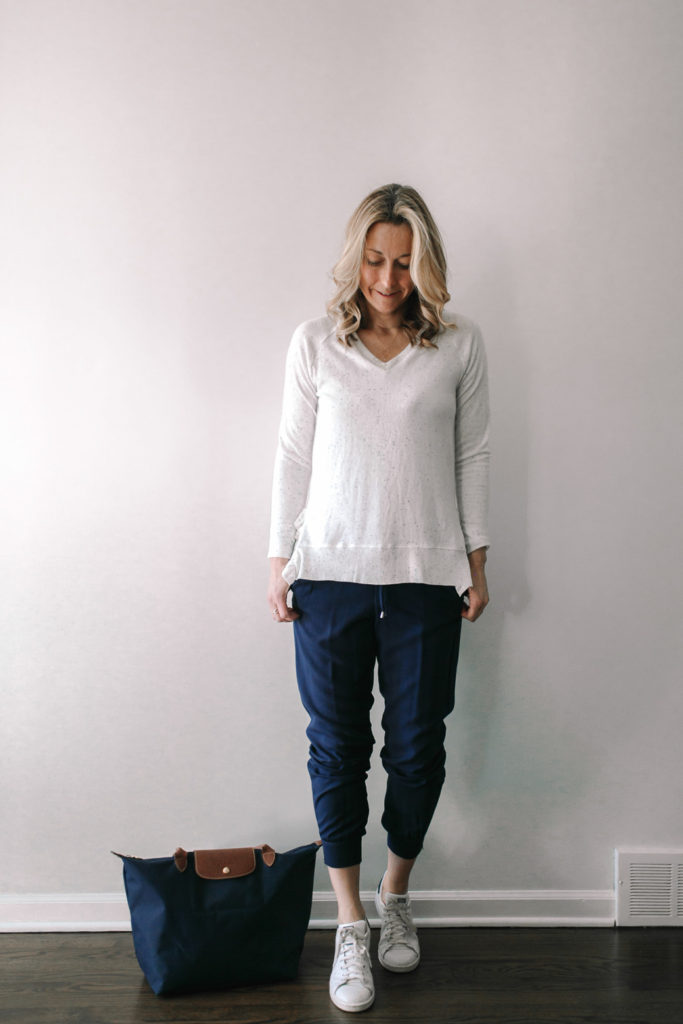 A good carry-on bag is a must! This is not my bag's first appearance on the blog! It is consistently one of may favorites and I rarely travel without this Longchamp tote. Made of nylon, this fabric makes for easy clean-up on any dirt or spills. What I also love about it is the fact that it easily folds into a compact pouch. Meaning that even if you do not use it as a travel bag, it is perfect to pack as an extra bag when on vacation.
Obviously these sneakers have made an appearance before as well! I cannot imagine wearing anything else other than sneakers when traveling. Besides being uber comfortable when hustling around the airport, they are easy to slip on and off though airport security. A street style version is a must for me. I helps makes the outfit feel more pulled together than a traditional gym shoe would. I wear these no-show socks with them that serve nicely as a fitted slipper if you take your shoes off when flying.
Mood Board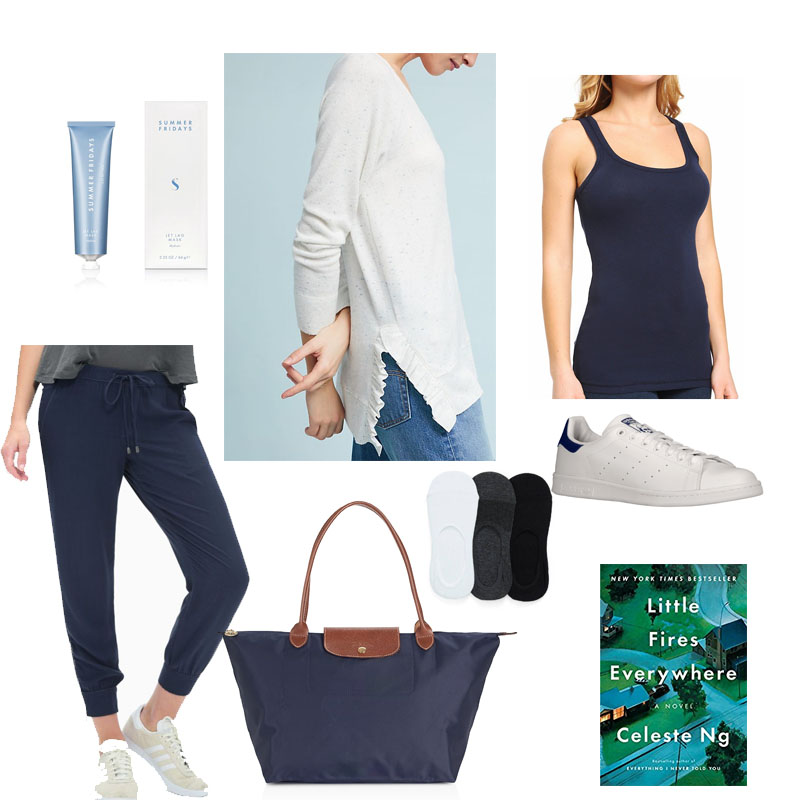 Jet Lag Mask // Pullover // Navy Tank (comes in white and black too) // Sneakers // Socks // Book // Tote (other colors available) // Joggers (other colors available)
Two other travel items I wanted to share with you are my current read and a new beauty mask that just launched. If you are in need of a great vacation book then I highly recommend "Little Fires Everywhere". Entertaining and suspenseful but rooted with issues on motherhood, race, class privilege and teenage angst, it is a fantastic read!
Another item I need to mention is the launch of Summer Friday's Jet Lag Mask. Summer Fridays is a beauty line just launched by beauty blogger guru, Marianne Hewitt. I have been following her for some time and she has easily become one of my go-to beauty experts. She has tried just about every single product on the market and I trust her implicitly. I just ordered her jet lag mask from Sephora and cannot wait to try it! It is perfect for post-travel skin hydration!  For those who already have gotten their hands on it, the reviews are outstanding!
Never Without Navy is also on Facebook, Instagram and Pinterest 
Thanks for stopping by!
L, M
SaveSave