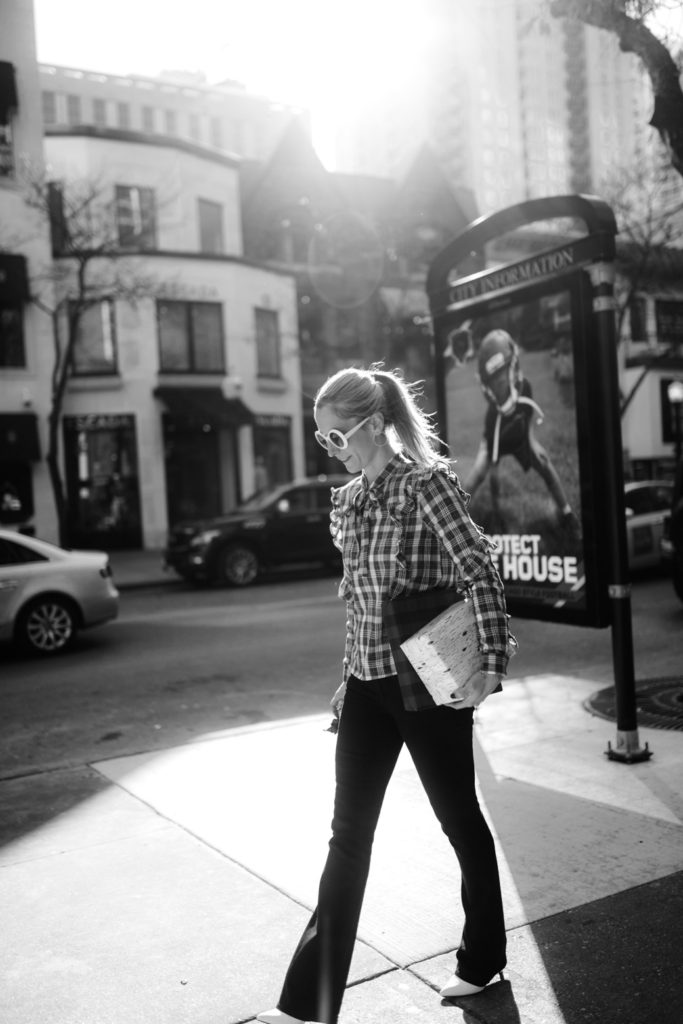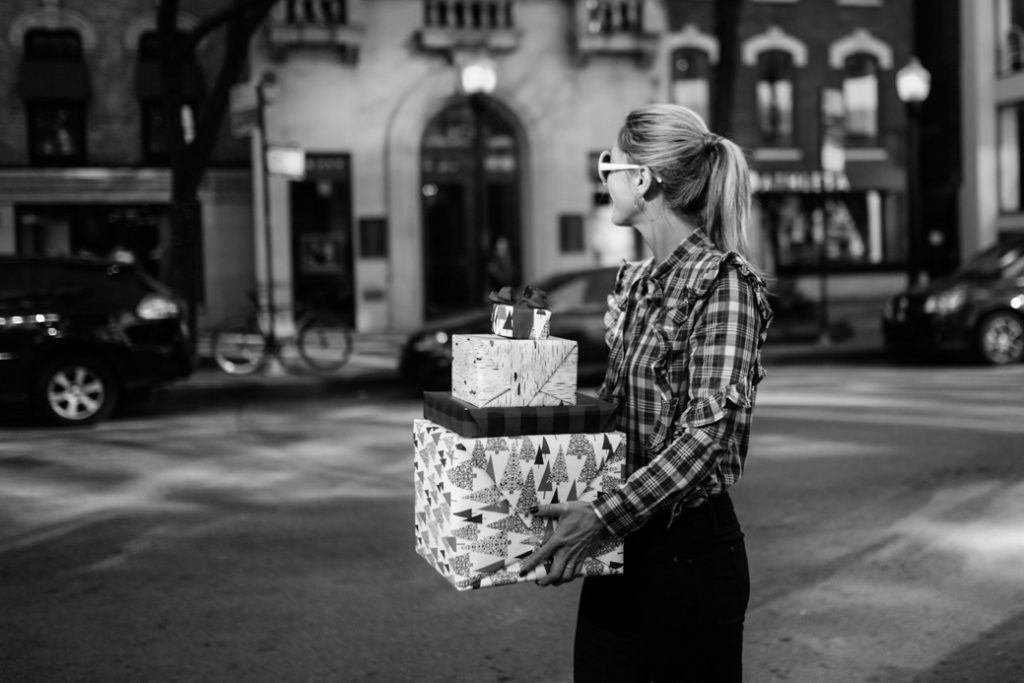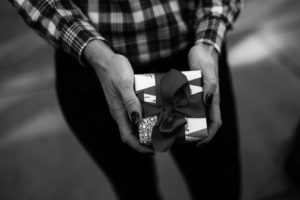 So I am going to be doing things a little differently this year. Instead of popping into your inbox once a week this holiday season with a gift guide, I have gone ahead and created one post for all things gifting this season. I hope you find it a useful resource to come back to again and again as you check your gift needs off your list! I will continue to update it as best as I can as things sell out etc.! There is a gift guide for Him, Her, Hostess, Stocking  and last year's most popular, Teen! There is also a section on holiday discounts and sales happening throughout the season that I will continue to update as well!
If you find yourself running across a gift idea that excites you let me know as I would love to include it!
It is the most wonderful time of year! Happy shopping everyone!
(*denotes special discount code or personal favorite!)
Holiday Shopping Gift Guide
Hostess Gifts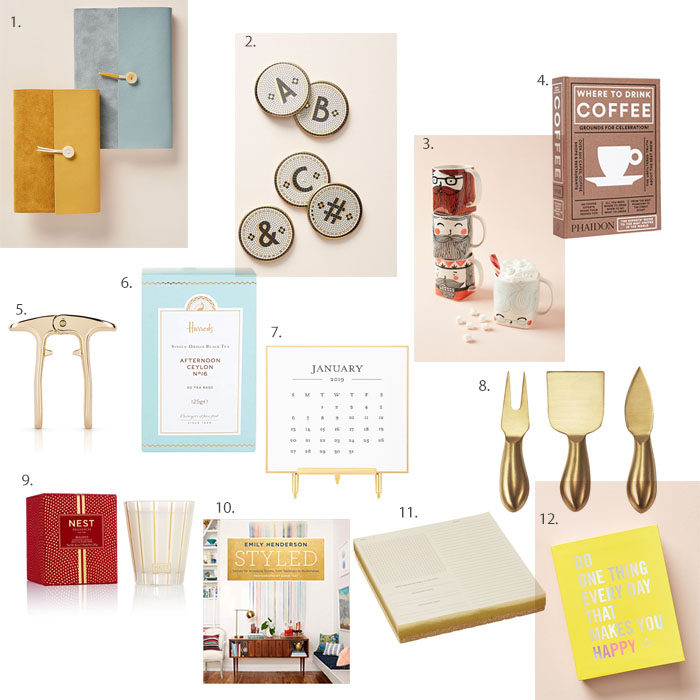 Journal 2. Tile Letter Coasters 3. Santa Mugs 4. *"Where to Drink Coffee" Book 5. Champagne Puller 6. Harrods London Tea 7. Desk Calendar 8. Cheese Knife Set 9. NEST Holiday Candle 10. "Styled" Book 11. Daily Notepad 12. *"Do One Thing Every Day That Makes You Happy" Book
Stocking Stuffers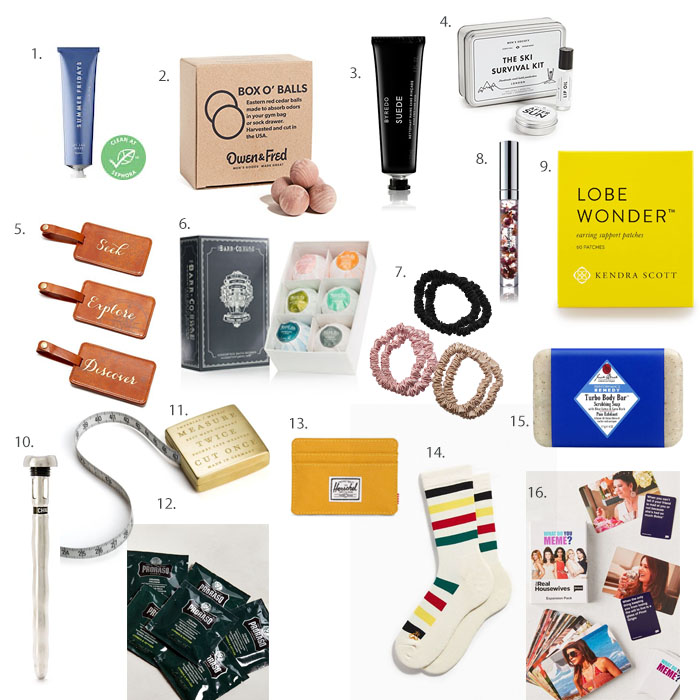 *Jet Lag Mask 2. Air Freshener Balls 3. Luxury Hand Sanitizer 4. The Ski Survival Kit 5. Luggage Tags 6. Bath/Shower Bombs 7. Silk Scrunchies (let the younger generation embrace these!) 8. Lip Infusion 9. Lobe Wonders 10. Beer Chiller 11. Tape Measure 12. Cologne Wipes 13. Credit Card Holder 14. Pendleton Socks 15. Turbo Body Bar 16. Real Housewives Meme Game
Gift Guide for Him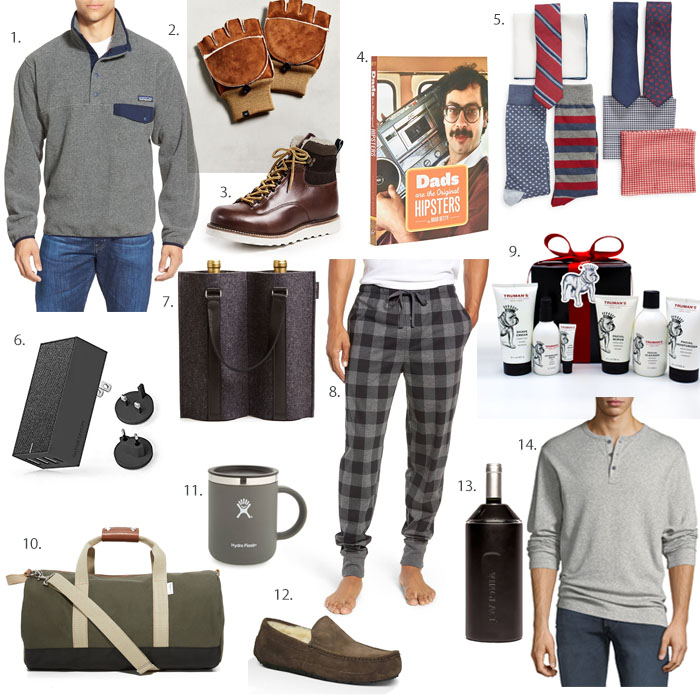 Patagonia Pullover 2. Sherpa Gloves 3. Leather Boots 4. "Dads Are the Original Hipsters" Book 5. Tie Bar Style Box 6. International Portable Power Charger 7. Duo Wine Carrier 8. Lounge Pants *9. Truman's Gentleman's Groomers (use code: NAVY10 for 10% off) 10. Duffle Bag 11. Hydro-Flask Coffee Mug 12. UGG Slippers *13. Wine Chiller 14. Pullover Henley
Gift Guide for Her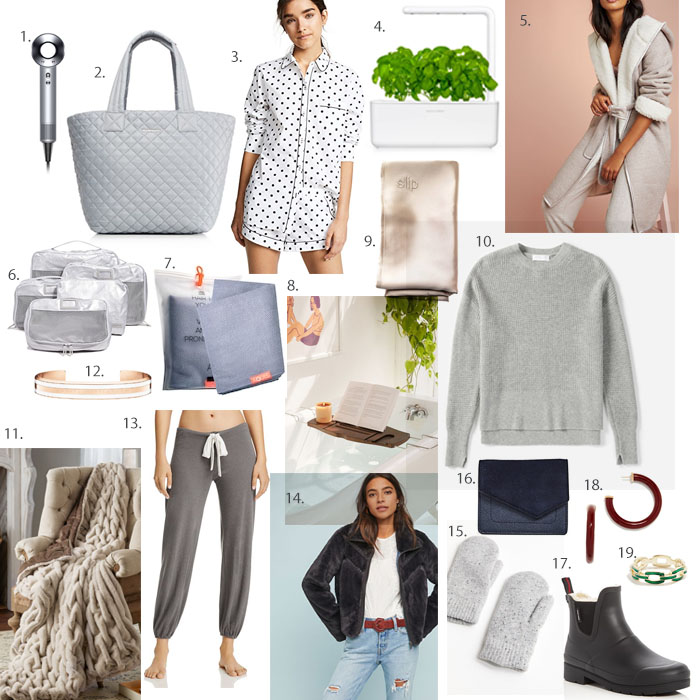 Dyson Hairdryer 2. *MZ Wallace Tote (so good for traveling!)3. PJ set 4. Indoor Garden 5. Robe 6. Travel Packing Cube  7. *Fast Drying Hair Towel (I have been using this for years!) 8. Bath Caddy 9. Silk Pillowcase 10. Cashmere Sweater 11. Faux Fur Throw 12.Daniel Wellington Cuff (15 % off code: MEGAN2018) 13. Lounge Pants 14. Faux Fur Jacket 15. Chenille Lined Mittens 16. Mini Wallet 17. Faux Fur Lined Rain Boot 18. Hoop Earrings 19. Enamel Ring
Gift Guide for the Teen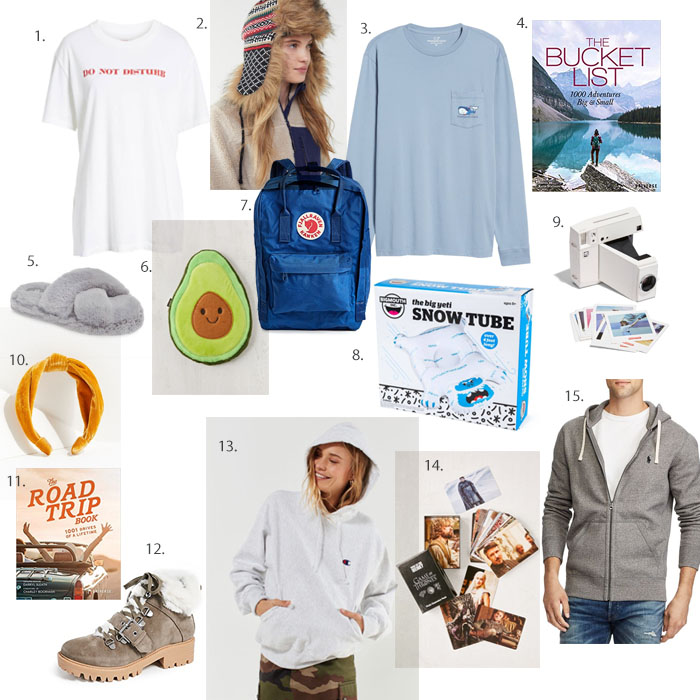 "Do Not Disturb" Tee 2. Fair Isle Hat 3. Vineyard Vines L/S Tee 4. *"The Bucket List" Book 5. Faux Fur Slippers 6. Avocado Cooling +Heating Pad 7. Fjallraven Kanken Backpack 8. Snow Tube 9. Lomography Lomo'Instant Square Glass Black Edition Instant Camera 10. *Headband 11. "The Road Trip" Book 12. *Shearling Combat Boot 13. Champion Hoodie 14. Game of Thrones Meme Game 15. Polo Fleece Zip Hoodie
Your List of Current Holiday Deals
Aerie: 35-50% off Aerie Collection. Best sweaters on sale here and  LOVE this sweatshirt with pockets!
Anthropologie: 30% off all dresses and accessories plus free shipping over $50.  This dress!
Banana Republic: 40% off no code needed. Plus today extra 10% off
J Crew: 50% off your purchase today. Use code: WEDNESDAY. Love all their plaid here!
Levis's: 30% off  plus free shipping, Use code: HOL30
Madewell: 25% off your purchase!
Minted: 20% off holiday cards with code: WINTER18
SSENSE: Golden Goose sneakers on sale!
SHOPBOP: Take and extra 30% off sale. So many new markdowns here
Pottery Barn: 25% off one item with code: MERRY plus free shipping
West Elm: 20% off under $1000, 25% off over $1000 plus free shipping with code: WINWIN
You can also follow me on Facebook, Instagram and Pinterest 
Thanks for stopping by!
L, M